The recipe for a successful marketing campaign consists of two ingredients: customers and a strong marketing team. In order to successfully carry out a marketing campaign, the team must be interconnected through multiple tools. This way, the company can ensure the marketing campaign's success and, thus, the business.
Managing a marketing team that works on different projects and works with different clients is no easy task. Marketing tools are an easy solution in order to ease the stress that goes behind managing a multitude of tasks.
Team Benefits of Digital Marketing Tools
Digital marketing tools come in handy when planning, organizing, and streamlining a project. Most tools have mobile apps, allowing team members to access them on the go. As a result, it improves team productivity  and workflow. Any team can benefit from use of marketing tools, allowing them to stay on the same page and track the development of individual projects.
The Best Marketing Tools
There are an array of digital marketing tools for team management out there. Choosing one to use might seem as a daunting task, but these seven are not only extremely useful, but are also reliable and inexpensive.
#1 - ClickUp - One-Stop Solution for Project Management
ClickUp is a software that streamlines all suitable product manager  features in one dashboard. It enables you to pin and edit your tasks, which keeps your team and stakeholders updated. The software also consists of CRM capabilities.
Features
ClickUp is customizable: it lists marketing campaigns, offers Kanban boards and Gantt charts, and keeps you on track with calendars. Moreover, you can edit the task checklists, subtasks, and templates. Its reporting feature offers six built-in report types, custom dashboards, and remote time tracking.
The software provides proofreading, annotation, and comments to your documents. Furthermore, you can color-code tasks for a more organized visual outlook. It is mainly designed for digital sales and marketing, thus a fantastic tool to rally your team and stay on task.
ClickUp is compatible with Slack, Dropbox, and G-suite. Furthermore, you can conduct 1000+ more integrations through Zapier.
Pricing
Personal Use: Free
Business Use: Unlimited plan at $5/month
#2 - Markup Hero - Share Feedback & Collect Ideas Tool
Markup Hero allows you to upload and annotate offline clipboard screenshots, and share them with team members. This allows product managers to capture ideas, communicate them clearly, and stay organized. This allows you to efficiently organize marketing campaigns through employee assignments or through direct marketing images.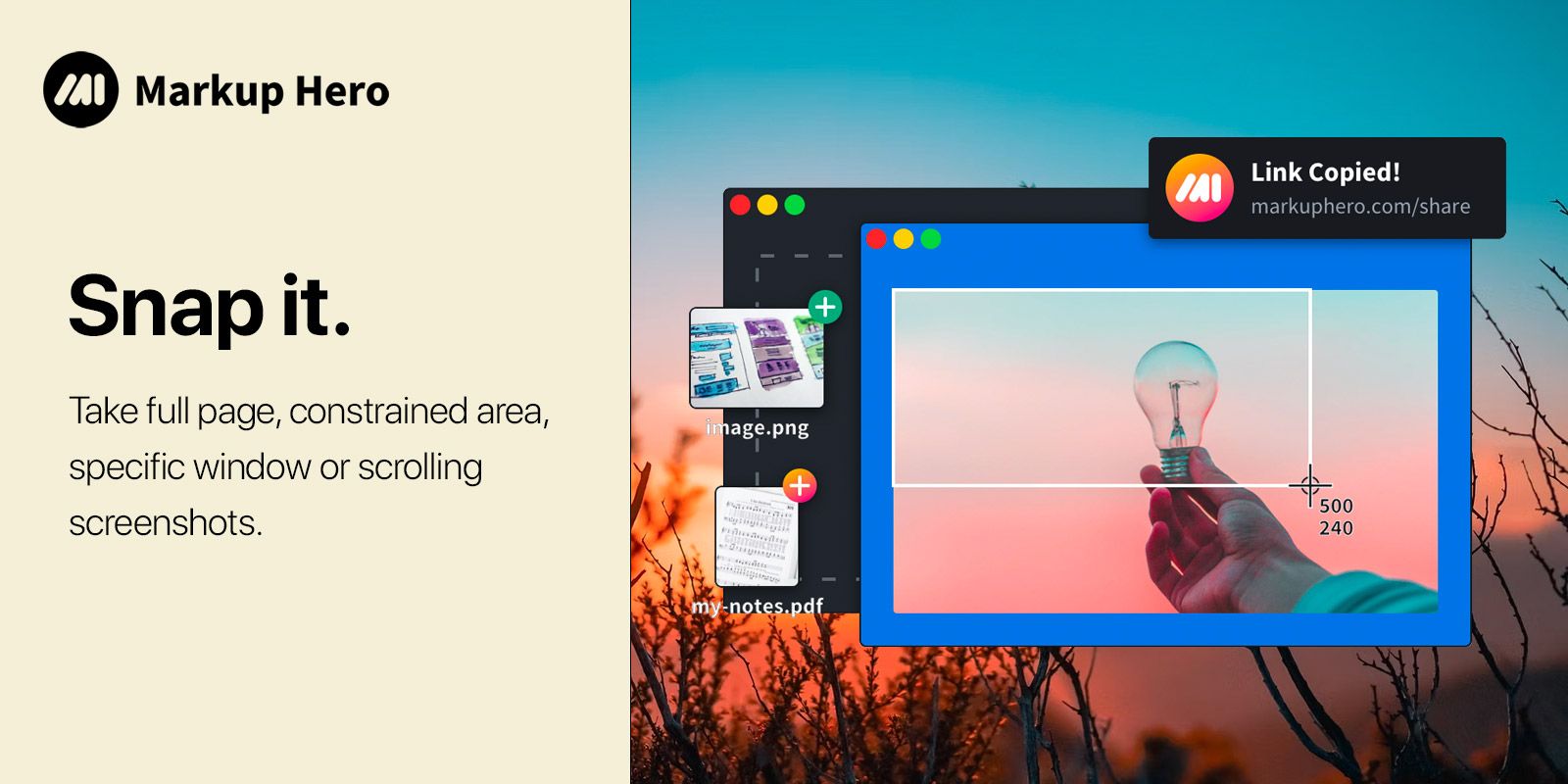 Features
Markup Hero is compatible with Mac, Chrome, Windows, and Linus, making it accessible for almost any product manager. You are able to integrate scrolling screenshots, allowing you to provide comprehensive feedback on full page design. Markup Hero makes group communication more efficient, impactful, and effective.
Benefits
Markup Hero makes product management efficient and extremely compatible, allowing managers to instantly connect with employees. You are able to quickly share annotations, making collaboration extremely simple.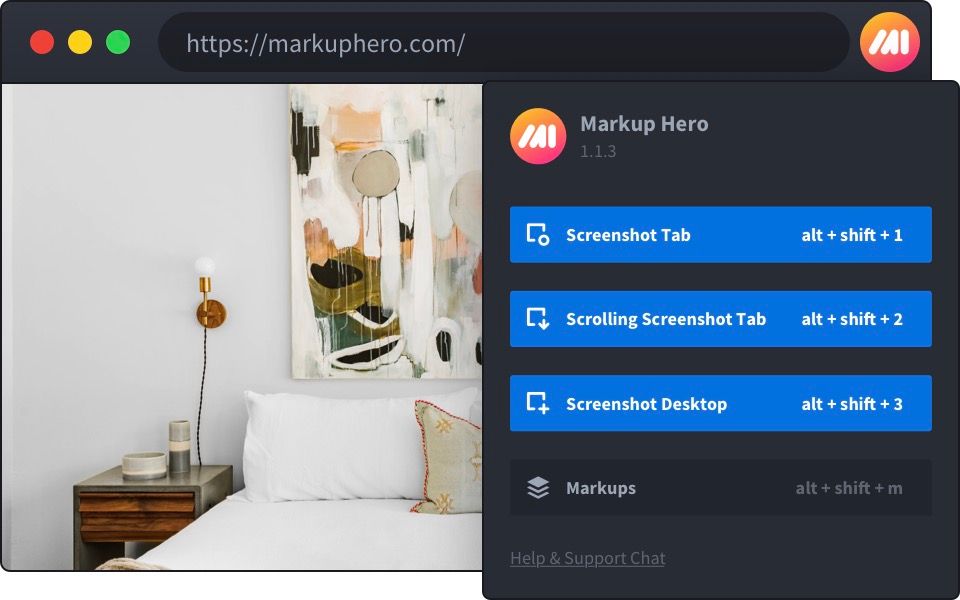 Instead of typing out long lists of instructions or tasks, managers can use Markup Hero to more efficiently communicate marketing strategies to other co-workers. This can enhance team connectivity, allowing all team members to do so much in so little time.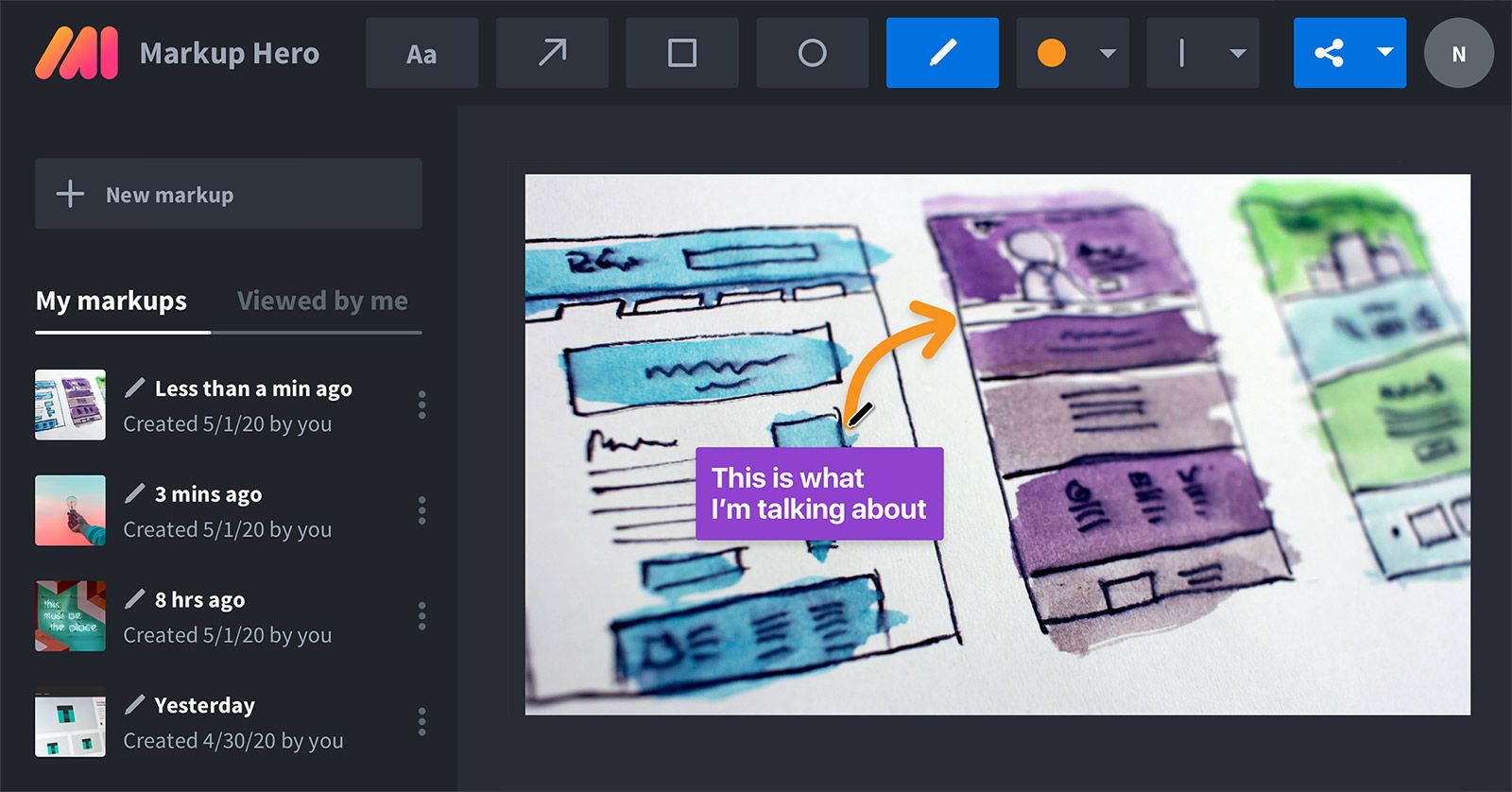 Markup Hero is perfect for entrepreneurs, product managers, project managers, designers, customer service agents, executives, sales people and anyone in a collaborative environment. Some of Markup Hero's features include:
Screenshots, Upload Images, PDF's, URL's
Always Editable Markups
Forever History and Tags
Text, Arrow, Rectangle, Oval, Pen, Colors, Line Thickness, Crop, Resize Canvas
Insert Images
Sharable Links
Copy, Download & Duplicate
Unlimited markups, unlimited storage, unlimited bandwidth
Pricing
Sidekick: Free, for anyone who wants to try it out without signing up
Hero: Free, Sign up required, for individuals that want the basic tools and features with history for 10 markups per month.
Superhero: $4 per month, for professionals & teams that need access to all our tools and features with unlimited usage.
ProofHub: A Project And Team Collaboration Solution
Agile and fresh, ProofHub is a project management software designed to bring the best out of your creative marketing team. All your tasks, clients, files, teams, and spreadsheets are located in one place,   resource management and tracking.
Features
ProofHub's portfolio management feature ensures higher collective efficiency and improved productivity for team members. Its individual and group chat sessions help with better communication.
Users can use Kanban boards and Gantt charts for planning, or use its time tracking system in order to make sure work is getting done efficiently. Additionally, team leaders can draft individual calendars, with notes attached for each team.
ProofHub's proofreading and annotating features make it a great digital marketing tool. Marketing teams can use it to improve team communication and reduce inefficiencies in processes.
Pricing
Notion: The Virtual Workspace
With Notion's effortless information sharing system, you can complete your tasks easily and efficiently. Its easy note-pinning and note splitting features provide a clean project management outlook, and its knowledge base ensures coordination among team members.
Features
Notion is a useful combination of a note-taking and productivity tool. It is a great tool for tracking daily and project to-dos, while simultaneously collaborating with team members. It allows you to conduct project management in an organized way with clear project divisions.
PRO TIP: Notion has an amazing library of templates to get started quickly. Check out our review of the best Notion templates for details.
Moreover, it features real-time editing of documents and calendars, allowing all team members to stay updated at all times. This makes Notion a great task manager that ensures your marketing team is on the same page.
Pricing
Basecamp: A Remote-Working Solution
Basecamp answers the essential issues that every emerging business faces. It's the more sensible, peaceful, and orderly method to handle projects and coordinate groups within an organization.
Features
An aid to remote work, Basecamp brings all relevant information associated with a project to one place. It's a great software for team building because of its shared schedule and communication features - group chats and automatic check-ins being the most popular.
Basecamp offers to-do lists, calendars, file sharing, and message boards. This Combination of features ensures effective team collaboration.
This tool offers a simple interface that any team can deploy to create projects, track advances in documents, and control tasks. This way, marketing teams can prioritize campaigns and keep tabs on important actions.
Basecamp offers a scalable subscription-based model that can be availed depending on the number of users and the storage space demanded.
Pricing
Standard Subscription: $99/month
Smartsheet: Software For Content Collaboration
Smartsheet is the perfect tool for advertising agencies. It offers key features for content development, collaboration, and communication. Furthermore, it can integrate with most popular apps.
Features
Smartsheet's customizable dashboards help keep projects separate. This feature helps marketing teams fulfill client demands appropriately.
Each team member is notified about changes made in real-time. All team members have access to a detailed history, shared views, reminders, automated alerts, activity logs, and status reports.
Smartsheet enhances collaboration through the integration of annotations, approvals, and pinned feedback. Smartsheet includes a 'Forms' feature that helps in data collection, including images, files, or client briefs.
Moreover, its tracking, assigning, scheduling, and reporting features make it a good project and resource management software.
You can integrate Smartsheet with Microsoft, Google, Slack, Salesforce, Tableau, Box, Jira, etc. Smartsheet can also be extended through Rest APIs and webhooks.
Pricing
Free Trial: 30 day Free Trial
Premium: $7/user/month with a minimum of 3 and a maximum of 25 users
DeskTime: Automatic Time-Tracking and Team Workflow
DeskTime is an excellent software for both marketing and human resource management. It offers essential employee management features that help handle projects, observe employees and evaluate employee performance and productivity.
Features
You can execute your marketing campaigns on time with DeskTime's automated time tracking feature. This cloud-based solution tracks time spent on apps and URLs used by team members to measure individual productivity, ensuring punctuality when completing tasks.
DeskTime helps you divide the workload among teammates and enables you to calculate salaries with monthly reports. This tool also helps to coordinate leaves among teammates. As a result, a sense of responsibility, drive for transparency, and motivation for integrity are created among the employees and/or teammates.
While not suitable for remote working, DeskTime is best for team members to monitor their individual progress at the office. Moreover, the software allows data collection, project tracker, and absence calendar to ensure maximum employee productivity.
Pricing
Lite: Free plan
Pro: $7/user/month
Premium: $10/user/month
Enterprise: $20/user/month
Chanty: Easy-To-Use Collaboration Software
With Chanty, stay connected with your team members through an array of channels. It offers the convenience of communicating with your teammates through your preferred medium.
Features
Chanty offers high-quality communication channels for texts, voice calls, video calls, and voice messages. Thus, your marketing team can always be connected through public and private groups, as well as individual discussions. Additionally, Chanty's filtering and sorting features ensure employees don't get lost in conversations.
Teambook, its main feature, allows marketing teams to collaborate on multiple projects, in one place. Files, tasks, and links are all pre-arranged. This way, you get to use one platform and keep each project's conversations separate.
Third-party apps that can be integrated with this tool will enhance team productivity. This connectivity allows Chanty to transform your group chats into command centers. As a result, you have better control over data from the third-party apps you use.
Pricing
Basic Plan: Free
Premium Subscription: $3/user/month
So What's Missing?
The one common feature that all of these tools (except Markup Hero) are missing is integrated file annotation. That's where the Markup Hero API comes into play. Read this to see why every SaaS application on this list needs to integrate Markup Hero.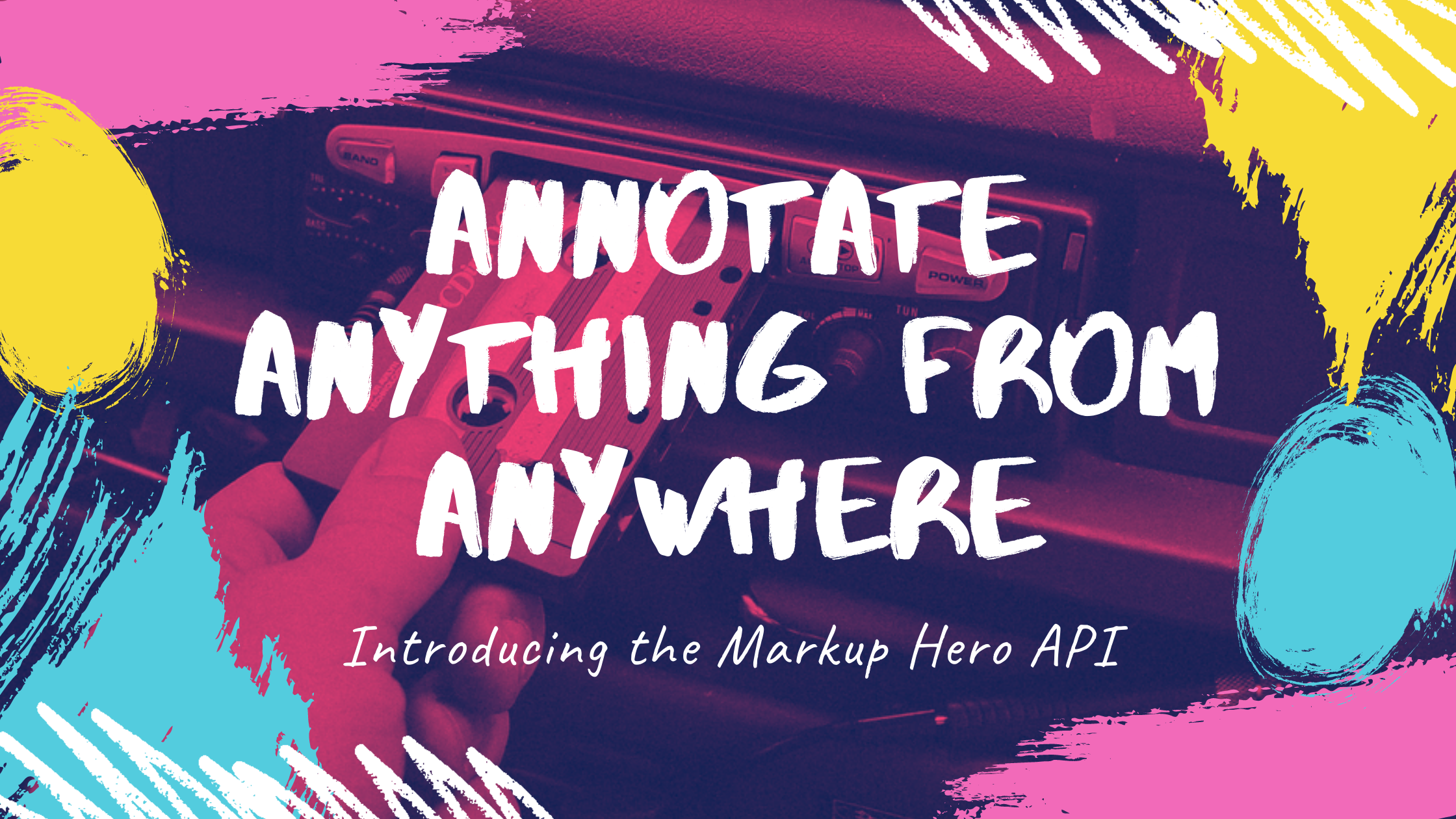 Final Thoughts
Team collaboration and communication are essential for idea and data sharing tasks like marketing. Having a great digital marketing tool is necessary for the constantly changing consumer behaviors. However, finding the correct fit for your company can be a daunting task.
Try our different marketing tools mentioned above, and decide which suits your management style best.. This way, you can optimize your performance to achieve better performance and satisfy clients.
The right tool might just be what you need to take your business to the next level!