Illustration by Sara Maese from Ouch!
Being a sloth is ok on Sundays, but at work, just about everyone wants to be more productive. From an organizational perspective, lack of productivity can have monumental negative effects. This is why businesses should pay special attention to both individual productivity as well as workforce productivity.
According to a Teamstage report, companies that focus on workgroup productivity see up to 29% higher profits. So it's no surprise that businesses are looking for tools to improve team productivity. In particular, SaaS collaboration tools can improve the productivity rate of an organization by 30% according to a recent McKinsey report.
In this article, we review 15 tools across 5 categories that can help your org become more productive and collaborative.
Productivity starts with collaboration and that means team members need to communicate ideas clearly. Whether sending Slack messages, creating proposals, providing feedback, building marketing assets and even writing blog posts like this, teams can benefit from a good screenshot and annotation tool like Markup Hero.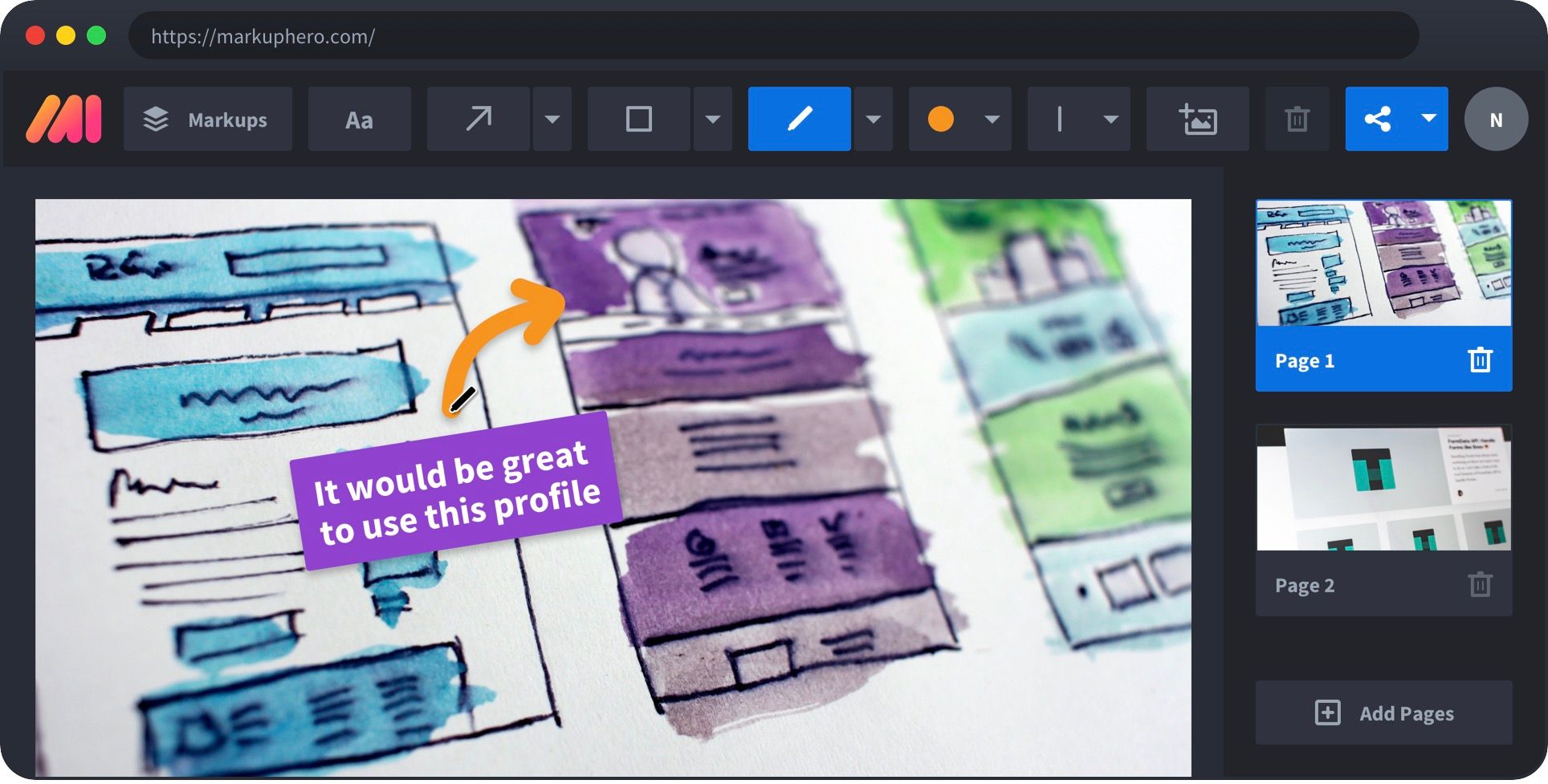 If you aren't taking screenshots daily and have not been adding annotations to your communications, you are not being as productive as you could be. Use cases for Markup Hero are nearly endless. From QA to comments, task feedback to inspirational ideas, the tool will help you explain your ideas faster.
Markup Hero is perfect for entrepreneurs, product managers, project managers, designers, customer service agents, executives, sales people and anyone in a collaborative environment.
Some of Markup Hero's features include:
Screenshots, Upload Images, PDF's, URL's, Google Docs
Always Editable Markups
Forever History and Tags
Text, Arrow, Rectangle, Oval, Pen, Colors, Line Thickness, Crop, Resize Canvas, Blur
Insert Images
Sharable Links
Copy, Download & Duplicate
Unlimited markups, unlimited storage, unlimited bandwidth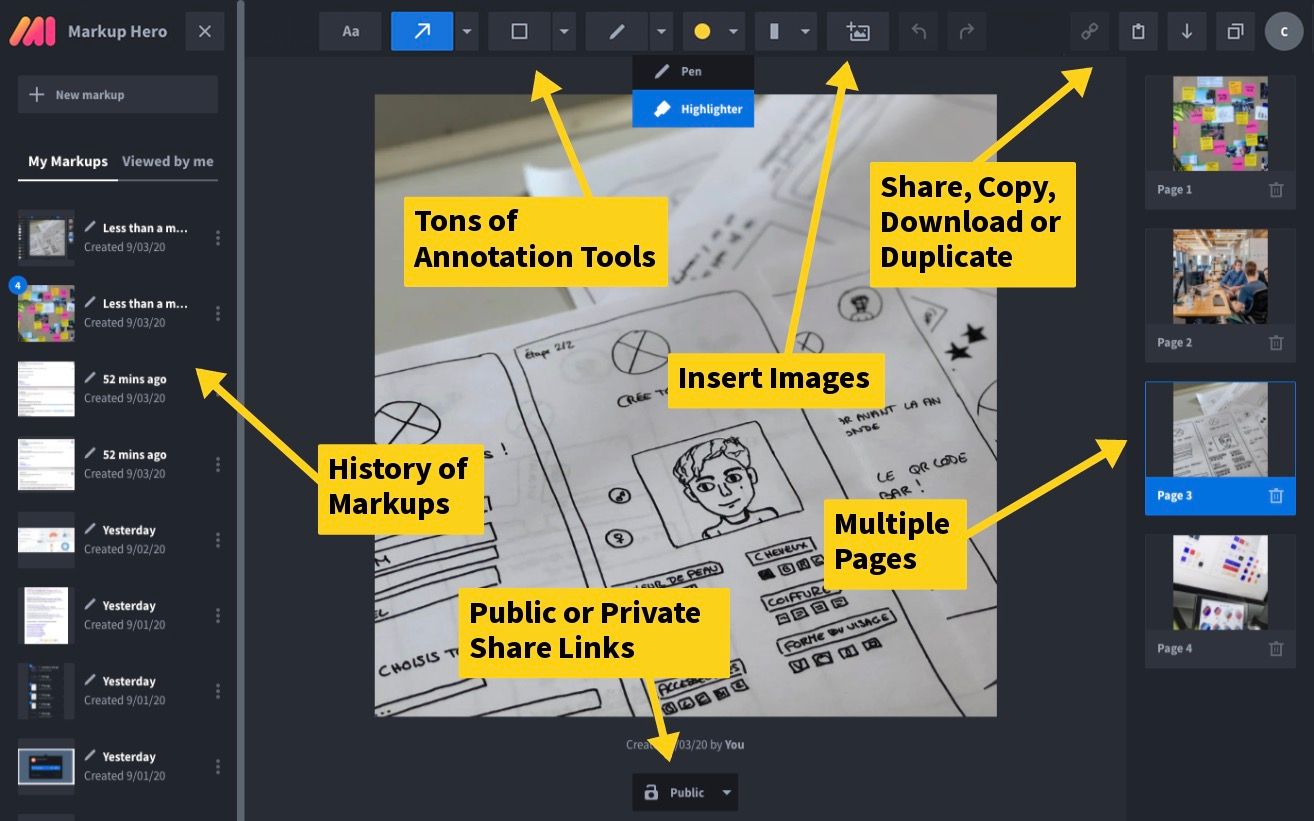 Markup Hero is only $5/month and you can try it out for free.

---
Project Management
Project management is a universal function that exists in just about any organization. Tasks involved in project management revolve around meeting goals, staying on top of tasks and maintaining communication between team members. Project managers lead the entire building process and support the team members to meet goals or success criteria within the specified time limit.
HeySpace
HeySpace is a collaboration and project management tool with a communication feature. With HeySpace you can create projects - Spaces, make tasks and assign people to them, track progress, add details and present your work to the guests. This tool makes team management easier and more intuitive.
It's really simple to introduce, doesn't require much time to learn and much money. HeySpace helps take control of the projects and tasks and boost the team's productivity.
You can have everything in one place.
Proofhub
Proofhub as a tool is useful for centralized work management in different types of businesses. There are various project management and collaboration features for team members to deliver their projects efficiently and quickly.
Users opting for this tool would notice uncomplicated pricing plans with simple-to-navigate features and on-point team accountability. Generally, business professionals utilize Proofhub to organize their files, monitor and create projects and communicate with other team participants.
Wimi
This is a tool that businesses can utilize to create a unified workspace. With this tool, all the sub-teams can collaborate on their tasks together and share calendars and files. Also, they can manage the available projects quickly and edit any errors before the final launch.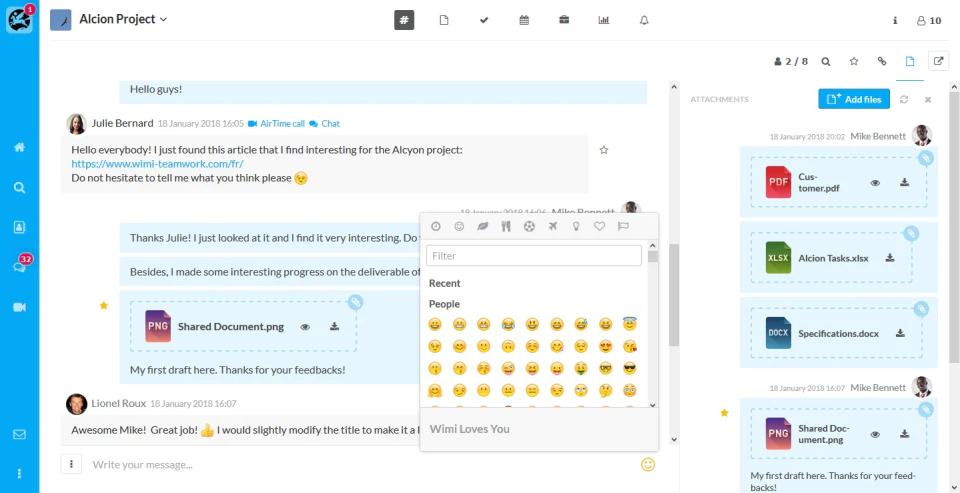 Moreover, there is a rights-based system under operation via Wimi; team members can easily access the workspace thereafter. Also, there is a secure cloud-based file syncing software, i.e., Wimi Drive, for businesses managing their projects securely.
Asana
This is one of the most popular collaboration tools that brand owners can opt for to boost productivity. With this project management tool, users can assign the necessary tasks efficiently to all the members via list views. Moreover, brand owners can organize teams of different sizes that would complete their assigned projects within pre-set deadlines.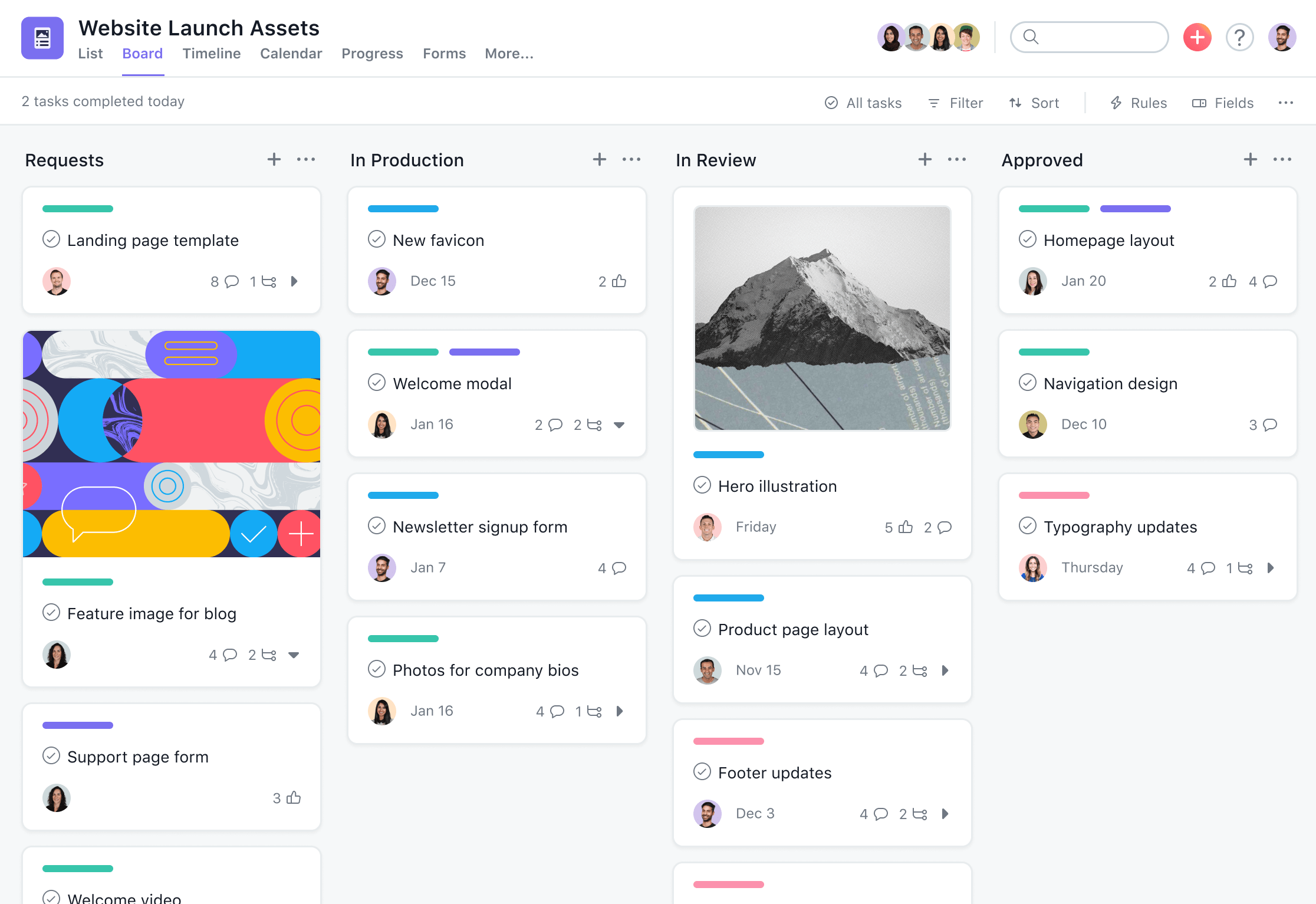 It is easy to map out the timeline of projects and unschedule the non-priority tasks and manage any overlapping duties. Users can quickly add new followers, and Asana offers third-party integration with multiple notable platforms. Altogether, using this tool boosts the productivity of the teams and is useful for strategic planning.
Marketing
While most companies have project management needs, every company needs to market their products and services to grow. Effective marketing strategies can enhance engagement, conversion rates, and sales. Use sales performance dashboards to track all of this. In this context, the following tools are useful options that would further enhance the rate of productivity around marketing activities.
Ahrefs
This tool is useful for businesses to do keyword research and track search engine metrics required for organic and paid marketing. Moreover, Ahrefs is a great tool to analyze competitor keywords, search engine traffic and backlinks which can help organizations build a marketing strategy accordingly.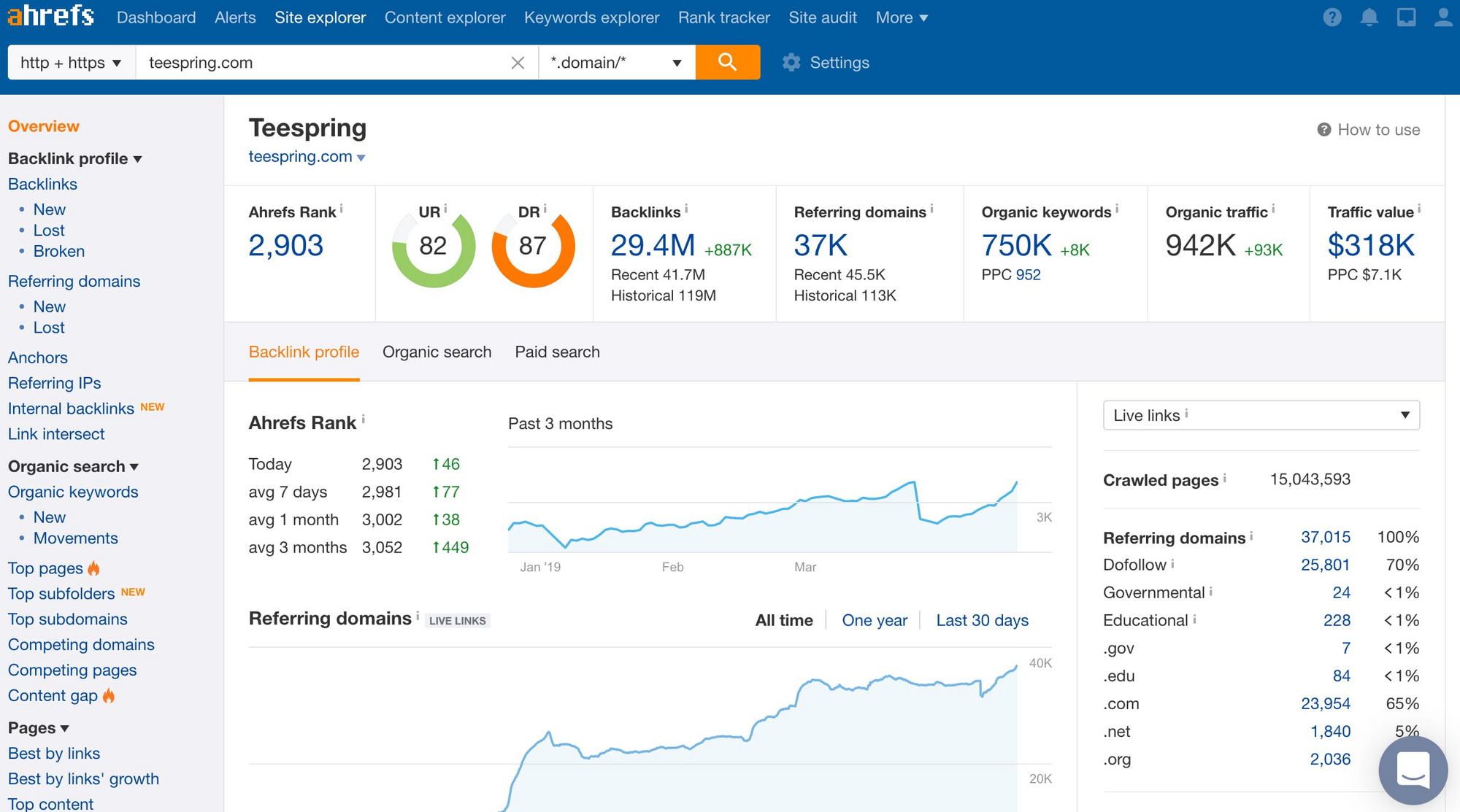 We use Ahrefs daily to decide what keywords to focus on and what articles to write for our blog. For more details on how we use Ahrefs, read our case study on backlinking.
Hootsuite
Brands focusing on social media marketing can gain a lot of help with this open-source platform. Indeed, the marketing team of a business can utilize Hootsuite to access the available social analytics apps and integrations, like Talkwalker & Brandwatch.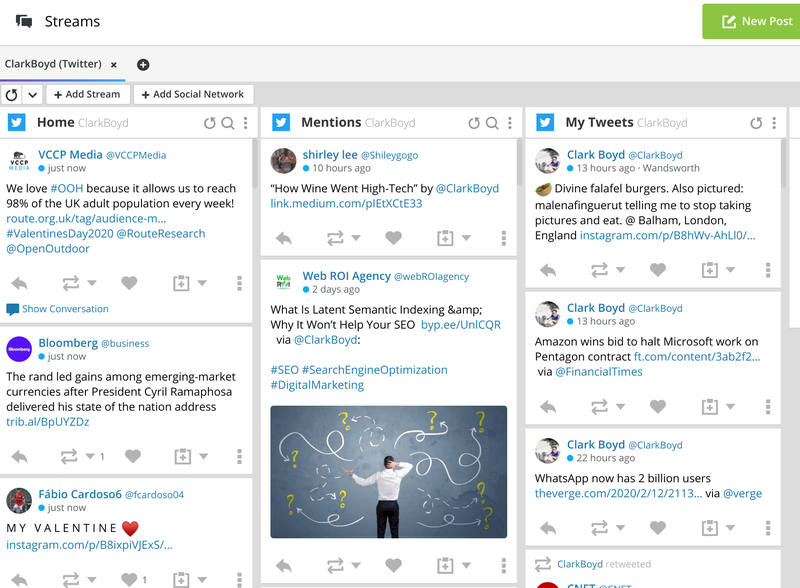 This is useful for gathering fresh customer insights. For brands, this is a user-friendly option to go for due to the easy-to-navigate dashboard-centric user interface.
Expandi
Expandi is effective for LinkedIn-oriented automation and marketing. Using this tool makes it easier for the brand owners and employees to do LinkedIn prospecting and gather key LinkedIn analytics metrics' insights in a better manner.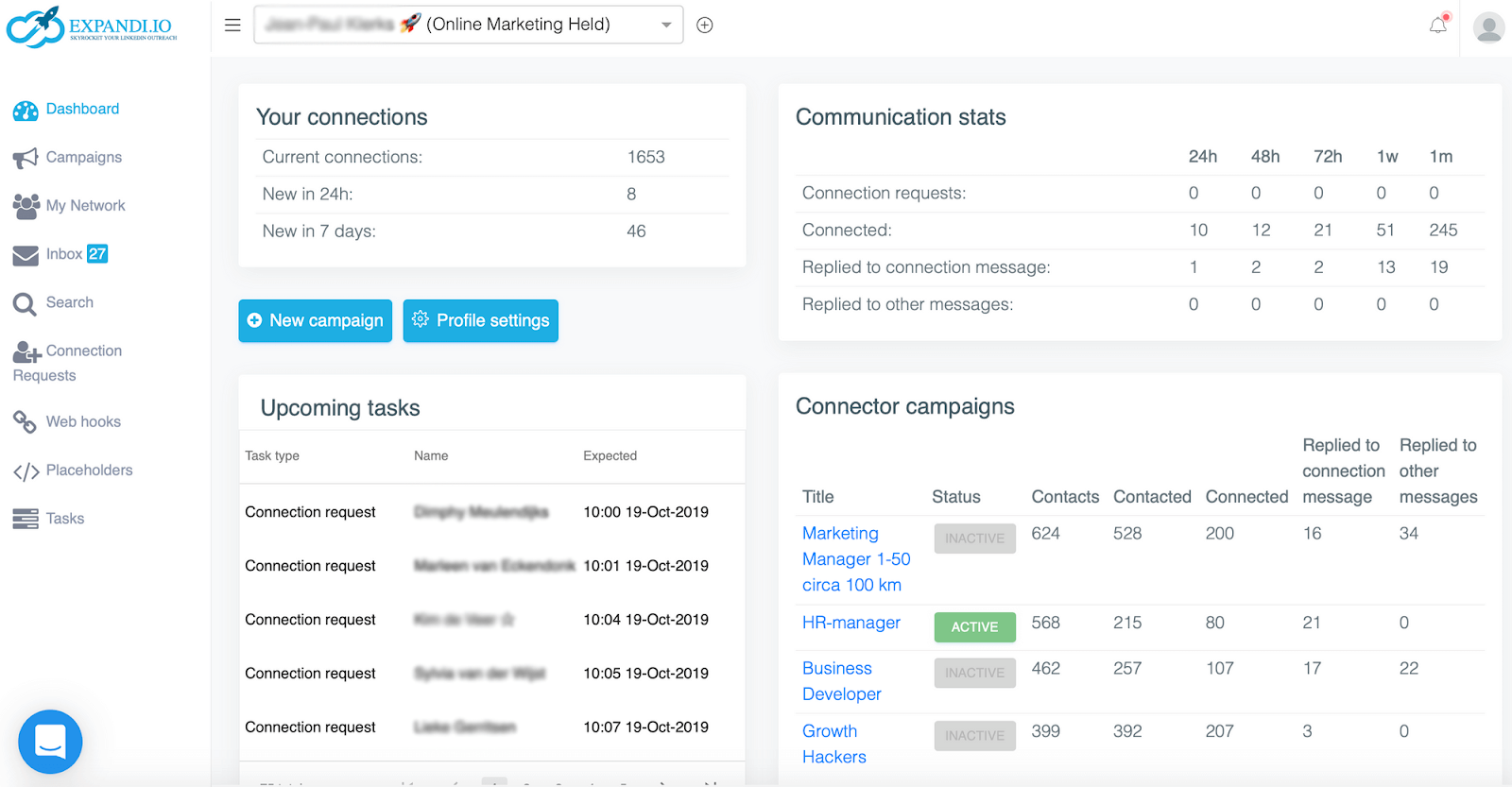 The marketing team of a brand can utilize this cloud-based platform to target audience groups, develop modern email campaigns, and utilize its smart chat feature for better communication during sales meetings.
Human Resources
HR or human resources is the department that focuses on workforce management and service. HR departments deal with recruitment, screening, training, employee complaint management, and providing employee benefits. The following are some notable collaboration tools for this team.
Glip
Glip is a usable collaboration tool for businesses to find, retain, and train employees. With this tool, HR managers can organize video interviews and handle easier group messaging. Users can also keep track of the events and deadlines more easily and upload/share files directly.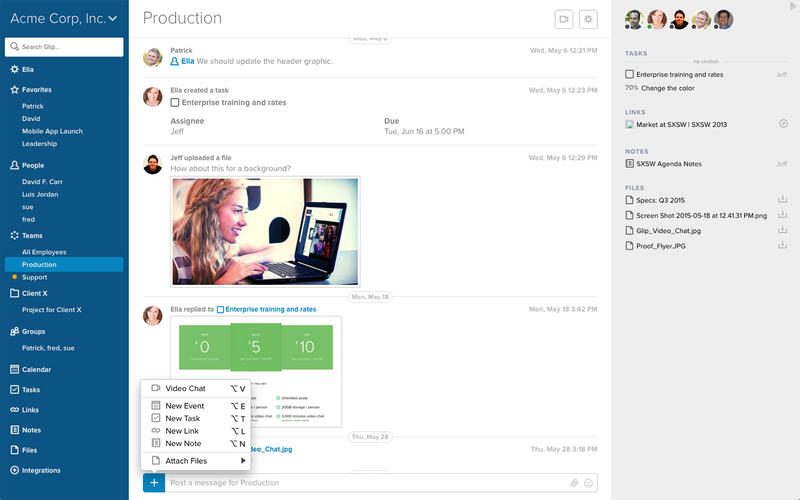 RecruiterFlow
RecruiterFlow is one of the most reliable recruiting agency software currently available. Generally, businesses utilize it for staff management and recruitment. A notable feature here is gathering applicant data in the inbox; the HR team can easily access it and directly conduct recruitment.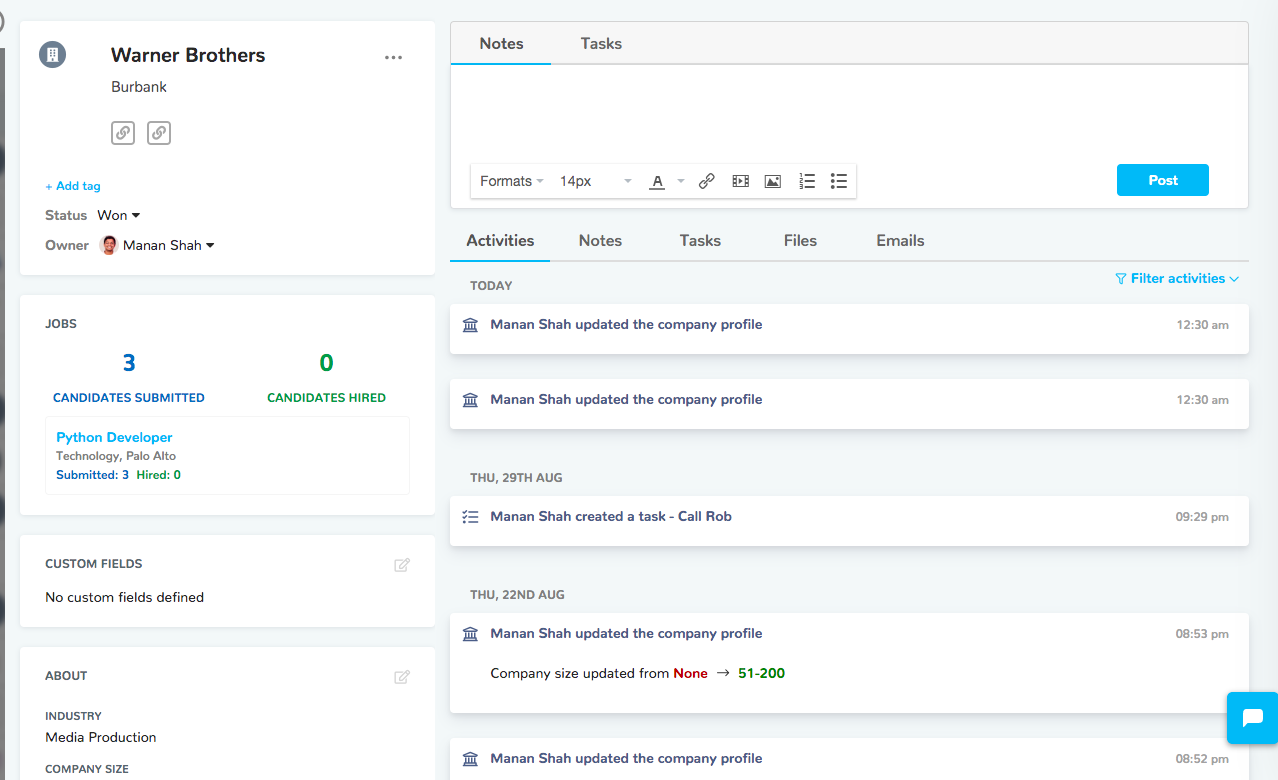 Moreover, the recruitment and communication process in the initial stages is automated in RecruiterFlow. The robust rules engine in this tool supports quicker and optimized candidate organization. Overall, it is easier to communicate with clients through this system and manage staffing pipelines.
Bitrix24
Brands opting for Bitrix24 free HRIS service can expect multiple HR-related tools. Features here include private social networks, shared calendars, absence charts, resume storage, document management, workload planning for employees, and employee portal(s). Furthermore, there is a self-hosted as well as a cloud-based version available, each with unique and helpful features.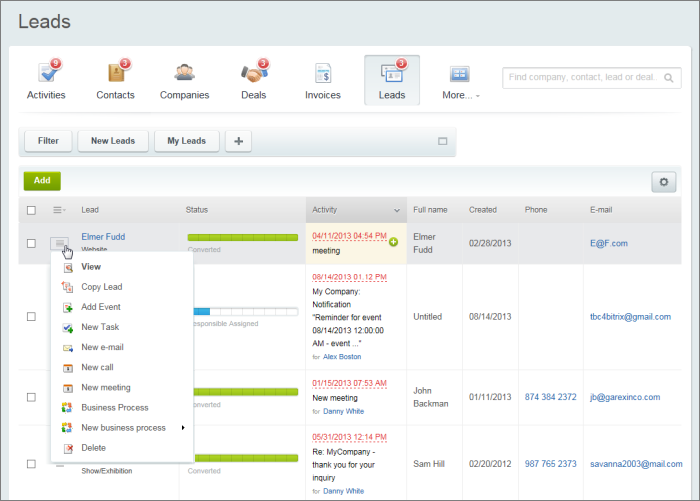 Task Force Team
In most organizations, executives arrange a team of specialized experts to head a specific task force. To note, the professionals here include a miscellaneous group of skilled experts from different teams who jointly work to meet one objective. For example, a development-oriented task force specifically focuses on performing and creating products/services altogether. Overall, useful collaboration tools for task force teams to improve their productivity include:
Google Docs
Google Docs is a goto solution for tons of organizations to create and share documents. The tool is web based so it's easy for new employees to start using and it can be run offline while team members are traveling or without wifi. Beyond that, Google Docs has incredible collaboration features. Multiple team members can work on the same document at the same time with almost no lag. No other tool works better at real time collaboration.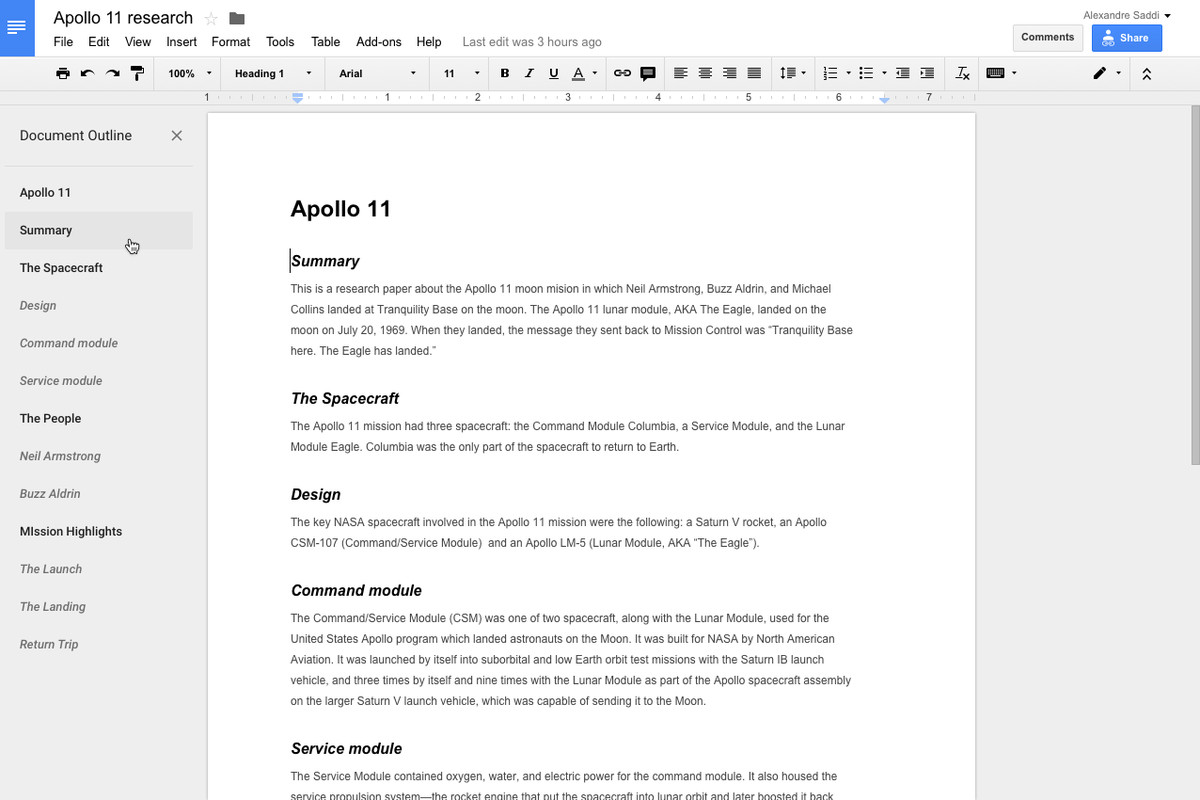 Codingteam
In software development, coding is an important but complex part of the development process. With Codingteam integration, developers working on a project can simply write the codes together across platforms. Notably, the free 'software forge' feature of Codingteam allows collaborative code building and better visibility.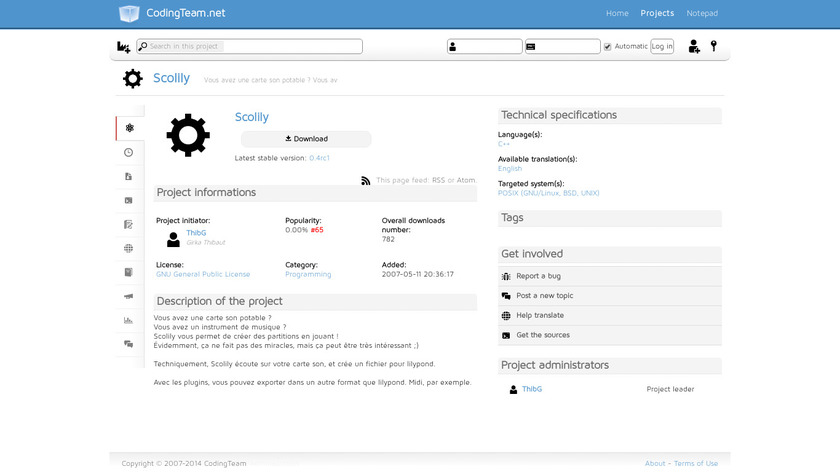 Quip
Quip is a real-time collaboration tool for docs, files and chat that works within Salesforce. In particular, Quip works extremely well on mobile. Statistically, 49% of employees utilize collaboration tools via mobile devices for easier usability. Also, users can comment, chat, and form checklists directly while using Quip to streamline the collaboration process.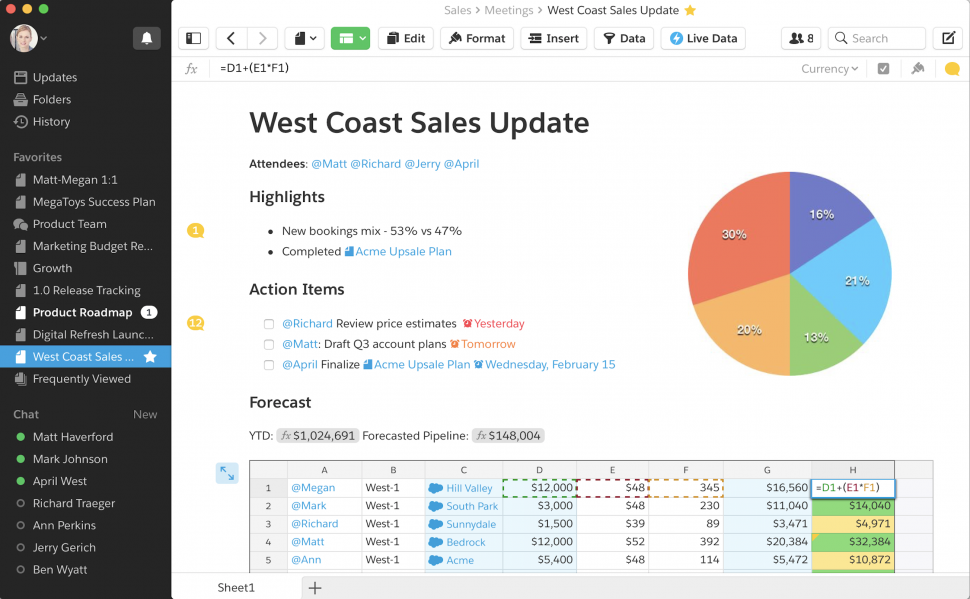 Virtual Teams
Typically, virtual teams include employees that work together for specific projects or tasks and focus mainly on their responsibilities. Notably, enterprises that run multi-location organizations require such teams- all the members can be from different cities, countries, or states. Overall, these teams can perform their tasks more uniformly with the following tools.
Trello
Trello is the go to project and task management tool for large and small teams alike. Users can easily drag and drop the project cards, assign tasks and attach files. The tool is particularly popular with agile engineering teams due to its customizable and flexible nature.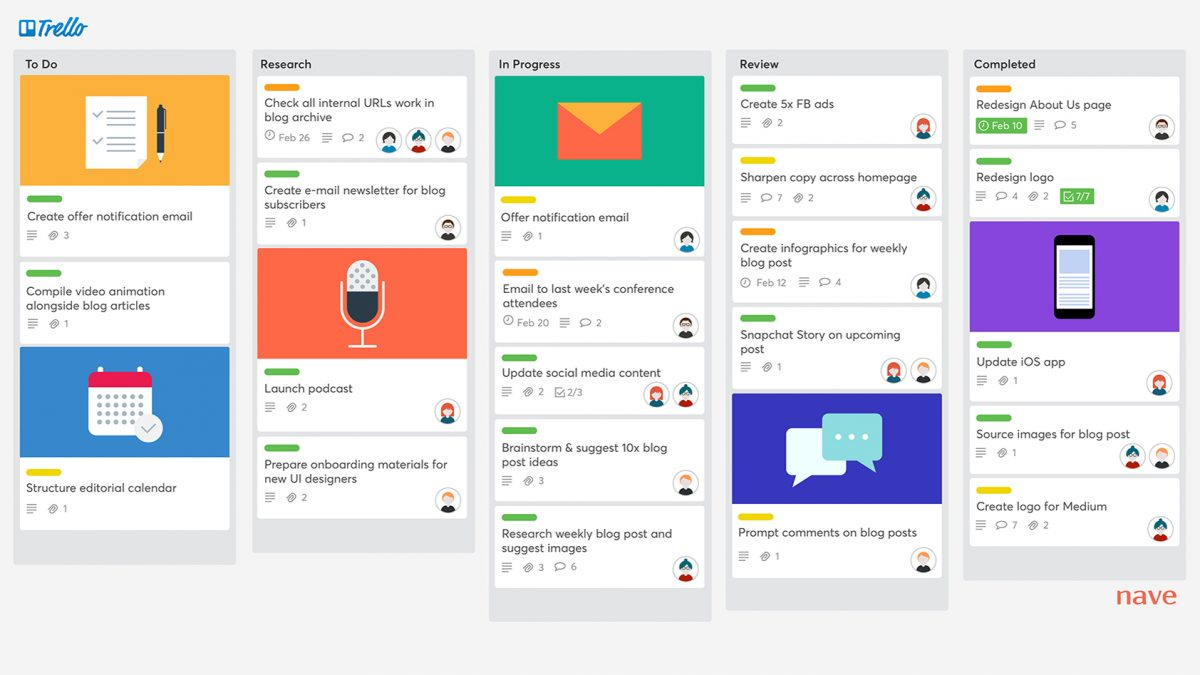 Redbooth
Redbooth helps teams manage tasks and communication so projects get completed faster and easier. The project management and collaboration tool allows organizations to organize, communicate and visualize tasks with their simple kanban style interface. Redbooth offers multiple views including gantt charts as well as customizable tags. It's a great alternative to other popular project management tools.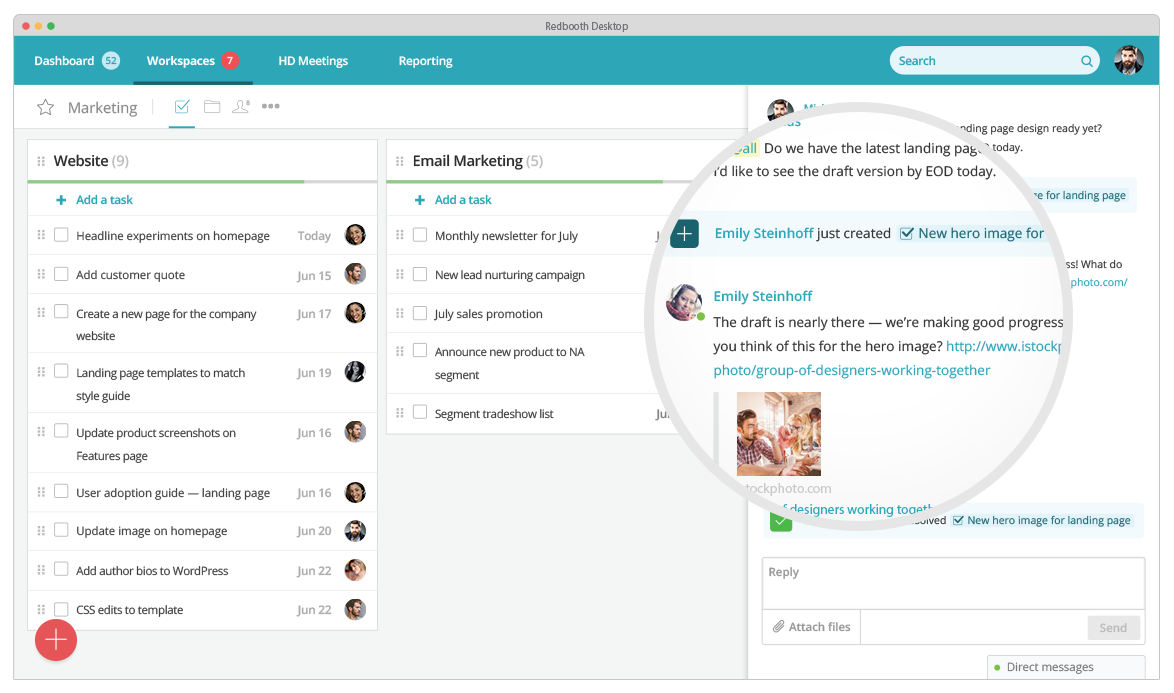 Basecamp 3
Basecamp is one of the oldest and well liked project management and collaboration tools. The application focuses on finding and organizing tasks with a simplified interface that many companies swear by. Basecamp comes equipped with a range of dashboards and actionable reports that makes it easy to know what to do next.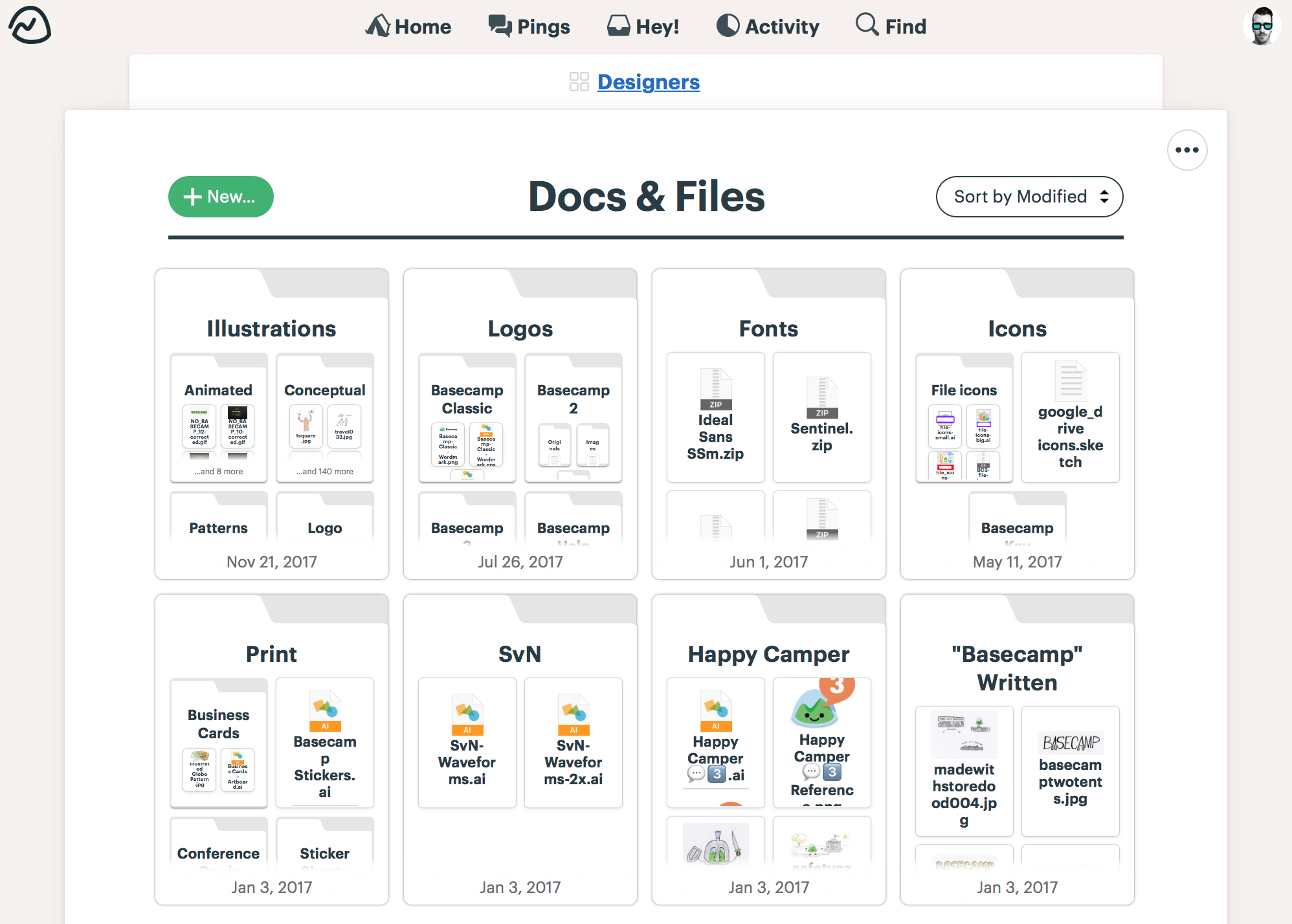 Bonus: Check out our Asana vs. Trello review to learn which tool will be better for your organization.
That's the Scoop
Productivity is the lifeblood of an organization. And productivity starts with good communication, especially for larger teams. The tools covered in this article are only a sampling of resources to help your company become highly effective. However, if you were to only implement a few of them you'll almost certainly find your company moving toward light speed.