Most product-based businesses such as Intuit, Apple, and Markup Hero itself, have a direct offering for the customers. This could either be a software product (SaaS) or a physical device such as the iPhone, which has its own technical, marketing, and operational aspects.
A Technical Product Manager is a specialized position for someone who deeply understands the engineering process and can help the organization build a technically sound product while overcoming the technical challenges.
You may think at this point; isn't that what a Product Manager also does? What does the added Technical keyword mean? The answer will be unique for each organization, but it's majorly related to elevating the technical feasibility of the product.
PRO TIP: Technical Product Manager vs. Traditional Product Managers - Read our ultimate guide about rockstar product managers to learn some key differeneces.
As products scale and gain larger market share, the engineering behind them grows exponentially complex. Initially, the same team designs, develops and prototypes the product but as it grows, you have a separate department for each technical function.
Managing multiple engineering teams that are all working towards the same goal and then ensuring the product continues to excel in the market demands a specialist of its own kind.

That's where a Technical Product Manager comes into the picture.
In order to understand the roles, responsibilities, and importance of Technical PM, let's explore the position in more detail.
What is a Technical Product Manager?
A Technical Product Manager is a specialist who manages the technical functions of a product and employs strategic decision-making for ensuring that the product can compete in the open markets.
They're responsible for aligning engineering teams and work in collaboration with the Product and Business Managers to achieve product goals. And while a good technical product manager will certainly have project management skills, the two roles are quite different.
The ideal candidate has strong technical skills and rich industry experience in engineering roles to be able to meet job requirements. The position demands a mix of management and technical skills to lead development teams.
Any marketable product contains some common foundational elements. We can safely summarize these to be;
CRM
Marketing Automation
Billing System
Customer Analytics
Support
Platform
Infrastructure
A Technical Product Manager can be involved in any of these operations but their primary responsibilities are centered around the Platform, Infrastructure, and the tech that enables other functions.
What is the Job Description of a Technical Product Manager?
We already know that each organization will write its TPM job description according to its core needs. Therefore, to generalize it with accuracy, we looked at some of the top Technical Product openings.
Company: Platform.sh
Position: Technical Product Manager - Adobe Commerce Cloud

What You Can Expect to Do Daily - Job Description

Company: Google
Position: Technical Product Manager, Chrome Autofill

What You Can Expect to Do Daily - Job Description

Company: McDonalds
Position: Technical Product Manager, Mobile App Deployments
What You Can Expect to Do Daily - Job Description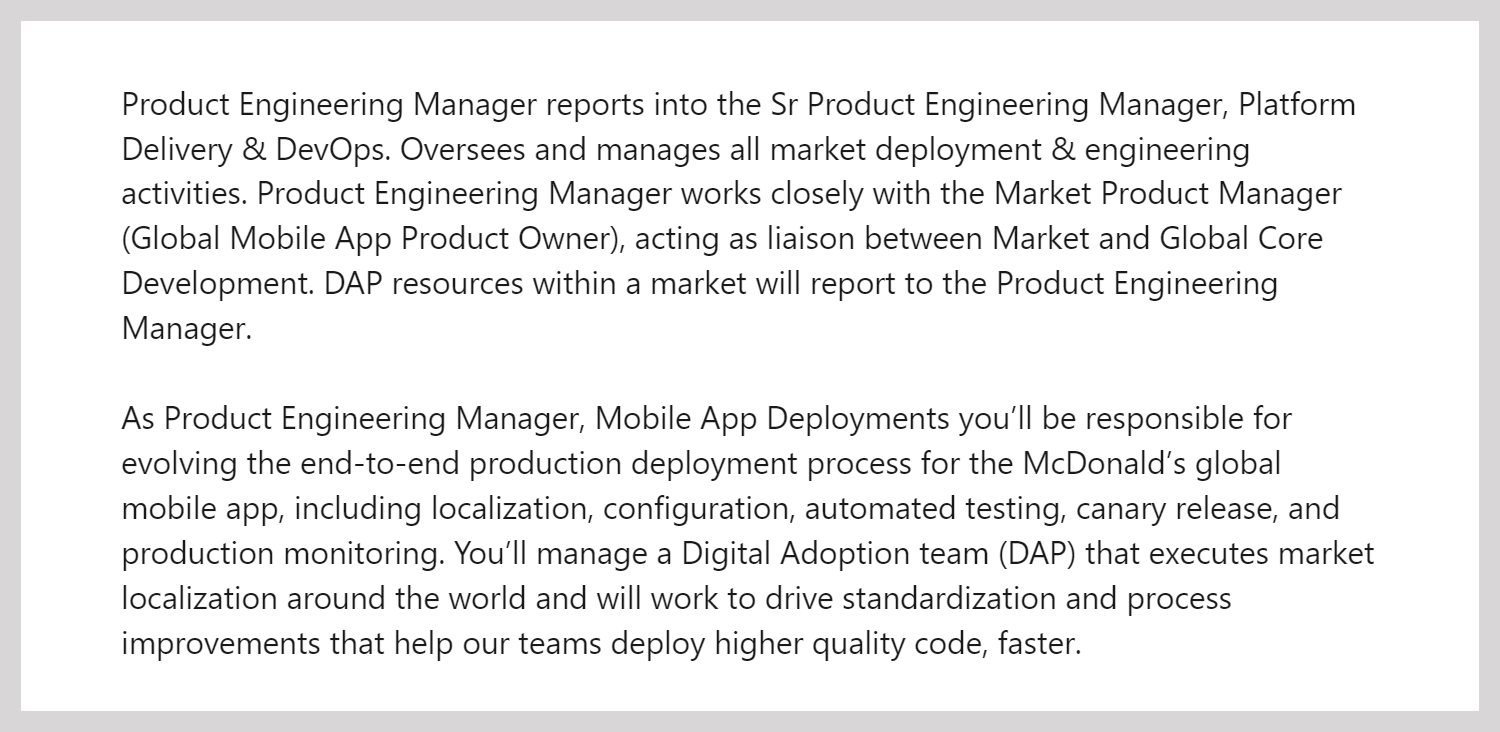 We can conclude that a Technical Product manager's job description is expected to have the following responsibilities.
Manage the development process to achieve planned objectives of the product (or its features)
Liaise with Business Analysts and other teams to ensure that the development is aligned with customer feedback
Employ project management techniques to keep the scope, time, and cost of the development in check
Lead the engineering teams as a product expert as well as an engineer
Comprehend product challenges and innovate solutions for achieving development objectives with greater efficiency
Work on company-defined aspects of the project and meet forecasted development goals
Manage and build data pipelines for seamless flow of information across connected systems
Work closely with product teams as a subject matter expert who can answer questions raised by the technical/developer community
Coordinate the quality assurance processes
Be comfortable with database queries to measure performance KPIs and evaluate experiments
Define product success criteria vis-a-vis testing and post-launch sequences.
What Tools Do Technical Product Manager Use?
Like most key roles in tech organizations, Technical Product managers use a wide range of tools to do their job. They manage documents with tools like Nuclino. They communicate with teammates using apps like Spike. And they support clients with platforms like Olark. But one tool that just about every technical product manager has in their back pocket is something for screenshots and annotations.
Many choose Markup Hero to annotate images, PDF's, Google Docs and more!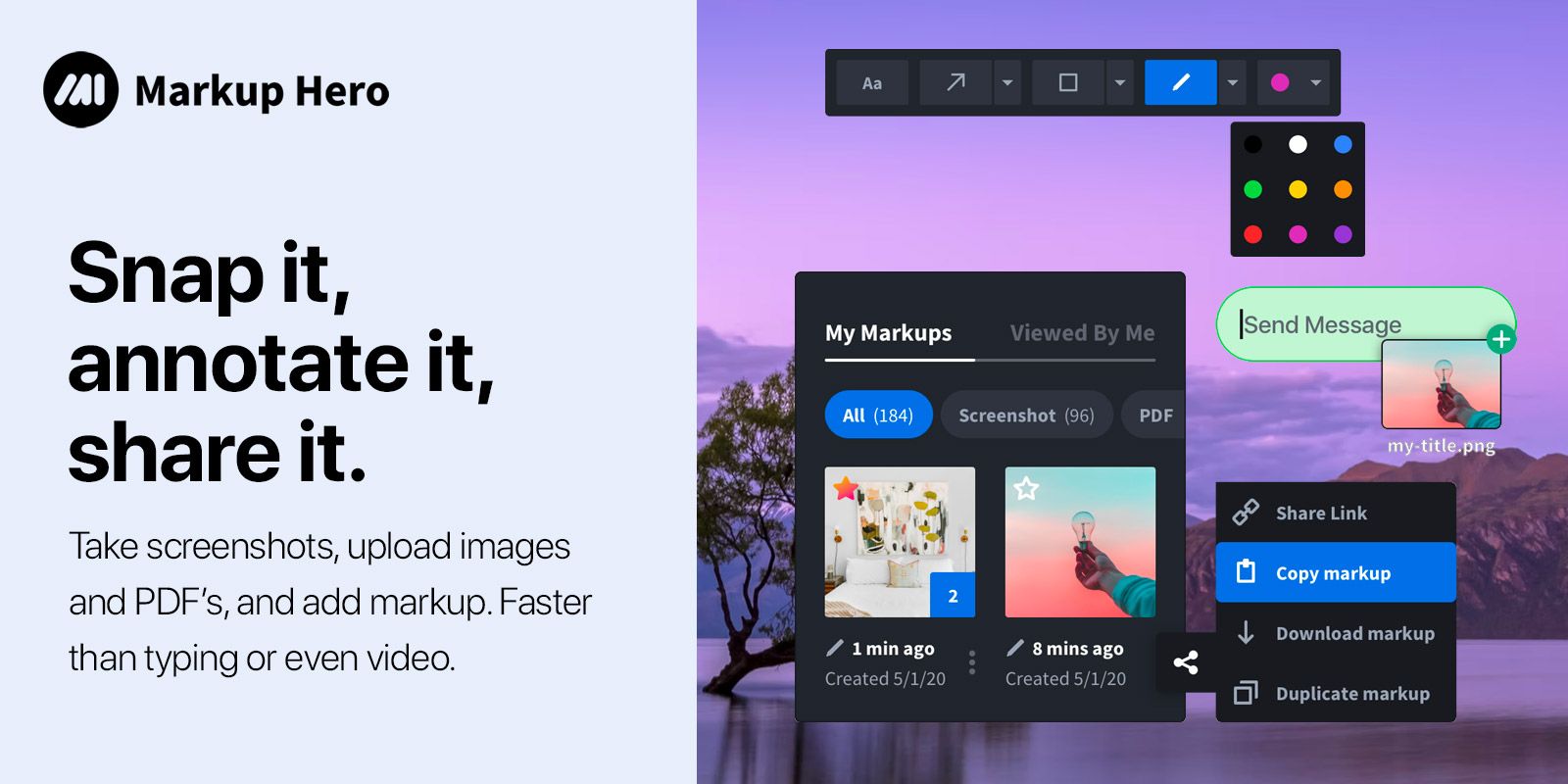 Markup Hero provides a suite of annotation tools for fast and easy feedback on all sorts of daily activities for technical product managers.

Attach annotated screenshots directly to tickets in software like Jira or Asana.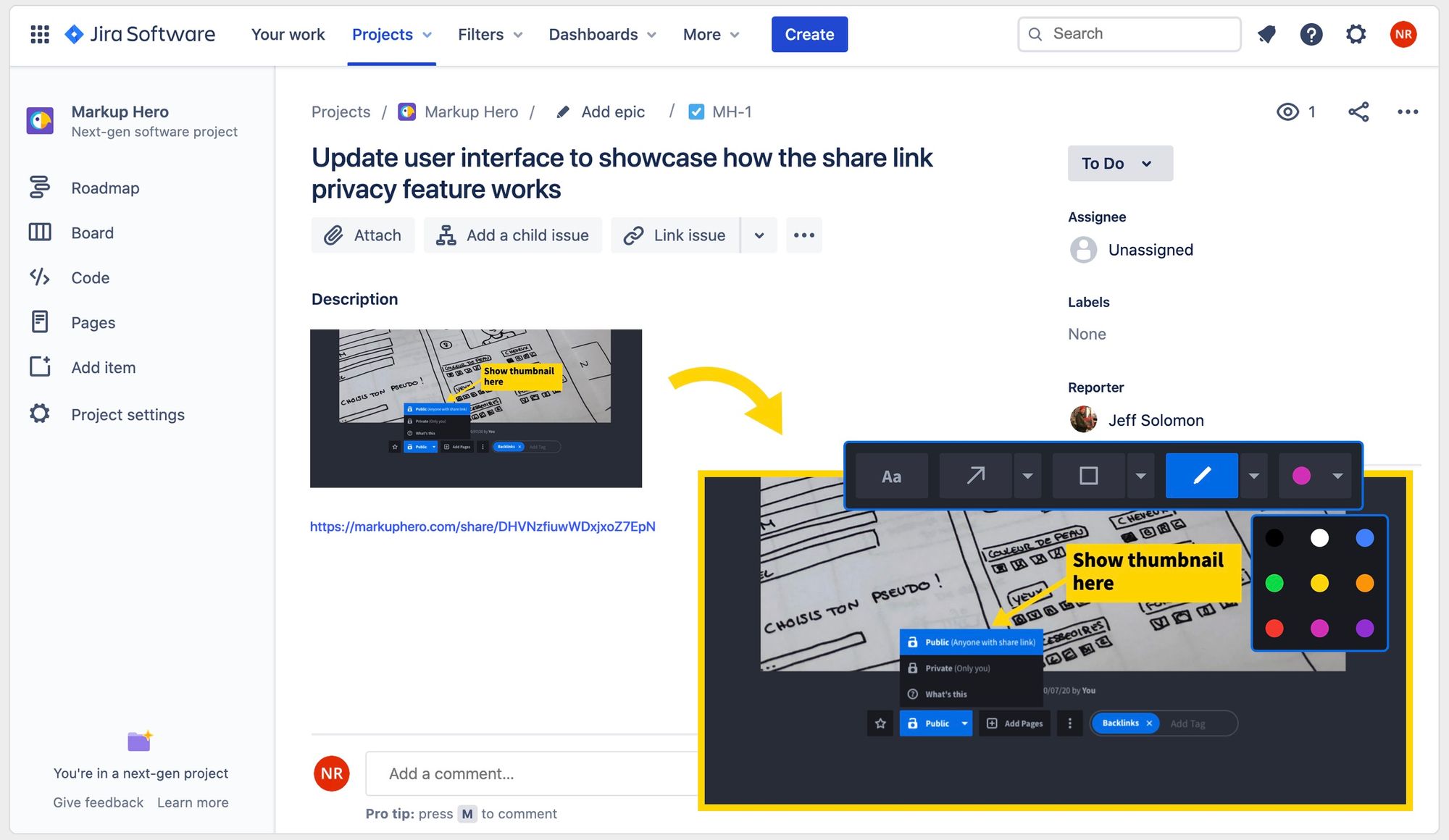 What are the Desired Skills for a Technical Product Manager?
A Technical Manager would be expected to have a bouquet full of skills as the position is a rather critical one. We have identified the following skills to be the most desired for landing a job in a leading organization.
Technical and Process Skills
Here are some key skills associated with technology and process.
Data Analysis Skills - The manager must be able to think data-wise and make data-backed decisions. For this, they must be able to read and analyze data. It entails understanding data processing, finding relevant patterns, and monitoring defined KPIs for a product. Tools such as R programming, Python, and BI software such as Tableau, Power BI are desired.
SQL Language Knowledge - SQL is pertinent to both data analysis and application development. Being good at SQL is important because it helps you to comprehend complex queries and design RDBMS structures. Many positions demand SQL prowess because the Technical PM might have to participate in the Database design process also. MySQL, SQL Server, PostgreSQL are some tools to master.
Product Roadmap Development - A Product Roadmap defines the path the product will take to achieve its development goals with pre-defined milestones. It requires multi-domain knowledge as the roadmap will consist of decisions from marketing, business, operations, market research teams. The manager must be able to coordinate input from stakeholders and come up with a feasible roadmap for the product.
Software Development Skills - While a technical manager may never require to write code for the software themselves, they will most definitely manage software developers. Even in non-IT roles, software teams are deeply involved in designing the product. Therefore, having a good understanding of how software is made, what processes are followed and a hands-on experience with the tools is quite important.
UX, UI, and Design Abilities - UX/UI is part of the front-end or the interface design process. The manager must be able to participate in the prototyping phase and create wireframes for the product. All kinds of products begin with a pencil sketch and eventually proceed towards an MVP (Minimum Viable Product). To navigate through these stages, UI/UX skills are a common ask.
Data Structures and Algorithms - This is a core technical skill and may not apply to all technical managers. It involves the know-how of data structures that are used for data intelligence. Modern software apps leverage and develop a slew of such algorithms for a competitive edge in the market. Hence, if the product has a strategic data vision, it's imperative to be good at Data structures.
Managerial Skills  
Here are top skills related to managing people and collaborating with team members.
Communication Skills - Communicating with product teams, analyzing requirements and translating technical language are some of the core responsibilities of TPM. To smoothly handle these tasks, it's necessary to build expert communication skills so that they can absorb and disseminate information without errors.
It moves beyond responding to emails and board meetings, technical managers need to be considerate yet accurate with their idea sharing. Having hands-on experience of work communication tools is a must.
Teamwork Abilities - The talent to work well in a team and lead it with confidence are two major differentiators for a technical manager. Any engineer with enough experience can step in the shoes of a technical manager but if they lack team communication skills, they'll not be able to fit in. Teamwork essentially entails listening to the team's priorities, delegating tasks and achieving product objectives unanimously.
Time Management - Time management is intrinsically linked with productivity, which is a default requirement for any workplace. The manager needs to be a good time manager also, both for personal and team performance. They should understand how to make the best use of the team's time while traversing project milestones and weekly progress updates.
Emotional Intelligence - Most managerial positions demand the front-runners to be emotionally agile and mature enough to understand human emotions. Emotional turbulence is a real factor that pans out in almost all kinds of teams. The manager must train themselves to interpret emotions correctly, help their co-workers in moments of imbalance and be conscientious while making decisions that affect the emotional wellbeing of others.
Conclusion
Technical managers strengthen a product's technical end, enabling it to outperform competitors and expand on existing capabilities. It's a long and winding road to scale a product technically and bring it par with the market standards. Hence, a technical product manager has a crucial role to play in product-based businesses. The right candidate has tons of industry experience and is a storehouse of technical talent.
Guest post by Nandini Sharma, Assistant Marketing Manager at ProofHub - an all-in-one project management software loved by thousands of teams and businesses across the globe. Nandini brings close to a decade of experience in the field and has successfully executed a number of brand-building and marketing campaigns throughout her career.