Staying connected and informed is crucial for employees to work efficiently. That is where a knowledge base comes into play by acting as a hub for all the information teams need. Instead of keeping information scattered around emails, cloud storage, and file systems, you can use a knowledge base tool like Nuclino to ensure your teams can access the information anytime they want.
BUT WAIT: You're going to love Nuclino. But before we get into the review, we'd be grateful if you would try our product Markup Hero. It's the perfect companion to a knowledge base like Nuclino.
A knowledge base is a collection of documentation that acts as a self-service portal for people seeking any information or support. Knowledge bases can be divided into two categories, internal and external. The internal knowledge base caters to employees, and the external ones generally cater to customers. In this article, we will solely be focusing on internal knowledge bases.
Why Do You Need A Knowledge Base Tool?
According to a McKinsey report, employees spend 20 percent of their time searching for information while they're working. They have to shuffle between their email inboxes and file systems or have to ask their co-workers. This is a significant amount of time lost merely for lack of a centralized hub of information. A knowledge base solves this issue and makes information readily available to all employees.
The importance of having a great knowledge base tool is rising with the remote work trends. Employees need to access the information they need no matter where they are. An online knowledge base makes sure that remote employees can refer to a centralized information hub whenever they need to.
When you share content through email, you need to send one every time you change it. Having a knowledge base allows you to simply update the platform's content, allowing your team to always access the latest, up-to-date information.
What is Nuclino?
Nuclino is a knowledge management and collaboration platform that helps your team create, share, and edit documents in real-time. It is quite easy to use and includes a range of features, including visual editors and third-party integrations.
Nuclino can be a valuable tool for engineers, marketers, product managers, designers, and even customer support teams.
Customer support teams need easy access to information needed to respond to customer queries. Nuclino's efficient interface and quick navigation allow them to find the right information at the right time. Engineers can use it to collaborate to fix bugs or write product specifications, among other things. For Product Managers, Nuclino offers an efficient tool to brainstorm ideas, collaborate with teams, and manage workflows.
Nuclino Features Overview
Let's take a deeper look at some of the key features of Nuclino and why you're going to want to try it out.
Create and Edit Content Easily
You can either create content from scratch or choose from its extensive collection of templates. These templates are fully customizable to fit the needs of your team. Nuclino features a drag-and-drop editor that you can use to create and edit content easily. You can use drag-and-drop to edit basically everything, including headings, paragraphs, lists, table rows, images, videos, code blocks, embeds, and more. You can also quickly format your content using Markdown commands. For example, use # to format text to a large header or > to start a quote.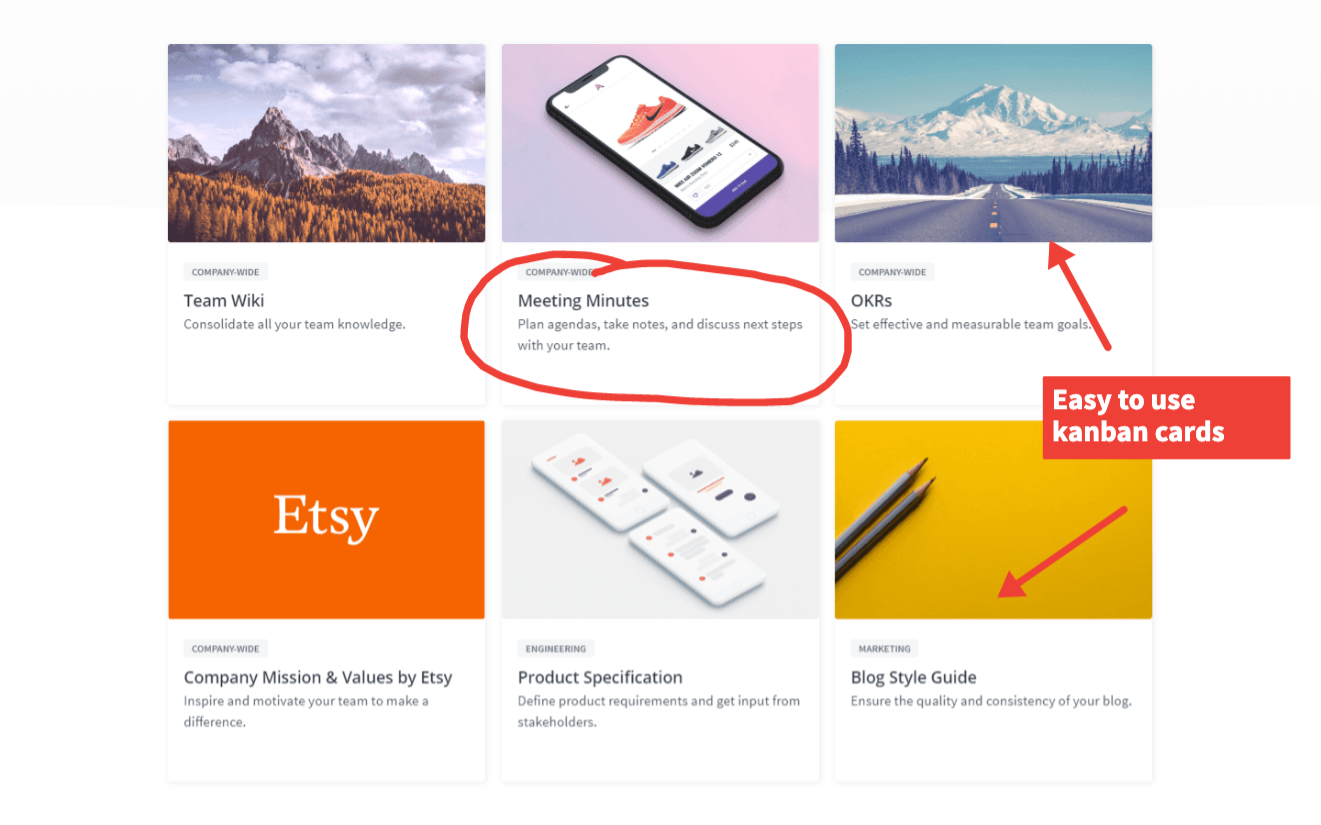 Collaborate With Your Team In Real-Time
Collaboration in Nuclino occurs in real-time. In fact, when another user is editing the same document, you can see the changes they are making as they type. You can also add comments to suggest any changes or give pointers. You can control permissions for team members, such as assigning roles and restricting edit access. If you manage a large team, you can easily organize your team members into groups to assign work to them.
Keep Track of File Versions
Keeping track of file versions helps you restore a file and undo any changes. Nuclino highlights the latest changes made to the file and color codes to help you understand these changes. For example, new content gets highlighted in green, and deleted content gets highlighted in red. It also includes information about the user who made the changes.
Link Items Internally
Linking items improves website navigation within the document. Organizing your items using workspaces and clusters makes your work easier to link. Type @ wherever you want to add a link. You can then select an item that already exists or create a new one.
Find Content Instantly
Nuclino offers an efficient search feature that instantly shows you relevant results. When you perform a search, your search terms are highlighted in the search results, making it easier for you to find the most relevant parts.
Visualize Content With Views
Nuclino can present your information in three views - List, Board, and Graph. The Board and Graph view helps you visualize your content. The Board view organizes your items in clusters, which you can use to create and manage workflows or divide items by categories. The Graph view visualizes the relationship between multiple items like a mind map to help you get a quick overview of the available information.
Is Nuclino Free?
Yes, the basic version of Nuclino is free. You can create up to 50 documents across all workspaces. With the free version you are limited to 3 fields and 5GB of total storage. You still get features such as List, Board, and Graph views, as well as integrations.

If you decide to upgrade to the Standard plan, you can start with a 14-day free trial, with no credit card required. After the trial period ends, it will cost you $6/month for each user.
You can also get a discounted price of $5/month for paying annually. The Standard plan includes unlimited items, Single sign-on (SSO), version history, and 10GB of storage per user. Moreover, you get greater admin controls such as access and editing restrictions and create private workspaces for confidential information.
Why Should You Try Out Nuclino?
Stay Connected On The Go
The main advantage of using a knowledge base tool is helping teams access information from anywhere, anytime. Nuclino takes it one step further with its mobile app for Android and iOS, allowing teams to stay connected on the go.
Never Miss Out on Important Notifications
In Nuclino, you can receive notifications for any activity on the items you create, including edits and comments. Users don't have to @-mention you to send you notifications for these items, letting you keep track of the discussions about the items you create.
Invite and Collaborate With Guests
While Nuclino works best for collaboration within teams, you can still work with an external partner without giving them the same access as your team. This is particularly useful when you need to work with freelancers or contractors. You can invite them as guests to selected workspaces and give them restricted access to your content.
Easy Import and Export
With Nuclino, you can import and export files easily within Nuclino, including markdown files, doc, text, and HTML files. You can also import files directly from Google Docs, Confluence, and Quip and export your data in Markdown, PDF, and Word format.
PRO TIP: Nuclino is great at pasting images and files into notes. But sometimes you want to add annotations to those files. Use Markup Hero to add arrows, callouts, highlights and more to just about any file in Nuclino.

Integrations
Nuclino offers a range of integrations to easily retrieve information from the apps you already use without having to leave the platform. You have the option to integrate with platforms like Slack, YouTube, and more. You can also integrate with G Suite applications like Docs, Sheets, and Slides to add more functionality. Moreover, you can collaborate using diagramming tools like Google Drawings, Draw.io, and Lucidchart, and retrieve files from cloud storage like Google Drive, Onedrive, and Dropbox.
Final Thoughts
No matter the size of your team, Nuclino helps you boost productivity and foster efficient collaboration. If you're using the Standard plan, you might want to keep your user count in check. Since Nuclino charges on a per-user basis, it is an affordable option for small to mid-sized teams. However, it can be on the pricier end for larger teams. The 10GB per user storage limit might be a deal-breaker if you have to handle large files regularly.
Overall, Nuclino's value lies in its versatility and ease of use, which is why it has been able to serve customers across a wide range of industries.