Everyone knows Zendesk, the all-in-one customer support software that thousands of companies use to handle tickets, marketing, automations and more. But over the years Zendesk has not only become expensive, but it's bloated and out dated. And there are tons of alternatives you should consider before blindly picking Zendesk for your customer support needs.
ThriveDesk as an Alternative to Zendesk
ThriveDesk is a simple and affordable customer support software to answer customer questions, engage with website visitors, generate leads, manage sales, etc.  Any business regardless of size, that wants to improve and automate its customer service can rely on ThriveDesk and its affordable prices. Its additional features like free trials, feedback, and surveys let buyers make an informed choice.
ThriveDesk primarily offers three different ways to connect with your customers and engage them.
Shared Inbox - a common inbox for all your customer conversations
Live Chat - for real-time support
Community - to build a thriving engaging community for your customers
Who is ThriveDesk for?
It is a help desk solution designed especially for small businesses, eCommerce platforms, SaaS, and SMB, for managing customer support. ThriveDesk understands in a small business, everyone manages multiple jobs. Keeping that in mind it has been designed to be extremely user-friendly, easy to set up, and tremendously efficient. Choosing ThriveDesk is choosing to improve the way your team works. All in one ThriveDesk is a true Zendesk alternative you can count on so far.
What are ThriveDesk core features?
If you want to know more about ThriveDesk, you have come to the right place. Mentioned below are some core features of this customer support software which will allow you to understand it inside out.
Shared Inbox: Manage all conversations in one place
A shared inbox is a common inbox for all your customer conversations. With this, you will not have to jump from one tab to another to keep track of all your emails and customer messages. A shared inbox will let your team collaborate better and faster
Some highly useful functional features of shared inbox are:
Assign any conversation to your team member simply by clicking on the assign icon (a human figure) on the top panel.
Tag conversations using tags like a partnership, refund, shipping, and VIP, similar to labels for Gmail.
Use the 'instant reply' feature to respond to your customers quickly.
Send an 'internal note' to your employee if you want them to reply to the email or take other relevant actions.
Set auto-response for the inbox to send automated emails to your customers instantly.
Integrate multiple apps with the inbox.
Assistants and Live Chat: Convert the lead to a customer
Assistant is a widget that you can put on your website, and it has three main functions, contact, live chat, and it can be connected to your blog site to display help articles anywhere on your website. To get started, you can use a widget builder to customize the widget according to your website and brand. The available customizing options are:
Assistant name
Action color
Background color
Launcher icon
PRO TIP: Ever needed to take a scrolling screenshot of an entire website and send that in a support ticket? Markup Hero makes this easy and you can snap it, annotate it, and paste it directly into a ThriveDesk ticket.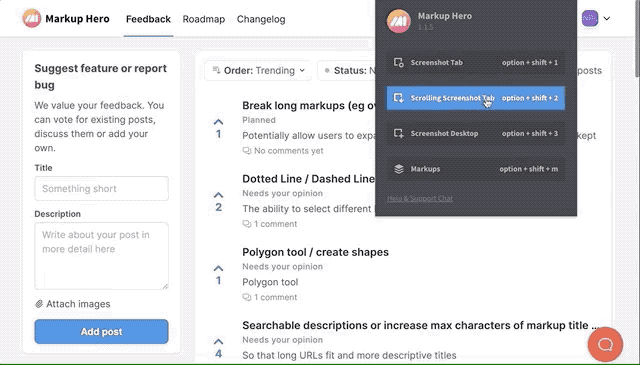 In the contact form, you can translate content into any language which syncs with your target customers and brand voice. You can come back to the builder anytime and make any change you want.
The live chat feature will allow you to reach more customers in less time with minimum effort. Even if your team is busy with other pressing tasks, its live chat assistant will cater to your customers instantly and professionally.
Adding Screenshots and Annotations to ThriveDesk Tickets
When it comes to providing excellent customer support, it's all about the clarity of the messages your team sends to customers. Whether by email, chat, or SMS, sometimes the best way to explain something to a customer is using screenshots or annotations.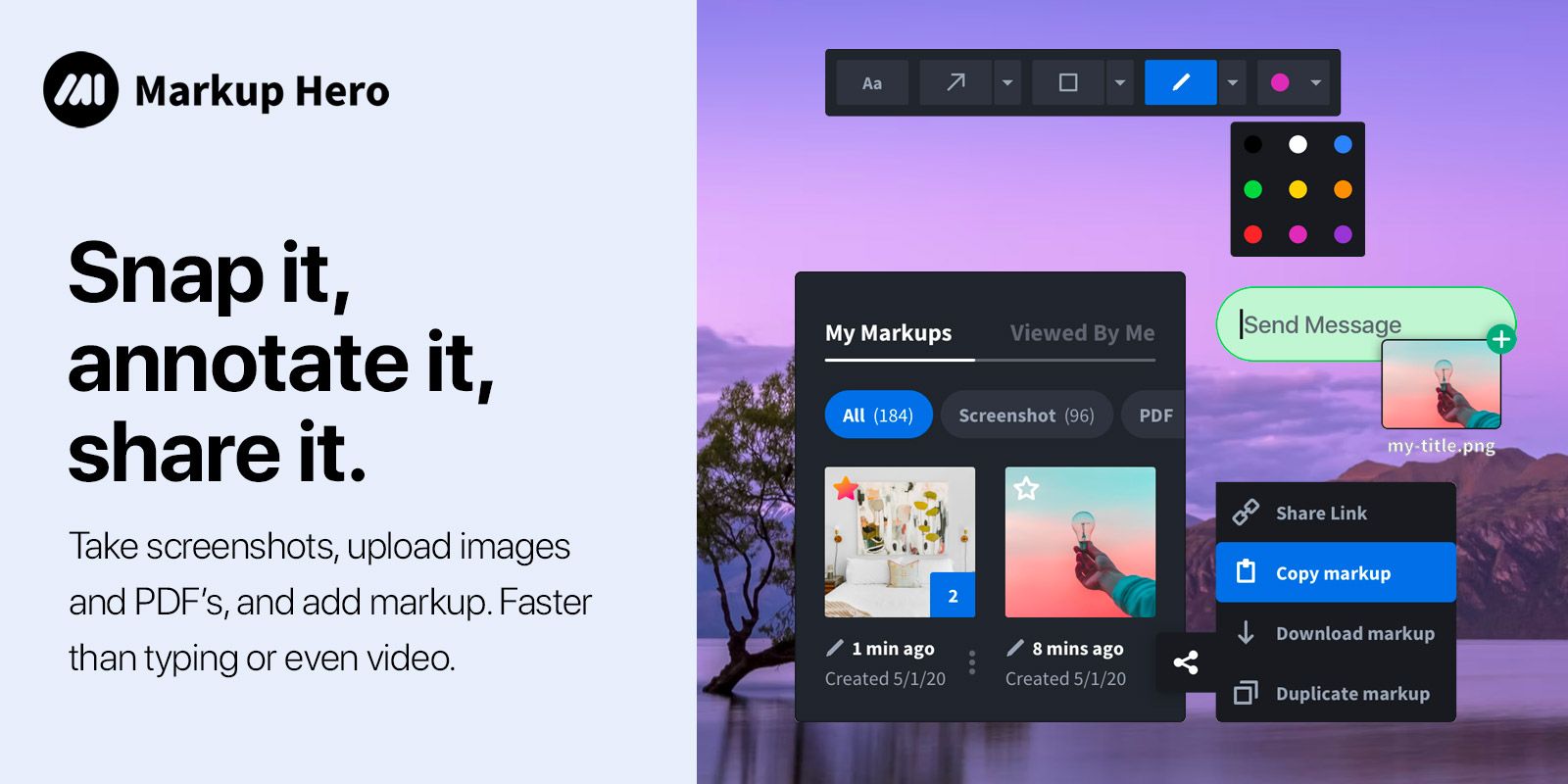 PRO TIP: Get Markup Hero for screenshots and annotations. Customer support reps love how fast and easy it is to paste files directly into ThriveDesk.
And while ThriveDesk doesn't currently have annotation capabilities built directly into their platform (although they should, and could, with Markup Hero's image annotation developer library), you can still use Markup Hero to take screenshots, annotate images and PDF's, and paste them directly into a ThriveDesk support ticket.
Keep a Library of Annotated Images and PDF's for Quick Responses
Markup Hero provides a robust library for you to organize your markups by tag, category and title. Customer support reps love this because they can build useful annotated files that can be used in common support ticket questions quickly.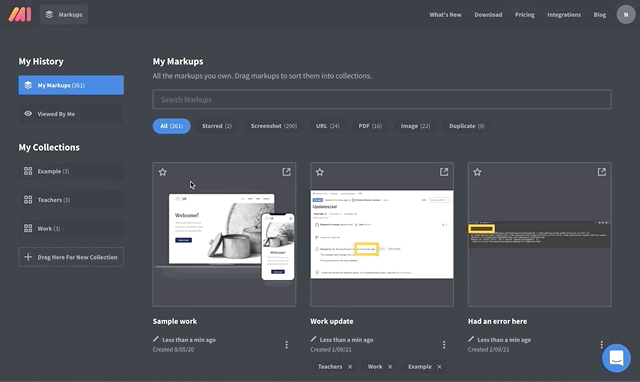 Or add them to canned responses directly within ThriveDesk.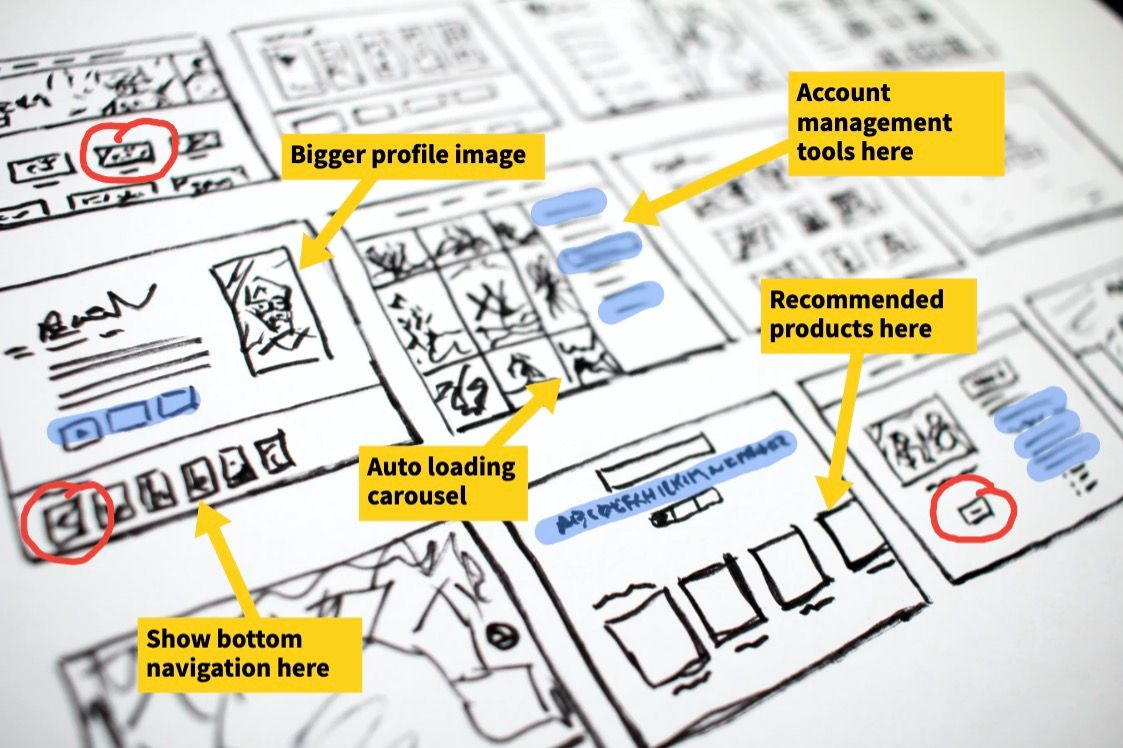 Reporting: Measure and track everything
The reporting tool will allow you to measure and track everything without any hassle. It will also let you make data-driven decisions to cater according to the requirements of your customers and keep them well satisfied. The various tabs available under the 'reports' feature are:
#1 - Conversations - here you can view a graph to track your conversations data across the range you choose i.e., this week, last week, this month, or last month. The bottom of the page displays the number of 'total conversations' which is further broken down into,
New conversation
Avg. conversations per day
Resolutions
Avg. resolutions per day
Contact helped
Avg. contact per day
#2 - Productivity - getting your team be be as productive as possible is essential business. Here you can view a graph of your average resolution time according to the range you set. You can also view the percentage of your 'first reply resolved' and 'assigned conversations' further broken down into,
Avg. first response time
Avg. resolution time
Avg. replies to resolution
#3 - Happiness - here you can view your customer ratings and determine how your customer service department is functioning. The ratings are divided into the following categories,
Great ratings
Okay ratings
Bad ratings
#4 - Agents - here you can have a listed view of all the agents working with the customer care department and how many conversations and resolutions they have handled. And, if you have a remote customer service team, ThriveDesk is the perfect solution across time zones and customer segments.
Community Forum: Create a thriving community
With the 'community' feature you can bring together your discussions, memberships, and contact. Build a thriving community wherever your audience is, all under your brand. You can make public or private communities or mix them both. ThriveDesk will allow you to develop a singular space for keeping all your employees and customers involved.
Use this space for driving user engagement, enhancing customer LTV, letting employees connect on different ideas, and much more. Participants can also make use of additional features like posting content, commenting, and replying to posts, to experience a premium community-like feeling.
WooCommerce: Deep WordPress integration
If your business is selling products through the WooCommerce website, then ThriveDesk is the best way to handle all your customer tickets smoothly with a ThriveDesk Plugin. It can be up and running in minutes and facilitate live chat, incident reporting, integrations, and much more.
Once you get it running, a separate tab will be created to view customer purchase data based on your product sale. Each product and its sales can be tracked separately. Mentioned below are some benefits of the integration,
Customers can access their current tickets and past tickets on the WordPress dashboard.
ThriveDesk form builders allow you to create a ticker template. You can add any field to your ticket. Certain fields can also be made mandatory.
You can set live chat up and get it running with just one click. The live chat feature ensures deeper customer satisfaction and ensures high conversion rates and repeat purchasing.

Knowledge Base: Instant answer for customer
Its vast knowledge base will allow your customers to help themselves. With a warehouse of articles and blogs, customers can quickly find a solution to their problems themselves. This will also help you by reducing your ticket flow and avoiding repetitive entries in the incident log.
Mobile App: Extensive mobile support
Save yourself from the hassle of carrying your laptop everywhere to access the customer support software. All you have to do is download the mobile app and carry on with work without any interruption. The extensive mobile app will provide you with the same facilities as a desktop version.
How to Use and Setup ThriveDesk
You can set up ThriveDesk in minutes and give your team a better tool to flourish. ThriveDesk understands a small business follows a holistic approach and everyone is responsible for multiple tasks. Therefore, it has been designed with an extremely easy user interface. It allows everyone in a company to understand it without any difficulty and become pro at it.
With four basic steps, you can set up ThriveDesk. To get started follow the below-mentioned steps,
Create a Mailbox - a place where all your conversations will take place and tickets will be displayed.
Invite Teammates - add your team members to ThriveDesk so everyone can stay on the same page and be aware of the everyday dealings with the customers.
Connect Apps - identify your most important apps and integrate them with ThriveDesk so you can provide better and faster support to your customers.
Create a Community - create a community for your customers and allow them to build a trustworthy relationship with you.
The service team can easily manage operations across various channels and offer immediate support. The navigation panel on the top is very easy to navigate and well suited for the needs of the company. Following are the built-in tabs in the top panel,
Inboxes
Reports
Contacts
Manage
Why ThriveDesk Is Best for WooCommerce & WordPress
ThriveDesk is an excellent choice for WooCommerce as it lets you use the data you already have to deliver an incredible customer experience. You can view your customer's order history with the click of a button. It is a one-stop solution that will save you time by not having to switch between various pages and tabs.
Additionally, its check order status will allow customers to track their order summaries through chat assistance. The automated chat assistance will let your employees take a breather if they are swamped with work. The pre-populated responses are highly suitable and answer customer queries correctly.
The ability to cancel orders and quick refunds within WooCommerce will also thrill your customers immediately. This can also be done hassle-free and assistance-free through the automated live chat feature.
ThriveDesk's Affordable Pricing​
You have all the reasons to believe in what ThriveDesk displays on its pricing page, "Affordable pricing for thriving business". Its affordable prices, early-bird packages, and free trials will let you launch your business in full swing without letting too much out of your pocket. $25/month prices come with advantages like 5 users, 3 mailboxes, and 1 widely inclusive community report.
Check out ThriveDesk pricing and get started with a trial today.
Integrations with ThriveDesk
Make your work life easier by integrating ThriveDesk with apps you love and find highly productive. Some of the top useful apps you can integrate are:
WordPress
WooCommerce
Easy Digital Downloads
Autonami CRM
Fluent CRM
Slack
Webhook
Envato
Pabbly
WordPress Post Sync
If you still have some apps, you need and ThriveDesk doesn't offer integration with it yet don't worry. All you must do is raise your voice and submit an app request form. Share your ideas with ThriveDesk and it will add them to their development backlog immediately.
Bonus Feature: Email Signature Generator
One recently added feature of ThriveDesk is a free email signature generator that lets you create an email signature without having to use complicated apps. You can now make an email signature with ThriveDesk which is compatible across all email platforms. All you have to do is follow the below-mentioned steps to create an email signature:
Log in to your email account
Click the ThriveDesk cog in the top right corner
Select settings from the menu
Scroll down until your reach email signature editor
Create your signature
Wrapping Up
ThriveDesk is an impressive platform to manage customer support and other operations of the company. It offers numerous inclusive features with an easy interface. If you are determined to take your small business to great heights, then this is the absolute best tool for you.