Business organizations of all scales and at all times depend on their customers' experiences to thrive. If you want to build solid and lasting customer relationships, it is crucial to be aware of the ever-changing market trends and customers' expectations from your brand. And nothing new for businesses, albeit nerve-wracking, customer expectations are skyrocketing. About 54% of consumers agree their present customer service expectations are higher than what they had just a year ago.
How do businesses then cope with cutthroat competition in the realm of customer services, particularly in a remote environment? The answer is to build a resilient customer experience strategy!
PRO TIP: Great customer experience starts with great communication. 5000 companies rely on Markup Hero to enhance communication with co-workers and colleagues. Try it today.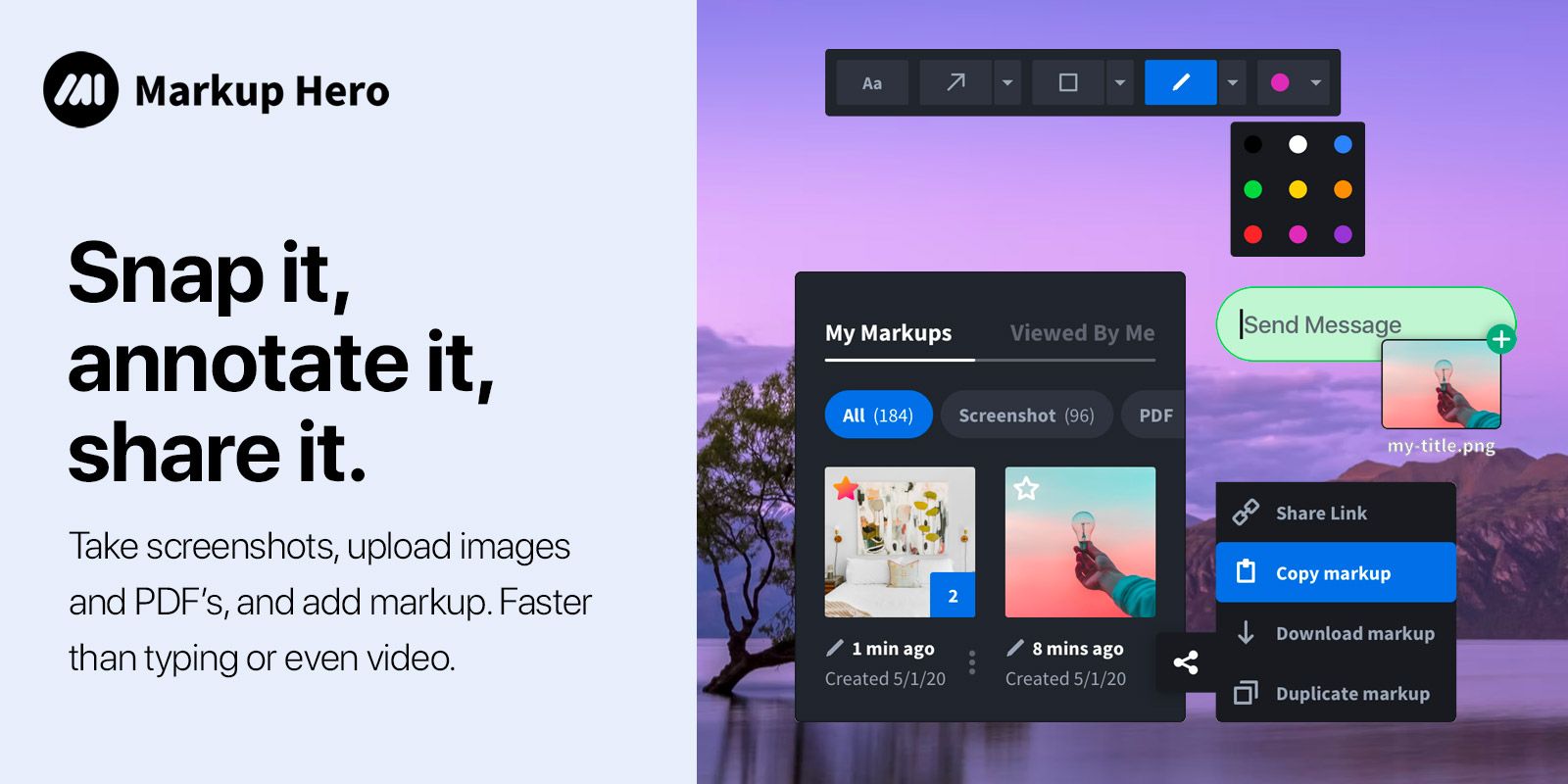 Your CX strategy should be able to connect your customers with the right people and information at the right time. To this end, Knowledge is a key player. The way you organize information and share it with users within and outside the organization directly reflects in customer support services. Therefore it will be beneficial to explore the discipline of Knowledge Management and the best practices for elevating customer experiences.
Ready to get your customer experience process kicked into high gear? Get your first 3 months of Markup Hero free. Use promo code HERO3FREEMO to get started.
The Connection Between Knowledge Management and Customer Experience
Knowledge Management (KM) is systematic approach organizations utilize to create, curate, share and manage information. Knowledge management tools aim to put Knowledge into action and create value for the organization. KM tools consolidate any and every knowledge piece vital to the business into systems and processes that engage with users to create the best experiences for them.
Modern customers have shorter attention spans and expect customer support representatives to be always ready with their solutions. Given the demands from support agents, try as you might, you cannot rely on your few expert agents to be omnipresent. The key is to make every agent your best agent. Therefore, it is crucial to take Knowledge out of the human mind and put it into systems that efficiently connect people with the Knowledge they need.
#1 – Knowledge Base
Knowledge base tool acts as a single source of truth for collective organizational Knowledge. It organizes vast amounts of information and stores it in one unified place. A unified knowledge base makes sure that your organization does not lose valuable Knowledge when experienced agents leave or retire. AI-embedded Knowledge base management enhances the searchability of information.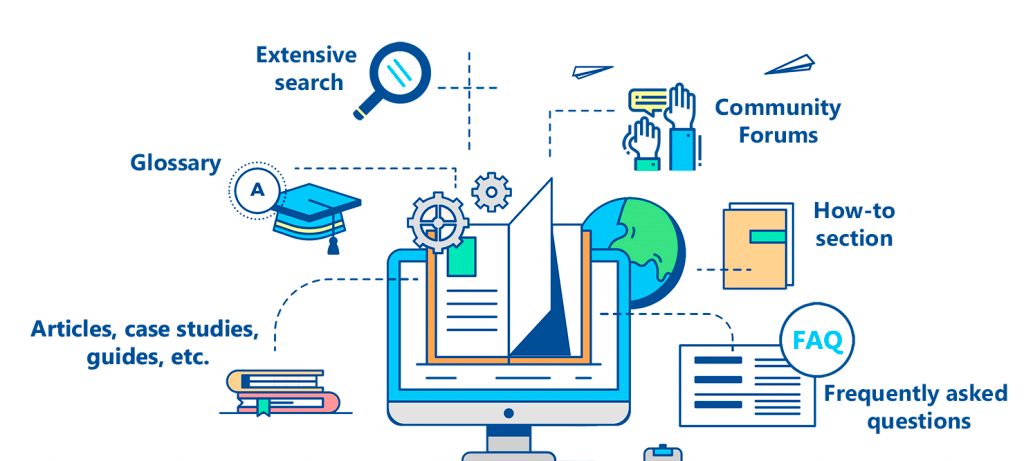 Customers and agents can search titles or within the content to quickly access the information they require. With a centralized knowledge repository to rely on, agents can quickly answer customers at the first go, increasing First Contact Resolution (FCR) rates.
If you aim to achieve higher customer satisfaction, it is critical to pay adequate attention to your support representatives and prevent agent burnout. Repetitive customer queries can take considerable amounts of time and energy, exhausting your agents' bandwidth to handle complex issues. Therefore it is vital to utilize Knowledge base tools to document repetitive processes into articles and FAQs that can be accessed by agents and customers alike.
Take steps to to build a knowledge base that caters to different types of users. You can attach videos and visuals with articles and share them with your customers. A centralized Knowledge base is a one-stop search that consolidates data from different places and prevents fragmentation of information.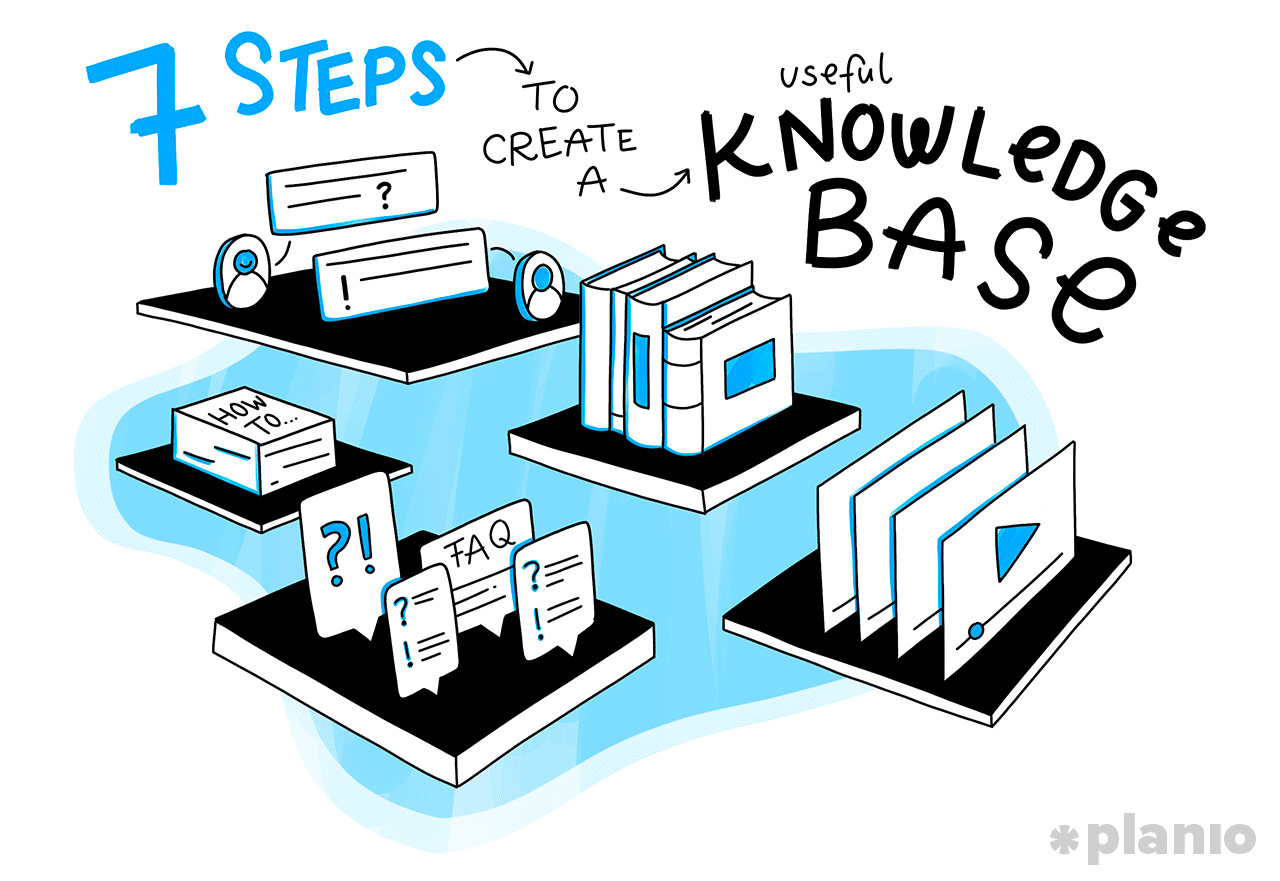 77% of consumers report having used a self-service channel. A centralized Knowledge base tool acts as a self-service portal for your customers. Many customers who like to help themselves can look for articles and FAQs in the knowledge base, helping your support agents with more time to take up complex tasks. A self-service Knowledge base boosts agent productivity and elevates customer experiences with your brand.
#2 – Decision Trees
As businesses strive towards automating standardized queries, most customer issues that require agent assistance are complex. It is essential to act upon the expectations your customers are coming up with. They are looking forward to agents who can simplify the complex process and provide precise and correct solutions. Decision Trees are guided workflows that empower agents to make the best decisions in real-time.
Unlike static documents, a step-by-step framework guides agents with the next best action to troubleshoot customer challenges. AI-powered Knowledge Management system for customer service fast tracks the resolution process by integrating customer information from Customer Relationship Management (CRM) platforms.

Decision Trees standardize and simplify call center scripts guiding agents with precisely what they need to ask next during a customer interaction. Your teams are better aligned and confident as they all follow standardized processes to deal with customers. Standardized active workflows solve customer queries faster, reducing average handle times (AHT) and elevating customer experiences.
Know that a decision tree is different than natural language processing (NLP) as described by HappyFox, particularly as it relates to chatbots (discussed in the next section).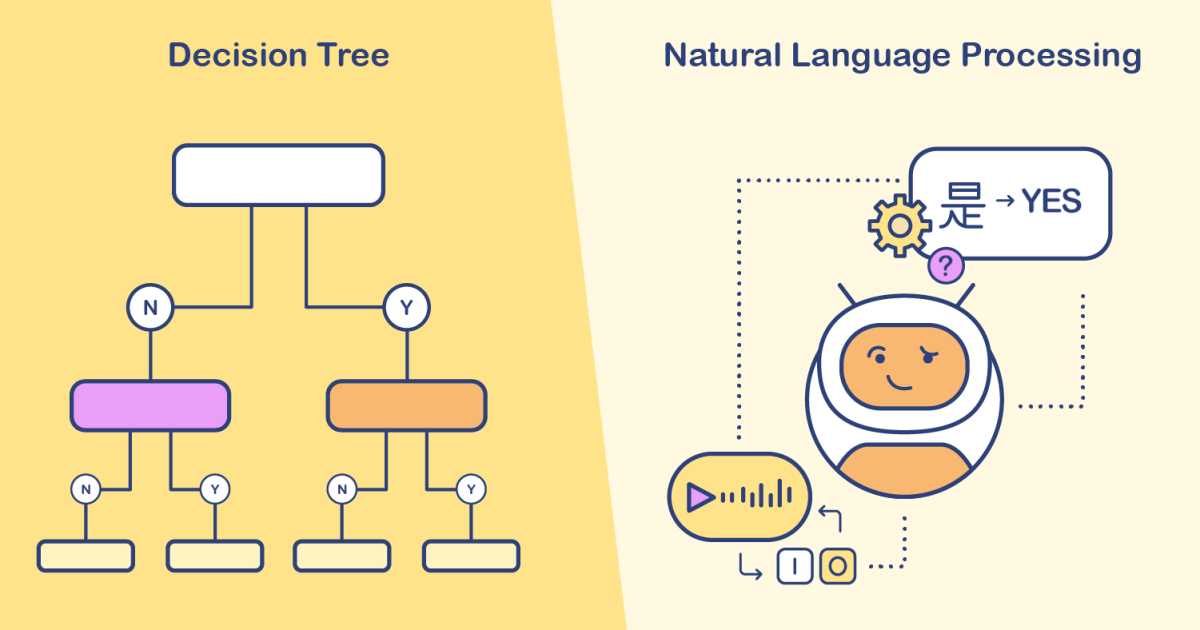 Some of your tech-savvy customers may like to take a chance with multiple complex steps on their own. Decision Trees can be pushed forward to chatbots for customers who prefer self-service over agent assistance. Irrespective of the channel your customers choose to contact you, they get consistent information which makes them feel more confident about your brand. Consistent customer experience increases customer loyalty and satisfaction with your brand.
#3 – Chatbots Backed by a Robust Knowledge base
AI chatbots are digital assistants used by organizations to provide round-the-clock customer support services. It is difficult to predict when prospects visit your brand. Chatbots outperform humans in this regard and gather customer data by tracking their entire journey. They can carry out customer conversations all time without any rest. Based on predefined answers from the Knowledge base, chatbots elevate customer experiences by giving them options to click and select their queries instead of typing.
Customers often find it challenging to articulate their concerns to which chatbots can find the best solutions for customers by analyzing their interactions. Therefore, a chatbot is a highly efficient KM tool that responds instantly to customers and avoids getting on phone calls with agents.
Popular customer support platform, Drift, has a good interface for building rules based chatbots as you can see in the diagram below.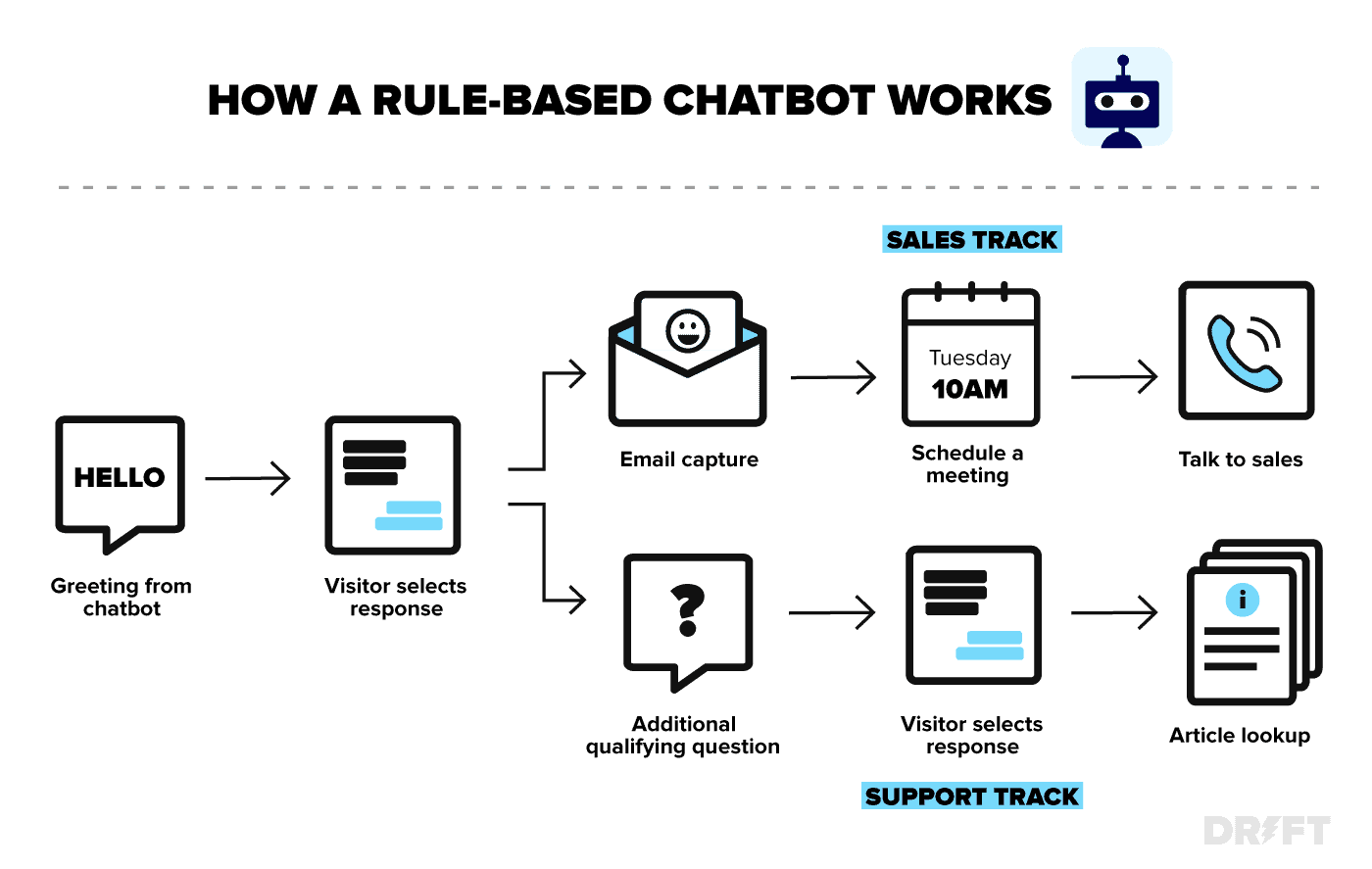 Customers feel understood and valued as chatbots can understand the intent of their query and translate between different languages with the help of natural language processing (NLP). Chatbots can identify their limits and take appropriate action to create the best experiences for customers.
When it cannot resolve a customer problem, it can deflect the ticket to the live chat agent immediately and transfer the customer data to the agent. Customers need not repeat their problems and experience a seamless transition from one channel to another. It is critical to work with the right balance of technology and human support to elevate customer experiences.
#4 – Visual Guides
Your products and services may be great and famous among your customers, and that is a good reason to feel confident about your business. However, to continue growing, you should never lose sight of your customers' satisfaction and continually ensure steady and consistent support throughout their journey. Installing software or fixing a technical issue on a mobile phone are some of the challenges your customers come across daily. It can take forever on a call for agents to make the customer understand exactly where they need to click and which option to select. Visual guides come in handy here.
They help customer support representatives to share step-by-step picture instructions with customers to troubleshoot problems. Picture guides help agents resolve even the seemingly challenging and technical customer issues quickly, reducing the average handle times (AHT) and elevating customers' experiences.
Pictures are easier to grasp than content and can engage with customers more effectively. Visual how-to-guides are also easy to follow and instill confidence in customers to use your services. They work as an efficient self-service tool where customers can quickly resort to these step-by-step picture guides and fix problems independently without agent assistance.

Popular project management solution, Clickup, does a good job with visual guides and how-to articles for their product.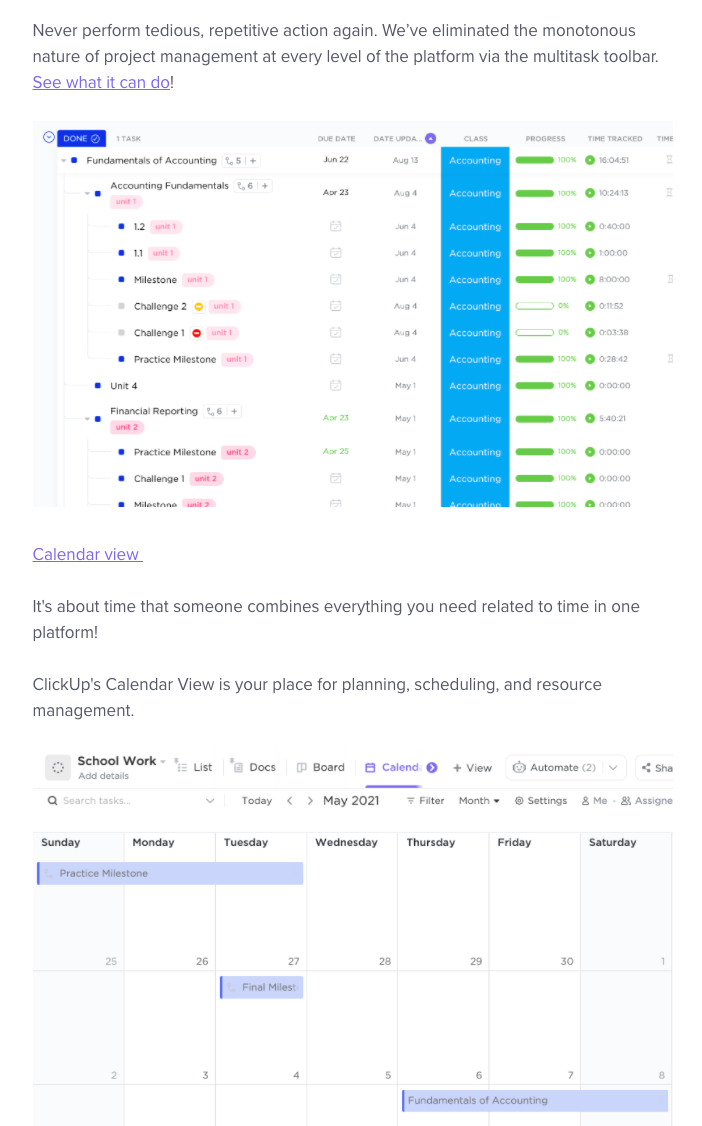 Strengthening self-service customer services improves staff satisfaction, increases customer satisfaction and brand loyalty. Therefore, it is vital for businesses to constantly improve customers' experiences with their brand and leverage Knowledge base tools efficiently in their CX strategy.
#5 – Micro-Segmented Analytics
Knowledge is power if used in the right way. It is critical for business organizations to measure the effectiveness of their information and consistently improvise it for long-term growth and development. AI-based micro-segmented data analytics is a key KM tool that captures the complete information lifecycle of the organization and analyzes the performance of each knowledge piece that your business owns.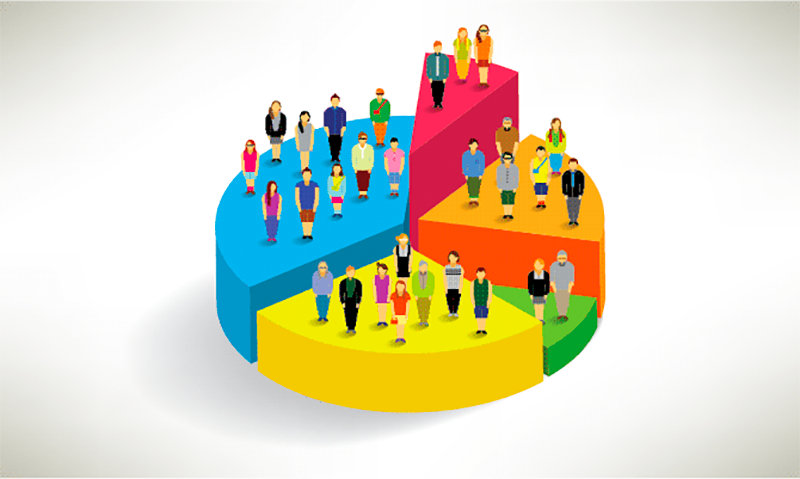 It provides insights into how users are engaging with your content. You can track the failed searches and identify knowledge gaps to update information for better brand experiences. You can also increase visibility for top engaging content pieces and delete unnecessary information to manage data hygiene in your organization.
If you want to elevate your customers' experiences, it is essential to make your customer-facing agents active participants in improving Knowledge. With AI-driven data analytics, you can track agent feedback and utilize it to optimize your Knowledge base to deliver superior customer experiences consistently.
Conclusion
There are newer technological innovations every day, and so the customer service trends keep on changing. However, the key to building a great CX strategy will always pivot around a fundamental question- how effective are your knowledge management practices?
To this end, Knowledge Management tools elevate customers' experiences by improving first contact resolution rates (FCR), reducing average handle times (AHT), and increasing C-SAT (customer satisfaction) while minimizing operational costs.