If you're here, then you already know about the importance of project management tools. And you probably already have an idea about nTask. But there are probably some things you aren't aware about the hugely popular project management software. This article breaks down key features you don't want to miss, and one thing that nTask doesn't have but really should.
PRO TIP: nTask is one of the best project management tools around, but it's missing one essential feature. Click here to scroll to that part of the article right now.
Statistics have shown that around 77% of all successful projects combine project management into the mix before getting started. nTask is a powerful weapon to have in your digital arsenal. You can use the tool to organize, allocate, and plan your budget schemes with your teammates.
So, why do you need nTask? For starters, project management software helps you divide your work into effective sub-factors. Needless to say, we will not bore you with the long list of things that a PM tool can do, as you are already well aware of its abilities.
Instead, we will now be introducing you to the plethora of features nTask provides. By the time you are done reading this article, you're likely to have found a new favorite.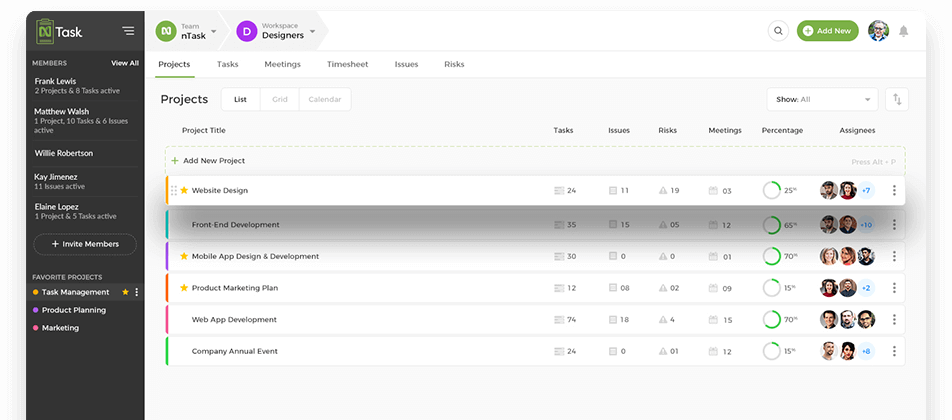 The Missing nTask Feature - In App Image and File Annotation
First and foremost, nTask is still a great choice even without built-in file annotation. But that doesn't mean the project management tool should have the ability to add markup to files, images and PDF's right inside the tool. That said, none of nTask's competitors solutions offer this feature either.
Here's the use case. You are building out a project in nTask. You've got your team, your boards, your tickets, your charts and reports. Someone goes to update a ticket and adds a screenshot of a feature they're working on.
But you have some comments. You can write out your comments in the notes box attached to the ticket, but wouldn't you rather just add some arrows, highlights, callouts and other markup directly on the attached image?
Why can't you just click to annotate the attached image or PDF? Yeh, you should be able to do this.
Solution: nTask should integrate the Markup Hero annotation API so users can click "annotate image" directly from a ticket and instantly add annotations. It's like magic and it seems so obvious. You don't even have to leave nTask to do it.
Pretty cool? Well watch these 30 second video below to see exactly how it would work.
Here's a Quick Video Showing nTask w/ Integrated File Annotation
Videos not good enough. Well, here's a fully interactive demo for nTask you can try in 10 seconds flat.  Just click the annotate button, add whatever annotations you want, click done and watch the magic.
---
nTask- What Does it Have to Offer?
nTask tends to all your requirements when it comes to working on a new project. Read on to see what it brings to the table:
Kanban Boards
One of the coolest features of nTask is that it comes with an unlimited supply of Kanban boards.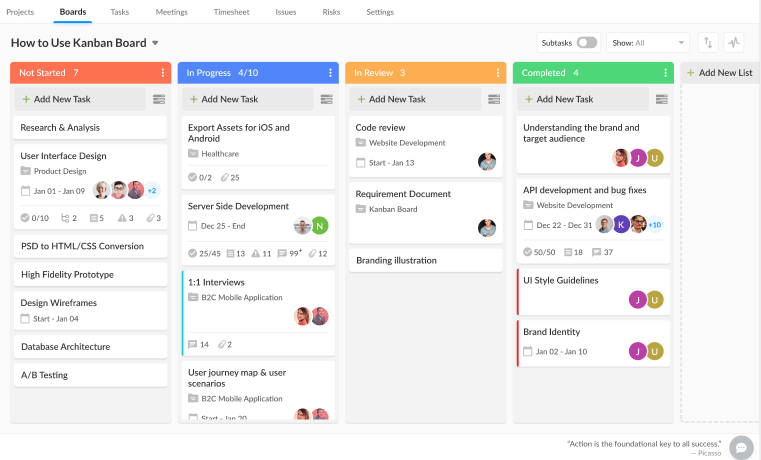 You can expect an immediate increase in the work efficiency of your team with Kanban Boards. Assigning tasks to your fellow coordinates is also much swifter. You can smoothly integrate in-built templates into your project on Kanban Boards.
This feature can help you keep track of time, which particularly helps when assigning tasks and assignments to co-workers.
Efficient Task Management
Apart from featuring Kanban boards that assist in planning out a project to its last T, nTask will also help you manage and keep in touch with all your resources.
Furthermore, it will summarize and handle the financial sector of your project as well, which in turn lets you focus fully on the task at hand.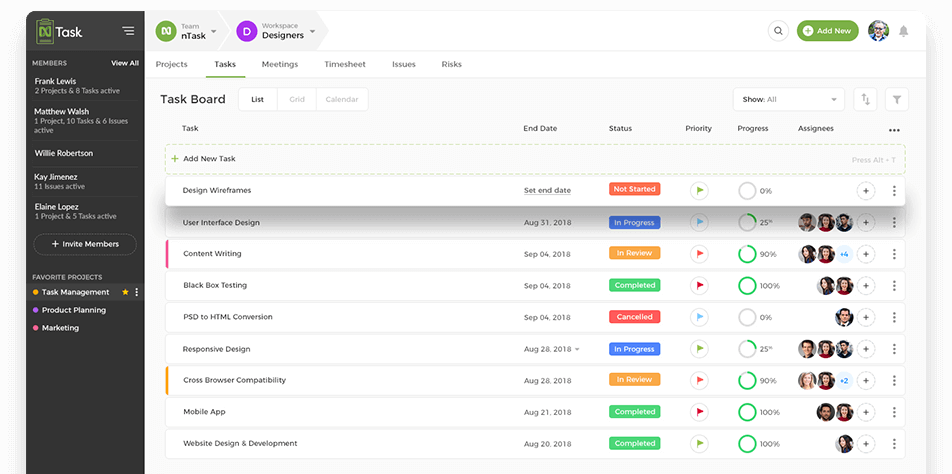 If you wish, you can view your to-do list either in a list view, grid view, or even in a calendar view. The latter will help you keep track of the due date, and you will even be able to sort out multiple assignees. The task management feature lets you attach files and docs in one place as well.
Visualize Progress With Gantt Charts
nTask features a Gantt chart function that tells you where you started off on your project and where you are now. We all know how important visualization is when dealing with mundane tasks, and this software uses that to motivate you and your team even further.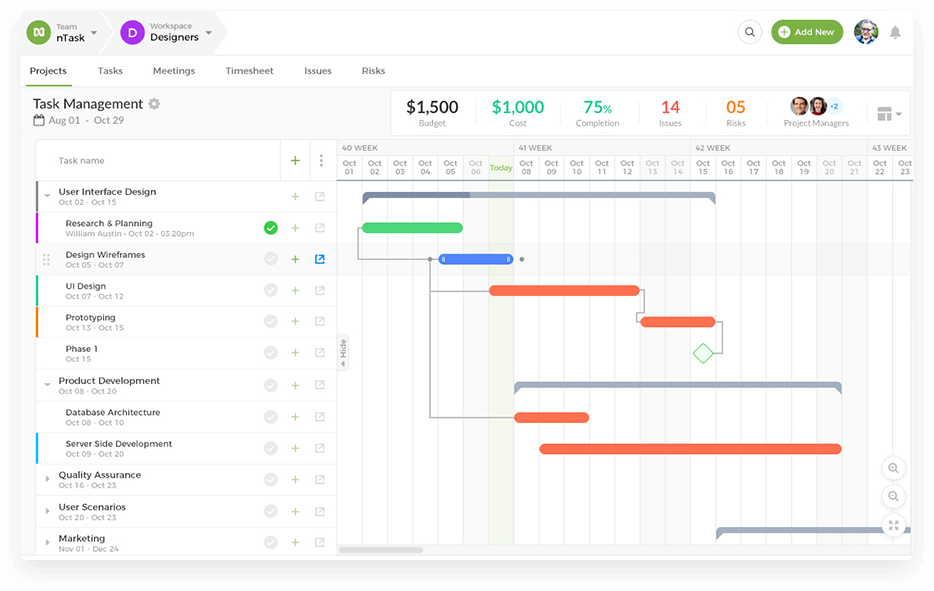 Side by side, you can set task dependencies by using the "drag-and-drop" function of the software.
Moreover, you can use Gantt charts to track your budget and expenses so that you no longer have to deal with all those annoying numbers for long durations.
Enhances Teamwork
nTask makes communication an easy feat by allowing you to conduct group calls and chats. You can also invite new members in bulk and provide each member with their very own workspace.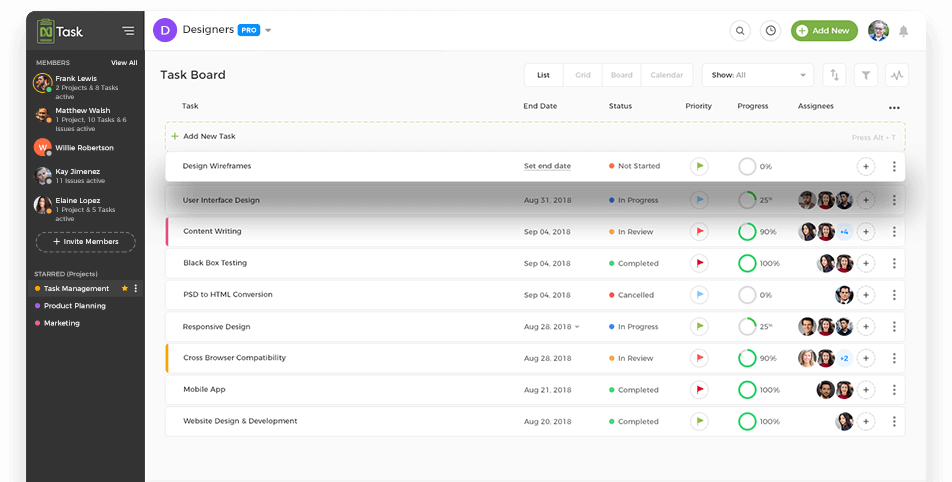 Each meeting will automatically sync with the calendar. It will then provide you with personalized reminders accordingly.
You can also attach notes and documents to the meeting invitation.
Boost Time Management and Tracking
You can input billable and non-billable information in the timesheet nTask offers. This tool will remind clients when a project or payment is due.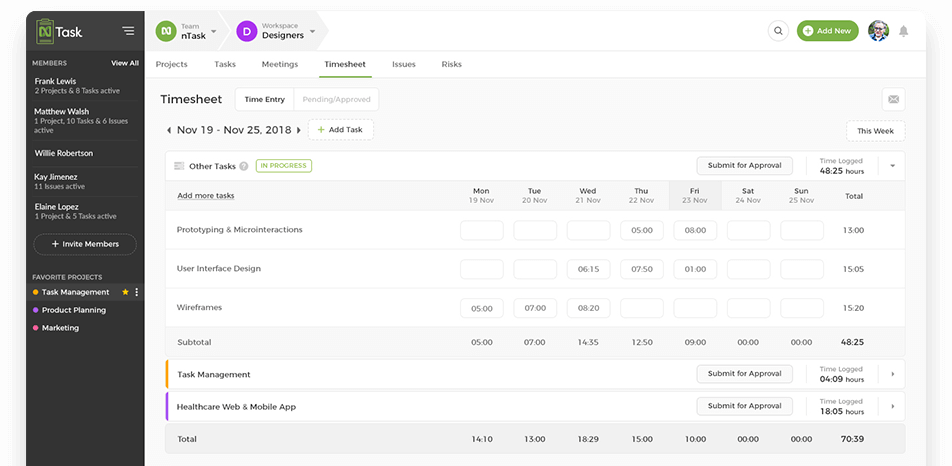 All you have to do is make a time entry for the task at hand, and this will automatically trigger a timer on the software. At the end of the day, you will receive a timesheet based on which you can customize your tasks in the future. You can even use the mobile app to track tasks and project deadlines.
Over 1000 Integrations
nTask integrates with over 1000 apps through Zapier. You can connect on Zoom, Slack, Google Calendar, Office 365, etc., just to name a few. Importing and exporting files from other apps to nTask is also smooth and easy. You won't even have to leave the tool window to collaborate with other apps.
Is nTask Free?
If you choose to use their basic plan, you will be able to use nTask for free forever, but we would only suggest you go with this if you are a freelancer or an individual user.
If you work with a company or represent a start-up, we would recommend you to buy their premium plan, which can accommodate up to three users. This plan features all the functions mentioned above, along with 5GB of storage at only $2.99/ month per user.
The business plan comes in at $7.99/month/user and offers more features than the premium plan, including 10GB of storage, making it perfect for large businesses.
Down the list, nTask also has an enterprise plan. You need to contact their team to know further details regarding this plan.
Final Words
To conclude, nTask is here to make project management easier with its simple interface and brilliant features. This tool offers quite a lot at a relatively affordable rate. No matter who you are - a freelancer, an agency, or enterprise - trust nTask to manage all your projects and timesheets efficiently.