Productivity is a trending topic, especially among entrepreneurs, students, and business professionals. This hype has made productivity tools the hot gadgets that everyone wants to implement in their lives right now.
A productivity tool is any application that can help you save time and get your everyday tasks done more efficiently. And there are productivity tools for everything under the rainbow.
However, there is a lot of debate over the actual effectiveness of productivity tools. Do productivity tools make you more productive? If they do, shouldn't implementing more productivity tools make you more productive?
In this article, we will take a look at some of the most popular categories of productivity tools. We will cover some of the advantages and shortcomings of these tools. And we'll show you how Markup Hero can be an excellent complement to many of the tools you already use or are considering getting.
PRO TIP: Markup Hero is a screenshot and file annotation software that will help you communicate quickly and clearly. It is incredibly easy to use and works well with tons of other productivity applications. Keep reading to see how.

Types of Productivity Tools
The first step to understanding productivity tools is knowing about their different categories. In some ways, there is an infinite number of categories for such tools, but some are more practical than others.
Let's take a look at some of the most popular types of productivity tools.
Team Management
Most workplaces rely on teams to get their work done. As a result, individuals with an affinity for teamwork are valued more in the workplace.
The importance of teamwork in the workplace coupled with the COVID-19 pandemic forcing workplaces to operate from homes has led to the rising popularity of team management applications.
Team management applications aim to ensure your team knows its goals and objectives. These programs have features like planners, role assigners, workflow distribution, and project collaboration.
These tools come in many forms. The most common form is the team-chat app. These apps help team members keep each other up-to-date on the project's progress. Besides chat apps, there are planners, reminders, and other forms of team management tools.
How Markup Hero Helps: Communicate messages better by inserting links inside team management tools like Slack and seeing instant previews. Try it instantly here no account or credit card required.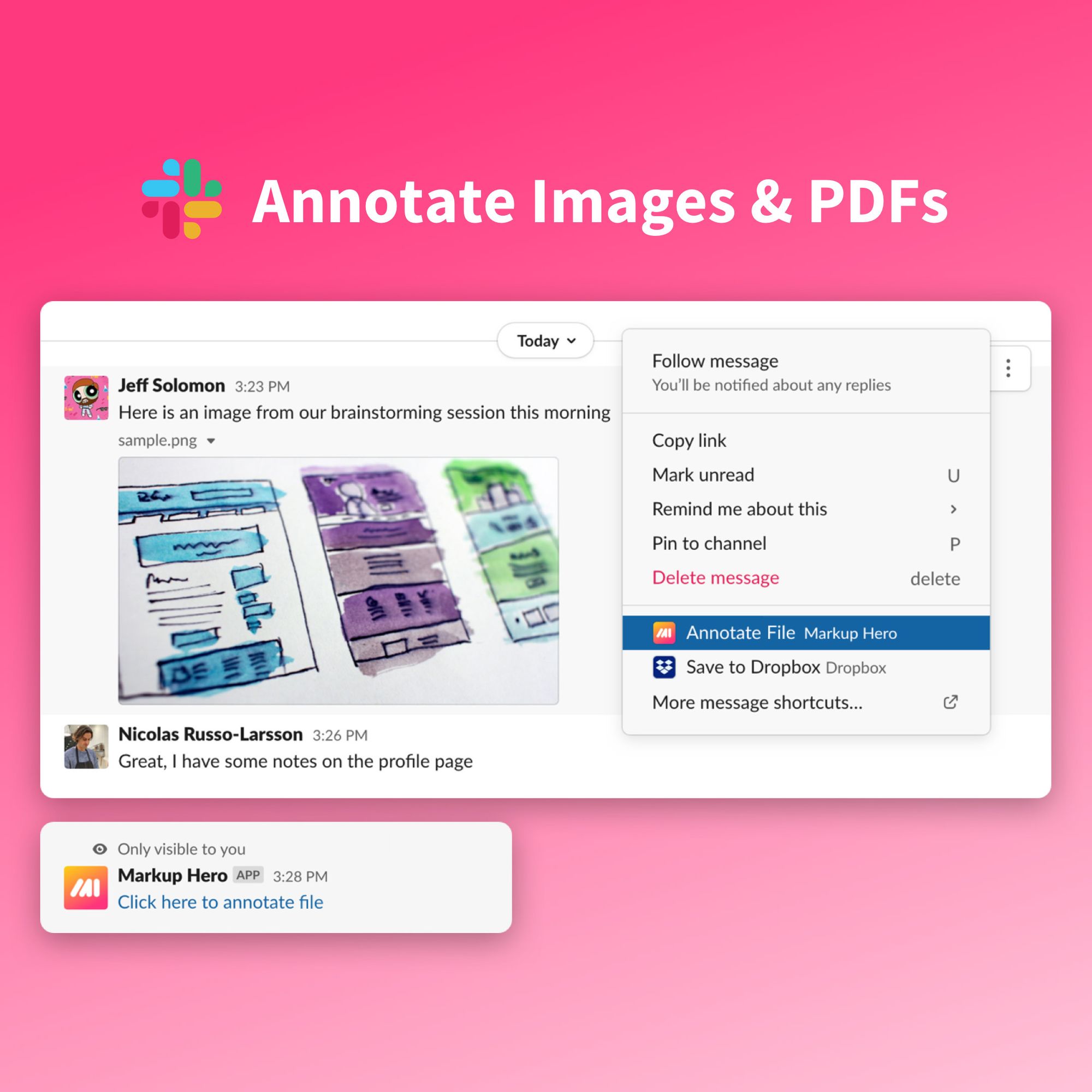 Project Management
Individuals and organizations hire project managers to plan any assignment or task systematically.
School or college students can use project management applications to organize their assignments and group works neatly. Organizations can use these programs to establish project goals and objectives.
Project management applications have many useful features that can help users better understand the progress of a project. You can designate a deadline for each objective to ensure the project is progressing as planned.
Many project management tools also give you analytics and insights to help you deal with unforeseen circumstances.
How Markup Hero Helps: Explain ideas better by attaching screenshots and annotations to tickets inside project management tools like Asana. Try it instantly here no account or credit card required.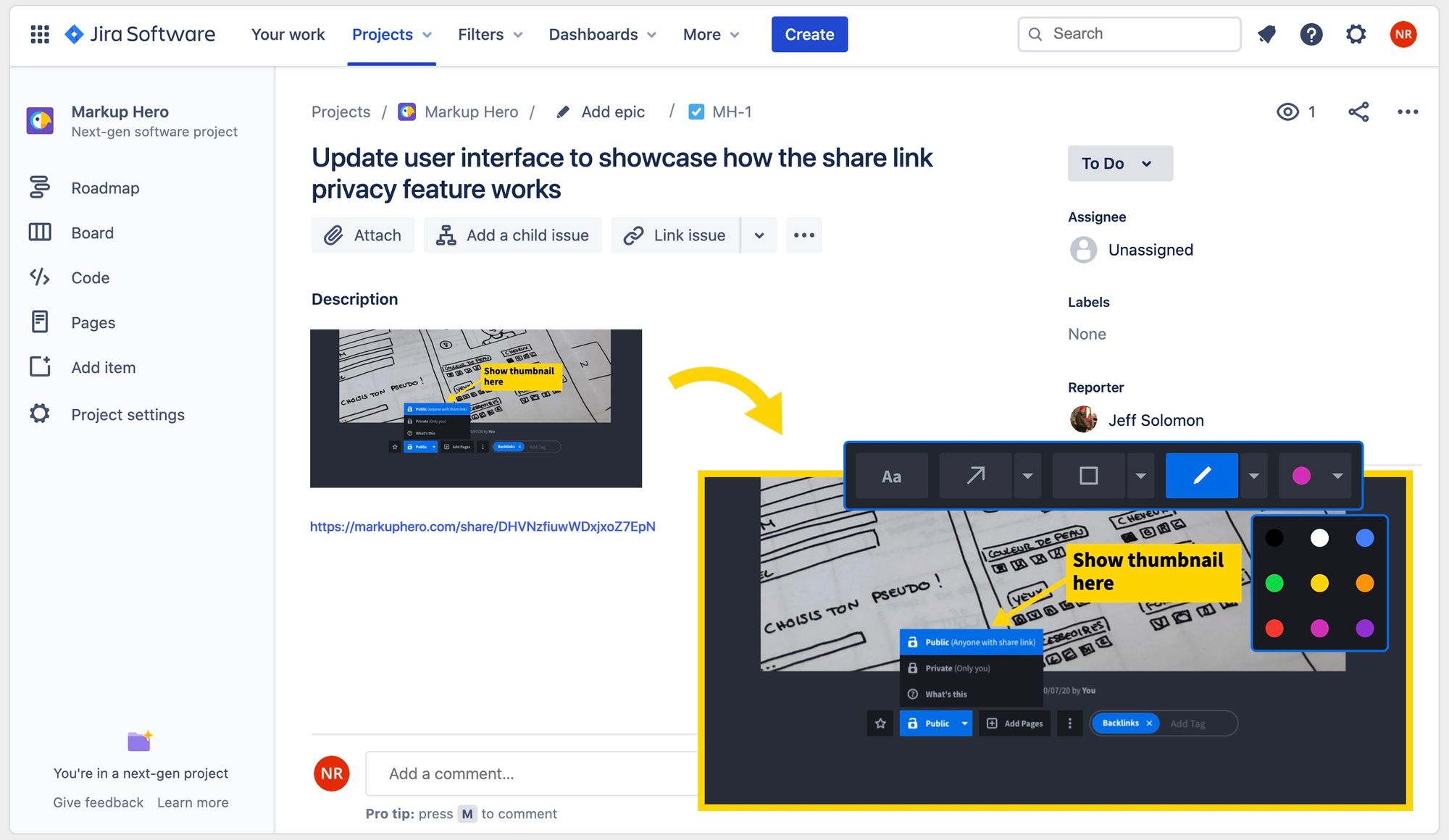 Time Management
Time management tools are trending equally among individuals and organizational teams.
As the name suggests, time management tools help you make the most out of your time. You can plan out your week down to every individual chore. Most time management tools have a reminder feature to make sure you do not forget anything.
Some of the newer time management applications have features that force you out of your devices when you are behind schedule. Consequently, it allows you to utilize your time by isolating yourself from all sorts of virtual distractions.
How Markup Hero Helps: Showcase work examples inside time management tools like Time Doctor. Try it instantly here no account or credit card required.
Process & Workflow Management
Process managers often come bundled with project managers to deal with large-scale projects.
A process management tool lets you dissect a broader task into specific objectives. As a result, it allows you to work around the traditional route and find the optimal task process.
While it can seem trivial, process management applications are one of the most effective productivity tools. You can save a lot of time by organizing the tasks to fit your schedule.
Having a breakdown of your task also lets you optimize how much time you allocate to each objective. As a result, the workflow becomes more efficient.
How Markup Hero Helps: Explain complex processes with one annotated image inside process management tools like Monday.com. Try it instantly here no account or credit card required.
Document Management
One of the biggest ways to increase productivity is with good document creation and management tools. Google Docs is of course one of the most popular, but more specialized tools like Notion allow you to create, organize and share documents like no other.
Just about every professional has to create documents. Whether proposals, customer support workflows, sales collateral, or anything else, you're business is going to accumulate lots of docs. These productivity tools give you creative ways to build documents that work for different use cases.
You might need a tabular list for keeping track of opportunities. Or you might use a kanban-style board to organize ideas. Or create a multi-column document for process walkthroughs. Then add filters and sorting and searching to find and group your files.
How Markup Hero Helps: Showcase detailed step-by-step instructions in help documents directly within document management tools like Notion. Try it instantly here no account or credit card required.
Customer Support
Most companies have some kind of customer support. And many use support platforms to manage tickets, chat with customers, store help documents or create automated responses. Platforms like Olark or Gist add a ton of productivity for support reps because they enable them to manage multiple customers at one time.
Additionally, these tools enable you to automate repetitive tasks like sending a particular help document to a user or explaining a common feature or service. Plus, support platforms track all of your customer interactions so you can quickly learn what is more or less important to your users.
How Markup Hero Helps: Instantly show a customer how to use a feature by adding an annotated screenshot directly in a chat conversation in support tools like Olark. Try it instantly here no account or credit card required.
Benefits of Using Productivity Tools
Many people doubt the effectiveness of productivity tools. However, it is undeniable that these tools can be very helpful if you use them properly.
Let us take a look at some benefits of using productivity tools.
Improve Communication
The most common issues in workplaces often stem from miscommunication. Productivity tools can help minimize miscommunication regarding project objectives and role responsibilities.
Productivity tools help streamline your projects and workflow. So, everyone knows what their tasks and deadlines are. There is no need for a representative to brief the team members directly. As a result, there is very little room for miscommunication.
PRO TIP: Markup Hero makes it easy to communicate complex ideas in just a few annotations.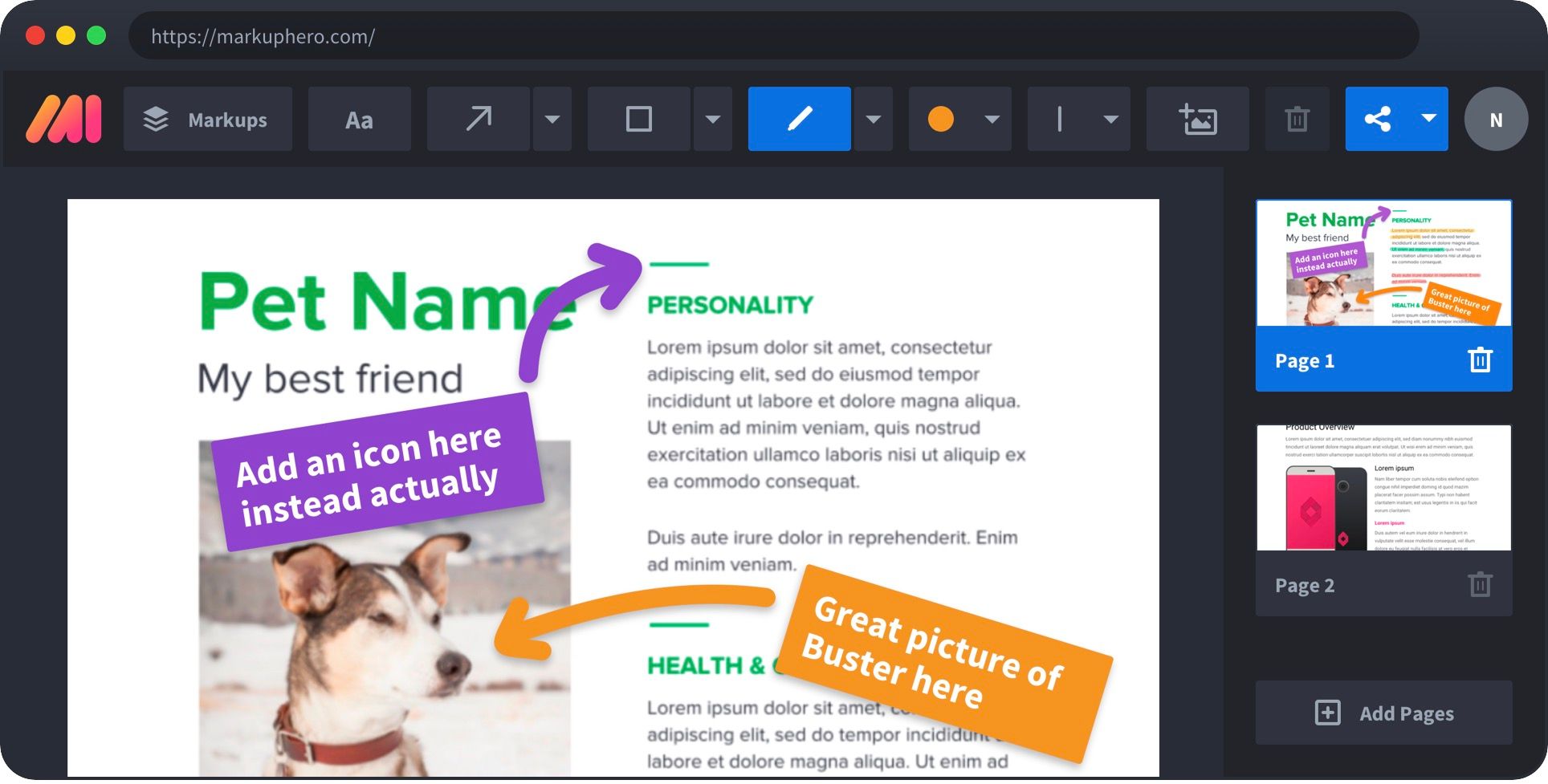 Easier Collaboration
Productivity tools come with amazing features that let you collaborate with your teammates easily.
You can easily switch between projects and work with your teammates in real-time. To add to it, you can collaborate with teammates from the comfort of your home. As a result, you don't have to waste time commuting every time you work together.
Save Time
One of the biggest perks of using productivity tools is the time management feature. Thanks to that, you can organize your daily routine and stick to it, consequently saving a lot of time every day.
You can then use this free time to relax, enjoy your hobbies, and even focus on side gigs.
PRO TIP: Use Markup Hero to share ideas and get feedback from colleagues instantly.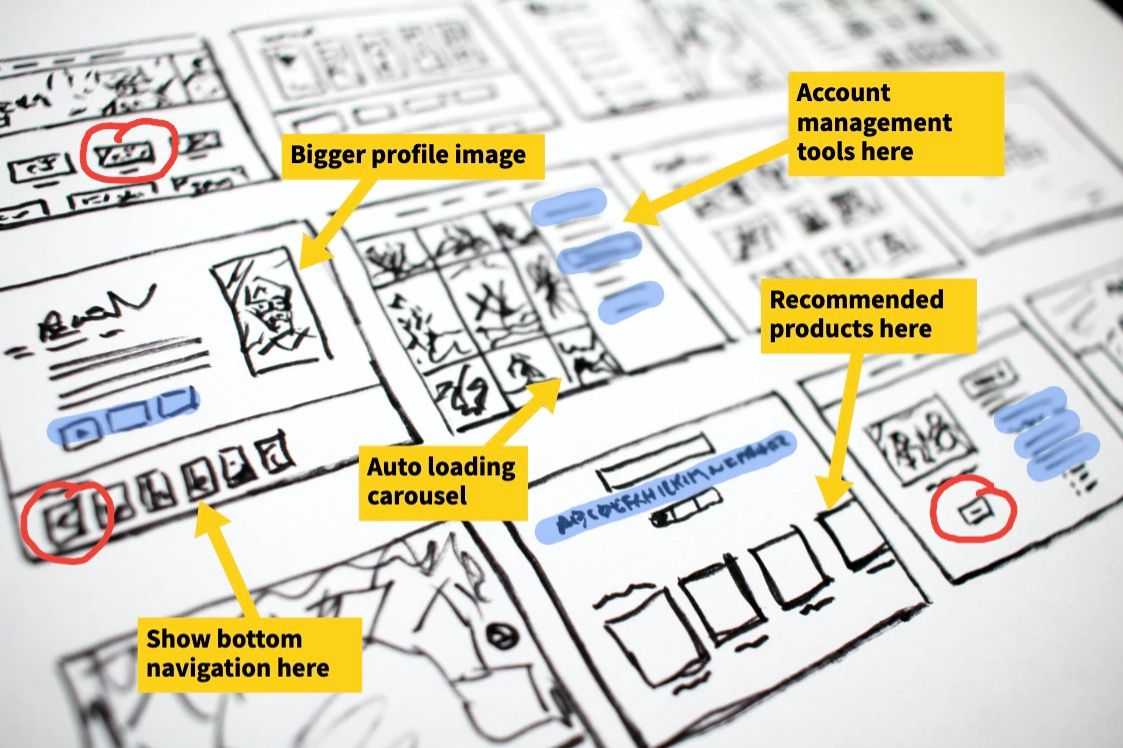 Get More Work Done
Since your work is more organized, you can complete more tasks than ever using productivity tools. This can be helpful both in your personal and work life.
If you don't have extra work at your job, you can spend more time doing things you like. Many of us are so overwhelmed with our jobs and responsibilities that we don't get time to do things we love. Using productivity tools allows you to be productive while also enjoying your life.
Lead a Healthier Lifestyle
Nowadays, we are forced to be glued to our screens for a good chunk of our day. And this increased screen time messes with your sleep cycle.
We have already talked about screen time management and sleep cycle management tools. With these tools you will be able to calculate your sleep and rest time, which will greatly improve your health and quality of life! Having a healthy lifestyle is a prerequisite for being productive. It is not sustainable to overwork yourself by ruining your health. Productivity tools are great at nudging you towards that productive lifestyle.
Pitfalls of Productivity Tools
Productivity tools can be very effective when used properly. However, merely using more tools does not increase your productivity.
The key is to use the right number of tools and to use them for the right tasks. Let us look at some of the pitfalls of using productivity tools.
Distraction
When using productivity tools, most people make the mistake of focusing more on the tool than the task.
Productivity tools are a supplement to your task. If you are too concentrated on the tool, you will end up performing worse than normal. So, it is important to focus on your task and let the tool guide you when needed.
Reduced Interpersonal Skill
Productivity tools take out a lot of human interaction from projects. As a result, introverted people get less exposure to social interactions.
While it can seem like an advantage for introverts, it can be a problem in the long run. Human interactions are inevitable both in the workplace and in your personal life. So, by minimizing human interaction, you will only lose more opportunities to improve your interpersonal skills.
Version Mismatch
The version mismatch error is a common problem when using productivity tools. These tools are regularly updated to ensure a smooth user experience. However, there can be issues when two users are running different versions of the application.

Sometimes, version mismatch will cause unnecessary inconvenience in the workplace. There might be missed notifications that can lead to serious blunders. So, users have to check for new updates regularly when using productivity tools.
Learning Curve
There is a learning curve for using productivity tools. Some people may not be comfortable with these applications.
As a result, it might take some time for them to fully understand the ins and outs of these tools.
Additional Expense
Most productivity tools are subscription-based. So, you need to have to pay a fee to use these services. While this may not be an issue for personal use or larger companies, it may be unnecessary for smaller organizations.
Final Words
No matter which productivity tools you use in your professional or personal life, don't overdo it. And hopefully, after reading this you can see how Markup Hero can be a great compliment to just about every productivity tool you use.
If you do anything to maximize your productivity, please give us a try. It's free to use. No credit card or account required. Just try Markup Hero instantly right now.