There are thousands of integrations on the Slack app directory. And while many are cool, most of them aren't actually that useful or are too cumbersome to use to be worth it. But some Slack integrations are intuitive and quite effective. I'm not going cover the obvious ones like Google Drive, Dropbox and Zoom; or the integrations that are valuable if you already use the core solution like Asana, Hubspot, Jira, etc.
Instead I want to share some universally useful tools that are cross-functional and will help you use Slack like a pro. And they can be used by everyone from customer service to sales, product management to marketing and engineering to operations and just about every other role at your company.
While part of Slacks pitch is to eliminate the need for email altogether, the truth is we still use email, and I'm not sure if getting rid of email completely is realistic or even warranted. So unless you've already done away with email, then Pigeonbot is going to be useful for you.
Pigeonbot is a free service from the popular transactional email service Postmark. Basically it does one thing, send emails from Slack. Just /email to compose and @mention the recipient(s), then type your email message and click enter. Email sent. It couldn't be more simple than that. Install it and you'll quickly see there are quite a few use cases where sending emails directly from Slack is handy.

Adding images to Slack messages is almost certainly common practice for you and your colleagues. And much of your team may already be adding screenshots and annotations as well. Markup Hero is a lightning fast and dead simple screenshot and annotation tool that integrates with Slack so elegantly it's scary. After taking a screenshot, adding some markup (or not), just paste the link into slack and instantly get a preview image with your annotations.

That's useful, but that's also par. The kicker is the ability to annotate any image (and PDF's soon) directly from Slack. You or someone posts an image in a Slack channel, group or direct message. Click the action menu and choose Annotate Image in Markup Hero. Your browser will open and the image will automagically appear ready for annotations. Then just drop the link back into Slack to share your markup.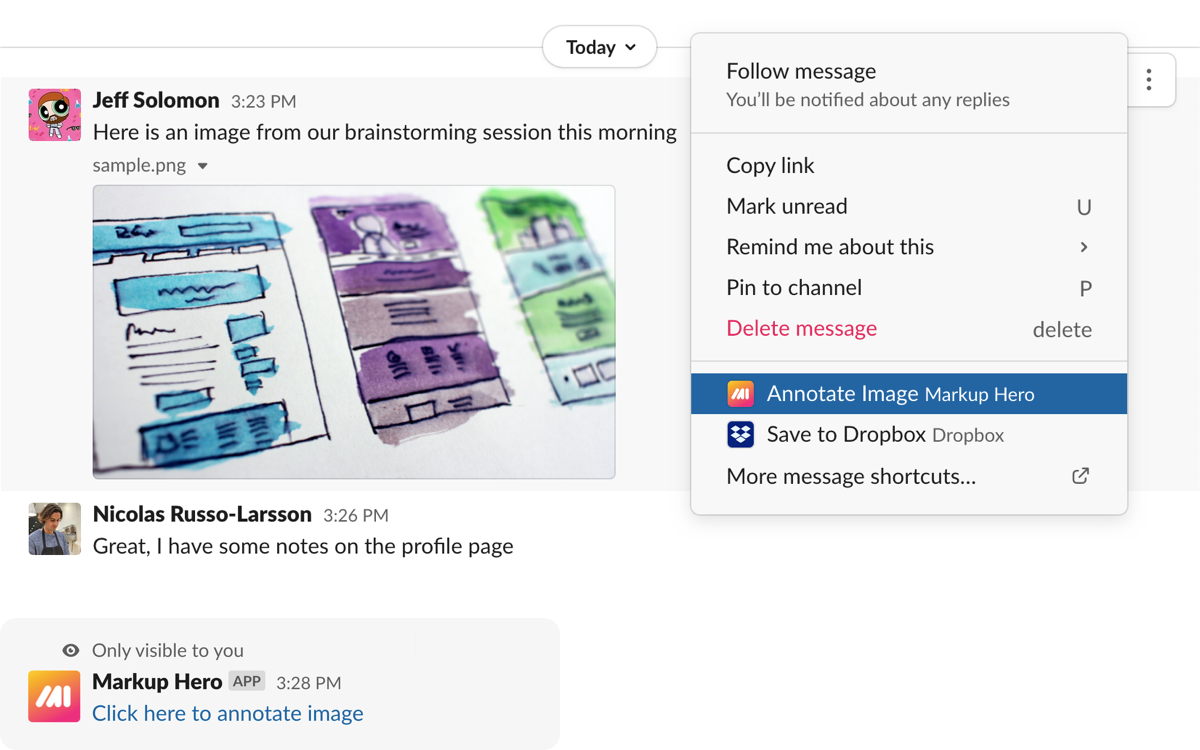 Loom is a tool that enables you to send a quick video screen capture with commentary for just about anything. From QA to website feedback, marketing ideas to customer support, engineering to sales and tons more use cases, Loom is the gold standard for video communication. With the Loom <> Slack integration, you can instantly share your video into a channel or direct message.
Team members can watch the Loom video inside Slack without having to click anywhere. But one of the slickest features of this integration is the ability to send a specific timestamp from the video. While watching on Loom, a user can @mention or #channel in the comments field to send a note for a specific spot in the video. This is super useful when providing feedback or asking clarifying questions on videos, especially longer ones.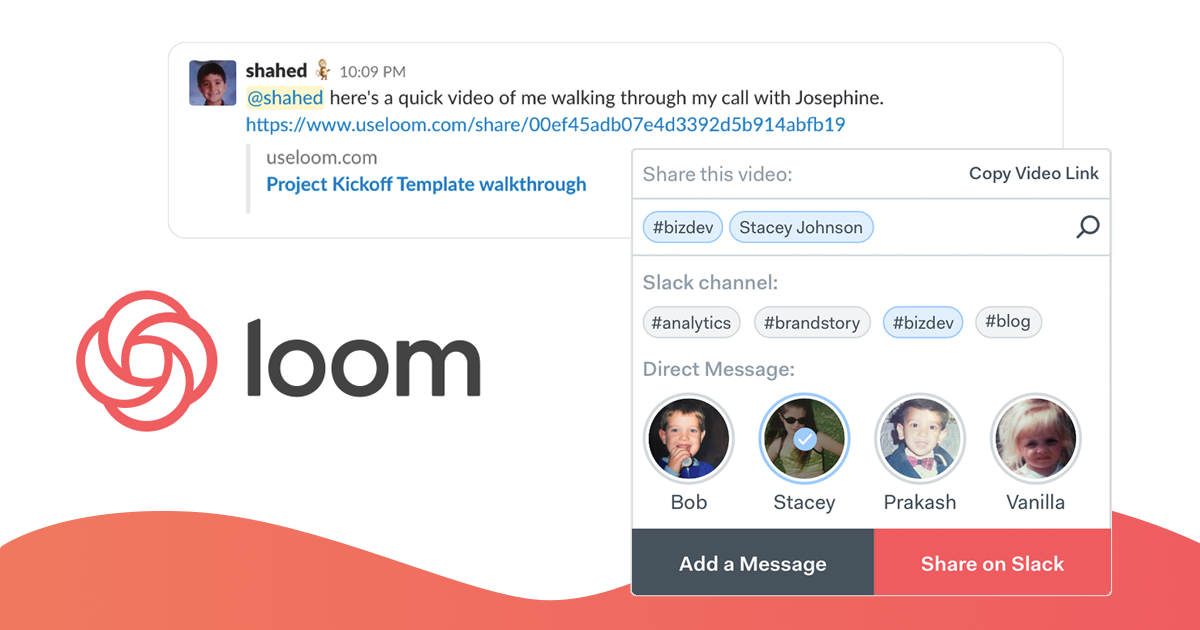 You might not be familiar with IFTTT just yet. It's a really slick little tool that allows you to create automations for all kinds of things called recipes. One of my favorite recipes is automatically saving tracks from Spotify to a certain playlist. There are thousands of recipes that work with thousands of tools including social media sites, Google services, mobile apps, SaaS products and just about anything you can imagine. IFTTT for Slack is a nifty way to have those automations push and pull information directly from Slack.
Examples include: getting Tweets to Slack, sending emails to Slack, sharing Youtube to Slack, post photos to Slack and so much more. Bonus: this is a great integration to get past the free Slack integrations cap of 10. IFTTT can essentially do the same thing tons of other integrations do without affecting your cap.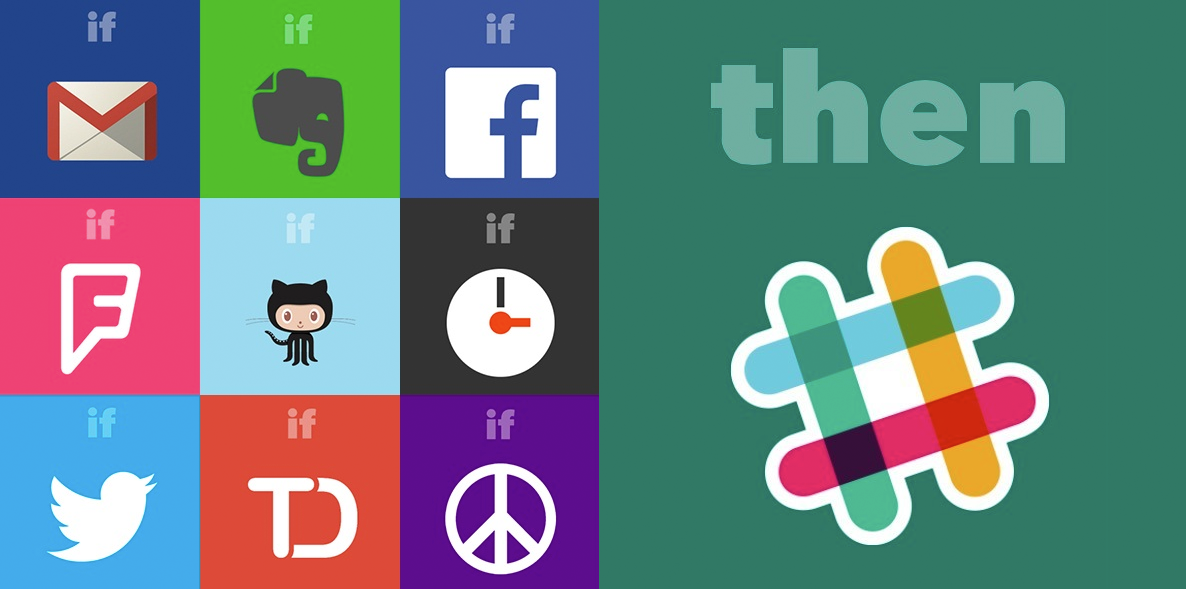 Of course you can screen share in Zoom or Google Meet or tons of other conference software. But setting up a meeting (even if you're using the Zoom <> Slack integration), logging in, connecting and sharing screen takes longer than it should. So if all you need to do is instantly share your screen with a co-worker, then DSSS is the way to do it. Just type /screenshare in any Slack channel or DM, then click the generated link and bam, you're screen-sharing. Like it says, it's dead simple.

Conclusion
Sure, there are lots of others that you might indeed find useful. But these 5 are guaranteed to increase your productivity and reduce stress. Give em' a go.