Droplr is a screenshot tool and basic image annotation tool. The solution has been around for several years but hasn't been updated with new features in a while. Droplr offers a free trial but does not have a free version. Droplr's image annotation tools are fairly basic like arrows, text, boxes and circles. They do have some nice enterprise tools like custom branding or domains and click metrics, but the limitations on file markup like pasting images on top of annotations and annotating PDF's make Droplr quite limiting. There is no comparison.
Try Markup Hero for Free
Markup Hero is a screenshot and file annotation tool that is a bit newer to the scene than Droplr. The development team is very active and releasing new features every week. And Markup Hero offers amazing real-time support for all users.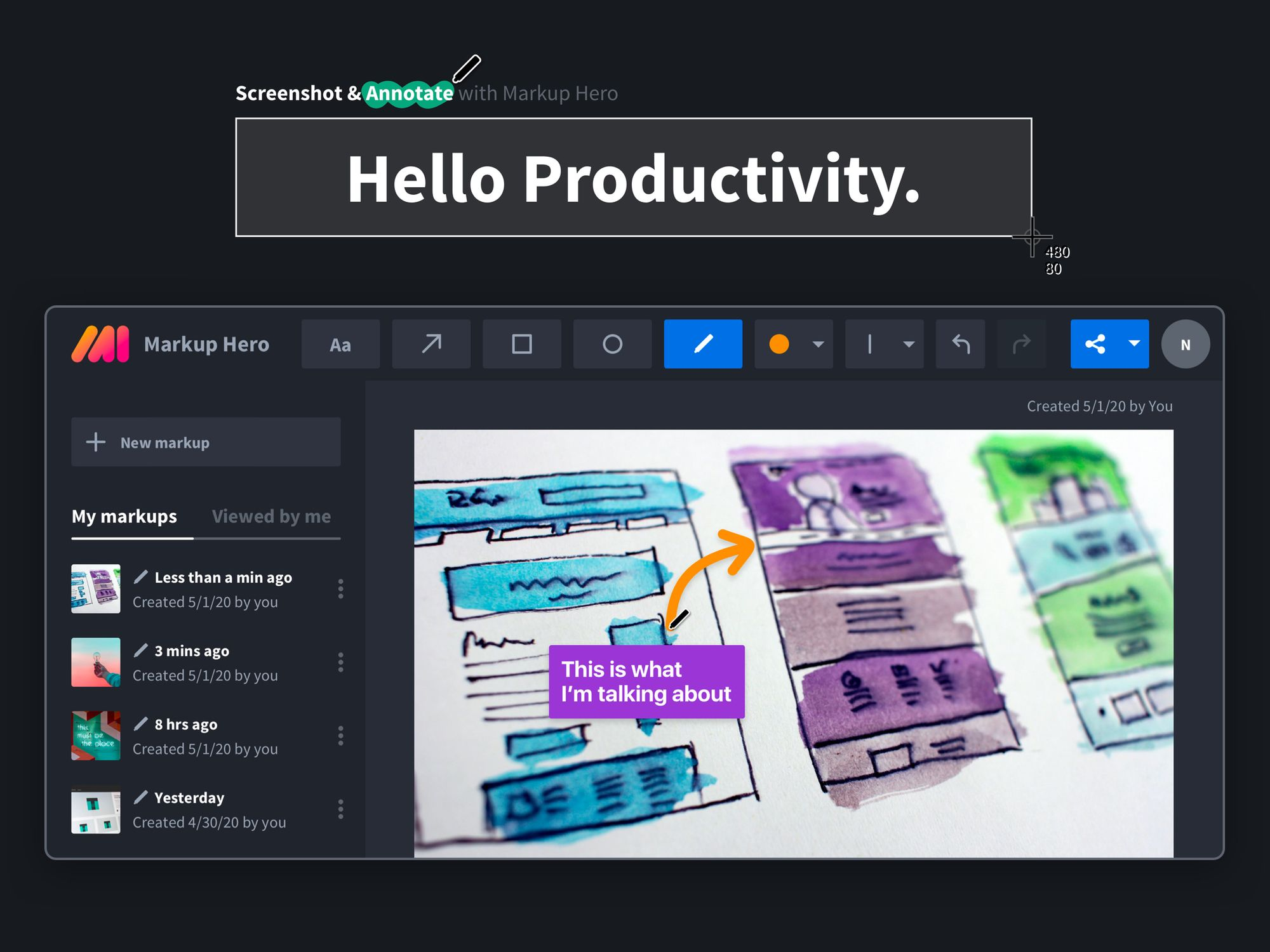 The product works similarly to Droplr. You can download a lightweight desktop app to take screenshots of anything on your computer: web pages, documents, files, PDF's and anything else. Screenshots are immediately pushed to a secure private cloud location and share links are automatically copied to your clipboard.
Useful Features that You Can't Get with Droplr
New screenshots open lightning quick in a web based annotation editor that is chock full of markup tools and image editing features. Annotation tools include:
Text with highlighted background or outlined
Arrows
Outlined or filled in boxes and circles
Pen tool
Highlighter tool
Color selection
Line thickness and font size
Undo and redo
Markup Hero also has specialty file editing tools that enable you to create even more unique graphics, presentations, mockups, support materials, sales collateral, teaching aids and much more. These tools are not available on Droplr or other competitors. These features include:
Inserting images - paste images on top of your screenshots (JPG, GIF, PNG and transparency). This is super useful in giving feedback so you can point out what something should look like with another image. Or just drop in your favorite emoji or funny image. The uses are unlimited.
Multiple pages - add multiple images or PDF pages to your markup with a easy file browser. This is useful for sharing groups of images that relate to each other like walkthroughs, presentations and feedback reviews.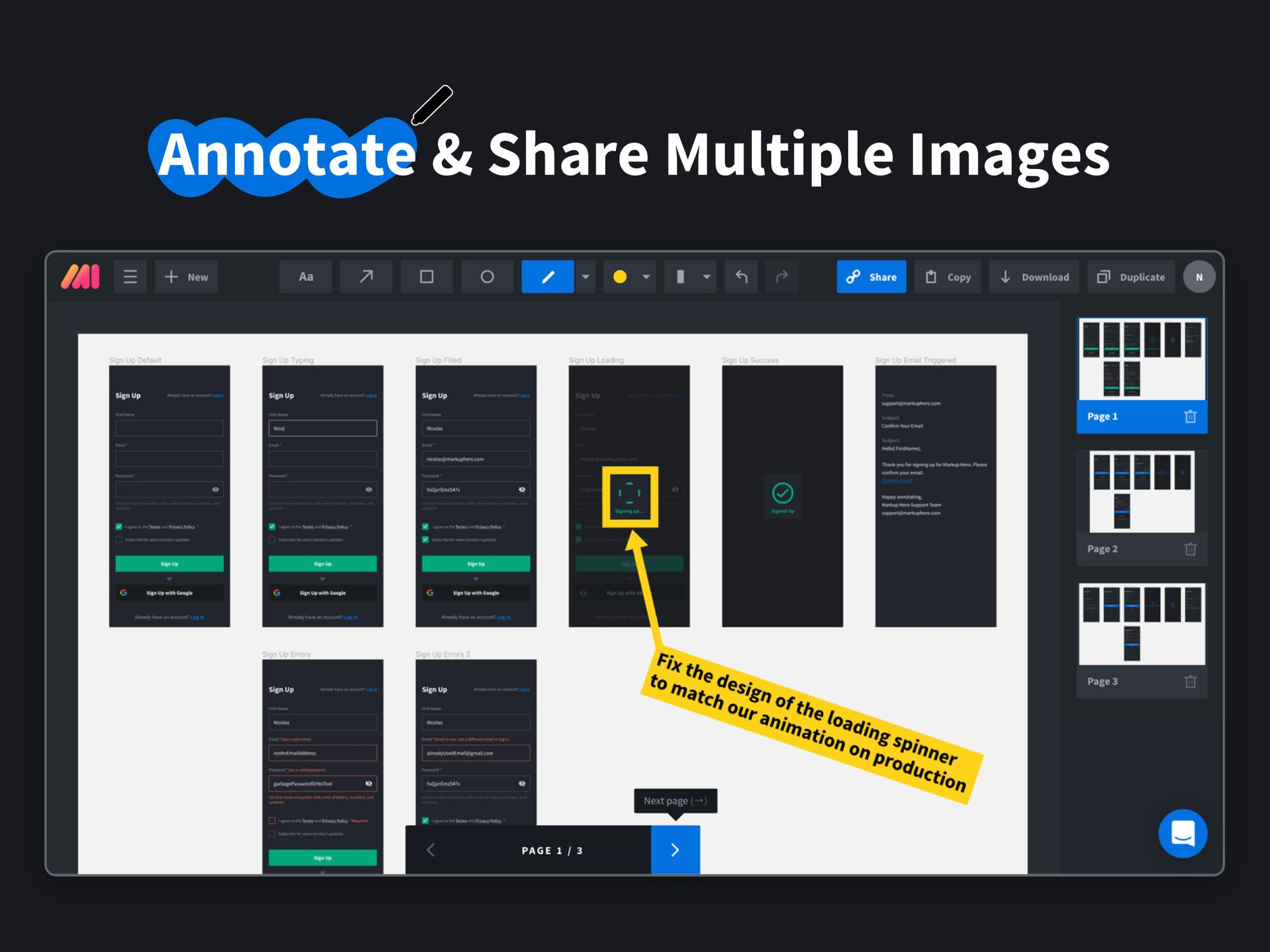 When it comes to sharing, Markup Hero gives you a ton of options right at your finger tips. Copy a view-only link to your clipboard and share in email, SMS, chat, Slack or a thousand other tools. Users will be able to view but not edit your markup. Markup Hero also offers enabling markup duplications so users can make a copy of your markup and add their own edits.
Try Markup Hero
Ready to make amazing blogging graphics like the ones in this article?
Start using Markup Hero to take screenshots, annotate images and PDF's and become a blogging rockstar.
Signup For Free
You can also quickly copy a screenshot and with all your annotations to your clipboard and just paste the image into email, text or any other tool. Users will only be able to see the image but can't click to view online.
Finally, you can download your markup and save it to your desktop for future use.
One big advantage of Markup Hero over Droplr when it comes to annotation and sharing is speed. Droplr requires several steps to get a share link and add annotations.
And, with Droplr once you save a file, it's flattened and annotations cannot be edited. Not so with Markup Hero.
Editing, Saving and Organizing Your Screenshots
This is where the power of Markup Hero over Droplr. Sometimes you just want to take a quick screenshot and paste in in an email. But often you may end up spending some time building a nice annotated graphic. There is nothing more annoying than losing all your work after adding markup, text and annotations, saving it, then not being able to go back and make a quick edit. That's Droplr. With Markup Hero you're covered. Every screenshot and annotation you do is saved and easily editable.
Imagine this use case. You create a detailed feedback review of a new marketing ad. You send a link to your colleagues in Slack and email. But right after you send it, you realize you had one more killer idea that you should have included in the annotations. If you're using Droplr, you're stuck. You'll have to re-build the entire annotation. If you're using Markup Hero, no problem. Just go back, make the edits and when anyone clicks on the shared link, they'll see the updated most current version. No need to send another link. That's powerful.
On top of that, Markup Hero gives you a quick side bar to see all your markup history. This includes the ones you created and the ones that were shared with you. Quickly share, download, copy duplicate or delete from this screen too.
Not Just Screenshots and Images — PDF's Too!
Markup Hero lets you annotate PDF's and multiple pages too! Sure, you can use Acrobat for this, but that's expensive and pretty complicated. If you just want a quick and easy way to add annotations to your pdf, Markup Hero is the fastest solution out there. Nothing to download. No account to create. Just click upload, select your PDF, and add annotations to each page. Share or download and go back and edit as needed just like a screenshot markup.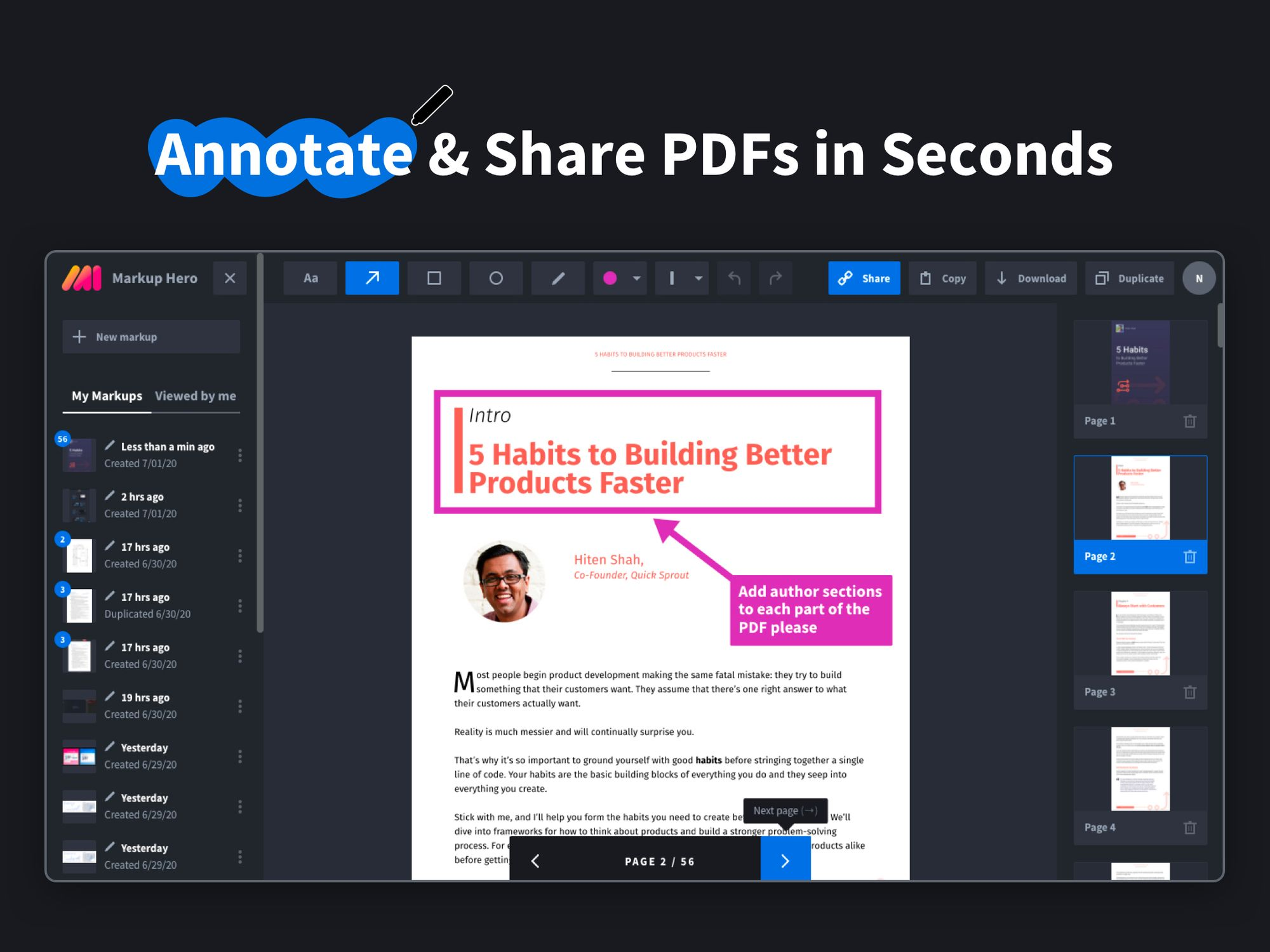 A Slack Integration that Works Like You Do
Sure, Droplr has a Slack integration. But it hasn't been updated in a long time and doesn't actually work at the moment. The biggest issue with Droplr's Slack app and most other screenshot Slack integrations is that it only goes one way. You can paste a link into Slack and see a preview of the annotated image. You can do this with Markup Hero too. But more importantly you can create an annotation directly from Slack.
Whenever anyone puts an image or PDF into a Slack conversation (channel or direct message), rather than saving that file and uploading it to your image annotation tool, you can just click the action menu in Slack and instantly open that file in Markup Hero and annotate. Then paste the link back into Slack to see the annotation updated in real-time. It's really powerful.
Conclusion
If you're looking for a screenshot tool with deep functionality, great support and new features being added every week, then try Markup Hero. Unlike Droplr, Markup Hero offers a free version that has all the features you need.