Monosnap is a desktop only screenshot tool for Mac and Windows. It includes basic image annotation features like arrows, text, callouts, boxes and circles. The product has been around for nearly a decade and only recently have they made any updates. Monosnap does offer a free version with limitations on cloud storage, file upload size, bandwidth and monthly uploads. And they offer an enterprise license that allows for uploading to a range of 3rd party cloud storage solutions. The biggest drawback of Monosnap is it's limitation on editing annotations. Once a screenshot is take and annotations are added, the image is flattened and can no longer be edited — it's essentially locked, and you will have to create your annotated file from scratch again if you want to update or you make a mistake
Try Markup Hero for Free
Markup Hero is an alternative to Monosnap. Our screenshot and file annotation tool was built from the ground up in 2020. We are actively making updates and adding new features and we offer real-time chat support to all users for free.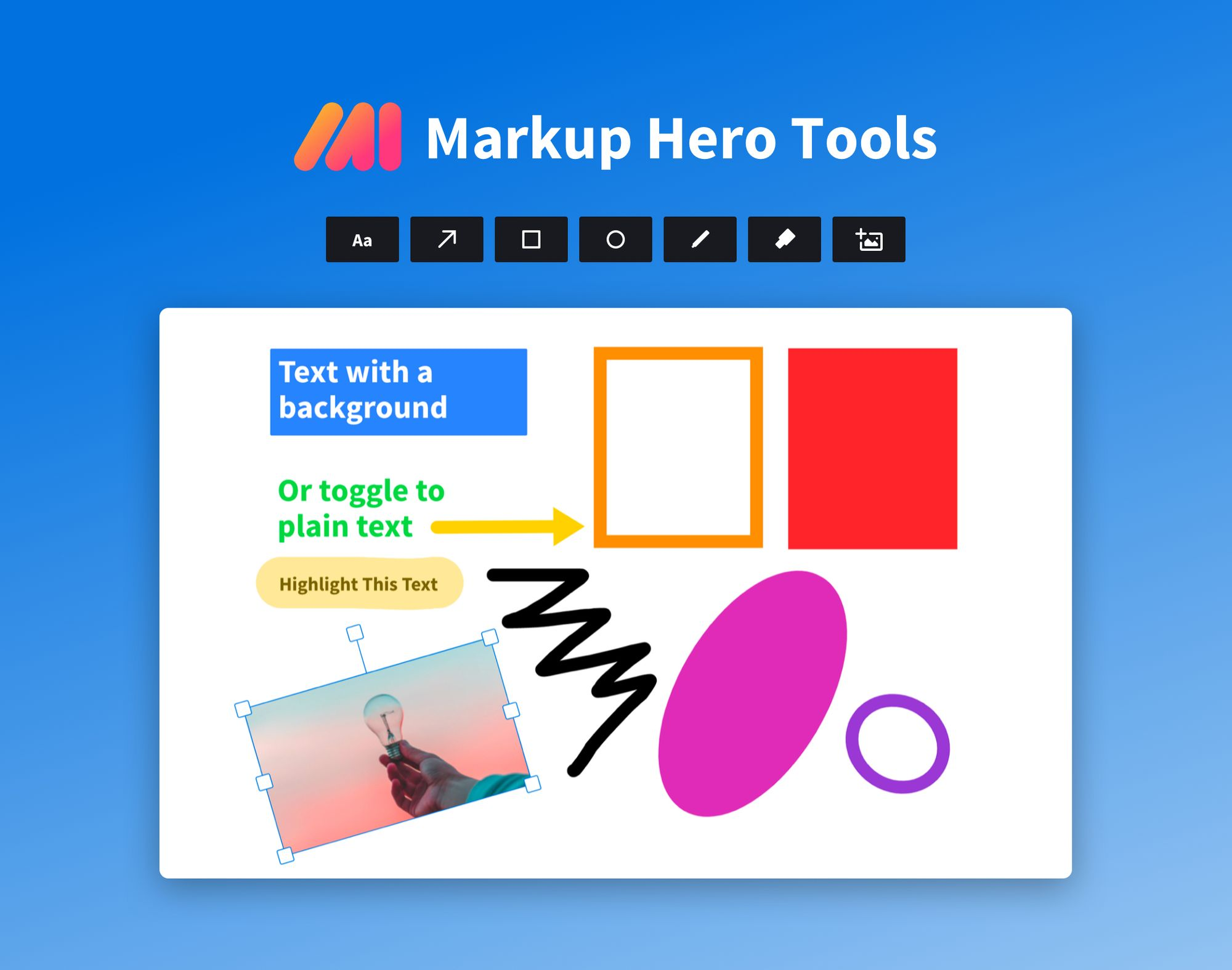 One of the big differences of Markup Hero over Monosnap is that the editing tools are web based. This provides a range of advantages including unlimited editing, more sharing options, view a history of all your markups and access your annotations from anywhere . Markup Hero also enables users to annotate PDF's, a feature that is not available with Monosnap. And we give you many more annotation tools.
Try Markup Hero
Ready to make amazing blogging graphics like the ones in this article?
Start using Markup Hero to take screenshots, annotate images and PDF's and become a blogging rockstar.
Signup For Free
Powerful Annotation Tools Not Available with Monosnap
After installing our lightweight desktop app for Mac and Windows, you can take screenshots as quickly and effortlessly as Monosnap or any other screenshot tool. Images are instantly uploaded to our secure cloud server and saved forever. With Monosnap, you're going to have to take an additional step to upload a screenshot to the cloud and share — and once it's done, you can't modify it.
Here are some of the great features you won't see with Monosnap:
Create text either outlined or with a highlighted background - makes text stand out on any image or PDF!
Insert images on top of your screenshots - allows for ultimate creativity by inserting JPG, GIF or PNG's directly into the canvas
Outlined or filled in boxes and circles - create layers of content using boxes and circles to either callout things or cover them up
Highlighter tool - use the multi-color highlighter on text or graphics to point our important content
Add multiple pages to the same markup - super useful when you have a bunch of screenshots you want to keep organized or share with colleagues or friends
See a complete history of your markups - never lose a screenshot or annotation, everything is securely stored in the cloud for instant access, anytime and anywhere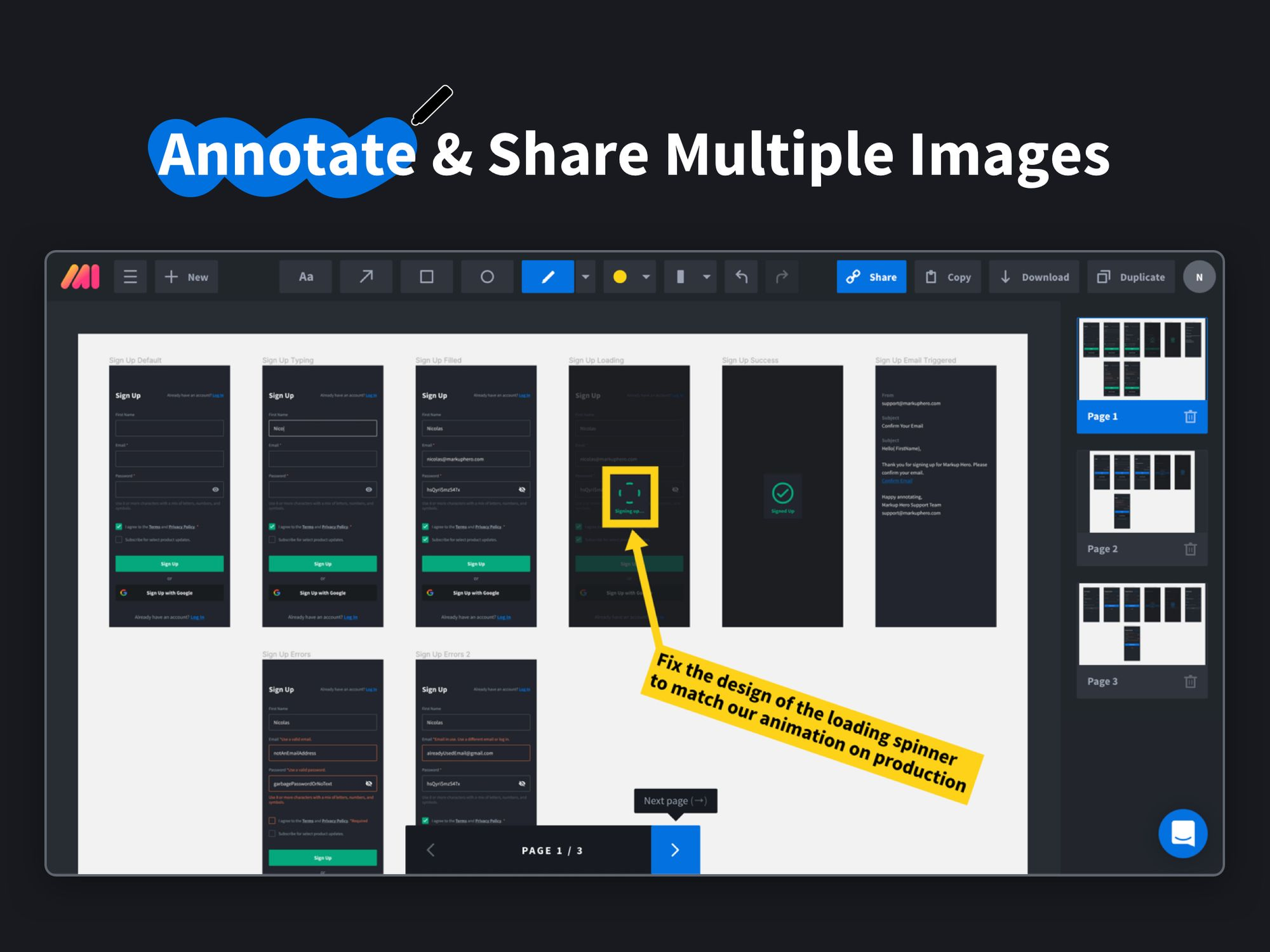 Markup Hero's Sharing Features Kill It
Sharing screenshots and annotations is faster, easier and more flexible with Markup Hero. When you take a screenshot, a share link is instantly created and copied to your clipboard. You can paste that link anywhere: email, SMS, Slack, Asana, Google Docs, Evernote, Facebook, Twitter, Discord ... just about anywhere you can imagine.
When pasting a link in tools like SMS or Facebook you'll see an instant preview of the screenshot and any annotations you've made.
And best of all, even after sending someone a link, if you go back and make edits to your annotations, the changes are reflected instantly. So you'll never make the mistake of sending a link to quickly, then needing to make a change, only to have to re-create your markup and re-send a link. The first time this happens to you with Monosnap you'll be 100% clear on why it's super frustrating. Markup Hero eliminates that pain. One and done.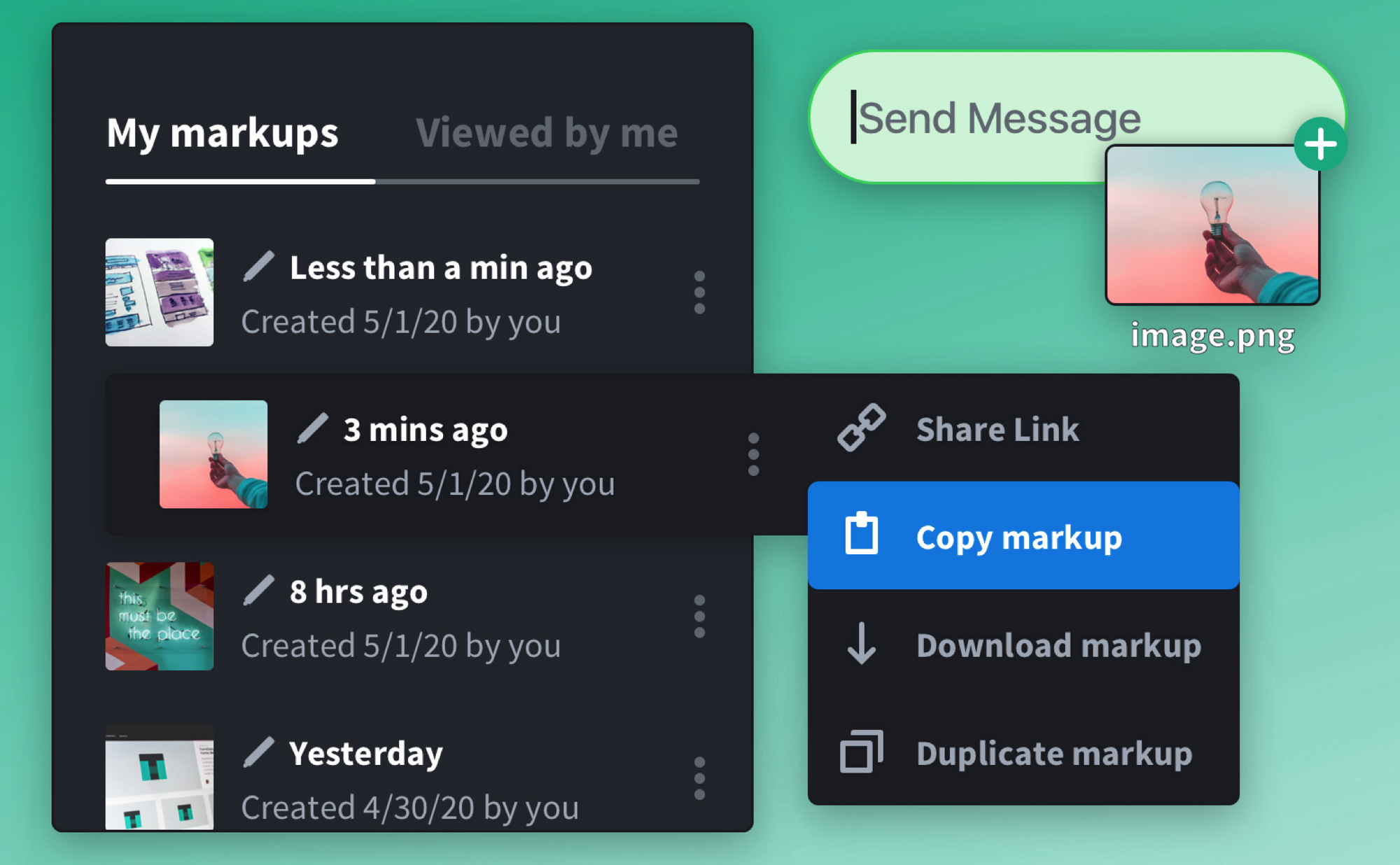 Moreover, when you share a link you can set permissions to limit what others can do. You can set it to be private, so only you can access it. You can set it to be public so anyone with the link can view it. You can enable people to duplicate your markup and add or edit the annotations. And you can create an expiring link that works for a specific set of days (available Sept 2020).
But sending links is only one way to share your markup. You can copy the entire screenshot with or without annotations to your clipboard and just paste it anywhere... yes, anywhere. Or download the markup to your desktop and use it however you want. But don't worry, you're original is saved so you can always go back and make updates and re-download the changes.
Organizing Your Markups
Whether you take one screenshot a week or 100 screenshots per day, storing and organizing your markups will become cumbersome and messy. Markup Hero takes this frustration away by storing everything in the cloud and giving great tools to keep everything a click away.
Add tags to markups (available Sept 2020) for the ultimate organization. Instantly filter your files by typing tag names and searching for your screenshots and annotations. With Monosnap you're going to get frustrated when you know you created this amazing annotated file and you just can't find it.
Imagine this example. You take a screenshot of a new marketing ad and add detailed annotations explaining all your feedback. You send the link and your colleagues are happy you did. A month later, someone asks you to re-share your feedback so your team can re-design the ad. You know the file they're talking about, but you have no idea where it is. No problem, you tagged that file with "marketing" "ad" and "feedback". You open Markup Hero, filter the tags, find the file, share the link. Bam!
Once you start using Markup Hero you're going to see that your work isn't just taking screenshots. You will be making detailed markups every day to tell stories and explain your ideas. It's fast and easy and super useful.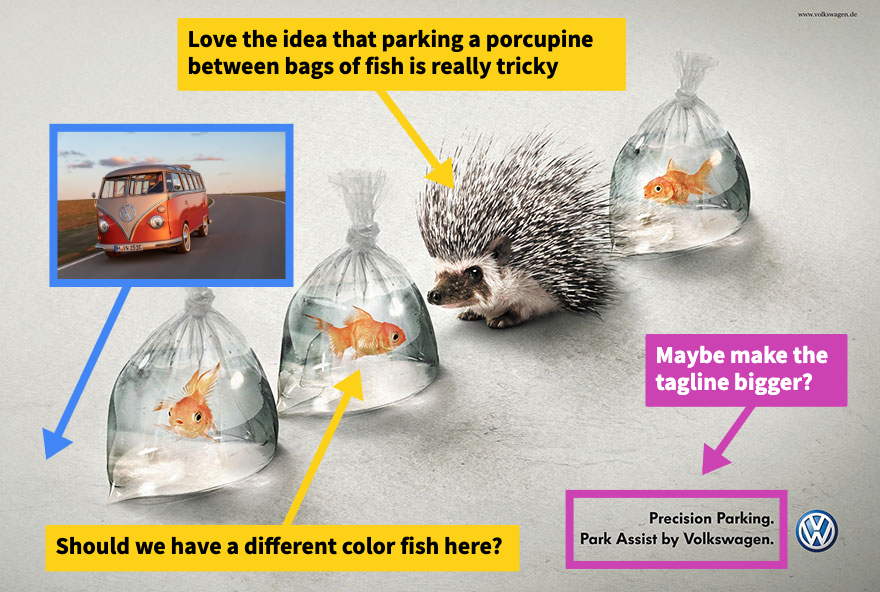 Annotate PDF's as Easily as Images and Screenshots
You can take a screenshot, paste or upload an image to add annotations. But have you ever needed to add quick annotations to a PDF? Almost certainly you have. And even if have Adobe Acrobat PRO and you pay the $99/month for Adobe cloud it's actually really hard to just pop an arrow on top of a PDF.
No problem with Markup Hero. Just upload the PDF, each page will be added automatically, and add your markup on top. See the image below!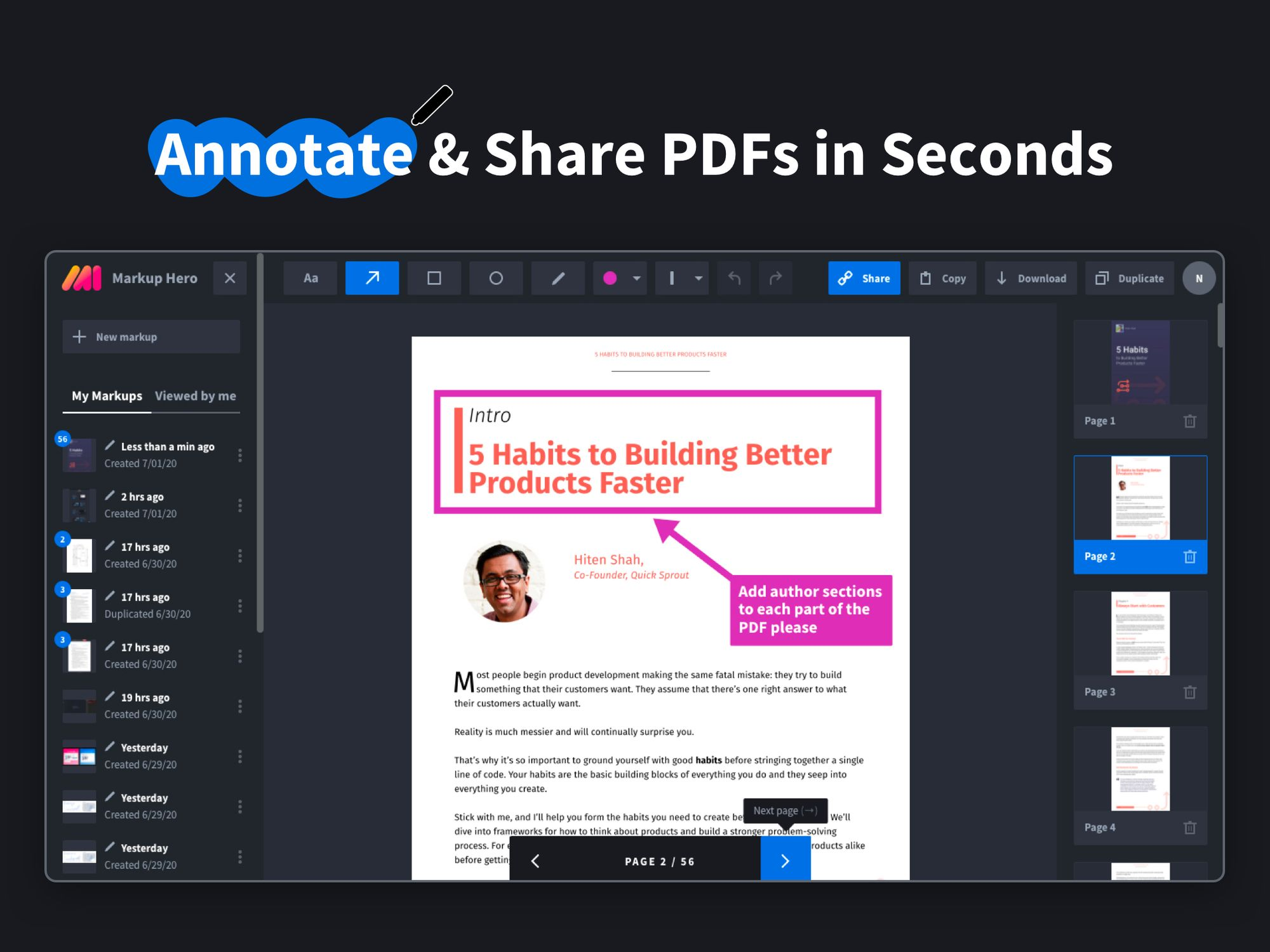 The Bottom Line
If you want a screenshot and annotation tool that goes beyond the basics and is building out features that users like you actually want and need, then Markup Hero is your go to. We have a free version you can test and use forever or upgrade to our PRO version to get unlimited usage and tons of additional features.
Taking screenshots is not commoditized. There are big differences between Markup Hero and Monosnap and the rest of the tools you might find out there. You're going to be glad you chose Markup Hero and we want to hear what you need. Click our support bubble and make a product request and most likely we'll add it to the roadmap.
Your hunt for the perfect fit screenshot tool with lot's of useful functionality, real-time free support and feature updates every week, Markup Hero is the solution for you.