Managing information efficiently over long distances with large teams can be quite a challenge, especially amidst the ongoing pandemic. If you're looking for a simple solution, you might want to consider Slite, the all-in-one platform for your team to stay in tune.
PRO TIP: Slite is a killer project management tool, but both are missing one essential feature. Click here to scroll to that part of the article right now.
Slite makes it seamless to share documents, collect ideas, and keep in touch with your teams. Few other project management tools can compete with its premium features and unique qualities that make it the perfect tool for large-scale products. Managing documents is a lot easier with this simple tool.
Importance of Collaboration Tools in Business
Before we get into what makes Slite such a great product, let's talk about why it's essential to have a knowledge base and note-taking tool when running a business.
Coordination Between Team Members
Using a project management tool, your team can communicate easily and inform each other of every detail. Consequently, they can also help one another in case of any issue that may arise.
Easier To Track Progress
Tracking progress is one of the finest benefits of a project management tool, especially for managers. You can track the progress of your teams, assess their workload, and estimate project needs accordingly.
Keeping A Record
Lastly, we all know the importance of record-keeping. Any experienced business leader will tell you one thing: make sure you note down EVERYTHING. You never know; missing the tiniest detail can result in your downfall. A project management tool helps you do just that so that you know what's up at any point in time.

What Makes Slite Different?
Now that we know why content organization tools are so important, let's take a look at what makes Slite such a great option instead of the various other tools you might come across.
Slite shows pride in its simplicity and for good reason. It is one of the best apps on the market for you to remotely edit documents, and thousands of teams trust this brilliant product for this very reason.
What Are Its Key Features?
What are the features that make Slite such an excellent tool for project management? Let's take a look at some of its key features.
Simplicity
Slite's cool and simple UI makes it visually appealing and super easy for teams to navigate.
The tool features a user-friendly interface with a modern minimalistic layout. If your team has a soft corner for aesthetics, Slite is just the tool you need.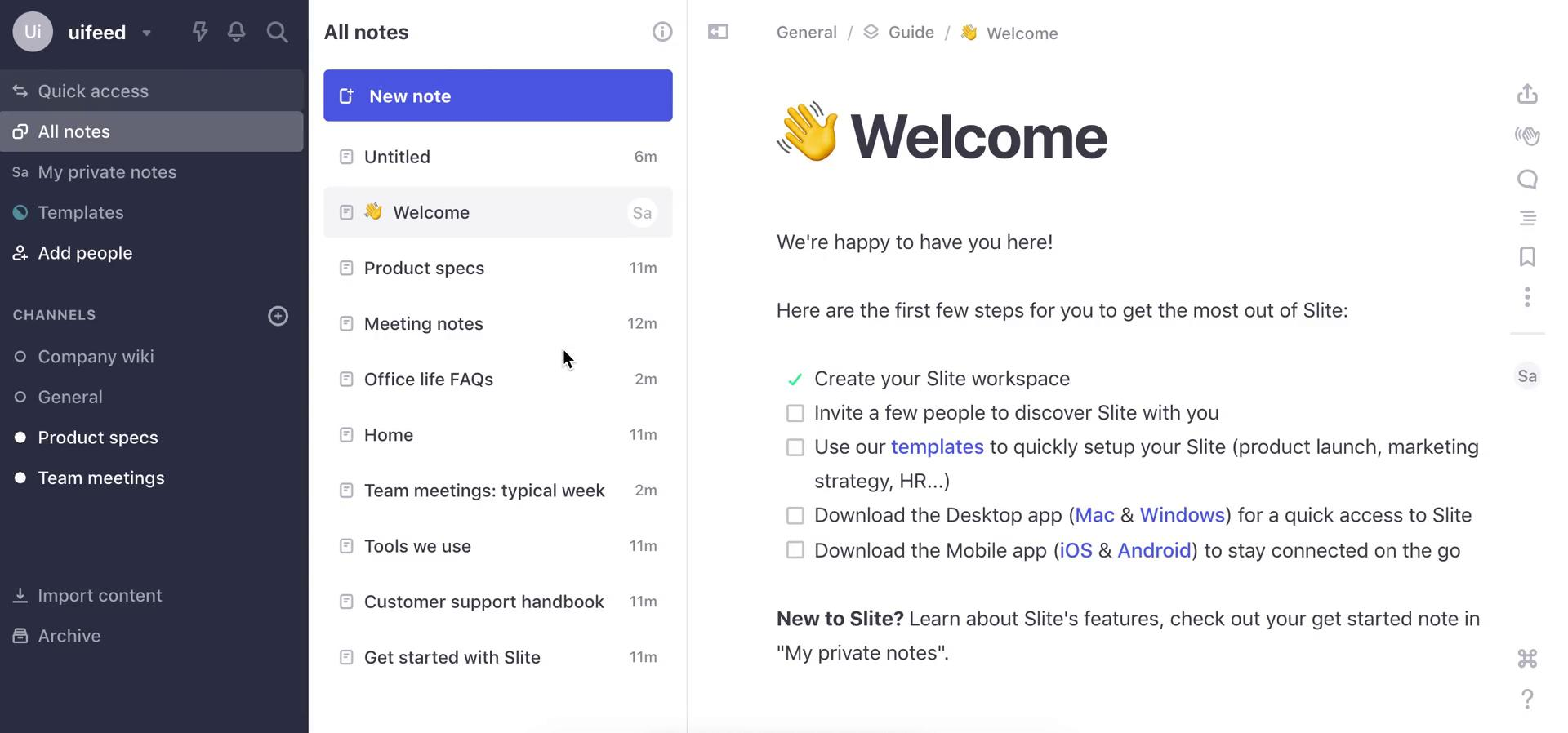 Quick Feedback
Another feature that makes it one of the best project management tools available in the market today is the ability to give quick feedback. This makes it easy for managers and team leaders to guide their teams to more fruitful results.
Integration With Other Apps
Perhaps Slite's most impressive feature is its compatibility with other software.
You don't need to replace your Google Drive, Asana, or Slack account with this tool. Just link the accounts, and Slite will automatically transfer the necessary data to your profile. It's that simple.
The Missing Slite Feature - Annotating Attachments, Files and PDF's
You might already realize that Slite has a ton of key features you're going to love in a collaboration tool. And you would be right. But when organizing documents in a team environment, you're almost certainly going to be attaching files, pasting screenshots and you'll likely want to annotate many of them. In-app file annotation is one feature that Slite doesn't have, but oh man, they should.
Imagine this scenario. You're building a marketing collateral library in Slite. You take some screenshots and paste them into documents in Slite. That part is easy. Now you want to call out certain details in your docs. Annotating the attached images would be perfect right about now. Why not just click the image, choose "annotate", add arrows, text, boxes, callouts, highlights and tons of other markup? Sounds obvious, right? But you can't do this.
If Slite integrated the Markup Hero annotation API then you could do exactly that. One-click to annotate, and you could even edit your annotations, share links, duplicate and more; without even leaving Slite.
Wanna see what it would look like? Here's a Quick Video Showing a typical collaboration tool like Slite w/ Integrated File Annotation
Are you more of an interactive type? Try our hands on demo for Slite you can test out in 10 seconds flat.  Just click the annotate button, add your markup and see the results in your document, instantly.
---
Why Is It A Great Tool For Teams To Manage Documents?
So without further ado, let's move on to the main event; these are the 10 reason why Slite is a great tool for teams to manage documents:
Lean, Minimalistic Design
As mentioned earlier, Slite's minimal and straightforward design is pleasing to the eye and makes the platform more user-friendly.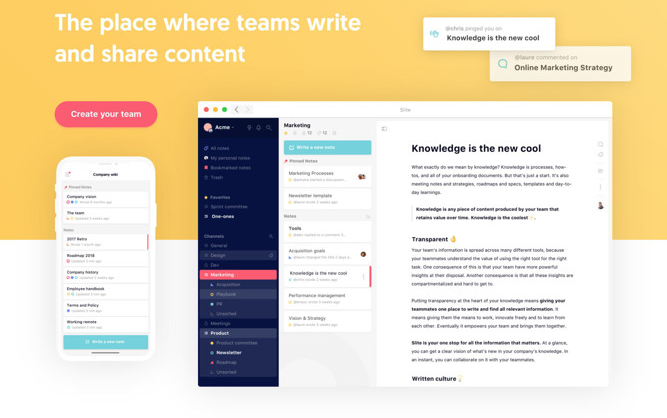 Great Templates
Regardless of the kind of task you are managing, Slite offers templates such as content planning, weekly updates, team directory, etc. These templates are super easy to use, and you can customize them according to your needs.
Easy to Navigate
You can learn all the features and functions of this app quickly without putting in much effort. Slite has built its platform in a way that makes it simple for even beginners to use. The configuration is also fairly easy.
Quick and Efficient
Slite's minimalist design cuts down the fluff. Consequently, the lack of clutter makes work much faster. Navigation is as fast as it can be, so you can finish your projects at lightning speed.
Easy Feedback
The feedback comes in handy. You can leave notes on the project for your team to read, making it more about collaboration and idea-sharing than dictating other people's tasks.
Works From Anywhere in The World
This app is all about working remotely, which is why it only makes sense for you to use Slite from anywhere in the world as long as you have an internet connection and a device that supports the software. Slite works on Windows, Mac, and mobile devices, be it Android or iOS.
Improves the Quality of Meetings
Being able to monitor your teammates' productivity can improve your meetings and even reduce the number of meetings that take place. You can also schedule meetings once a week or at any preferable frequency to make meetings more fruitful.
Assessing Team Progress
Another benefit for managers is that they can track how their teams are progressing. This makes judging the team's performance much easier. And like we mentioned, you can leave feedback after completing this assessment.
Seamless Integration
As we discussed in the key features, you don't need to abandon other apps to use Slite. The integration is super simple.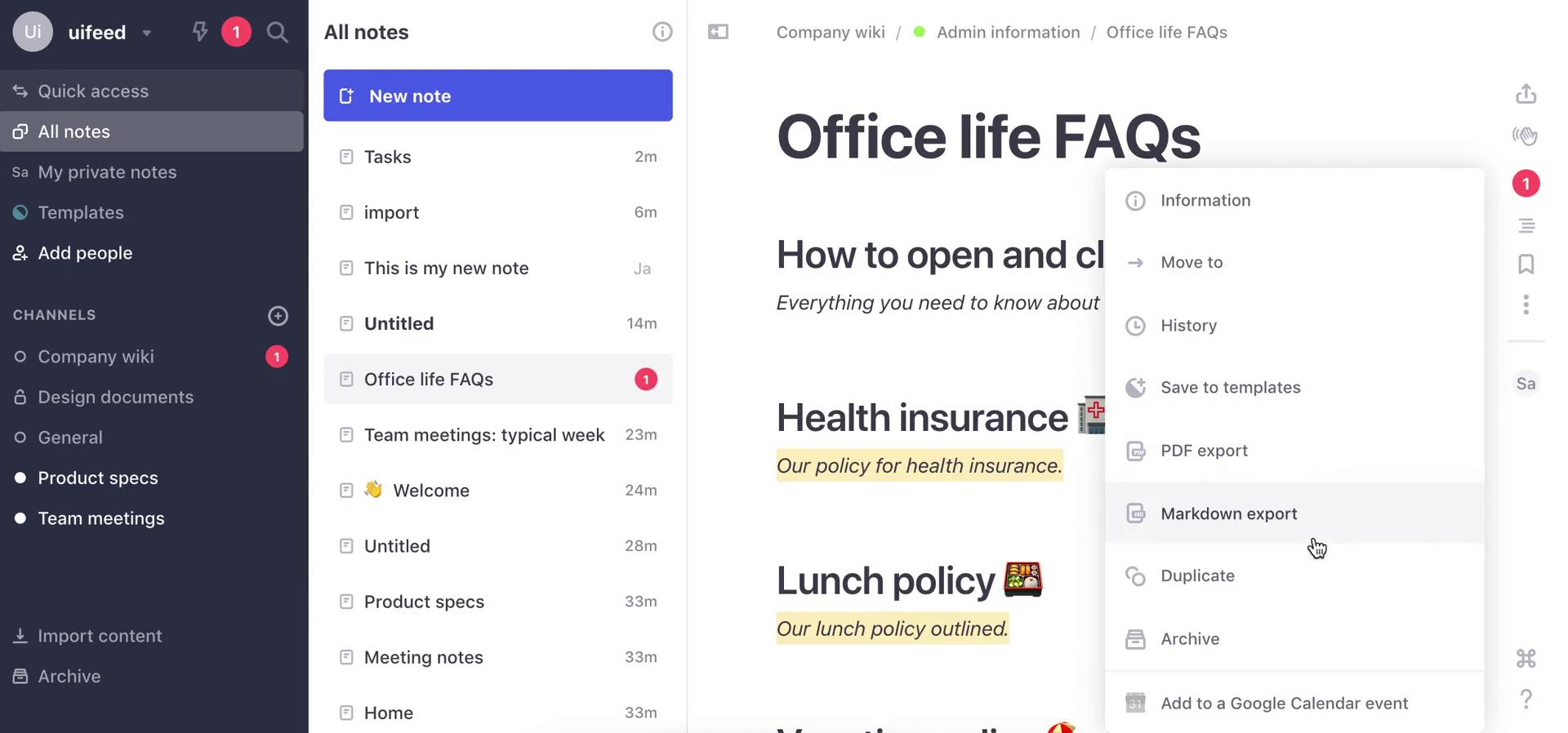 Improves Employee Morale
Perhaps the main reason we love this app is that it boosts team morale. The easy functionality and collaboration leave every user satisfied, which, in our opinion, is its greatest benefit.
Conclusion
There are of source manage project management tools to evaluate, but it's pretty clear Slite is a cut above the rest. If you are looking for a way to improve the efficiency of your remote teams and improve the communication between your team members, we highly recommend giving Slite a shot.