Before we review PDF Buddy, let's make figure out which PDF editing camp you're in. There are two typical use cases for PDF editors.
Use Case #1 - You have a PDF and you need to make quick edits, add PDF annotations like arrows, highlights, signatures, boxes, callouts and other markup. For this use case, you want something fast and easy.
Use Case #2 - You need to completely manipulate and edit a PDF. This could be resizing, reordering pages, cutting content, editing text and compressing.
If you're in the use case #1 camp, then you'll want to try Markup Hero. It's free and you can test it in an instant, with no account, no signup – just upload and edit.
If use case #2 is more what you're looking for, then scroll down and read about PDF Buddy because it might be the bees knees.
What is Markup Hero
Markup Hero is a super lightweight and highly popular tool for adding all kinds of annotations to PDF's. It's extremely fast, nothing to download, no latency, no hassle web based app. It can handle more than 200+ PDF pages which is more than any other tool out there. And when you edit your PDF, everything is saved so you can make changes forever, from anywhere.
The tool also allows you to upload images and take screenshots, which can easily be embedded into your PDF's as well as adding arrows, colors, pen, highlights, text, comments, signatures, notes and dozens more markup options. Also insert images, create more pages, generate share links and more.
Here are a few of the popular tools.

If annotation and basic manipulation is what you want, especially if you have a big PDF, Markup Hero is going to be the best option for you. Plus, Markup Hero is very affordable (only $4/month) and offers a forever free pricing plan and you can test it out without even making an account or entering a credit card. Yeh, that's slick.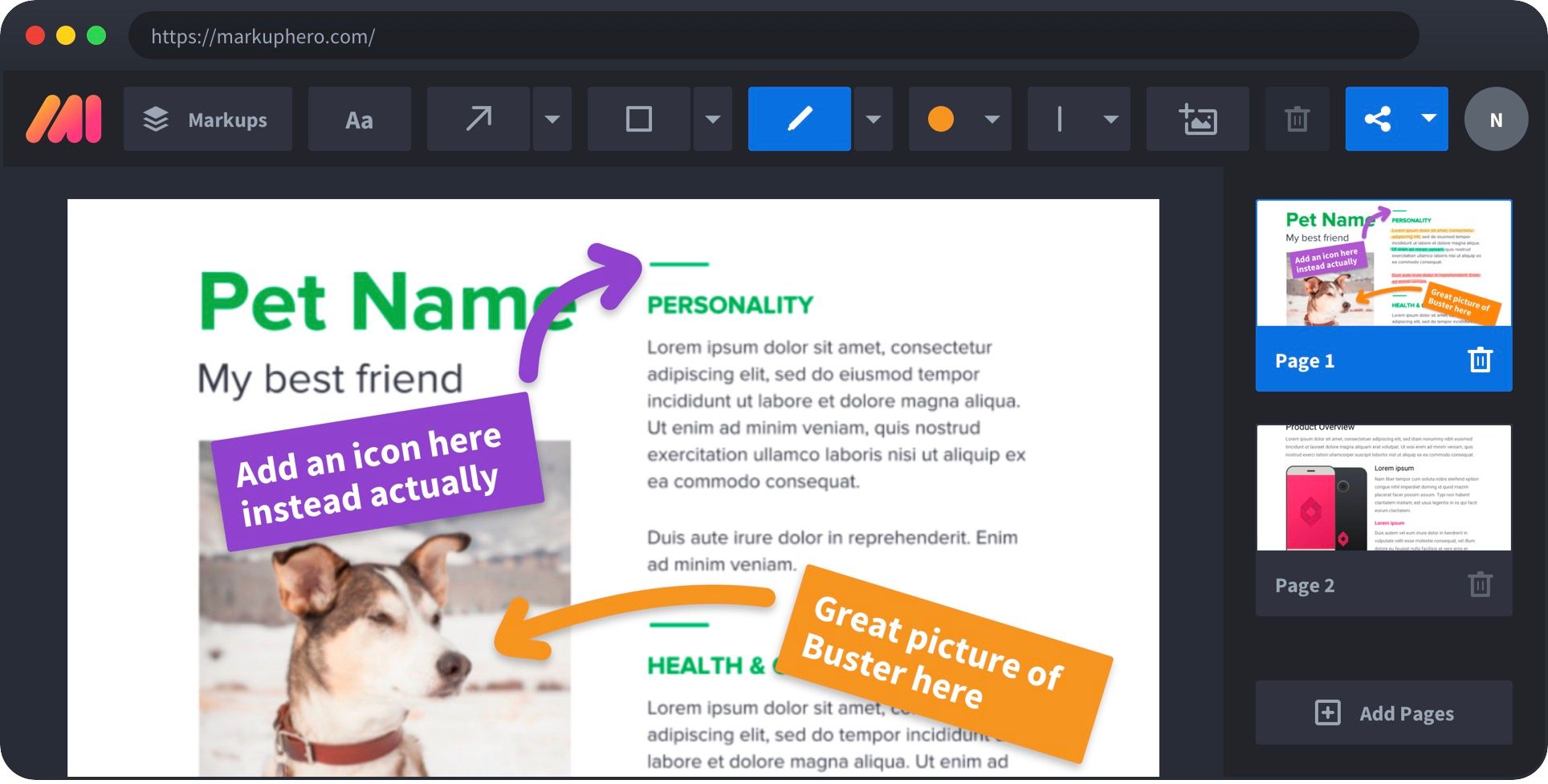 ---

Now, if you are looking for a program that gives you more editing and manipulation of PDF's, but doesn't do annotation, PDF Buddy could be a good fit for you, so read on.
What is PDF Buddy?
PDF Buddy is an easy-to-use web application that allows its users to fill out, edit and sign documents on PDF files. It is an incredibly convenient tool that is hassle-free and accessible on all devices.
PDF Buddy has plenty of features that are more than one could ask for from a free online web tool. It allows you to edit your PDF documents online in a simple user interface. Moreover, it saves your time as you can avoid using printers and scanners to fill out a PDF form.
Using PDF Buddy also allows users to be environmentally friendly since they do not need to print PDF files. It also allows users to edit up to 3 PDF files a month for free.
How To Use PDF Buddy
To use PDF Buddy, all you need to do is go to their website. You will then notice a Sign-Up & Login option on the top right corner of the website.
If you have an account already, you can simply log in. If you don't, you can make an account by clicking on the Sign-Up button.
Don't worry, though. The sign-up process is actually pretty simple. You won't need to provide your credit card information or any such confidential data.
Just provide your email and set a password, and you'll be good to go.
Afterward, you may drag the PDF file to the allocated section of the website or click Choose PDF To Edit to manually pick which PDF file you want to edit. When you're done, you can edit your files and/or split or merge your PDF documents.
After you're done with all your editing, click on 'Save Changes' and download your file.
Is PDF Buddy Safe?
Since PDF Buddy is an online application, users may be wary of a privacy breach and data theft. To combat these concerns, PDF Buddy uses Secure Socket Layer (SSL) for all data transfer.
It also uses AES-256 encryption on stored PDF and signature files. Moreover, it secures file access by using SSL-encrypted endpoints and signed URLs.
PDF Buddy is as safe as an online PDF editing tool can be as it does everything it can to secure your private data.
What Features does PDF Buddy have?
PDF Buddy has a lot of features for a web-based PDF Editor. Some of these features include:
Works on All Platforms - PDF Buddy only requires you to access an internet connection and a web browser on any OS, be it Mac or Windows. Once you have internet access, you need not worry about any software installation. Simply go to the website and edit away.
White Out - This is an editing tool that allows you to hide a specific part of the PDF file you are trying to edit. Keep in mind that this only covers up the content and does not entirely remove it from the file.
Add Texts & Images - PDF Buddy allows you to add texts and images to your PDF file while also giving you the ability to adjust text and image size, shape, and position. You can also change the image fonts if you wish.
Split & Merge - PDF Buddy lets you split your PDF documents. You can also use PDF Buddy to merge separate PDF documents into a single file.
Storage - PDF Buddy offers you a free file storage space of 1GB per month where you can store images for re-use, PDF documents, etc. You will be able to access more storage space if you opt to pay for the premium options PDF Buddy offers.
Shareable Links -  You can create shareable links through PDF Buddy, allowing other people to edit your PDF document(s). This is an incredibly useful feature for group projects.
How much does PDF Buddy Cost?
PDF Buddy is a free-to-use PDF editor. However, you can only edit and download 3 PDF files a month with 1GB of storage.
There are premium options where you can edit and download more files monthly. Their best deal right now is their Pro Plan, where you get to edit and download unlimited PDF documents and get 25GB storage space at only $7.99 a month.
Other pricing plans include a pay-as-you-go credit option, where you have to purchase credits separately to download more PDF files. Editing 5 PDFs will cost you $5.99, while 15 PDFs will cost you $12.99. Downloading 30 and 50 PDFs will cost $19.99 and $29.99, respectively.
PDF Buddy Reviews
PDF Buddy has garnered great reviews from a lot of users and reviewers. Its simple and easy-to-use interface makes it a solid option for PDF users. Despite that, customers have also highlighted some of its major drawbacks,
For example, you will only be able to edit and download 3 files a month. That is not the best option for you if you are someone who works with PDF documents a lot.
Moreover, when it comes to unlimited downloads, features available on other PDF editors at a way better pricing pretty much overshadow what PDF Buddy offers. However, PDF editor is still an internet favorite, mostly because it's simple, free & easy to use.
PDF Buddy is perhaps one of the best online PDF editors for casual users who don't need to edit PDF files all that often. If your PDF needs only arise thrice a month, we PDF Buddy is probably a good fit. However, if you edit and download PDF documents frequently, this editor might not be the best fit for you.
Conclusion: Which PDF Editor is Right?
As we said at the beginning of this article, it's all about your use case. Both Markup Hero and PDF Buddy are great tools. So it's really about what you're looking to accomplish with a PDF editor. If file annotation and markup and minor edits – fast and easy – is your thing, give Markup Hero a try here. But if you need to do full PDF transformations and edits, then give PDF Buddy a test drive.