The most successful SaaS companies didn't just create a platform, make it public, and then cross their fingers, hoping users would sign up.
Instead, they planned a series of strategic moves, like boosting their web presence and building the right partnerships.
If you're interested in learning more about how top SaaS companies got their first customers, we've got something in store for you.
In this article, we'll cover 10 steal-worthy moves SaaS companies made to get their first customers — and how you can use them to do the same.
How Top SaaS Companies Got Their First Customers
Here are 10 strategic moves SaaS companies implemented to get their first customers.
#1 – Increased Their Domain Authority
When top SaaS companies were planning their customer generation strategy, having high domain authority was a top priority.
In case you're unfamiliar with the term, domain authority is a search engine ranking score predicting how likely a website is to rank on search engine result pages (SERPs), like Google.
A website's domain authority score is calculated based on the number of high-authority websites that link to the analyzed domain.
In other words, the more quality link building you do and backlinks you get, the better your domain authority score will be.
To copy this move, make sure you have a solid backlink strategy, so Google understands what search queries you're trying to rank for.
Your backlink strategy should prioritize links that are:
Coming from a variety of relevant, high-authority websites in the same niche as your company
Naturally embedding into content — never shoehorned in
A part of helpful and SEO-friendly content
Having a high domain authority score leads to higher rankings on Google's first page. Increasing your score is essential to putting your SaaS company in front of more potential customers.

#2 – They Had a Content Ranking Strategy
Content ranking is another way top SaaS companies found their first customers.
Content ranking means having content that matches Google and other search engines' expectations to rank on the first page.
Expectations generally include having high-quality content that:
Is long-form (1,500 to 2,000 words or higher)
Is helpful, educational, informative, or solves a problem
Includes visuals like photos, infographics, and videos
Is organized and formatted, so it's easy to skim
Has a fourth to eighth-grade reading level score
To steal this strategy, make sure to plan content that includes:
Your brand's mission and goals, along with how you're going to meet search engine expectations
Your target audience and competition
What key performance indicators (KPIs) you're going to measure
A list of primary keywords/topics to rank for
A brief for each primary keyword that includes secondary keywords, a content score to rank for, and the article's main takeaways
How you'll promote your content
A backlink plan for each article
A content calendar
If you're still getting stuck, consider using a content generator for inspiration.
#3 – They Solved Customer Pain Points
Another way SaaS companies made it easy for new customers to say yes is by solving their pain points.
Here are three examples of common pain points SaaS customers have and how SaaS companies have solved them:
Pain Point #1: They Hate Wasting Time on Repetitive Tasks
SaaS customers hate wasting time on mundane, repetitive tasks, like keeping up with project statuses and internal sales contracts.
The top SaaS companies showed up when business owners needed them the most and offered them time-saving tools like business process automation software and document signing software, or an integrated phone system, among other tools.
Pain Point #2: Complicated Tools Frustrate Them
SaaS customers hate messing around with tools that are difficult to understand and use. From data analytics tools to project management tools, if something doesn't feel intuitive, customers won't use it.
The top SaaS companies that gained new customers built platforms that felt intuitive and integrated with commonly used apps.
Their customers didn't have to try hard to understand how to use their platform's features to improve business processes. And since the platform integrated with their favorite apps, they were more inclined to use it.
Top SaaS companies also offered customers excellent support options. This made it easier for prospects to convert since they knew they could receive support 24/7.
Pain Point #3: They Can't See Everything That's Been Done on a Project
While SaaS companies also cater to businesses with just one or two team members, many SaaS customers have larger teams.
Larger teams will likely have to manage work requests, project updates, and team collaborations through one platform. But this can't happen if team members don't have a high visibility level on each project.
The top SaaS companies solved this problem by creating high-speed cloud-based platforms that offered real-time updates. Teams could see exactly what was already completed on a project, what was left to do, and how long the project had been in its current phase.
Case Study - Markup Hero
If you're reading this then our SaaS marketing strategy is working, at least well enough to get you to our site. So let's quickly look at how Markup Hero got their first customer. Most of the great SaaS applications, from Dropbox to Slack have something in common – they are solving their own problems.
SaaS founders frequently start companies to solve their own pain points. That's how Markup Hero was started. Markup Hero co-founder, Jeff Solomon, was desperately looking for a better way to take screenshots and add annotations to files, PDF's and other documents. This was an activity he did just about every day and none of the many solutions out there worked exactly how he wanted. So he got some guys together to build a better solution. And thus, Markup Hero's first customer was, well, Jeff.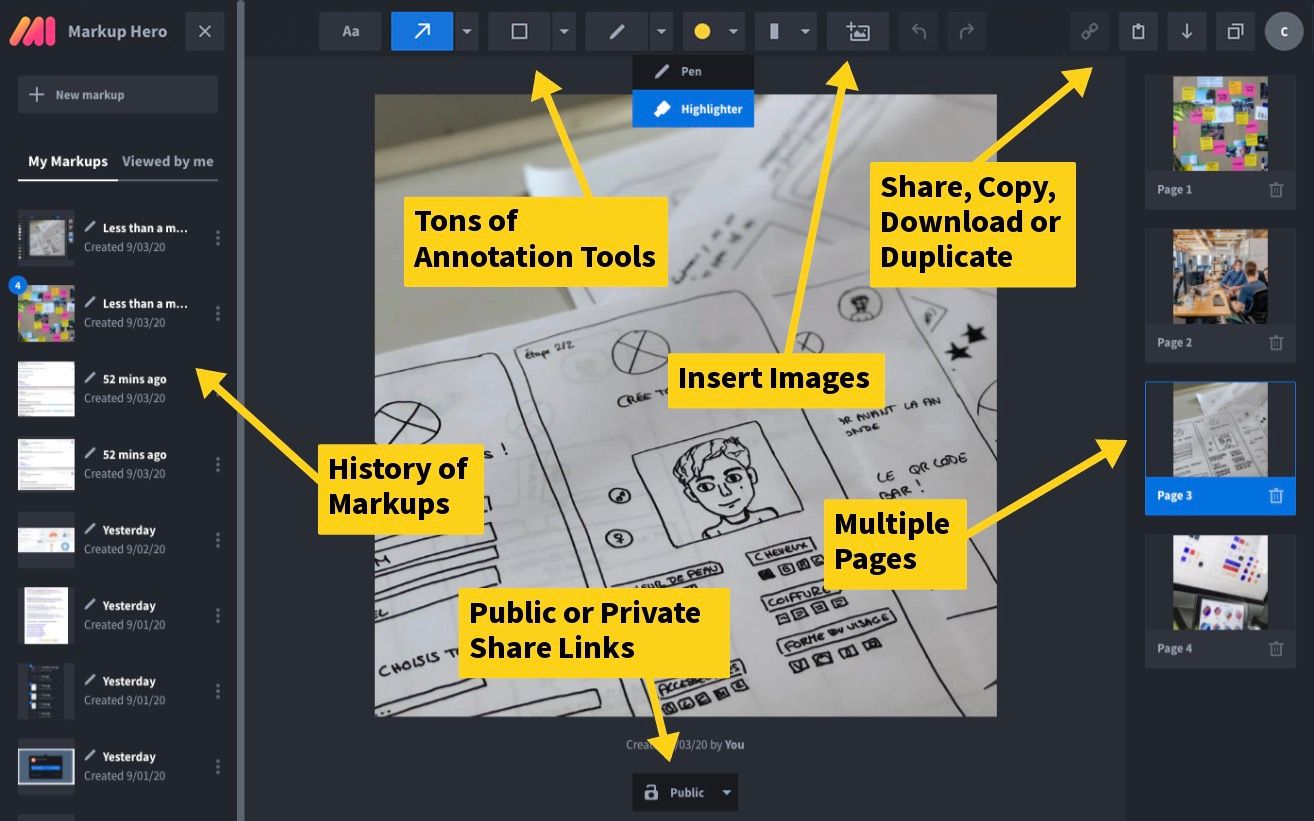 This approach has big benefits. First, you have a built-in QA and feedback loop. Second, you have an customer archetype to base your marketing on. In other words, if Markup Hero can find more people like Jeff, they're very likely to be a good fit for the product.
Of course, this isn't even close to enough. Markup Hero has a lot more marketing to do, and they're doing just about everything on this list. But don't underestimate the power of being your own first customer.
#4 – They Maximized Their Marketing ROI
Without clear customer behavior insights, an organic traffic strategy, and a paid traffic strategy, marketing can be an expensive game to play.
By putting their eggs in the correct baskets, SaaS companies could maximize their marketing return-on-investment (ROI). In other words, they could spend as little money as possible to generate the conversions they were aiming for.
Let's take a brief look at some SaaS marketing strategies they used.
These include:
Conducting customer behavior research to understand their customers better
Using PPC ads, and blog content
Starting to build relationships from day one
Collecting free trial users' names, phone numbers, and email addresses
Following up with new trials via text, email, or a phone call as soon as they sign up (and every few days after that)
Routinely surveying customers to ask why they searched for their product, what pain points they have, and what solutions they need
Ensuring new customers are using their free trials (and stepped in to help customers who signed up but weren't using them)
Asking free trial users to sign up for a paid plan at the end of their trials
#5 – They Nurtured Partnerships
The first successful SaaS companies were built on partnerships. From leveraging the social networks of well-known brands to upscaling marketing efforts, the right partnerships have brought SaaS companies more customers and revenue.
Partnerships have also helped SaaS companies secure the funding they need to scale their brands. For instance, spores.app managed to secure financial partnerships with eight brands to fund its SaaS startup.
When deciding on what partnership programs to create for your SaaS company, consider offering a few tiered options, like:
Tier 1: Mutual Affiliate Partnership Program - Where both partners are paid affiliates for each other
Tier 2: Network Sharing Partnership Program - Where both partners give each other access to market to each other's networks
Tier 3: Financial Funding Partnership Program - Where one partner lends or gives money to the other in exchange for a percentage of the profits or another gain
#6 – They Offered Free Trials
It may sound like a no-brainer, but offering free trials to your prospects can be the best way to show them how they can benefit from your platform.
The key to offering free trials that convert is to follow a few tried-and-true tips that top SaaS companies used to generate new customers.
Here's how top SaaS companies have offered free trials that led to conversions:
They Segmented Their Target Audience
SaaS companies first broke their audiences up into segments.
For instance, project management SaaS platforms segmented audiences by project manager type.
Their audiences looked something like this:
Construction Project Managers
Technical Project Managers
Marketing Project Managers
Event Project Managers
They Personalized Each Trial by Audience Segment  
After understanding which customers fit into which segments, SaaS companies personalized their trials based on each segment.
For instance, construction project managers had trials tailored to construction project management (i.e., they had access to construction project management templates and common construction metrics to track). Marketing project managers had trials tailored to marketing project management.
They Followed up With Free Trial Users
SaaS companies knew that understanding their audience and tailoring trials for them wasn't enough to convert trial users. This led them to create strategic follow-up plans that gave trial users plenty of chances to sign up for a paid plan.
7. They Made It Easy to Sign up
The top SaaS companies know that there is nothing prospects hate more than clicking through a 17-page marketing funnel to get to the sign-up page.
To improve conversions, they used simple one-page funnels that offered quick ways for users to sign up.
They provided registrants with several different sign-up options on the one-page funnels, so they didn't have to type in their details manually.
By choosing to sign up with Google, Slack, or a social media channel, users were granted access to their free trial accounts with just the click of a button.
#8 – They Offered Free Demos
SaaS companies know that ease-of-use is one of the main contributing factors prospects consider before trying their platforms.
But free trials and knowledge bases aren't enough for some prospects — especially if they're a large business or enterprise.
Large businesses need to understand how your platform can help. Will executives be able to use the platform easily? Will middle managers and frontline employees benefit from it? What about the back office and operations department?
To understand how your platform can help a cohesive organization with its processes, you need to offer free demonstrations (demos).
A free demo can help unified organizations understand how to:
Onboard new customers and employees
Manage day-to-day tasks and set up automation
See a high-level view of their projects and deadlines
Track project statuses
Use message boards, group chats, and other communication tools
Share files and collaborate
Set up and manage schedules
#9 – They Offered Tailored Onboarding Support
Another way SaaS companies converted large businesses was by offering tailored onboarding support.
Providing tailored onboarding support means creating a positive onboarding experience that hand-holds your customers as they get started.
Your customers have already decided to give you a shot at onboarding time, but it's your job to make sure they don't regret their decision and decide to cancel.
To create a seamless onboarding experience, be sure to:
Nurture customers from the very first touchpoint through the post-purchase stage
Provide access to all paid features for everyone on your customer's user list
Arrange a full company demo so your customer's entire team can learn how to use your platform
Give your customer plenty of time to ask questions about features, then answer each question with live, step-by-step tutorials
Make your product indispensable
Allocate a dedicated phone line to clients in the demo for a specific period of time (or charge more for 24/7 demo support)
#10 – Test Targeted and Word-of-Mouth Ads
SaaS companies understand the benefits of both paid and organic traffic. They understand that organic traffic leads to long-term growth, and paid ads can work wonders for short-term growth.
They also understand that testing ads can be one of the best ways to see what works and what doesn't. Understanding where to target their audiences was one of the main contributing factors that led to their success.
When deciding where to run ads, consider your audience. Where are they? Are they on Facebook or Instagram? Pinterest or Google? Will your ad be clouded by lifestyle product ads or influencer marketing?
Then, consider the math. Does it make sense for your business? Are the costs of the ads worth the expected customer lifetime value? And, most importantly, are the ads converting?
For instance, SaaS company Stackfield said:
"While we received consistent media attention during our founding and beta phase, leading many visitors to our website, after the changes, that wasn't the case. We barely received any article coverage, and so we had to find new ways of attracting users."
Met with the challenge of operating in a highly competitive market, Stackfield tested ads on Google Adwords and Facebook before concluding that the math didn't make sense for its company to continue spending the money.
After going back to the drawing board, the company realized that word-of-mouth advertising brought the most success. From that point on, it started investing more in its product and letting it speak for itself.
Ready to Generate More Customers for Your SaaS Company?
The top SaaS companies didn't create a platform and then hope and pray for a miracle. They increased conversions using a series of strategic moves based on customer behavior data and pain points.
If you're ready to generate more customers for your SaaS product, we hope these tips are exactly what you needed to read.
Guest post by Vikas Kalwani is a product-led growth hacker and B2B Marketing Specialist skilled in SEO, Content Marketing, and Social Media Marketing. He works at uSERP and is a mentor at 500 Startups.