Whether you're a seasoned product manager or looking to get into the career, having a polished resume is a requirement. And because job hunting is always stressful, even if you have gone through the whole process numerous times, you're going to need a leg up. One way to stand out and get noticed by hiring managers is to craft a compelling, informative and easy-to-follow product manager resume.
But surprisingly, not everyone knows how to do this and even fewer are willing to put in the work to create one.
PRO TIP: If you are a product manager or plan to be one, you're going to need. Markup Hero for screenshots and file annotations. No self respecting PM goes one day without it.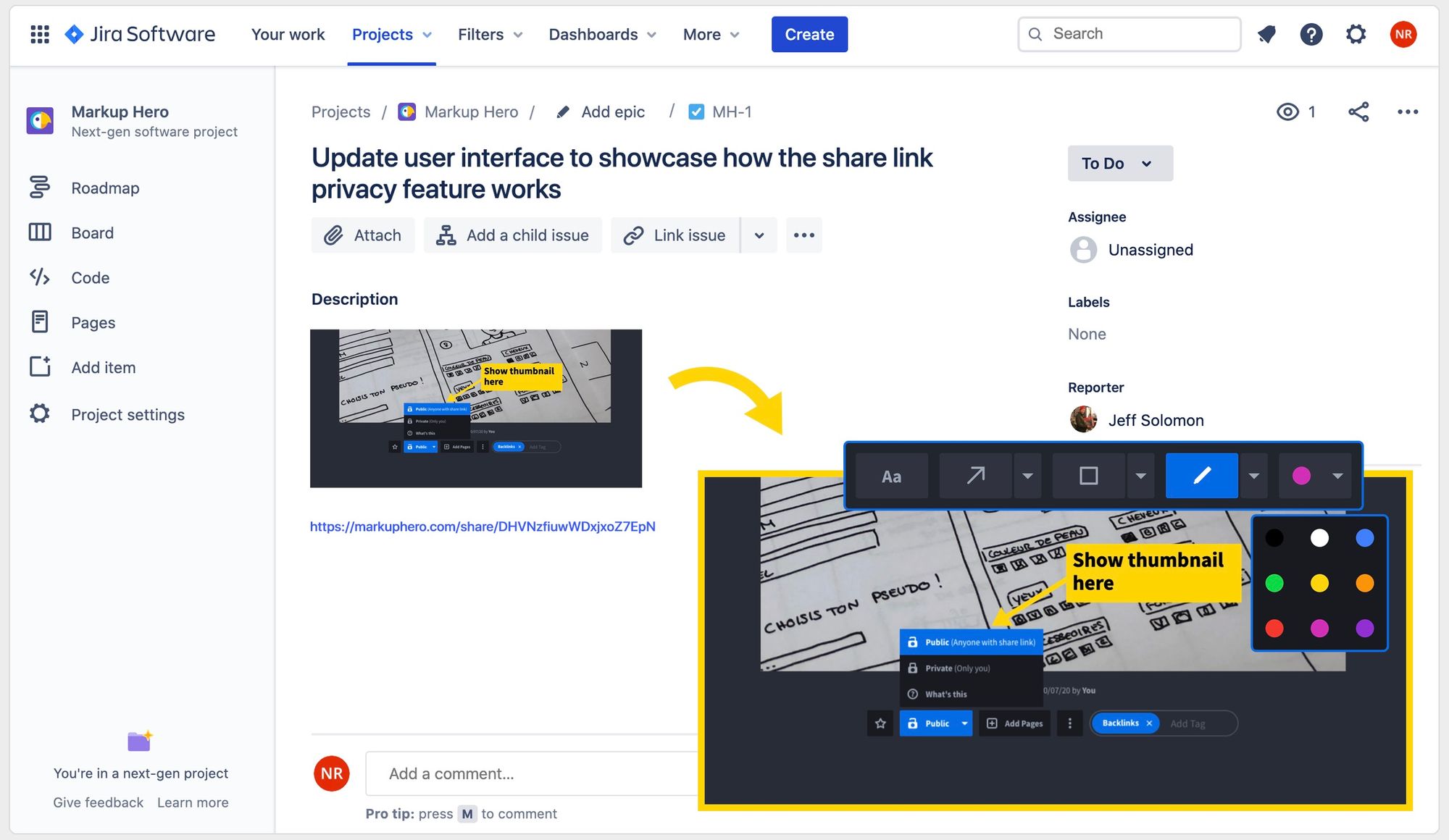 You might be tempted to simply find a premade resume template, fill in the blank spaces, and begin applying to job listings. This is akin to the "spray and pray" approach which rarely works that well. Such candidates are hoping that the high volume of job applications will certainly mean that at least some companies will send back a positive reply and ask them to participate in the interview rounds.
To eliminate luck and take your career path into your own hands, you have to put in the necessary time to create a specifically tailored to the job CV that reflects your passion and is and the chosen company. This is of course true for any job role or list, but it's particularly critical for product managers because the competition is fierce and experience can be so varied.
Your product management resume or CV should be treated as a product demo designed to showcase the value and experience you intend on bringing to the role.
Start by Researching
First, study each job description of the product manager position you're applying to, and take note of the significant terms and keywords related to the required skills and experience. Look for any specific requirements such as education degree, years of experience or project examples, and note them down as well. Pay attention to the order of the listed requirements as the ones near the top could carry more weight than the others.
You will use this information when we start crafting your actual product manager resume, but for now, you have more research to do. Don't assume that scrutinizing a job description is sufficient. To show your worth, take an in-depth look at the company posting the job position. After all, you wouldn't release a product without doing any market research or customer development.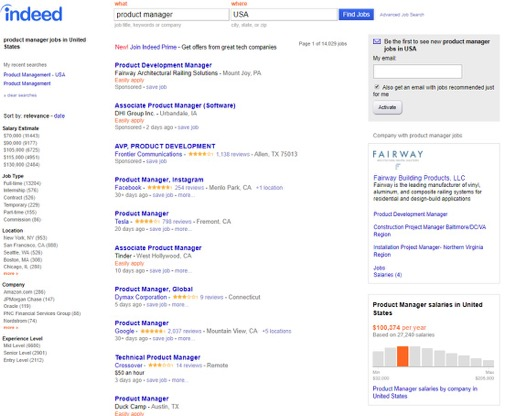 Remember, every company faces unique challenges – what a small startup is struggling with may not be that important for a larger organizations. The same goes for B2B companies vs. B2C-oriented businesses.
Start by researching each company that you have selected. Although this process will take some time, it's worth it. You can fine-tune the combination of skills and experiences you possess to match the specific needs of each company. This is going to be the cornerstone upon which you will build your product manager resume.
Start With a Draft
After you have done your research on the company and its product manager position, it is time to start thinking about your resume and how to customize it. To ease the process, simply open a new blank document and start dumping into it all of your professional experiences, accomplishments, and skills.
Do not worry about formatting or forming particular sections for 'soft' or 'hard' skills; all this isn't important for now.
Be sure to include all key points that you can think of. Describe any volunteer work, extra courses, side projects, hobbies, passions. In short, put everything in the document. When you are done, highlight the accomplishments you are most proud of and that most align with the needs of the company.
Now begin to format your experience and skills to match the company and job description. Look at the list you have just created and try to align it with the product manager position of that particular organization. Start with your best accomplishments and see how they relate to it. If it turns out that the overall picture is not sufficiently impressive to capture the attention of a hiring manager, consider picking a different company where you might be a better fit. But never lie or embellish.
PRO TIP: Falsifying or even exaggerating on your resume can lead to big problems. They might call you out on it during an interview. Or worse, you get the job and they find out later and you get fired.
Build a Narrative
Having set aside the raw ingredients that will go into the resume, it is time to structure them into a narrative. Think of this as a story that will highlight your product manager journey up to this point. Describe the projects you have worked on, the positive impact you have brought, what interests you in the field, and what you hope to achieve if hired for the new position. If you struggle with writing, you may even consider using an online writing service to help tell the story of your accomplishments.

It might be better to focus on specific aspects that can easily be translated to the requirements of the position. If it feels like the scope of the story is too narrow, do not worry, you'll be customizing this for each job you apply for.
PRO TIP: To have the highest chance of getting hired at the highest salary, the best product managers will customize each resume for each job opportunity. It takes work, but the payoff is big.
Naturally, that could mean omitting several otherwise important and noteworthy achievements. As a product manager picking the best possible tradeoffs in every situation is an inescapable necessity. And prioritizing a handful of key points from the last couple of years will definitely bring more value to your resume than painstakingly listing your entire career path.
Add Quantifiable Data
Having created an overarching and compelling narrative that is supported by sufficient and proven experiences, it is time to add that extra ingredient that will elevate the resume to another level. After all, simply describing your work and achievements and sprinkling some keywords here and there is not that difficult. Most product managers can say that they have 'led a team' or 'overcome challenges in a complex and highly dynamic environment.'
What the customer, or the hiring organization, in this case, wants to see from the CV is the value you are bringing. And the best way to illustrate your worth is via hard, cold data. Show the impact you have had in previous jobs in a quantifiable manner.
Look at the bullet points left in the resume and think about concrete metrics that you can add, if not to all of them, then at least the majority. Don't put numbers just for number sake, though. The data must be aligned with the overall narrative which, in turn, must be tailored for the company you are aiming for.
Highlight Your Leadership Skills
One of the main characteristics when it comes to management positions, and product manager is definitely not an exception, is having impeccable leadership skills. You need to deal with your team members that all come from different backgrounds and walks of life and coalesce them into a tightly-knit group that pursues the same objective and mission.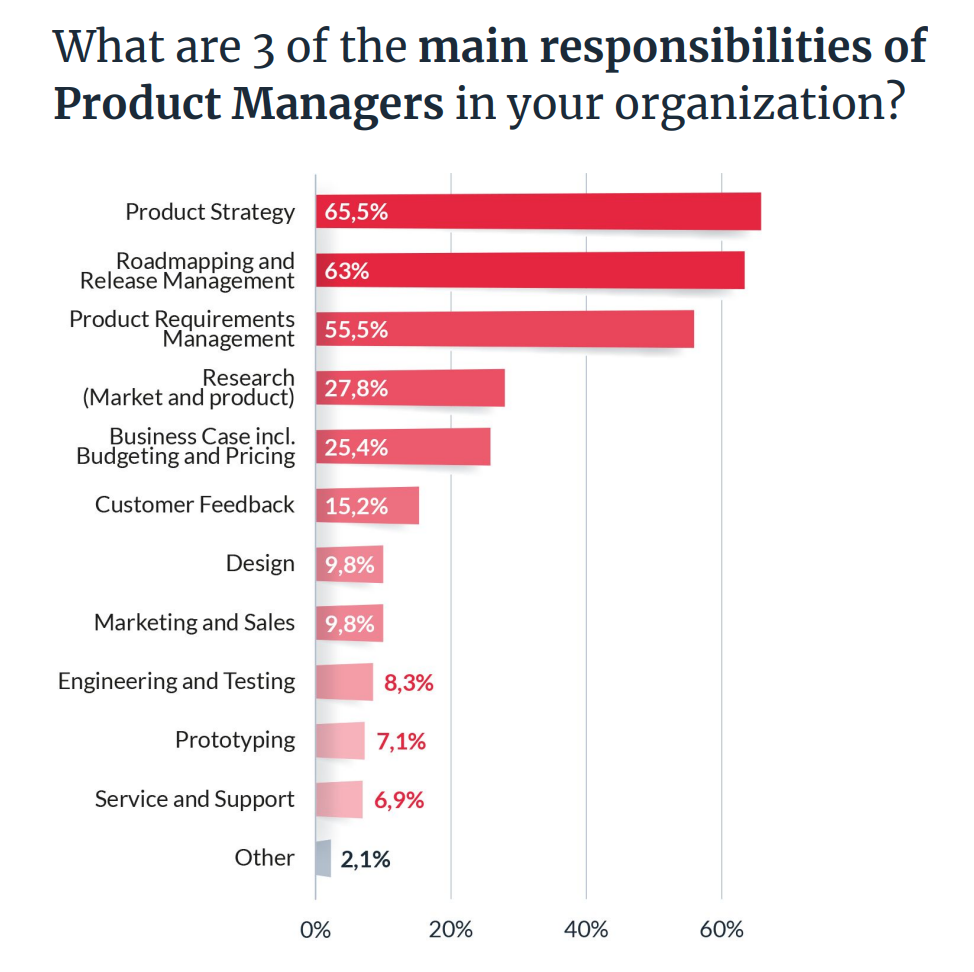 You may need to adjust your personal disposition and attitude to draw out your team's hidden potential.
As such, it is vital to highlight in your product manager resume all situations where your guidance has helped achieve the desired outcome within the allotted time frame. Describe instances where you successfully predicted that a problem might emerge and managed to resolve it due to making the necessary preparations. You can also highlight moments where your motivation and enthusiasm have managed to invigorate the team to push through an otherwise difficult or complex situation.
Design of the Resume
Finally, think about the visual presentation that is your resume. At the moment, things could be rather scrambled in your document with bullet points forming vague sections. Deciding on an appropriate design is important for any position, and it is equally as important when crafting your product manager resume. Put the most recent and relevant points first so that they immediately grab the attention of the recruiter.

Also, don't just mention your previous workplaces and positions. No one is capable of knowing every business organization out there. Try to describe the most important characteristics of your previous employers - their size, industry, geolocation, etc.
Hiring managers often have to rapidly go through a significant amount of resumes in a day. Take that fact into account and try to condense your resume to a single page. Do not try to fit multi-page content into a single one by decreasing the font size or page margins. Doing so will only create visual clutter and cause eye strain for anyone trying to read the document. While it may be painful, you may need to cut off some of the current bullet points in the resume.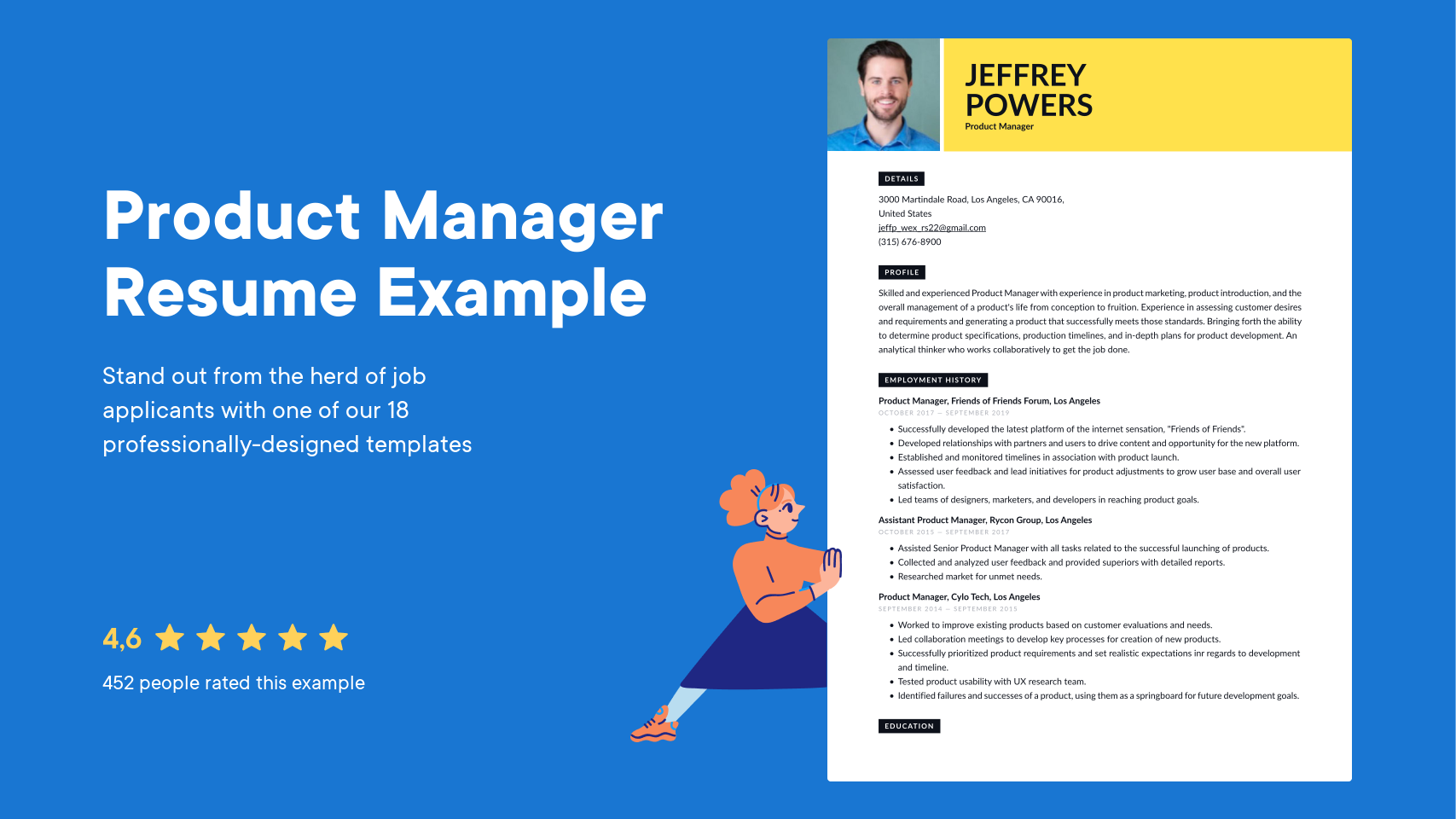 Another option that can free up some space for far more valuable information is skipping the Summary section. The resume is already a summary of your skillset, so dedicating space for an extra summary could be seen as redundant.
If you decide to include a graphic in order to break the monotony of all the text in the resume, be careful. Graphs usually confer information through comparison. So, if you simply add a graphic that shows you have the highest possible skills through some arbitrary numbers, well, that space may be better utilized in some other manner.
Conclusion
Creating a product manager resume that will be able to successfully and sufficiently represent your unique skills and expertise can be taxing. The outcome, however, makes the time investment more than worth it. Even the smallest details can tip the scales in your favor so think about every aspect and how it enhances your pitch before the hiring manager reads the resume.