Don't start editing that PDF just yet. Most people fall into one of two categories when it comes to PDF editing. Take a second to see if either of these use cases fit your need.
Use Case #1 - You want to add annotations like arrows, boxes, callouts, highlights, signatures, add images and more and you want to do it fast.
Use Case #2 - You want to split pages, compress file size, transform original text and other heavy lifting.
PRO TIP: If you're not sure what you need, or you know that use case #1 is for you, then you'll want to try Markup Hero. It's free and you can test it instantly, with no account, no signup – just upload and edit.
If you think you might be in the use case #2 camp, then scroll down to read about Kofax Power PDF and why that might be a good fit. Or just keep reading to learn about both solutions.
What is Markup Hero
Markup Hero is the fastest way to edit and add annotations to PDF's. Even huge files with 100's of pages will upload in seconds.
Be aware that most PDF editors including Kofax Power PDF can take a while to upload and even error after 30+ pages.
After you PDF uploads, each page is automatically separated and you can begin adding all kinds of annotations (some examples of tools below).

Markup Hero is extremely fast, nothing to download, no latency, no hassle web based app. Everything you do in Markup Hero is saved so you can go back and make changes to your annotations at any time, from any computer or device.
The tool also allows you to upload images and take screenshots, which can easily be embedded into your PDF's as well. You can generate a share link that allows anyone to instantly see your markup but limits them from editing anything. And our new signature box makes it easy to sign documents.
If annotation and basic manipulation is what you want, especially if you have a big PDF, Markup Hero is going to be the best option for you. Plus, Markup Hero is very affordable (only $4/month) and offers a forever free pricing plan and you can test it out without even making an account or entering a credit card. Yeh, that's slick.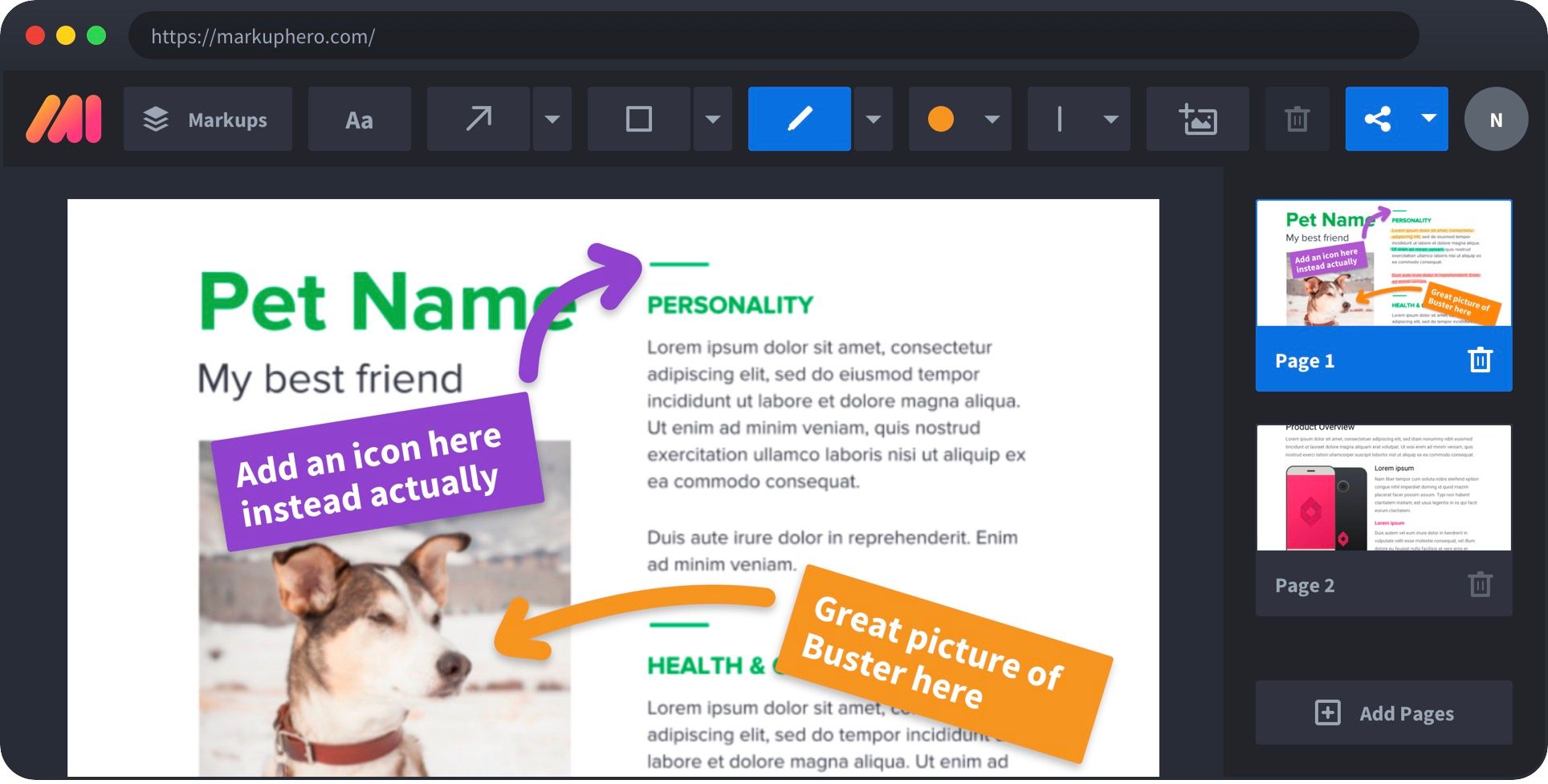 ---

Now, if you are looking for a program that gives you more editing and manipulation of PDF's, but doesn't do annotation, Kofax Power PDF could be a good fit for you, so read on.
What is Kofax Power PDF?
Kofax Power PDF, formerly known as Nuance PDF, is a PDF solution that lets you edit, convert, annotate, and share documents.  There are primarily two versions of the application. First is the standard version, which is called Kofax Power PDF.
A more professional version, known as Kofax Power PDF Advanced, offers a handful of additional features.
Kofax Power PDF Advanced has a reputation as one of the most powerful PDF management programs available. As a result, millions of people use it worldwide.
Due to its reliability and reputation, many people still know it as Nuance Power PDF Advanced.
Pro Tip: Kofax Power PDF desktop application not a web based tool. So that means you have to download and install. It does work on Mac and Windows, but it won't be a quick fix solution. We encourage you to give Markup Hero a try first and see if it's useful for you. It's free to test, no account or credit card needed. Just upload and start using it today.
What Does Kofax Power PDF Offer?
There are many PDF solutions available on the internet. But some aspects of Kofax Power PDF help the tool stand out from the crowd.
Kofax Power PDF has a modern and intuitive UI. This gives the users a pleasant and smooth user experience.
Another handy tool that Kofax Power PDF offers is bulk conversion. You can easily convert different file types and simultaneously combine them into a single PDF. This feature can be handy if you regularly work with a lot of documents.
Kofax Power PDF Advanced offers some powerful security features that help you protect your documents from harm. It also features cloud storage integration which aims to make your workflow seamless and efficient.
How to Use Kofax Power PDF?
Thanks to its modern and bloat-free user interface, it is easy to use Kofax Power PDF. Kofax Power PDF is only available on Windows and Mac as an offline desktop application. So, you will firstly need a compatible device to use it.
Right after opening the program, you will find an option to open or create a new file. If you want to make a PDF file from scratch, you have to click on New.
If you want to open an existing PDF file or convert a file into a PDF on Kofax Power PDF, you have to click on 'Open'. Change the filter to "All Files" to see all compatible file types.
If you select a PDF file, it will open normally. However, if you choose any other file type, Kofax will first convert it into PDF format and then open it.
If you want to convert multiple files and merge them into a single PDF file, open a new PDF file. Then click on Combine Files, and then on Add. Now, select all the files you want to merge and click on Open. That's all you have to do!
You can similarly use different features intuitively by selecting whichever one you need from the menu.
What Features Does Kofax Power PDF Have?
As mentioned earlier, there are two versions of Kofax Power PDF. The Advanced version has all the features of the standard version and then some more. Here are some of our favorite features from both versions.
Kofax Power PDF Features
Touchscreen Optimization: Kofax Power PDF has a modern UI optimized for Windows 10 and macOS. As a result, it can make great use of touchscreen features. This feature makes it an ideal option for portable touchscreen devices like Surface laptops, MacBook Pro, and other Windows tablets.
Bulk Conversion: You can easily convert multiple file types simultaneously into PDF by using Kofax Power PDF.
Collaborate Easily: You can work across devices and platforms and share documents easily by using cloud storage.
Kofax SignDoc: You can buy this add-on to enable digital signature management within the program. This feature allows you to work paperless and shift to a stamp-based digital workflow.
Kofax Power PDF Advanced Features
Intuitive Forms: When you scan forms into PDF, Kofax Power PDF Advanced automatically creates interactive text boxes, checkboxes, and signature fields.
Improved Workflow: Kofax Power PDF Advanced takes collaboration to the next level. You can collaboratively edit your PDF files with your team in real-time. This feature results in more effective teamwork and an efficient workflow.
Cloud Integration: Directly share files using Google Drive, Dropbox, OneDrive, and other cloud services from the application. This feature saves time and creates a seamless user experience.
Besides these features, Kofax Power PDF has all the essentials of a PDF solution, which includes:
In-app PDF viewer
Merge and split PDF
Convert PDF into other file types
e-Stamps
Highlights and annotations
Is Kofax Power PDF Safe?
Many consider Kofax Power PDF Advanced to be the number one alternative to Adobe Acrobat. It is, therefore, no surprise that millions of people have downloaded the software.
To this date, there have been no reports of data theft or malware infection caused by Kofax Power PDF. We can safely conclude that Kofax Power PDF is safe for your device.
How Much Does Kofax Power PDF Cost?
Kofax sells its PDF solution as licenses. A single license gives a user lifetime ownership of the application. However, only one user can use it. If you are working in a team, you will have to buy a license for each member.
The standard Kofax Power PDF costs $129/license. If you want to get Kofax Power PDF Advanced, it will cost you $179/license. The pricing plan is noticeably more affordable than its number one competition, Adobe Acrobat.
There is also a pricing option for enterprises that depends on various factors, and you will have to contact Kofax, Inc for more information.
Kofax Power PDF Reviews
Kofax Power PDF has a score of 4.2 on g2, while Kofax Power PDF Advanced has a score of 4.5 out of 5 on Capterra.
Overall, Kofax Power PDF is a very well-reviewed program. Reviewers have praised its abundance of features and speedy user experience.
However, there have been some complaints regarding its resource management. It is only natural that such heavy software would use a lot of resources. As a result, some mid-range devices may get underwhelming performance under intense load.
Conclusion
Overall, Kofax Power PDF has all the makings of a feature-rich PDF solution. Its seamless user experience and handy features make it an easy recommendation from us.
Ultimately you might find both Markup Hero and Kofax Power PDF valuable in different circumstances. But for many users, the quick and easy PDF editing features of Markup Hero make it a no-brainer.
If file annotation and markup and minor edits – fast and easy – is your thing, give Markup Hero a try here.