Before we get into details about Soda PDF, which we do, let's quickly see if you need it or perhaps Markup Hero is a better fit. You likely fall into one of two use cases:
Use Case #1 - You want to do quick edits and manipulations to your PDF as well as add annotations and markup like arrows, highlights, signatures, boxes, images, signatures and more.
Use Case #2 - You need a tool that can fully manipulate PDF's -- cut, resize, combine, transform and convert.
If use case #1 is why you are here, then Markup Hero is going to be a perfect fit for you.
If use case #2 is your need, then Soda PDF might work well for you.
What is Markup Hero
Markup Hero is a super lightweight and highly popular tool for adding all kinds of annotations to PDF's. It's extremely fast, nothing to download, no latency, no hassle web based app. It can handle more than 200+ PDF pages which is more than any other tool out there. And when you edit your PDF, everything is saved so you can make changes forever, from anywhere.
The tool also allows you to upload images and take screenshots, which can easily be embedded into your PDF's as well as adding arrows, colors, pen, highlights, text, comments, signatures, notes and dozens more markup options. Also insert images, create more pages, generate share links and more.
Here are a few of the popular tools.

If annotation and basic manipulation is what you want, especially if you have a big PDF, Markup Hero is going to be the best option for you. Plus, Markup Hero is very affordable (only $4/month) and offers a forever free pricing plan and you can test it out without even making an account or entering a credit card. Yeh, that's slick.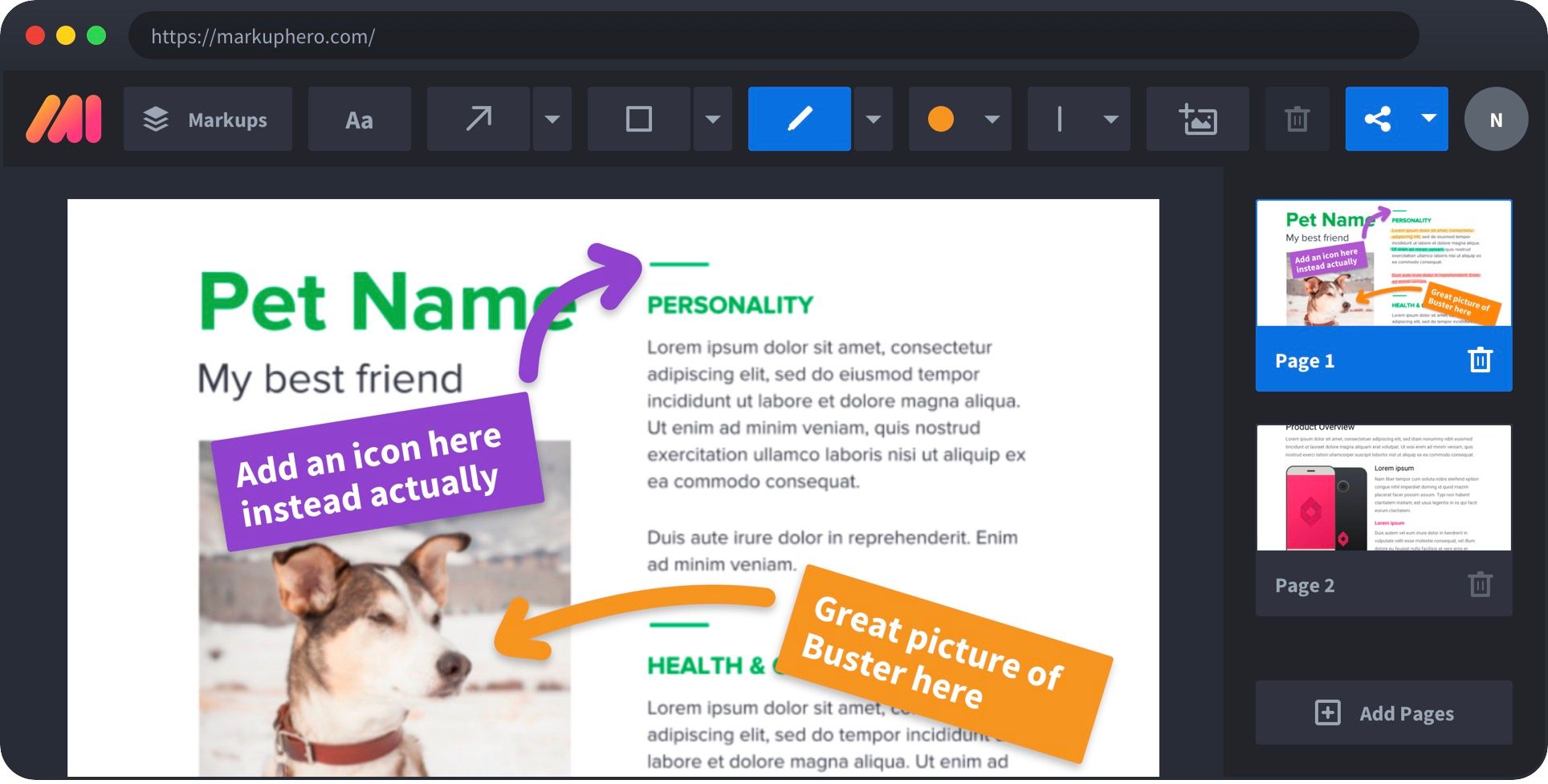 ---

Now, if you are looking for a program that gives you complete control over your PDF files, but doesn't do annotation, Soda PDF might be a good option.
SodaPDF is a PDF management software for web and desktop only. From creating, editing, and organizing PDF files to splitting, merging, and protecting your documents, Soda PDF offers a one-stop solution for many of your PFD needs.
What Does Soda PDF Offer?
Soda PDF lets you take full control of your PDF documents. You can convert almost any file type to PDF and vice-versa.
The software features a modern user interface. The UI makes working with Soda PDF a satisfying experience. However, the tool can feel a little bloated and slow at times and there is definitely a learning curve involved.
Soda PDF comes with a convenient feature called Optical Character Reading (or OCR for short). It lets you detect texts on images and then edit the text.
One of Soda PDF's greatest strengths is its editing capabilities. You can easily customize the font type, size, and color. Moreover, you can edit images within the document without hassle.
Soda PDF is also big on security. It has powerful privacy features that you can apply to private documents. This feature ensures you don't have to worry about having the privacy of your confidential documents.
How Do I Use Soda PDF?
You can use SodaPDF from both the desktop application and the web application. If you are using the offline application, open it to get started. On the flip side, if you want to use the web application, go to Soda PDF's online tools page.
Most users prefer the web application because they can access it from any of their devices. Once you go to the tools page, you will find an extensive list of tools. Select whichever implementation you need for your work.

Once you have selected the tool, the page will ask to upload or select your file. You can upload the file from your PC or cloud storage. Soda PDF supports Google Drive and Dropbox, two of the most popular cloud storage services.
After you upload the file, it will automatically redirect you to the web application. There, you can edit your document as needed.
When you have finished editing with a particular tool, you can switch to another by using the top tab. After completing your edit, click on the Download button to save the file on your device.
If you have a premium account, you will gain access to numerous more features and additional options on existing features.
Is Soda PDF Safe?
Many people are suspicious of free web applications and for good reason. Some tools can potentially be a source of malware and data theft.
But the good news is that Soda PDF is a safe and reliable piece of software. There are hundreds of reviews on the internet reaffirming its safety. So, there is no need to worry about exposing your documents to any malware or theft.
Some Exciting Soda PDF Features
Here are some of our favorite features of Soda PDF:
SodaPDF OCR: This is probably the most powerful feature in Soda PDF. This allows you to detect texts on images and then seamlessly edit them. Very few software can accomplish this at this price point.
Soda PDF Edit & Insert: While many PDF editors are available on the internet, not many offer such flawless editing capabilities in such a budget-friendly package. Saying that Soda PDF is a good tool for editing would be an understatement. Edited files rarely bear signs of tamper even after inserting new media.
SodaPDF Forms: This feature lets you make customized surveys, forms, and purchase orders. You can use it to make your layouts stand out and easy to use. You can also use it to fill out forms both online and offline electrically.
Soda PDF Sign & Seal: Use this feature to protect your document from unwelcome eyes. You can selectively censor certain parts of the paper to ensure sensitive information does not get leaked. You can authenticate documents using electronic signatures. Finally, you can password protect your documents and set various permission levels.

Some Additional Features
While these features may not be exclusive, Soda PDF still offers these essential features.
View PDF files without the need for a third-party PDF reader.
Add comments to your documents.
Create PDF files from scratch, scanner, webpages, and other document types.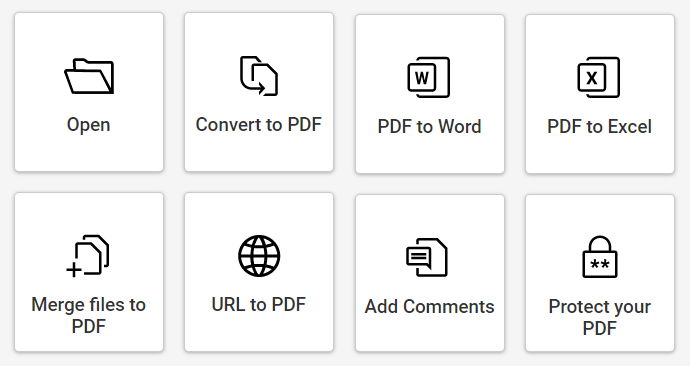 Convert PDF files to various formats (Word, Excel, Powerpoint, Image, Text, Html, PDF/A, etc.).
Merge multiple documents and compress file size without compromising on quality.
How Much Does Soda PDF Cost?
Soda PDF offers excellent value for its price. You can get the essential features for free. If you choose to get the premium versions, you get to pick from three different packages:
Standard @ $8/month
Pro @ $12.50/month
Business @ $20/month
If you choose to get a monthly subscription, the Standard plan will start at $8/month. The Pro plan provides the best value at $12.50/month. If you are running a business, you should consider the Business package, which will cost you $20/month.
If you choose to get an annual subscription, you will get a discount on all the packages. While the Standard plan will cost you $6.75/month. The Pro and Business plans will be priced at $10.50/month and $16.75/month, respectively.
No matter which package you buy, you will get the first two months for free. Moreover, they sell the Business Package as licenses. You can buy up to five licenses for the given rate. If you choose to buy more than five licenses, you will get a bulk discount based on the number of licenses you purchase.
Soda PDF Reviews
Soda PDF has decent reviews on popular software review sites G2 and Capterra.
Most users have praised the feature set Soda PDF provides. Very few software provide such powerful features at such an accessible price.
But some users found the user interface a bit difficult to use. There were also complaints about the slow launch of the PDF viewer.
Conclusion: Markup Hero or Soda PDF?
Both are great tools, so it really comes down to your needs. If you want to annotate and markup PDF's, and you are looking for a fast tool to do it, then it's Markup Hero is the winner hands down. Try it instantly here. If you need to transform the PDF itself (add pages, compress, split, combine, etc), and do text editing, then SodaPDF is probably the right option.