Sales automation is something that just about every company eventually realizes. And it's not surprising. About 44% of executives from high-performing businesses claim that smart machine algorithms and AI reduce operational costs and help earn higher revenues. p
In recent years, automation tools have become so easy to use and, in many cases, so affordable that continuing managing sales with Excel alone has turned nearly counterproductive.
In general, around ⅓ of all sales tasks can be automated. This refers not only to calculating sales-related metrics but also to putting pretty any process component on self-regulated "rails:"
sales planning
lead generation
pricing strategy
orders' processing
after-sales activities and support.

Sounds enticing, doesn't it? Although professionals' contribution to work cannot be underestimated, computers have some undeniable advantages:
they can operate 24/7
calculations are error-free by the nature of things
machines can't get ill, tired, or quit
And, probably, the most important benefit is that sales automation software frees up time. By shifting manual and repetitive processes onto machines, your employees can focus on more worthwhile work — planning, conceptualizing, and processes design.
What are sales automation tools?
To obtain the maximum from implementing automation, one should develop patterned sales processes and spend from 12 to 18 months on design. First examine the entire selling process and define a scope for automation. Then prioritize operations. Start with small areas: test modifications, appraise efficiency, revise bugs, and make improvements. Eventually — scale up.
Half of the success is choosing proper sales automation programs. If you've already done some research on the topic you know there are a vast number of software tools on the market. Many have similar functionality and high-grade overall quality.
Choosing a sales automation software often comes down to two differentiating factors: UI/UX preferences and price. Nevertheless, developers are proud of the features and competitive advantages they've endowed their programs with.

Best sales automation tools for your business
To shape your vision, we've reviewed 7 services for sales automation that passed for being TOP in the niche.
Sales automation is a critical component of modern sales. Once you add it to your workflow, you'll become more productive, develop better relationships with your prospects and customers, close more deals, and so much more.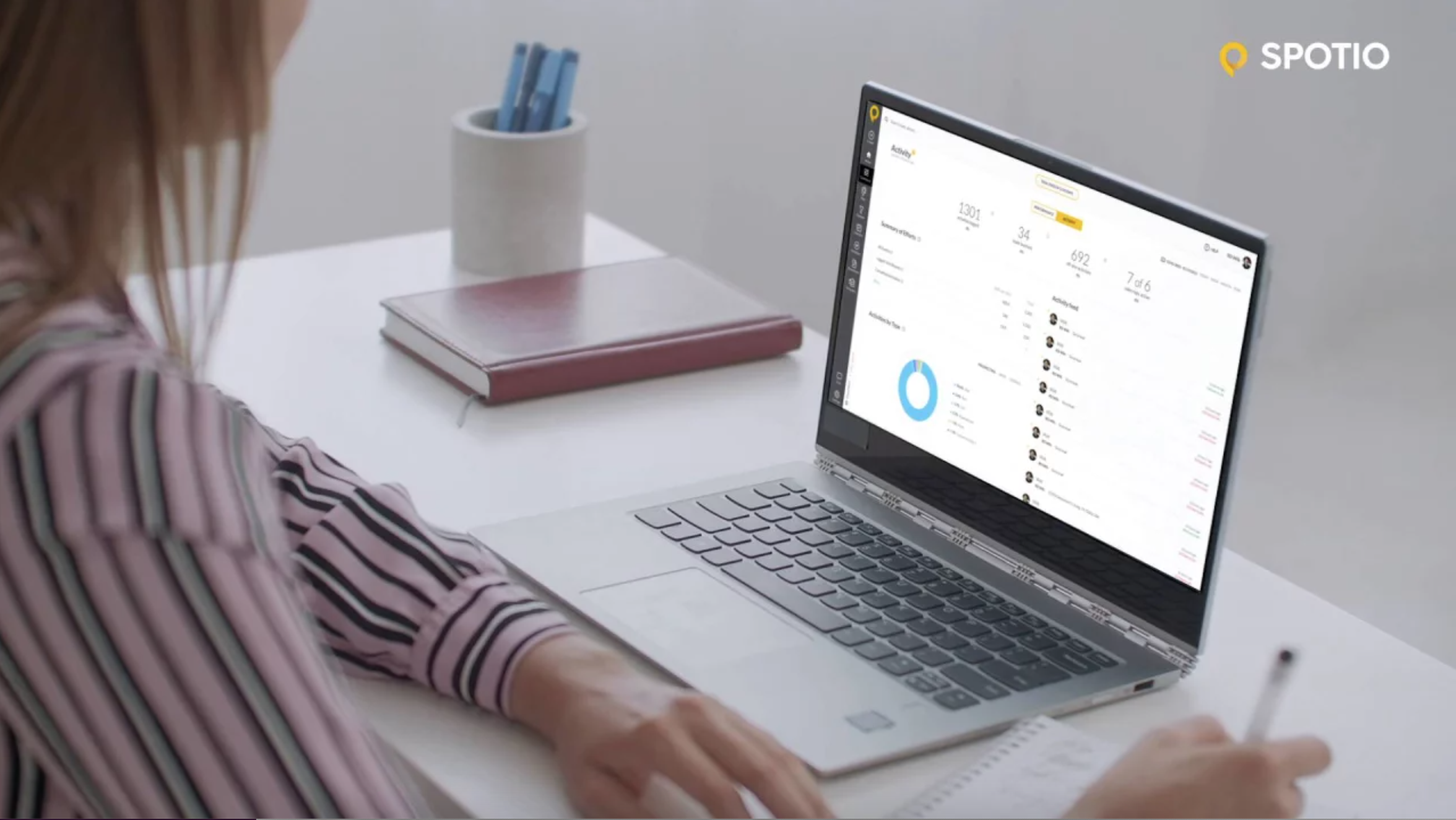 The trick is finding the right sales automation system for your needs. If you're in field sales, we recommend SPOTIO.

SPOTIO was specifically designed for field sales teams, which means you won't have to just "get by" with another tool. Every SPOTIO feature was made to assist field sellers and help them close deals at a consistent clip.

Spotio helps field sales leaders overcome missing sales targets by:
Increasing task automation, pipeline and win rates
Allowing you to reinforce a proven sales process across the entire team
Turn from manager to coach with visibility into exactly what's going on in the field
Sign up for a free demo today to see SPOTIO in action and decide if it's the right sales automation tool for your field sales team.
For you to be able to interact productively with the sales automation program, it should have 4 traits:
Integration with pretty much all known CRMs
Integration with marketing automation tools
Pre-designed templates
Built-in analytical instruments.
Snov.io has all of the aforementioned, and more. The software will best match teams who struggle to find an all-in-one automation solution for Sales and Marketing. First, the program integrates with many worldwide-used CRMs and sales services:
Pipedrive
HubSpot
Asana
Nutshell
Salesforce, and others.
You can work out a sales funnel and use Snov.io to fill in TOFU layers with leads. Here's how this works:

1 – Collect or validate emails database
Perform a comprehensive email address search and verification. Or examine available e-addresses and get rid of broken, misspelled, temporary, or other troublesome emails.
2 – Automate outreach
Schedule email delivery or design trigger-based campaigns. Instead of creating sequences and handling messages manually, simply make a few settings, upload the content to the system, and Snov.io will take care of the rest.
3 – Distinguish newsletters for qualified leads and newbies
Addressing clients with a boilerplate approach doesn't bring sales, agree? In the 21st century, personalization and customers' shopping preferences are everything.
Use data on purchases from your CRM to segment recipients according to their buying behavior. Then develop appropriate content for each group. Since scheduling and delivery processes are fully automated, you can create as many dispersed recipient groups as needed.
4 – Track performance
Sloppy email marketing may damage a company's reputation and affect sales. Possible threats vary — from low open rates to spam complaints and bans. The Snov.io dashboard allows monitoring all email-performance metrics. Thus, as soon as something goes wrong, you can timely address the issue.
Software core features:
Native email drip campaigns constructor
Built-in email finder and an extension for Chrome
Email verifier
API with 60 requests per minute
Integration with many lead gen, time management, and media content management programs
GBlast feature that helps launch personalized email campaigns in Gmail.
The good news — you can start with Snov.io for free. For extended functionality, upgrade to the S subscription plan for $39 per month. The most complete XXL plan will cost $578 monthly.
The program stands out as the latest solution for Inbound marketing management. Not only it assists sales automation — but marketing, content, and customers' support automation, as well. Depending on needs, you can choose from 5 themed "Hubs":
Marketing
Sales
Service
CMS
And operations.
Each "pack" has related tools. For example, if you want to manage your website, choose HubSpot "CMS Hub" combo and enjoy an easy-to-use drag and drop editor, numerous design templates, and free-of-charge SEO guidance.
The program will serve ideally as a central system to manage relationships with customers. You can align hardly all sales & marketing Apps with the HubSpot ecosystem:
Google Suite
WordPress
Magento
Amazon's Alexa
Zapier
Facebook Ads
Slack
LinkedIn, and so on.
Developers went even further from sales automation. They produced the entire environment for performance marketing - the Hubspot Academy. The Academy stores a vast number of video training courses and issues globally recognizable certificates for marketers.
Key features:
Sales, lead generation, and pipeline management tools
Social media instruments
Meeting scheduler app
Sales email templates.
Some free stuff you shouldn't pass by:
Online software builders -  Use these to effortlessly construct landing pages, develop chatbots and create all kinds of online forms.
Website grader - Need some ideas on how to improve your private or business site? Enter The URL address and your email, and receive a paper on achievable improvements.
Blog ideas generator - The tool will be useful for novice influencers or amateurs interested in content production. Enter up to 5 different nouns that relate to the topic of your preference. Say, "garden", "home", "design", "nature", and "landscape". The free tool doesn't produce content itself - it generates "sensationally" looking headlines. Thus, you can get inspired and elaborate on trending subjects.
Marketing plan generator - Who said you can't manage promotional activities on your own? Use the HubSpot marketing plan template to outline tactics and control their performance. The instrument will assist self-employed, small companies, or startups who are not yet ready to maintain the whole marketing department.
HubSpot prices vary, depending on the package type and chosen bundles. The very plain "Starter" subscription will cost $45 per month.
The program is all about joining different apps. Say, you need to connect your social lead to the email provider to address the follow-up email. Navigate to Zapier and choose icons for respective systems, for example, Gmail and Facebook.
Set up mailing frequency, e.g., "every Wednesday at 5 p.m", and compose the message itself. Submit the form and — voila — following up is scheduled within less than 15 minutes.
Or replenish your CRM faster by automation of transferring data from submitted forms. Open Zapier dashboard and select MailChimp and Salesforce icons (or whichever software you use). Customize conditions and get information about new customers in place and ready to use instantly. You can concurrently export data to Google Spreadsheets or upload it to DropBox.
If 100 tasks per month will be enough, one can use Zapier for free. For more tasks, say, 750 every month, one will have to pay $19.99. An all-inclusive subscription plan will cost $599 per month.
If utilized smartly, the software will become a deckhouse for both sales and marketing. Mailchimp has 5 categories of automation and analytical tools - to meet different needs.
1 – Website management
You can use the program to either create sites from scratch or to improve and maintain existing pages.
Start with a free website builder - pick up the theme of your preference from the templates library, design sitemap, and landing pages' layout. Switch to the preview mode - to see how recent changes look like. Elaborate content with images - choose a royalty-free picture from the gallery. No more headache when hunting for HD photos or worries about copyright violations.
Mailchimp will also serve perfectly if one needs to launch a small or midsize online store - due to numerous pre-designed sales-boosting features.
2 – Multichannel marketing campaigns
Those who've already established a brand can use Mailchimp to make it noticeable across different platforms. Nurture the customer on every stage of his or her buying journey by providing consistent content.
The software allows creating Ads and emails within a single environment. You can construct precise customer journeys and detail each step with your respective marketing actions.
3 – Segments management
Profiling has never been easier, indeed. Mailchimp will assist you in either collecting information from leads or aggregating data into audience profiles. Here are just a few traits: behavioral filtering, predictive insights, lookalike audience finder, tags, pop-up, or embedded contact formsб etc.
4 – Creativity
Designers or marketers who have to compose pieces of visuals will appreciate Mailchimp's creative toolkit. The "Creative Assistant" will help you design a beautiful logo, Instagram post, or GIF.
Navigate to MailChimp's "Content Studio" to personalize email content or pick up some templates and use them for mailing campaigns.
A great option is dynamic content development, especially for owners of local businesses. This automatically adjusts messages "on the fly," depending on the client's location or other sorting condition that a user has set up previously.
5 – Analytical tools
Who doesn't like neat diagrams and tidy dashboards? Mailchimp is equipped with "best-practices" analytical instruments: A\B testing, surveys, likelihood, and various metrics.
You can start with the service at $0 costs. The basic "Essentials" plan starts at $9.99, while the "Premium" subscription will cost from $299 per month.
As the name suggests, the program assists in building complete sales pipelines. To start with, determine the selling steps that your company possesses. Arrange deals for every distinct step and group these into a consistent flowchart.
This way, the entire pipeline - from onboarding to upselling - will be easy to manage and adjust by rearranging individual deals with dragging and dropping them.
Pipedrive is a regular CRM with good-looking visual effects. Replace faceless text with bright and meaningful tags to label "Hot", "Warm" and "Cold" leads. Apply filtering options and switch between distinct groups quickly.
Another cool Pipedrive point is alignment with Slack, Gmail, and other mailing systems. Set up the integration, and every time a deal is moved to a new stage, get a message to the Slack channel. Every time the deal is won, get a notification to the email.
The dashboard perceptibly displays performance reports. You can analyze deals in the context of individual sales reps, check out winning ratio progression and value of successfully closed deals.
Subscription plans for Pipedrive aren't overpriced. For example, you can get access to pretty all functions for €12.50 per user per month.
From all mentioned in this article, Ledario most relates to the database software. Sales teams can increase their productivity through:
Data-driven clients' segmentation
Account-based campaigns launching
Advanced firmographic and demographic profiling
Buyer personas & key accounts profiling, and many more.
Leadiro developers were really about data. They've assembled datasets across more than 884,000 companies in 144 industries and 102 countries. Hence, B2B users can save time on R&D and target decision-makers directly, for example, CEOs, CMOs, CFOs, or other stakeholders.
To get a free trial or discover subscription options, one should contact sales@leadiro.com.
The service aims to assist in establishing fruitful relationships with target customers. Boxxstep provides 3 tools:
1 – Relationship mapping tool
This is an online canvas where you can design a sort of relations "tree". Built-in visuals, such as social media icons or branching options, will speed up the overall mapping process. Hence, you end up with a good-looking and ready-to-be-presented diagram.
2 – Mutual actions planning instrument
The tool will be useful for team collaboration and project management purposes. Set milestones, map needs, add comments - do all that is needed when you share efforts with a group of people.
3 – Win & Loss analysis tool
The instrument will assist in collecting feedback on your sales performance. Ask customers or internal stakeholders to evaluate purchasing experience with a win, lose or no decision option, and build analytics on the data collected.
One can start a 14-days trial for free. After, a "Standard" or "Business" subscription plan will be required to purchase - for $126 or $210 per user per 1 year.
Salesmate is a tool designed to be the pal of your sales team that they could rely on. It eases out the sales process for your company. Salesmate is a CRM tool that defines the sales operations for your sales team by pipeline management.
The tool helps you to ascertain how to proceed with your sales activity in a particular order to generate more leads and retain existing customers. The features like built-in calling, power dialer, automation sequences and creation of web forms helps your sales team proper map to follow right from fetching contact information to follow-up.
Salesmate particularly excels in these two areas:
1 – Ease of Use
The app is easy to use over desktop and mobile on the go with its seamless design and understandable layout. Each process and activity are made with prominent drag and drop colorful tags that help your management and sales rep to learn the status of a particular lead at one glance.
Enriched with more than 20 awards in 2020, this tool has very easy-to-understand portal/dashboard that is capable to show you data in figures and charts as you like. The customization of the features is also available.
2 – Powerful Dialer Capabilities
The most amazing feature of this CRM tool is its power dialer that gives you access of residential numbers of more than 80 countries globally. It also has integration with more than 250 apps and tools that makes it compatible for every industry by easy integration of their data.
Salesmate is available for free trial and post that, you can start availing services from 12 dollars per month per user.
And The Last Thing
Without a team of motivated professionals, sales automation software doesn't make much sense. In an attempt to keep up with technologies, don't forget to invest in your most precious asset, which is - people.