Illustration by Oleg Shcherba from Ouch!
You probably landed on this article for one of two reasons:
You need a tool to can combine, cut, resize and transform PDF's
You want to add annotations and markup like arrows, highlights, signatures, boxes, images and more to your PDF
If #2 (annotating PDF's) is why you are here, then the solution you need is Markup Hero.
If #1 (transforming PDF's) is your need, then CutePDF might work well for you.
What is Markup Hero
Markup Hero is the highly popular web based tool for adding all kinds of annotations to PDF's. It's extremely fast, it can handle more pages (200+) than any other tool out there, and it's forever editable. The tool also allows you to upload images and take screenshots, which can easily be embedded into your PDF's as well as adding arrows, colors, pen, highlights, text, comments, and dozens more markup options. Also insert images, create more pages, generate share links and more.

If annotation is what you need, especially if you have a big PDF, Markup Hero is going to be the best option for you. Plus, Markup Hero is very affordable (only $4/month) and has a forever free pricing plan and you can test it out without even making an account or entering a credit card. Yeh, that's slick.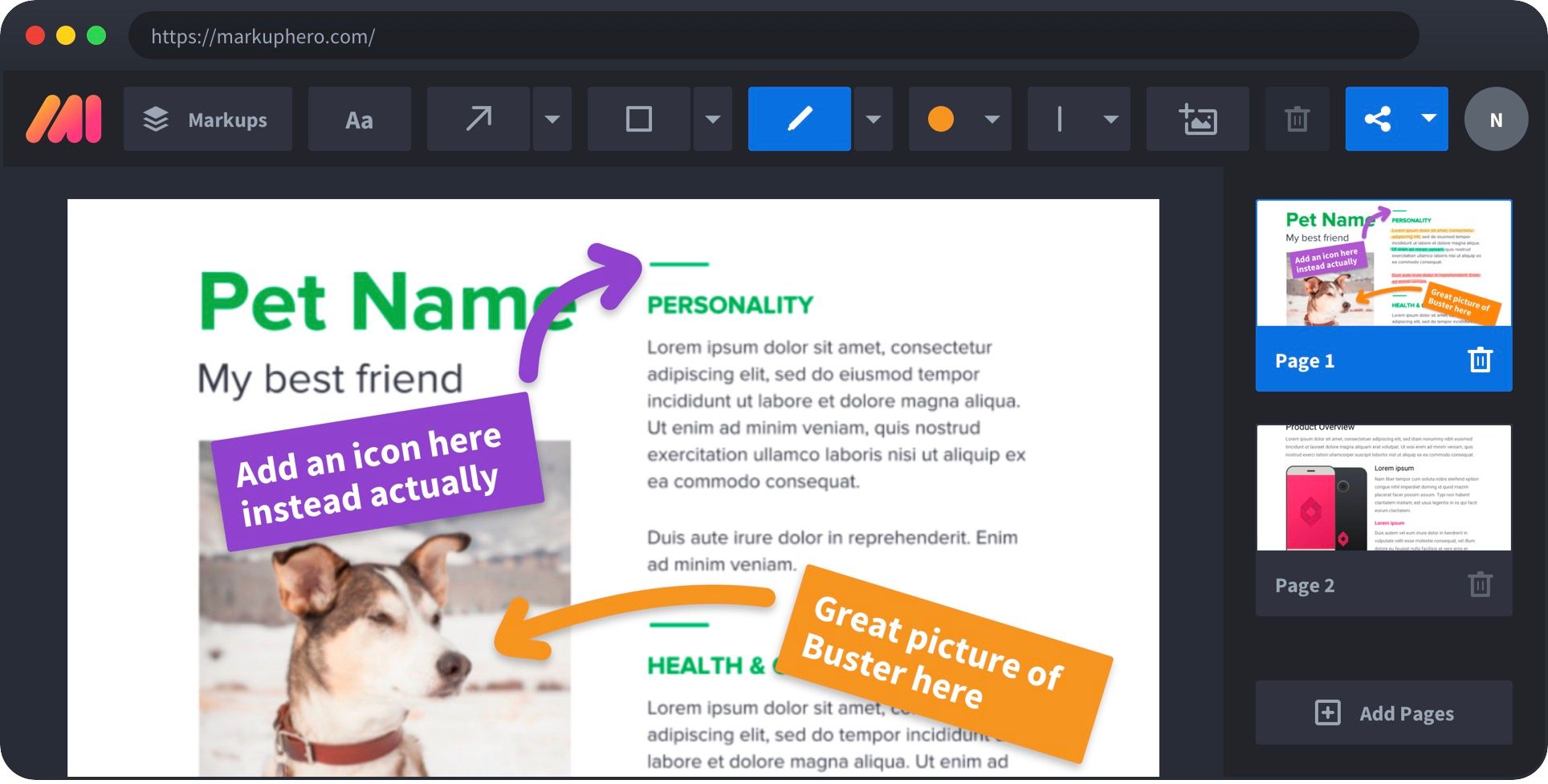 ---
If you are looking for a program that gives you complete control over your PDF files, but not annotation, CutePDF might be a good fit.
CutePDF is a PDF management software for Windows only. It offers both free and paid plans. Both versions of CutePDF are incredibly powerful tools that can make creating and editing PDF files a breeze.
Why Should You Use CutePDF?
CutePDF offers a myriad of tools that are easy to use. It has a bare-bone UI with no fluff to it. It also offers a simple and intuitive user experience. You will be surprised by how productive and organized you can be while using this software.
Is CutePDF Safe?
Some people can be a tad skeptical when they see such a powerful tool with a simple UI being offered for free, leading to questions about security.
However, the good news is CutePDF is completely safe to use. It was developed by a leading PDF and e-forms specialist, Acro Software. They have made 385 other software that thousands of users have installed.
CutePDF is their most popular software with over two thousand installations and hundreds of solid reviews.

What Features Does CutePDF Have?
CutePDF comes with an extensive list of features. Here is a list of some of our favorites:
Built-in PDF viewer: CutePDF comes with its own PDF viewer. It's a minimalistic viewfinder that is just as good as any other in the market. So, you don't need to keep a dedicated PDF viewer on your PC.
Replace content: You can use CutePDF to replace texts and images from PDF files. That means you can have full control over the content and look of your documents.
Extract, reorder and duplicate: CutePDF allows you to extract PDF from any software. You can also extract pages from PDF files and then reorder or duplicate them.
Delete pages: You can use CutePDF to delete pages from your PDF file. This can be helpful if you want to use a section of a document. It also allows you to keep your documents organized.
Overlay pages: You can overlay pages with images or text boxes. You can also use this feature to add backgrounds, letterheads, or forms to your PDF documents.
Stamps: Using this feature, you can make your very own custom text or graphics stamps. You can then use these stamps to protect your documents from plagiarism.
Password and security options: CutePDF has an option to secure important documents using passwords. It also provides other security options that ensure your documents remain safe.
Headers and footers: Using CutePDF, you can add headers and footers to your documents. This allows you to insert page numbers, dates, times, etc., into PDF files.
Hyperlink: CutePDF also has a hyperlink feature. This lets you link websites and other documents to relevant sections of the PDF.
Besides all these unique features, CutePDF also comes with all the essentials a PDF manager should have. It can convert documents from virtually any software and convert them the PDF. This includes DOCX, XLSX, PPTX, HTML, and so on.
CutePDF can also split, merge, rotate and resize pages in documents.
How To Use CutePDF?
CutePDF is very simple and easy to use. You can use this software both online and offline. The only prerequisite is having the CutePDF software installed on your device.
Once you have installed CutePDF, you can access it using any software with print functionality. Be it an online service like Google Docs, a browser like Mozilla Firefox, or an offline software like Microsoft Excel, as long as there is a print function, CutePDF can export the file as a PDF.
Here is a step-by-step guide on using CutePDF to create PDF files.
Open the file you want to convert in any application that supports print.
Go to File > Print.
Select "CutePDF Writer" as your printer and click on "Print". Make sure the "Print to File" box is not selected.
Enter your file name and click "Save".
And that's it! You can use this functionality even on the free version of CutePDF. If you have the premium version, you can access all the other features by opening the PDF you just saved with CutePDF.
How Much Does CutePDF Cost?
There are both free and premium versions of CutePDF. The free versions let you convert any file into PDF. But if you want the utility features of CutePDF, you'll need to buy one of the premium versions.
For personal use, CutePDF professional offers everything you might need. You can buy this version for $89.95.
For agencies, CutePDF Custom PDF Writer or CutePDF Form SDK might be suitable options depending on your company requirements. CutePDF offers these plans as a single license for each company.
That means you only need to purchase it once, and you will be able to distribute it to all of your employees.
The Custom PDF Writer costs $499.00 for a license. If you want to buy CutePDF Form SDK, you will have to pay based on the number of servers you want to use it on.
A single server license will cost you $249.00, while a five server license will cost you $699.00.
If your company uses several servers, you might want to consider the Corporate License, which will cost you $2495.00 and enable you to use CutePDF on unlimited servers.
CutePDF Reviews
CutePDF has a rating of 4.4 out of 5 on G2 and 4.6 on Spiceworks.
Most users have praised the features of CutePDF. Its flexibility and easy user experience have been universally praised. One of the best selling points for CutePDF seems to be its affordability and great value for the price.
Most people have not had any problem with CutePDF. But some users have raised concerns over the software's security options as it only has 128 bit AES encryption.
Now Choose: Markup Hero or CutePDF?
The answer is pretty simple. If you want to annotate and markup PDF's, then it's Markup Hero without a doubt. Try it instantly here. If you need to transform the PDF itself (add pages, compress, split, combine, etc), then CutePDF might be a good fit.