Illustration by Giulia Maidecchi from Ouch!
When it comes to editing PDF's, there are two common use cases. It's a good idea to understand what your specific needs are before selecting a tool.
Use Case #1 - You want to make quick edits like adding annotations or or markup. This might include highlights, arrows, boxes, callouts, signatures and more.
Use Case #2 - You need to fully edit the text, layout, page composition and more aspects of the PDF.
PRO TIP: If you're not sure what you need, or you know that use case #1 is for you, then you'll want to try Markup Hero. It's free and you can test it instantly, with no account, no signup – just upload and edit.
If you think you might be in the use case #2 camp, then scroll down to read about PDF Architect and why that might be a good fit.
What is Markup Hero
Markup Hero is a powerful but incredibly simple to use PDF annotation tool. You can upload very large PDF's (100+ pages) in seconds.
Note that most PDF editors take a while to upload and tend to choke after 30+ pages.
After you PDF uploads, each page is automatically separated and you can begin adding all kinds of annotations (some examples of tools below).

Markup Hero is extremely fast, nothing to download, no latency, no hassle web based app. Everything you do in Markup Hero is saved so you can go back and make changes to your annotations at any time, from any computer or device.
The tool also allows you to upload images and take screenshots, which can easily be embedded into your PDF's as well. You can generate a share link that allows anyone to instantly see your markup but limits them from editing anything. And our new signature box makes it easy to sign documents.
If annotation and basic manipulation is what you want, especially if you have a big PDF, Markup Hero is going to be the best option for you. Plus, Markup Hero is very affordable (only $4/month) and offers a forever free pricing plan and you can test it out without even making an account or entering a credit card. Yeh, that's slick.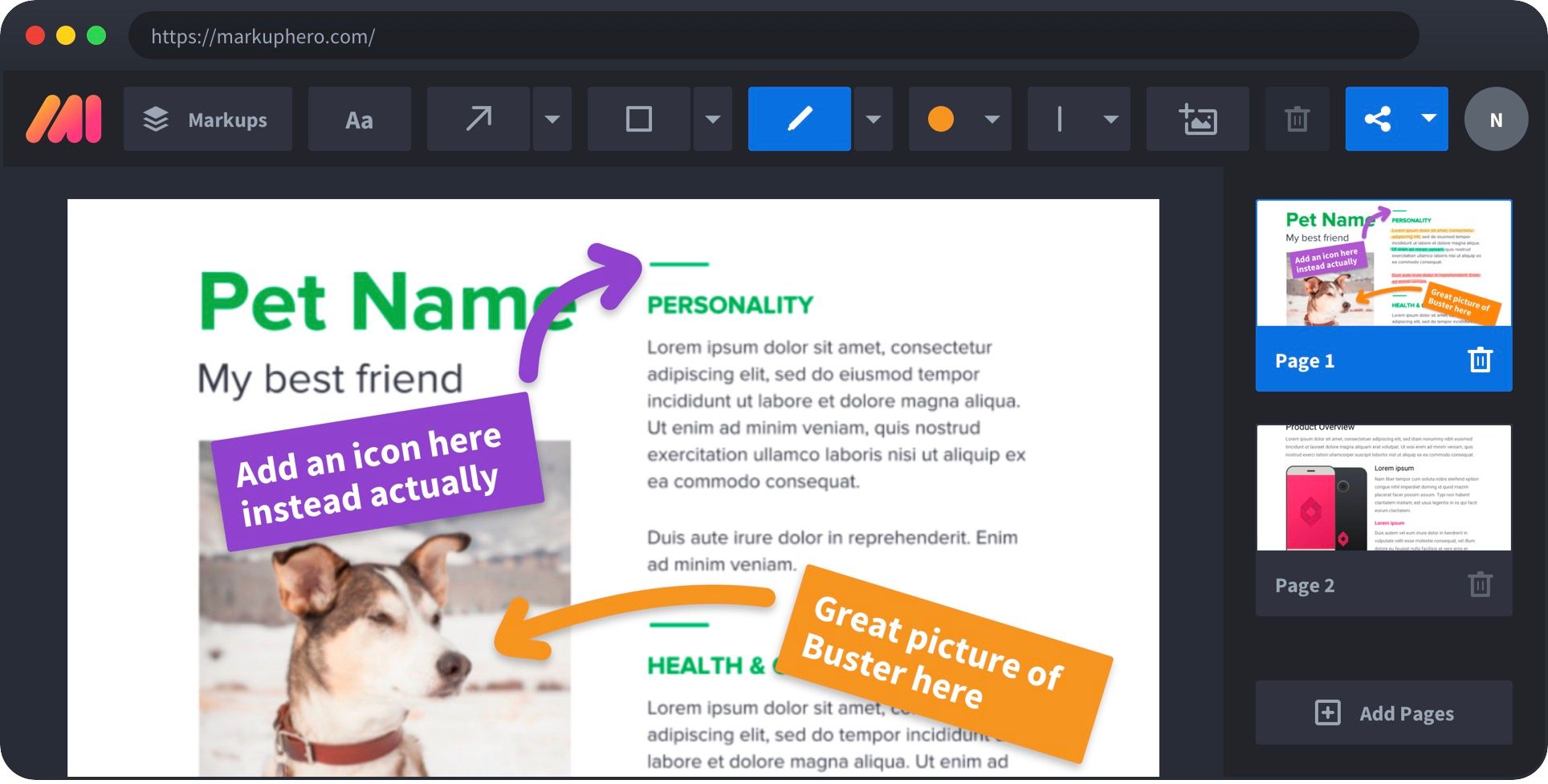 ---

Now, if you are looking for a program that gives you more editing and manipulation of PDF's, but doesn't do annotation, PDF Architect could be a good fit for you, so read on.
What Does PDF Architect Offer?
PDF Architect offers professional features in multiple pricing packages. As a result, you have more options and customizability.
Note PDF Architect is a installed software and not web based. That means you have to download, install and configure the tool to start using it. And it only works on Windows (not Mac or Linux)
PDF Architect acts as the primary PDF solution for a lot of people. While other PDF solutions may offer more features, PDF Architect provides you with the essentials.
The highest-end version of PDF Architect comes with some powerful features. However, these features are not for everybody. For example, the average person probably does not need the OCR feature. That is why PDF Architect offers multiple versions. You can select whichever package best suits your needs.
Is PDF Architect Safe?
PDF Architect is fairly popular. It has a reputation for being a more affordable alternative to programs like Adobe Acrobat and Kofax Power PDF.
There have been no known reports of malware infection due to PDF Architect. Moreover, PDF Architect has reliable security features. As a result, data theft is also unlikely. We can safely assume that using PDF Architect will not harm your device or data.
The Best PDF Architect Features
PDF Architect comes in four different versions. The most premium variant has all the features PDF Architect offers. We have listed the feature of each version separately so that you can get a better understanding of the functions of PDF Architect.
Pro Tip: PDF Architect is an old Windows style application. It is likely to have install and configuration issues on your computer. And it won't work on Mac. We encourage you to give Markup Hero a try first and see if it's useful for you. It's free to test, no account or credit card needed. Just upload and start using it today.
Features: PDF Architect Free
Create PDF: PDF Architect can convert most file types into PDF. Using this feature, you can also create PDF files from scratch.
E-Sign: E-sign is an add-on feature you can purchase for the free version. You can use this feature to protect your documents from theft. Moreover, you can digitally sign documents without needing a hard copy.
Features: PDF Architect Standard
Edit PDF: You can use PDF Architect to edit PDF files without converting them to another type. This feature is pretty handy and can save you a lot of time.
Page Management: Using this feature, you can easily organize the pages of your documents. You can rearrange them as you need. You can also delete unnecessary pages and add new pages wherever you need.
Convert: You can convert PDF files to other file types. Supported file types include Word, Excel, HTML, and Text.
Features: PDF Architect Professional
Review Documents: You can use annotations and comments to review work done with your peers. You can easily suggest changes to the document without making direct changes.
Secure: You can add passwords and permission levels to your documents. This feature gives you more control over who gets to access or edit any document.
Features: PDF Architect Pro + OCR
OCR Advanced: This is the most powerful feature of PDF Architect. You can use this feature to edit images and texts inside the document. If you are a power user, this feature can make your workflow a lot easier.
How Much Does PDF Architect Cost?
As we have already mentioned, PDF Architect comes in multiple versions. There is a free version of PDF Architect available for download. But it is limited in terms of functionality.
If you are looking to buy a premium version, you should choose whichever version best fits your needs. PDF Architect also offers annual subscriptions for a single user.
The standard version of PDF Architect costs $69/user annually. This version has enough features for most users. Moreover, compared to other programs, it is much more affordable.
If you want more features, you might be interested in PDF Architect Professional. This version will cost you $89/user annually. If you are someone who can make use of the OCR feature, you should consider the Pro + OCR version. That will cost you $129/user annually.
PDF Architect Reviews
PDF Architect has a low score of 1.5 out of 5 in CNET.
Users have generally praised the affordable price of the program. However, they have also criticized its lack of features.
Reviewers were critical of the lack of functions in the free version of the app. Moreover, the application seems to push the premium version on users.
While the application is good at what it does, it lacks many features that other applications have. You can get some premium features for free. There have also been some complaints about the OCR feature.
Users have also complained about customer service. Many users have not received timely replies. On the chance that they do get replies, it is usually too late or very incoherent.
PDF Architect was much more popular in the days of Windows XP. Back then, many of its features were exclusive to PDF files.
Today, you will find a lot of these features and more in better packages. If you are a power user, it is better to get a more powerful application that offers better customer service.
Conclusion
The glory days of PDF Architect are definitely behind it. But for a lot of users, this affordable package can still be useful.
Some of the PDF Architect packages are still good deals for users who don't need too much editing. So, if you feel like you can make your workflow easier using simple features, PDF Architect is an affordable option for you.
Ultimately you might find both Markup Hero and PDF Architect valuable for certain use cases. But for many users, the quick and easy PDF editing features of Markup Hero make it the go-to resource.
If file annotation and markup and minor edits – fast and easy – is your thing, give Markup Hero a try here.