Hype Auditor Product Review
Most of my readers know that I generally write about SaaS products and services. I also spend a ton of time marketing my products and services, particularly by leveraging content marketing. One area I really haven't had a lot of experience with is the influencer marketing arena. In many ways influencer marketing is content marketing, I'm just using someone's reach to get in front of potential customers. It's not that different from asking a blog publisher to feature my content so I can reach their users so they could also become my users.
TBH, part of the reason I haven't done a ton of influencer marketing is because my assumption is that it's largely suited for certain types of brands and products (fashion, entertainment, gaming, food, etc.), but not such a fit for software. I'm not sure that is true. Either way one thing I'm very good at is digging into a product, whatever it may be used for, and highlighting the features and benefits so people can really get a sense of it.
Given all of this, when I was asked to write a product review of HypeAuditor my initial reaction was skepticism. I thought, do I have enough experience here to really write something compelling? Could I even use this product myself? Would my readers appreciate the review? And would HypeAuditor actually benefit from the article? But after giving it some thought I realized the answer to those questions was yes. Here's why:
I wanted to learn how influencer marketing works
My readers would benefit from either learning that influencer marketing is a fit for them or not a fit, which is beneficial either way
HypeAuditor will grow from customers that already do influencer marketing just as much as they will from new customers that are just getting into it
And... I could probably write a good review of an igloo
HypeAuditor touts themselves as the Industry Standard Analytical Platform for Transparent & Fraud-Free Influencer Marketing. That's kinda a juicy statement so let's unpack that a bit first.
What is Influencer Marketing
In short, influencer marketing is a method of reaching and engaging customers through endorsement of products or services by trusted sources, the influencer.  An influencer is someone who:
has the reach and influence to impact the buying decisions of others due to their trust, knowledge and relationship with their audience
generally covers a specific category or niche and with whom they actively engage
HypeAuditor is a platform that enables the entire ecosystem: brands (my company), influencers (Ariana Grande), publishers (Instagram) and media agencies (Ogilvy) to discover, track, compare and report on influencers and influencer marketing campaigns.
Now, if I'm already doing influencer marketing or if you work with an agency, then the value of a service like HypeAuditor is probably immediately obvious, if I'm just getting started or learning about this marketing approach, then it may not be so clear, yet. So let's get into the HypeAuditor's product, and I'll show you why it's insanely valuable.

The Website
HypeAuditor's website is really impressive and does a fantastic job outlining what the product does, but they do seem to assume a bit that I would immediately appreciate the value of these things. This is probably true for most of HypeAuditors customers, but the product is definitely valuable to less experienced customers too.

Before even creating an account it was apparent from the website that the platform is extremely deep. They gave me a ton of ways to explore the product and see results which creates a ton of trust for new users. Given that many people are skeptical and uncertain around how influencer marketing works, HypeAuditor has done a great job creating transparency for everyone: from seasoned influencers to marketing agencies to emerging brands and even just inquisitive consumers.
The Product
HypeAuditor is broken down into 3 primary product functions: Discovery, Reporting and Tracking with a new section called Research coming soon. They have various pricing packages (more on that below) but I'm able to test just about everything with a free account. To really harness the power of the platform I'd need to subscribe.
Influencer Discovery
For companies new to the space or those looking to expand their influencer footprint, HypeAuditor's discovery suite is where it's at. Searching for an influencer is as easy as entering a keyword. I can then tack on a ton of filtering like demographics, geo, reach, growth rate and much more to drill down and find the perfect person to market my product.

Look at the filtering power, it's impressive, and it's not just this or that. I can create a very unique filtering set with both OR and AND operators, but in a non-technical way of course.

HypeAuditor's user interface is truly impressive. It's as good as Dropbox, Slack or any other billion dollar startup I would expect to be. The manipulation of filters is instant and responsive.
Impressive: The select models are so logical, frankly some of the best dynamic multi-selects I've ever seen in any web application across the board.
With so much filtering it would be easy to get lost in what's set and what's not, but they don't leave that to question. The instant filter tagging (screenshot above) shows me exactly where I am with absolute clarity. I love it.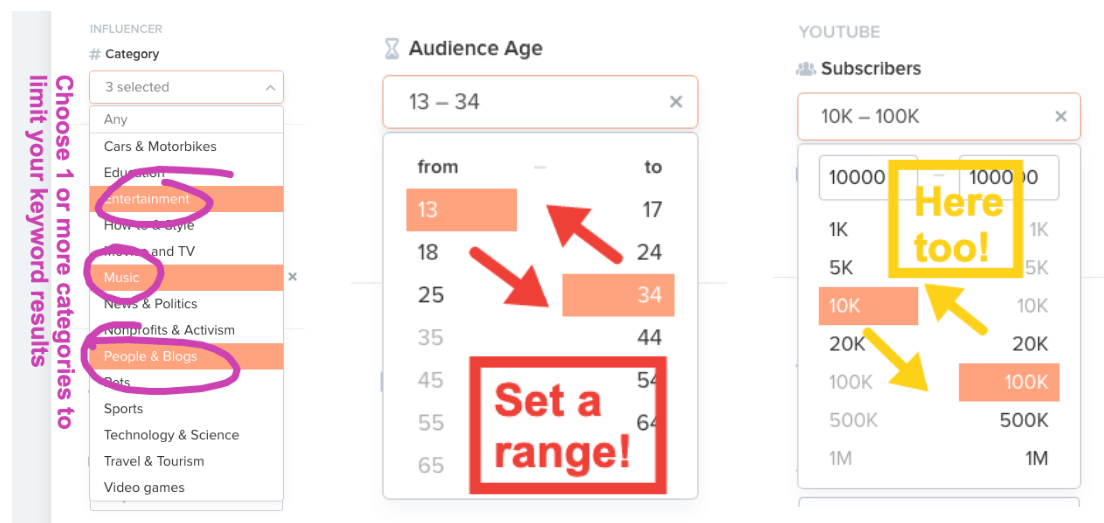 Would Be Nice: It's minor, but with all these filters set, it would be useful to have a clear all button. The cancel button just closes the filter bar, but my filters stay, as they should.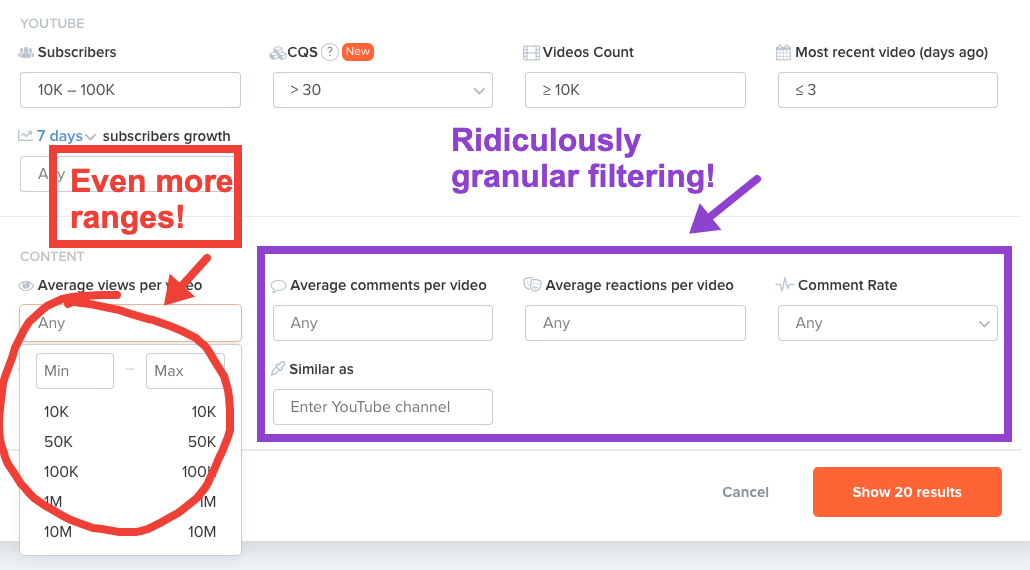 Ok, so I'm happy with the filtering process, how about the results. Well with the free version (the HypeAuditor team is planning to give me some credits to do a deeper dive) I'm only able to actually see the first 3 results. I did like how they show me the rest of the results with some data. They just obfuscate the influencer information, so I know what I can actually expect. I initially tried SaaS and Software and the results weren't great. I'm starting to see that it's possible influencer marketing in the traditional sense may not be a fit for SaaS, but I'm getting creative around what types of influencers might in fact connect with my audience.
I tried Productivity and found 319 results. Clicking on the report for Nathaniel Drew a self proclaimed seeker of mental clarity and living a better life.
Love This: The free report results are completely wide open meaning I can share a link with someone without having them to login. This is obviously smart for HypeAuditor from an SEO and virality standpoint, but again just shows the usefulness of the platform for its user base.
Basic reports give me information around subscriber growth, views, ranking and engagement. Once again, I appreciate the utility of the product as it doesn't just give me the information, it enables me to take action with it. Whether that's sharing a PDF, adding to a list (and it's not just 1 list, I can have as many lists as I want) or seeing similar influencers. This (similar influencers) was in fact one of the most valuable features I discovered because I found it actually helped me discover people that didn't necessarily show up in my searches. This wasn't because the search wasn't good enough, it's because I couldn't imagine all the right filters and keywords that would lead me to a relevant influencer. I also realized there is a filter for this too!

HypeAuditor also gives me a really slick history/list manager that gives me quick access to recent searches and all my lists. Plus there is a way to bulk add influencer here vs. searching 1 by one.

I was particularly impressed at how HypeAuditor tracks influencers with as few as 1000 fans/subscribers. So my assumption that influencer marketing is best suited for larger brands with larger budgets, this isn't actually true. I was able to find a bunch of influencers with less than 10K subscribers that fit into a smaller marketing budget.
Influencer Reports
HypeAuditor offers detailed reports that give me insights into all aspects of an influencers reach and engagement. For free, I get a high level breakdown by each platform (Instagram, Youtube, etc.).

But the real power is in the deeper dive, which required me to use a credit (thanks to the HypeAuditor team for hooking me up with some free credits test with). I like the idea of their Channel Quality Score (Youtube) and Audience Quality Score (Instagram); Nathaniel's CQS was 81, which seems really high. Comparing this to Billie Eilish, who appears to be the largest influencer on the platform, with 5x more subscribers, 81 feels artificially high. Reading more on the CQS and AQS scores however it sounds like maybe they are normalizing the score based on actual engagement relative to the influencer rather than simply an indicator of reach. In other words, comparing Billie's 92 CQS with Nathaniel's 81 CQS makes sense regardless of the gap in scale, if it is largely a factor of relative engagement not absolute engagement or reach.
Would Be Nice: If my above analysis is in fact true, it would be helpful to see this indicated. Moreover, it would be useful to compare multiple influencers in a normalized scale range to help me decide if one influencer is better than another. They do have a nice comparison tool which I'll show a little lower in this review.
Reports for Instagram and Youtube influencers differer slightly as I show below. Initially this confused me, but it's smart because each platform has unique factors relative to influencer reach and engagement.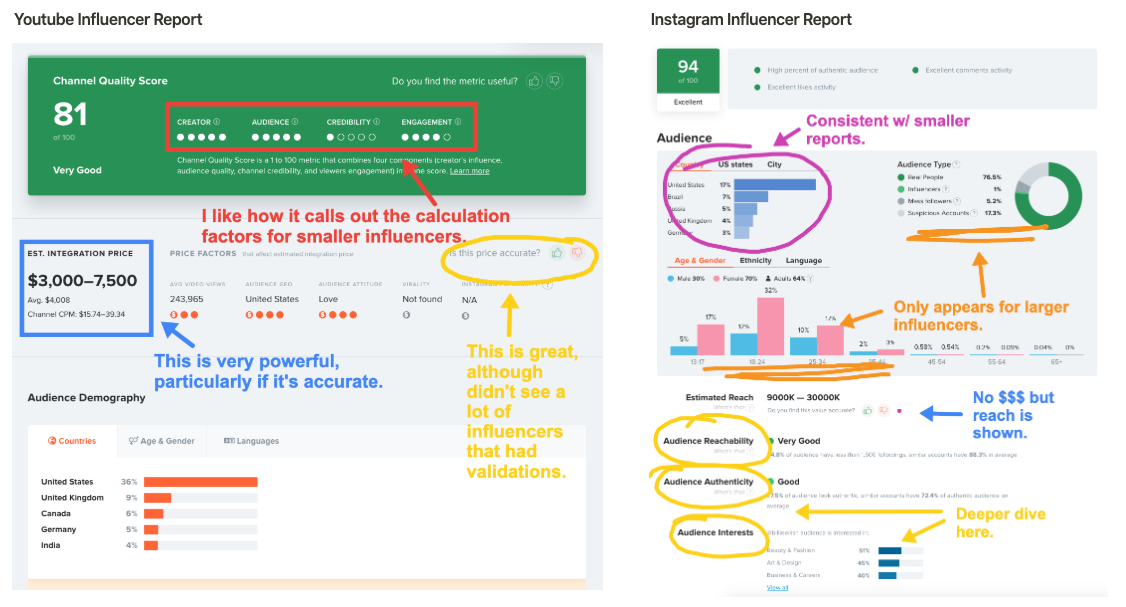 Love This: One thing I really like throughout the platform is the inline help and popup explanations. HypeAuditor doesn't make me dig into their help documentation to find quick answers to things.

Influencer Tracking and Campaigns
I was unable to really test this feature because it requires you to connect and authenticate an actual influencer account. I did actually try with @markuphero but we are new with less than 1000 followers, so not big enough for them to validate 😥. They do give a sample tracking for Will Smith, and the value is pretty evident. This gives me a real-time snapshot of activity and engagement.
This is Really Cool: HypeAuditor came up with a really clever way to validate ownership of an account. They created an evergreen Instagram post where they have me comment, as the logged in user I'm trying to validate, with a unique code. They get notified of the comment and then validate my account. Sooooo clever.
Similarly, I wasn't able to test the campaigns feature because, well, I'm not running any. But it appears to enable you to track brand and keyword mentions. I can use this data to validate the quality of my campaigns as well as identify areas of fraud or under-delivery.
Influencer Comparison
As I mentioned above, HypeAuditor does offer a nice side-by-side comparison tool. Although it only appears to work for Instagram, as I could not seem to add Youtube. I noticed that it does cost me another credit to unlock this view, which appears to give me the same data as the reports (I think), so if I've already unlocked the reports, I could theoretically just get the PDF downloads and compare myself. Props to the team for playing into the need for convenience and organization among their user base. People will always pay for it so I'm not mad they request another credit to take advantage of this feature.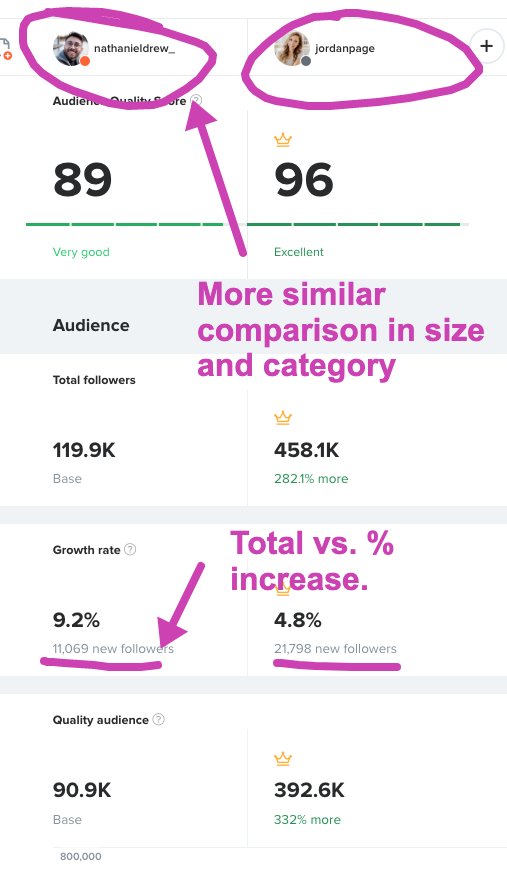 Wait, There's More
I spent a few hours playing with HypeAuditor and I'm pretty sure I only scratched the surface. There are a ton of additional features, metrics and tools to enable anyone in the ecosystem to do their job better. Whether an actual influencer using the product for competitor research or validating their own results, or a brand marketer trying to find new influencers to work with, or publishers and agencies trying to demonstrate the value of their marketing services, HypeAuditor really brings home value. Most of all, for those that are truly doing influencer marketing, I can't imagine not having a tool like this. While I'm sure there are competitors, clearly the Hype team has built an impressive piece of technology.
Conclusion
I was really impressed, with the usefulness of the product and the user experience alike. My concern that influencer marketing, and HypeAuditor's toolset, we're really optimized for bigger budget marketers was somewhat alleviated after doing this review. But I think there is still an opportunity for HypeAuditor to better service the small guy. As a newcomer to influencer marketing and being a SaaS business I could really use a little more hand holding and guidance. Perhaps there is a small business version of HypeAuditor that could tailor to such customers — both in terms of helping with discovery and even in managing and executing campaigns. I won't be mad if they never do that though. I'm certainly of the opinion that software companies, which HypeAuditor is, should go where the largest market is with the biggest need. If smaller customers in less populated categories don't fit, I get it.
This review was particularly satisfying for me. As I said, HypeAuditor is a tech company, but it's also a bit outside the normal scope of SaaS businesses I cover. Influencer marketing is one area I don't fully understand because I haven't dug in like I have with Google Adwords or Facebook Ads for example. Now that doesn't mean this article wouldn't be valuable to even the most seasoned influencer marketer. Because HypeAuditor is such an amazing piece of software, from a functionality and user interface perspective, I was lucky they agreed to let me review it. It did teach me a lot.
Hopefully this article will help you understand where HypeAuditor fits into the influencer marketing ecosystem. As always, I used Markup Hero to create the screenshots and product annotations used in this article and I think they really bring the text to life. I would love to see any how-to or product review articles you've created using our free screenshot and annotation tool. Send them our way, maybe we can post it here too!