Product management has become one of the most coveted roles in just about every sector of business, from tech to manufacturing, retail to real estate and everything in-between. At companies like Facebook, Google, Reddit and Amazon, product managers are the new rock gods. And they're paid even better. According to according to indeed.com the average base salary for a product manager nation wide is nearly $108,000; at companies like Facebook, that number jumps above $200,000.
But more than that, being a product manager at any company is a really satisfying job. Product managers are an integral part of almost every organization, regardless of the type of product, physical or digital. The role is cross-functional with many different departments from sales, support, marketing, operations and product managers have a direct line to the executive team. And best of all, product managers have real and visible impact on the business. In other words, you'll actually get to see your ideas come to life and experience the thrill of customer delight.
So it's pretty clear that a role in product management is exciting, but it's also tougher to land than other jobs. That's largely because of the range of skills needed to succeed, most of which can only be taught on the job, through experience. And the best way to begin getting experience as a product manager is to start with an internship.
This article will break down the roles and responsibilities of being a product management intern. You'll learn about the  skills recruiters are looking for. And you'll understand the the step-by-step process of getting your first product manager internship. So get ready.
What Does a Product Manager Intern Do?
Let's just say that a product intern does everything a full-fledged product manager does minus broad decision-making abilities. Now that's pretty exciting. And it's true. Unlike many industries like finance or manufacturing where interns are often glorified coffee getters or paper pushers, as a product management intern you'll be exposed to every aspect of the role and make a real contribution to the company.
Every day is different in the life of a product intern. The responsibilities mostly depend on what phase of development the product is in. One day you might working on market research; the next day, you find yourself collaborating with the UX team or engineers; and yet another day you're interacting with marketing. You'll get exposure to just about every department in your company.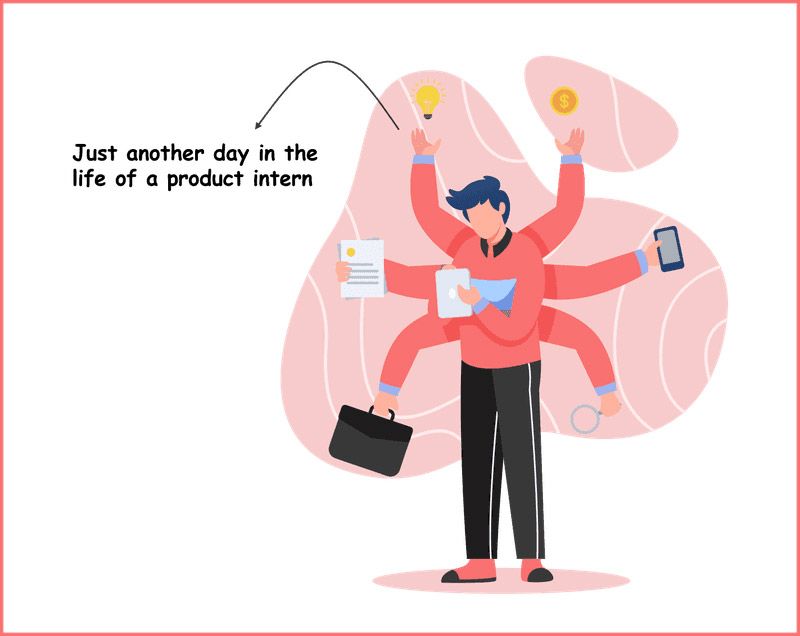 You stand at the confluence of multiple teams and act as the hub that connects them all. Since you are not likely to be satisfied with this rhetorical answer, here is a list of roles and responsibilities of a product management intern from common job descriptions.
Work on cross-functional teams on developing physical or digital products
Conduct market research and evaluate customer responses
Work as a team to design a product roadmap
Develop a product strategy in tandem with the marketing department
Brainstorm on supporting or contingency strategies
Assist product managers with core product development responsibilities
Set and maintain the vision for the product
Align the product strategy with other departments
Function as a communication hub between internal and external stakeholders to meet deadlines and achieve company-wide goals.
Manage new product development projects and keep the pipeline stable.
Suggest long-term ideas for future product development.
Some of these responsibilities seem somewhat broad and a bit fluffy, so I will go into more detail as I dive deep into the skill requirements in a product manager internship.
What are the Skill Requirements for A Product Manager Internship
A product manager intern is essentially a jack of all trades but master of none, acquiring bits and pieces from UX design, data science, web development, and other customer-centric business functions such as sales or growth marketing.
And as an intern, your role would mostly comprise of hands-on tasks and cross-functional skills. From time to time, you have to take over responsibilities from other teams, such as helping the user interface (UI) or user experience (UX) teams decide on road mapping or ensure quality management.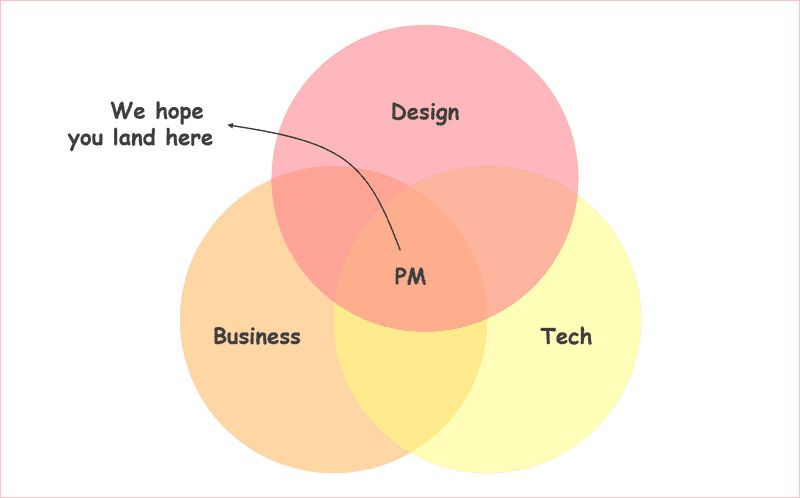 The truth is, each company is different and there is no perfect product manager intern definition. However, here's a  glimpse of what recruiters are looking for.
Don't worry if you don't have all of these skills, as I shared before, you're going to learn a lot on the job. Instead, consider this a useful framework to start crafting your resume from square one.
1. Data Competency
You don't have to be a data scientist to get your first product manager internship. But you do have to generally understand the purpose of data in an organization. The recruitment panel is ideally looking for someone who can gather, extract, analyze, and present data to prove a hypothesis without tapping data whizzes repeatedly for answers.
You must be able to conduct independent market research or consumer surveys, squeeze data out of seemingly endless lists of numbers, and create insightful visuals for your team to identify new product opportunities. Certain industries, like SaaS or digital products tend to have a lot of stored raw data. Hence, the recruiters want a data-driven intern who can understand them, take actions, and lead the company's digital transformation.
2. Coding Knowledge
Do product manager interns need to have coding skills in their arsenals as well? Not necessarily. Sure, knowing how to code, particularly if you're looking to get a product management internship at a tech company, is going to be helpful. And if that's your goal, maybe take a few coding tests to get your head into the game. Manos Kyriakakis, the Director of Product at Compare Europe Group says he looks for people that match the specific role. To that end, a company may have several interns on the product team. Some will be more focused on interacting with the engineers while others might be more customer focused. So know the role you're applying for and tweak your resume so it fits.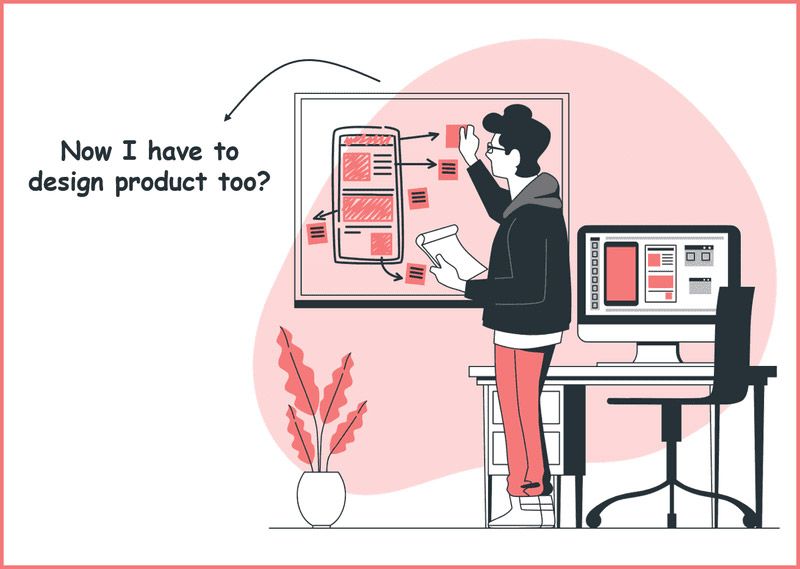 If you must know coding, or are just interested, start with building a foundation in HTML, CSS, or Javascript, because almost every software relies on these languages. Companies will almost never expect you to write lines from scratch. Instead, the knowledge is there to make you capable enough to step in and put forward ideas and creative thinking. It's more about bridging the gap between you and the team.
3. Prototyping
Should I know how to prototype a software product? Again, it's a nice to have. A product intern does not need to master product design. However, fundamentals come in handy when you have to create a simple prototype to initiate discussion or test a hypothesis. Firstly, visualizing your product even in its rudimentary form helps you pitch your product better to stakeholders, and recruiters know how much time you can save in the process. A lot of prototyping happens with simple pencil and paper, if you're a creative thinker you probably already can do prototyping and wire-framing.

Secondly, it helps you voice your ideas to the design or development team efficiently. Strictly speaking, you will not be expected to pitch in prescriptive ideas. Nevertheless, a prototype is always welcome on the table. More likely, your internship will require you to run a survey or collect feedback, rather than designing a product prototype from scratch. If you want to play around with prototyping give Invision or proto.io a try. They are easy-to-use tools for non-coders to create wireframes on the go.
4. Customer-Centric Skills
Understanding and interacting with customers is probably the most universal activity that product manager interns will do, regardless of business sector. This is a very broad skill set and you're probably already better than you think. You, as a product intern, you will be asked understand the needs, desires, pain points, and motivation of your core product users. Having experience in customer-centric teams such as sales, marketing, or simply business development can add substantial value to your application. Moreover, an adequate understanding of design thinking or UX design is often a must-to-have skill for a digital product manager. If you really want to dig in, you might consider taking a beginner course on product management before you begin applying for internships.
5. Soft Skills
Soft skills are often underrated, but they won't be by the product team. Soft skills essentially refer to your non-technical skills — how your interact with co-workers, problems solve, prioritize and manage your work and stay motivated. As a product intern, you are likely to engage in heavy cross-functional collaboration, pitch your findings to the stakeholders, conduct successful user interviews, or simply participate in team meetings. So you're going to need to work well with others, have empathy and be a good listener.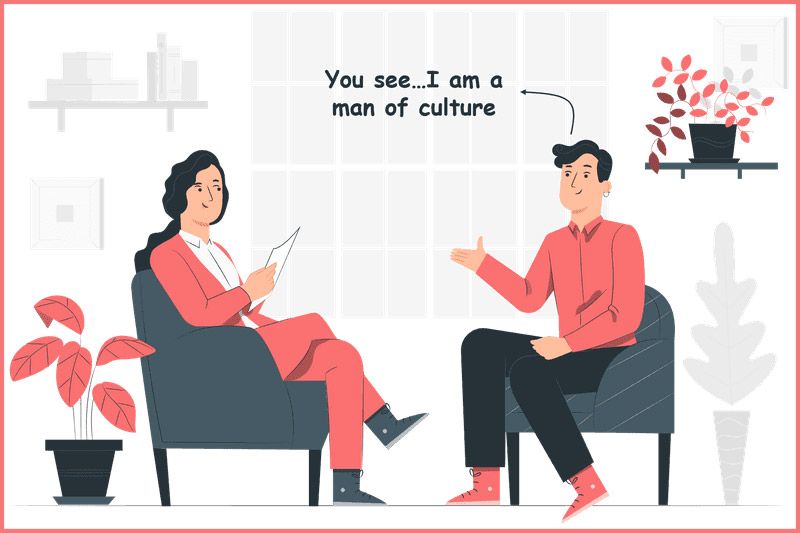 Nick Hynes, CEO at Somo Global puts it like this: "They (product managers) are the communication hub within their business." Therefore, your communication skills must be sharp. The simplest way to demonstrate your communication skills is to ace your product manager internship interview; that's all.
Other soft skills you're going to want to hone are: leadership, time management, presentation skills, negotiation skills, strategic thinking, and emotional intelligence. Why recruiters seek these skill is a no-brainer. The challenging part is to convince them that you possess these skills. Try telling stories of how you worked under immense time constraints and pressure in your last internship and yet came out unscathed. Or how you organized debate clubs, business competitions, coding projects, or discussion forums in your college years. To learn more in-depth about these skills, grab the book Cracking the PM Interview by Gayle Laakmann McDowell.
Are There Any Tools for Product Management I Should Learn?
Yes, there are a ton of them. Here's one that will cover a ton of use cases as a product manager intern. As an intern, you'll be compiling documents, maintaining cross-team communication, getting into meetings, and doing regular office work, sharing and collecting feedback and all kinds of other activities related to product development. Markup Hero is a simple and free tool for taking screenshots and annotating files.

Use it to capturing ideas, communicating clearly and save time. It's a great tool for working on a product team. And you're likely to be coined the "flash" by your product team – taking screenshots of competitor ideas, providing visual feedback, and share your genius ideas with colleagues in an instant. Collaborating on projects has never been this fun.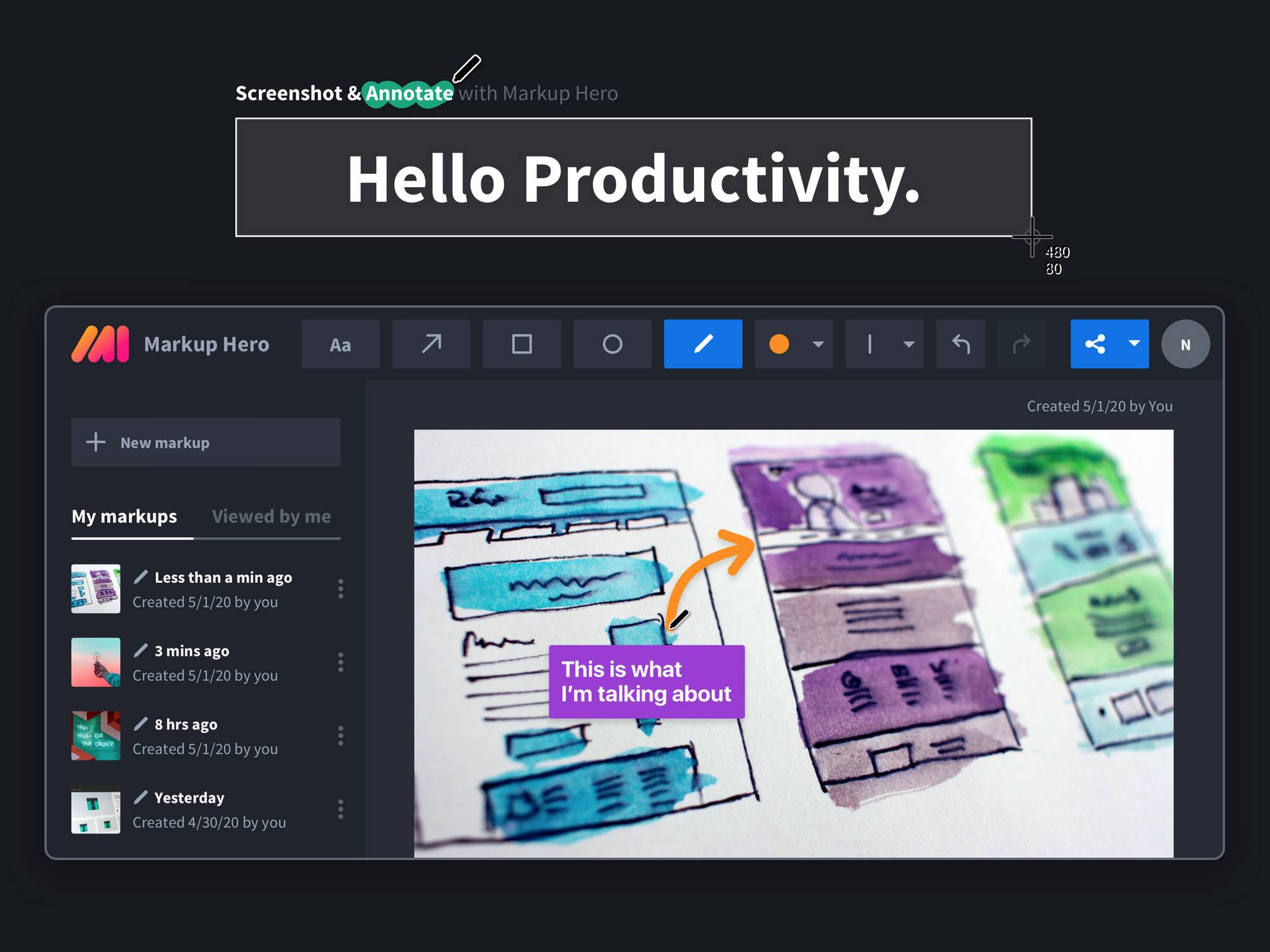 You can even copy-paste your markups to any communication tool of your liking: Gmail, SMS, Slack, Google Docs, and, you name it. You can also view all your markups on your device, edit them, and send them to anyone from anywhere and anytime. Give it a try. It's free.
Is There a Step-by-Step Process to Landing Your First Product Manager Internship
Yep. Now that you know what skills you should have in your portfolio and on your resume, let's look at how to apply and land your product manager internship. Here are the important things to focus on.
1. Build a Solid Network
If you are not willing to go down the extra mile, knock on every door and provide value to people, perhaps it's time to rethink your career decision because networking is a cornerstone in product manager jobs. The first step is to sign up on LinkedIn and setup a profile. Be detailed, don't leave anything out. Then you can use the platform to connect with new contacts. The earlier you start making connections, the better. Have patience, because building quality connections is an excruciatingly slow process. It takes time, but it's worth it.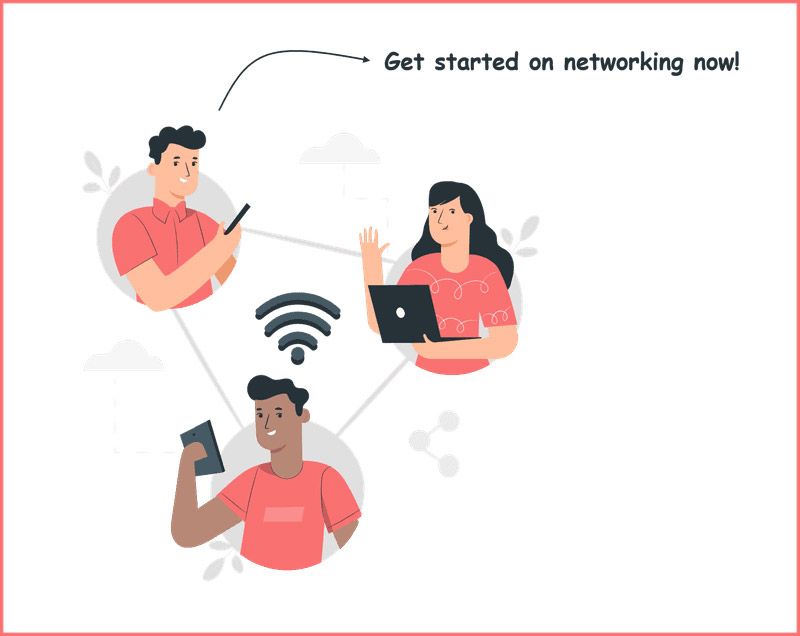 Start with your college friends, peers, and colleagues. Find people who share the same interests as you. The goal is to make friends with people who you think are smarter than you. Somewhere down the line, you will understand how precious these connections become. If you are an introvert and find networking intimidating, then check out tips for product manager introverts by Jackie Bavaro. You can also connect with your professors and teaching assistants. Talk to them about your career decisions. Show them that you are interested to learn. Trust me; they love to guide students who are eager to learn.
2. Leverage your Alumni Network
The second phase of networking is to find product people in your alumni network. Leverage your .edu mail while you are still in your college, and reach out to relevant people. Here are some ways you can start the conversation.
Show that you are interested in a career as a product manager
Ask about their unique experiences
Follow up with intelligent and relevant industry questions
Create useful content on product management on LinkedIn, or you can provide insightful comments on their posts to grab their attention
Share any content on product management
Finally, casually ask them if their companies are hiring. If they are, ask for referrals and recommendations
Finally, remember the golden rule of networking. Persistence wins. Be relentless, but not ruthless; eager, but not shameless.
3. Do Some Cold Outreach
Cold emailing is tough business, but it's a numbers game and it does work. Start by identifying companies and startups that you are most passionate about. Look up the company on LinkedIn and pick someone on the product team that has an active blog. This is a good indicator that they like to share knowledge and help others.
Take the case of Youssef, an 18 year old recent high school grad that landed an internship at Roadmumk through some crafty relentless outreach. He had no prior experience, he just wanted to prove to his teachers that he could do it.
The first step is crafting concise and personalized emails. Concise because nobody ever reads long winding texts. And personalized to show you've done your research and know about the person and company your seeking to get an internship with. Next, identify and create meaningful relationships with the chief decision-makers. Ask for an appointment and follow-up on your emails. Make sure that they notice you by adding an insight from a recent blog post or press release of theirs. Finally, prove that you have the skills and passion to be a product manager intern for them. Like Youssef, if you're relentless and eager, but not ruthless or shameless, you might have a shot.
4. Associate Product Manager Internship
If you are struggling with getting your first product manager internship, you can set your sights a little lower, then climb up the ladder. As an intern for an Associate Product Manager rather than a more senior PM, you'll basically do the same work and get the same experience, but with a little less impact. Since product managers usually have too much on their plate, they are always looking for people to delegate some work. This is where Associates come in.
You have the opportunity to start working on customer-centric roles and build up the necessary skillset from within the company ranks. Hence, this role is a step-stone for breaking into more specialist product management jobs in the future. One popular CRM platform, Salesforce, has an Associated Product Manager Internship program designed to expose young people into the world of product management. Moreover, other big names such as Google, Twitter, and Uber also offer an APM internship programs. Check out listings on Glassdoor.
On another note, even though you do not make it to the APM program, you can try working your way up to the product department via other customer-centric departments such as sales, marketing, or customer service. Once you are in, start building your network with the product team. Engage in side-projects that will help you develop essential traits of a product manager, such as customer-centricity and long-term strategic thinking.
How to Hack Your Way into your Product Manager Internship
Another path is to just do it. By this I mean, create your own product and get experience and skills by doing. Nothing beats the charm of a product that you own end-to-end. Scott Judson, Senior Product Manager at HubSpot, has a great story on his blog about this approach. As part of his final project for a course, Scott had to identify a market problem and run real-time simulations to validate potential market solutions. In doing so, he had to conduct market research and design prototypes and MVPs. He also collaborated with a developer to build an app. He learned by trying and it wasn't easy.  And even though Scott failed to introduce the product into the market, he had essentially created an exclusive product manager experience for himself. This experience was the stepping-stone he needed to launch a career in product management.

Last Words
The bottom line is that you don't need extensive degrees to get your first product manager internship. The most important skills you need aren't really taught, and you probably already have them. Grit. Confidence. Perseverance. Curiosity. These are the skills that will get the ball rolling. Just start today. Take initiative and maybe start a side project. Or do some networking. Read the blogs from product managers at companies you like. Do whatever you can get immerse yourself in the world of product management and gain hands-on experience while solving a potential market problem. Afford to fail, but in the process, come out the other end as a product manager at heart, if not in official roles. Good luck.