With a huge chunk of our lives now online, neatly storing files is a big concern. When it comes to filing storage solutions, the one question that arises is what to opt for - Dropbox vs. Google Drive.
PRO TIP: Dropbox and Google Drive are great solutions for cloud file storage, but they're both missing one essential feature. Click here to scroll to that part of the article right now.
Read on to find out more about what differentiates the two and what factors you should think about before making your decision.
What Is Dropbox?
Dropbox is a file storage solution that helps you keep your files and folders safe and secure.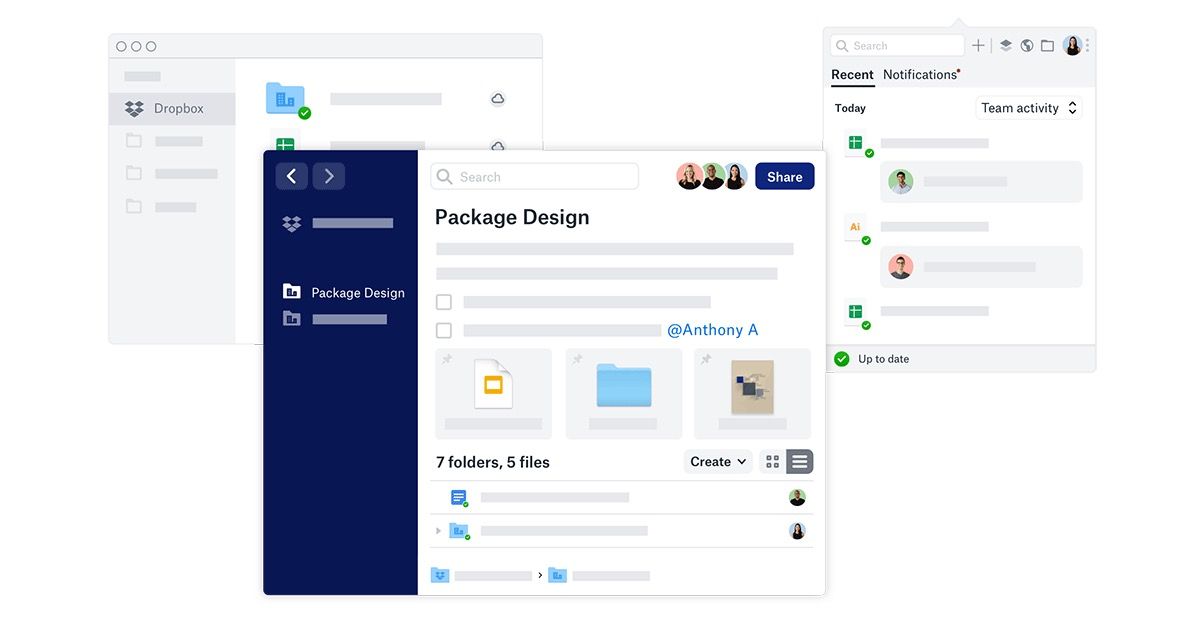 Dropbox's wide range of powerful partners allows you to work seamlessly no matter where you and your team are located. Integrations like Zoom, Slack, Trello, etc., will enable you to manage your virtual workspace smartly.
You can also monitor how much access your employees have to your files.
Dropbox's backup and administrative features make it a really handy tool to have for both business and personal use.
What Is Google Drive?
Google Drive is a file storage solution from none other than Google themselves.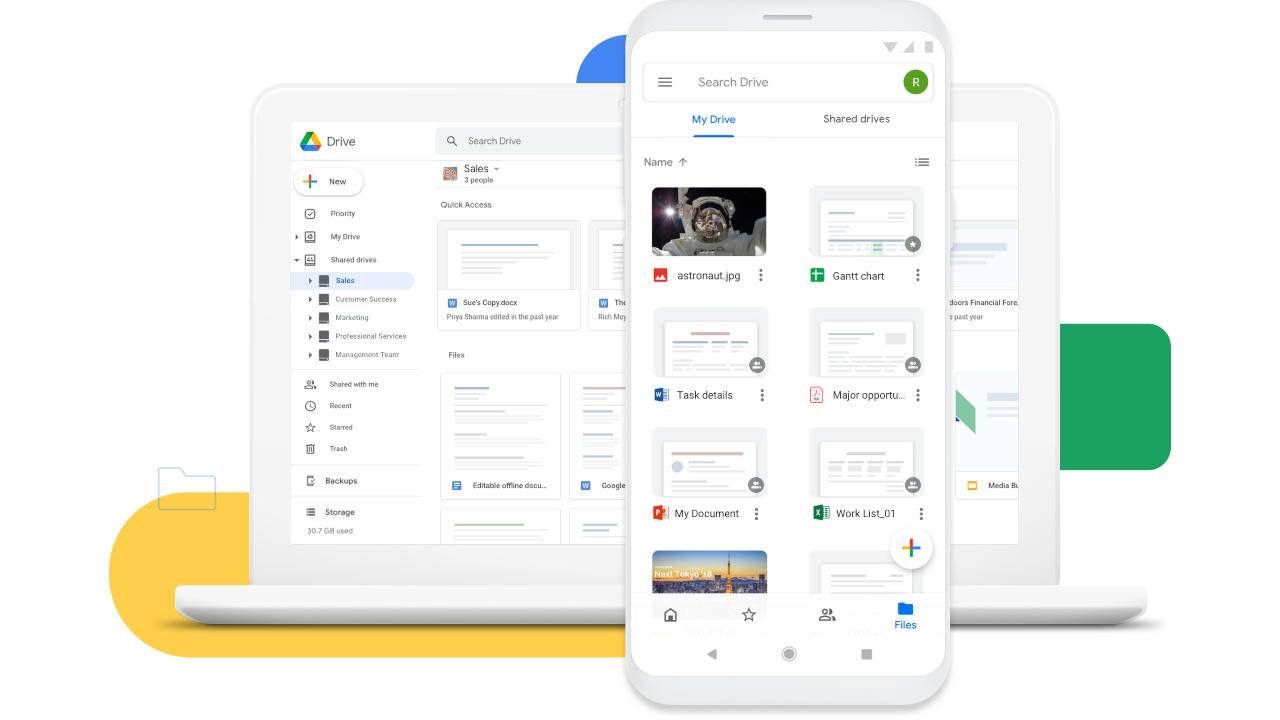 Google Drive's collaboration with several tools that most of us already use regularly, such as Google Docs, Sheets, Slides, etc., makes it easy to integrate into our lives. It also supports over 100 file types. The Offline Access feature means you can still work on your files without any internet connection. Your changes will be synced when you have an internet connection.
With its vast range of useful features, Google Drive keeps your files organized and makes working on them convenient.
Dropbox Vs. Google Drive: A Comparison
Amount of Free Storage Available
If free storage is the most important factor for you, then Google Drive wins by a mile. Google Drive allows free storage of up to 15 GB, whereas dropbox allows free storage up to 2 GB only.
On Google Drive, if you exceed 15 GB, you will have to switch to a paid plan. We know that 15 GB sounds like a lot, but if you use other Google products such as Gmail and Google Photos, you will run through that free 15 GB storage capacity much faster than you think.
Also, Dropbox does have referral programs available for granting free storage.
With a Dropbox Basic account, you will earn 500 MB of free storage capacity every time you recommend Dropbox to a friend. If you have a Dropbox Plus, Dropbox Family, or a Dropbox Professional account, you will earn 1 GB of free space for every referral.
Nevertheless, there are limits to how much free storage you can earn by simply referring friends. With Dropbox Basic, one account user can earn up to 16 GB of free space. If you have a Dropbox Plus, Dropbox Family, or a Dropbox Professional account, you can earn up to 32 GB per account through referrals.
Prices for Paid Storage
You can upgrade to the paid plans for either of the cloud storage options.
For personal use, Dropbox's paid plans start at $9.99 per month for 2 TB if you bill annually or $11.99 per month if you pay monthly. Upgrading to paid plans not only means more storage but also gives you access to advanced features such as Smart Sync, where you can access all the files saved in your Dropbox from your desktop without the files consuming any space on your hard drive. Smart Sync Auto-Evict lets you clear out space from your hard drive by moving dormant files to the cloud.
Dropbox also features an Advanced plan that offers unlimited access, which you can purchase for $20 per user per month. With this plan, you can also recover older versions of files and restore deleted files for up to 180 days.
For Google Drive, once you cross your 15 GB limit, you can buy a further 100 GB for $1.99 a month. You can also save 16 percent by paying $19.99 a year instead.
The Missing Feature - Image and File Annotation Directly from Dropbox or Google Drive
Both Dropbox and Google Drive have some clever integrations. For example, Dropbox makes it simple to send a file to HelloSign for instant eSignatures. And they have a great way to instantly add a watermark to an image.
But you can't annotate files from Dropbox or Google Drive. What if you could just click to annotate an image or PDF – that would be sweet. That's what's missing from Google Drive and Dropbox. Image annotation directly the file browser, without leaving the tool. And that's what Markup Hero's image annotation API does. They just need to integrate it and it's super easy.
Just to get a sense of how instant annotation works, here is a video showing how it could work in a typical SaaS application.
Or better yet, just try it for yourself. Here's a quick demo showing the annotation library in action. Just click the annotate button, add whatever annotations you want, click done and watch the magic.
---
Security
People store their files in the cloud to keep them safe, but the files in the cloud need security as well. Google and Dropbox are equal when it comes to this.
With both Google and Dropbox, you can set up two-factor authentication. You can protect your Google account using your phone and password. Even if someone gets a hold of your password, two-factor authentication can help keep them out.
If you set up two-factor authentication, you will have to enter a code sent to your phone through text, mobile app, or voice call. You can also add a backup phone to receive text messages from Dropbox in the absence of the primary phone.
Dropbox uses 256-bit Advanced Encryption System (AES) for encrypting files at rest and Secure Sockets Layer (SSL) or Transport Layer Security (TLS) for data in transit. Thus, for files in transit, Dropbox encrypts data to a 128-bit AES standard using a secure tunnel made by SSL or TLS.
Google Drive encrypts data to a 256-bit AES standard for files in transit and 128-bit AES standard for files at rest.
Thus, both have robust systems in place when it concerns the security of the stored files.
Ease of File Sharing
Both Dropbox and Google Drive allow you to share files. You can share files by sending emails or sharing links. Sharing links will allow anyone with the link to gain access. To prevent access through links, you would have to disable link sharing.
However, Dropbox is one step ahead of Google Drive when it comes to giving control. Dropbox Professional and business account holders can set passwords and expiry dates for links. So, even if you do share links, your files stay protected in the long run.
Dropbox also lets you copy a shareable link directly from the file's options to send your colleagues through email. Thus, file sharing is easier with Dropbox.
Speed of Syncing
Google Drive and Dropbox syncs differently and at different speeds.
Google downloads and uploads a whole document to sync it. If you are trying to view the latest version using a different device, this may result in a delay. Also, if you happen to lose your internet connection while Google is syncing, it may result in you losing your changes.

By contrast, Dropbox uses block syncing, which allows it to update changes to your files across devices faster. You and any of your collaborators can thus view new changes to your files quicker from other devices. Therefore, Dropbox features a faster syncing.
The Verdict
This is the moment you all have been waiting for.
The winner of the long raging battle of Dropbox vs. Google Drive.
The answer is... it depends. No, don't close this tab yet! Hear us out.
If you want a comprehensive solution for your business, Google Drive's relationship with Google Photos, Gmail, and other Google solutions will definitely benefit you. Committing to Google Workspace has various advantages and can help manage the access of numerous employees.
But if you aren't fixated on using Google solutions, Dropbox is a fantastic tool. When compared, it edges Google Drive out ever so slightly. Its faster syncing, easier file-sharing facilities, and security features make it the perfect storage solution for collaboration.
There you have it. The answer to the Dropbox vs. Google Drive argument. Now that you know how the two compare, which storage solution are you going to opt for?