Consumers are dealing with advertising overload these days. So the biggest challenge for marketers is getting consumers' attention. And the task is made harder by the trend of a decrease in the consumer's attention span. A report by Taboola and Nielsen says human attention spans have shrunk from 12 seconds in 2000 to barely 8 seconds in 2018, beating even the easily distracted goldfish.
A Nielsen report on 60,000 website page views found that people read only 20%-28% of the words on the page. 75% of U.S. online shoppers search for visual content before buying something online. Visuals, therefore, play a greater role in getting the message across. Moreover, Generation Z processes words significantly faster (spending just 4.4 seconds per 100 words), making visual marketing essential for sustaining and growing any brand.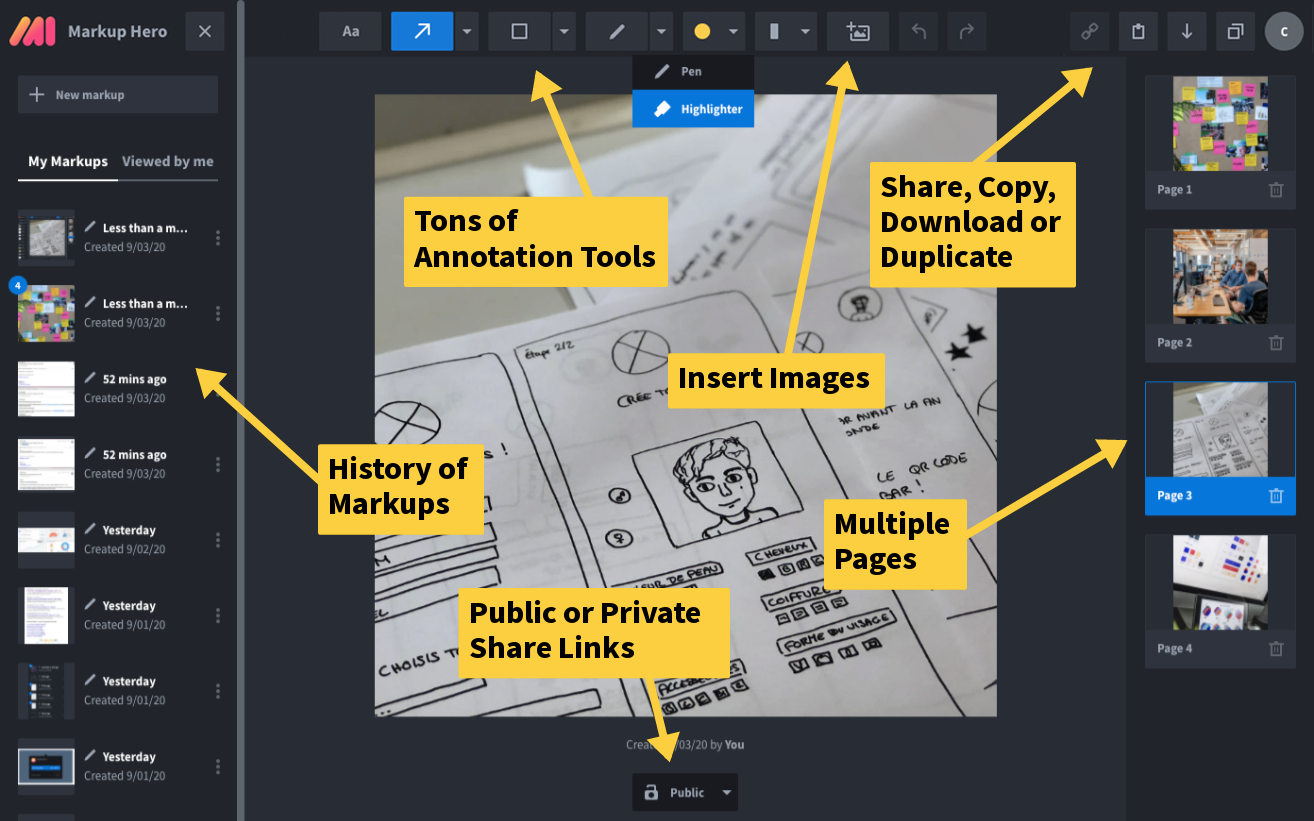 If you're a visual marketer looking for the best visual tools you can use right now, you've come to the right place. Read on to learn more about visual marketing elements and our top picks for the best visual marketing software tools in 2022.
What is Visual Marketing?
Visual marketing is a content marketing category that focuses on using visual media to communicate with your audience. It is the process of connecting marketing messages to visuals such as photos, graphics, infographics, videos, logos, signs, and more.
Besides being more eye-catching, recent statistics also show that 75% of marketers get better ROI using visual content.
Best Visual Marketing Tools in 2022
While you can now find many visual marketing resources and tools to create your campaigns, many of them are unnecessarily complicated and pricey. So if you are looking for affordable yet user-friendly tools, consider trying out some of these excellent marketing resources and tools:
Markup Hero
Markup Hero is the go to tool for marketers because it's ultra-fast, easy to use and very collaborative. Share ideas, get feedback, and build consensus around marketing comps, creative briefs, and much more.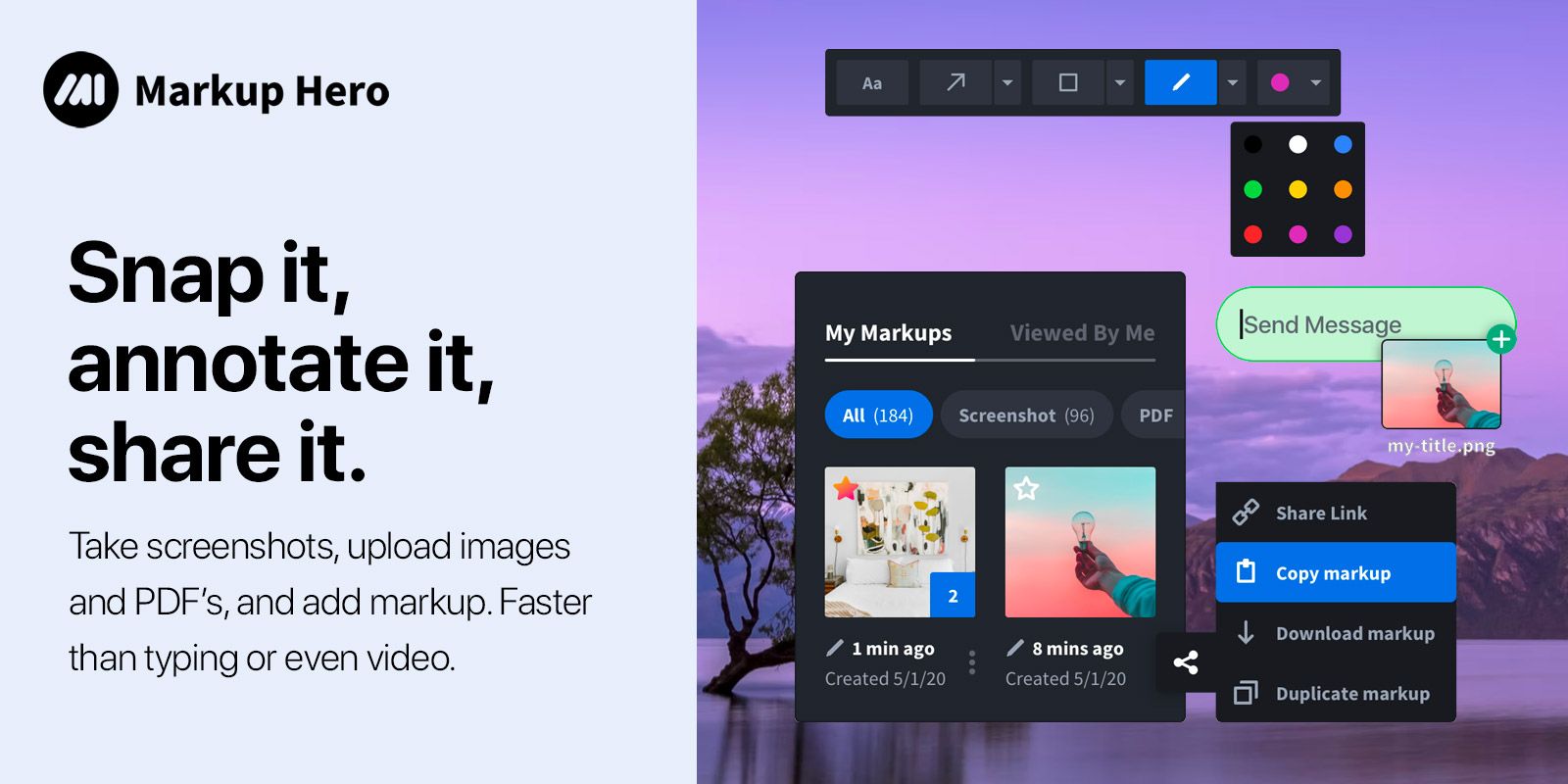 Markup Hero helps you capture ideas, communicate clearly, and save time. Instantly snap screenshots or upload Images/PDF's/Google Drive or via URL. Ton's of annotation tools including Text, Arrow, Rectangle, Oval, Pen, Colors, Blur, Crop, Insert Image & More. Share links, copy, download, duplicate. Save time and access all your screenshots and annotations with a click and make edits on the fly -- forever editable!

Annotation features include:
Screenshot, Web Pages, Upload Images/PDF's/Google Docs/Slides/Sheets
Always Editable
Full History
Text Tool
Arrow Tool
Rectangle Tool
Oval Tool
Pen Tool
Colors
Blur
Size & Thickness
Sharable Links
Copy & Download
Duplicate
Crop
Insert Image

Share in Popular Tools: Slack, Discord, Notion, Evernote, SMS, Email, and 100's more.

Canva
Simple, affordable, and customizable- these characteristics make Canva an excellent tool for visual marketers. It includes an extensive collection of over one million stock graphics and photographs. With Canva's intuitive buttons, banners, and text options, you can customize stock photos or your unique graphics in minutes.
Canva uses a drag-and-drop interface that allows you to fine-tune your image. You can also easily compose email newsletters using the free online editor. There is also an endless list of editable templates that make creating eye-catching visuals for your marketing efforts a breeze.
Canva is compatible with iPad, iPhone, and Android devices. Though personal Canva accounts are free, there is also a paid Pro plan besides the customizable plans for Enterprise and Educational use.
PRO TIP: Canva is great for creating marketing assets. However, for quick feedback and ideas, Markup Hero annotations is 20x faster and easier. Try it instantly, no credit card or account required.
Behance
Using original photos or stock images may be ideal for some aspects of your internet marketing, but illustrations and graphic designs might be more appealing and effective at other times. While many internet libraries, such as Unsplash and Pexels, include a large number of stock images, they often fall short in terms of illustrations and graphics.
That is where Behance comes into play. Behance focuses on supplying users with graphic designs and drawings, and it offers a user-friendly search engine that makes finding the correct images for your marketing materials a breeze.
Behance profiles are free to build, with the option of using a paid Prosite plan to create a portfolio with your custom URL.
Visme
Visme is an easy-to-use online tool used by content creators for creating presentations, graphs, charts, infographics, and a lot more. Visme allows you to create various forms of content as simple graphics but with a series of interactive features to bring static content to life such as the ability to animate any object and assign actions.
Visme comes with hundreds of templates with a large variety of design types. It is also a good option for team collaboration since it allows you to store and collaborate while maintaining brand consistency across your whole team.
It has a collection of native integrations, so you can connect Visme to other tools you already use.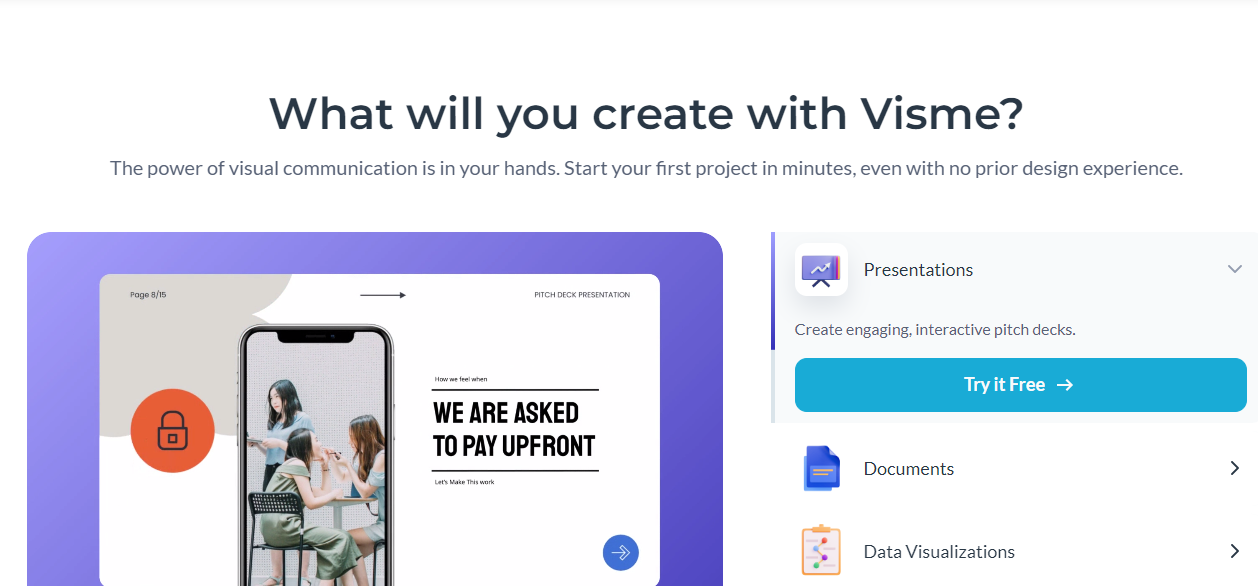 Snappa
Snappa is a good option for visual marketers who are comfortable dabbling in graphic design. While it bears similarities to Canva, Snappa is the more robust web-based graphic design software.
Snappa helps you create your unique designs from scratch or templates. It lets you extensively customize the templates by giving you access to a library of thousands of royalty-free pictures, icons, and fonts. Moreover, you can upload your images, resize them, and add additional fonts and typefaces with ease.
Snappa's accessibility is one of its best advantages. The cloud-based software encourages teamwork by making it simple to exchange brand assets and designs. It also connects with several social media platforms, allowing you to share your work right from the software. Snappa is available in a free version and a paid Pro plan.
PicMonkey
Besides Canva and Snappa, PicMonkey is another cloud-based photo editor that is very easy to use. It includes basic and advanced photo editing features, design tools, templates, graphics, etc. PicMonkey can also help visual marketers to make photo collages, including social media collages and ad templates.
PicMonkey's extensive photo editing features are relatively simple, but it still offers a tutorial section to assist users with editing and design abilities. While PicMonkey is comparable to Photoshop or even PowerPoint's visual editing features, it is the more cost-effective solution.
PicMonkey has a variety of templates to get you started, and you can easily add overlays and more to create the perfect visuals for all your marketing materials. PicMonkey, like Canva, allows you to choose from a variety of backdrops and can also help you create stunning visual content in minutes.
PicMonkey is available on Android, iOS, and Windows. PicMonkey offers three subscription tiers and a free version for accessing their premium content.

Piktochart
Another template-based graphics design web app is Piktochart. However, unlike Canva and Snappa, it focuses on infographics and more detailed presentations.
Piktochart's greatest strength is its ability to convert data from an Excel spreadsheet into a visually appealing chart or graph. This free software has over 100 different themes and a large graphics library that is updated weekly.
With Piktochart, visual marketers can always find free visuals for all types of reports, banners, and other marketing graphics. Piktochart has a limited free membership, but you can subscribe to the Lite or Pro edition for a monthly fee.
PowToon
Although designing animated visuals is a struggle for most visual marketers, animations may take your online marketing efforts to new heights. Creating dynamic images that are also adjustable is a breeze with Powtoon.
PowToon is a website where you can make cartoon-style videos and presentations. You can use pre-made storyboards or create your own using pre-made template animations in various cartoon styles. You can also record narratives for a voice-over.
So if you're looking to create fun instruction videos or an engaging animated video for social media, PowToon is a good choice. PowToon offers three different plans: a Free version, a Pro plan, and a Business plan with even more advanced capabilities.
Font Squirrel
Although graphics tend to dominate visual content, visual marketers cannot afford to overlook text. And the best way to ensure your text-based content gain the recognition it deserves is to pick just the right font.
That's where Font Squirrel comes in with its library of commercially licensed typefaces and fonts. So, legally and for free, you can now make your images stand out with the perfect font choices.
Font Squirrel also allows you to search for fonts based on different classifications and tags. It even comes with a font recognition function to help you identify other fonts on the internet that catch your eye.
PlaceIt
PlaceIt is a fantastic tool for creating mockups and other types of visuals. It's tied to Creative Commons, giving you access to some of the best stock pictures and designs. PlaceIt gives you access to over 600 different product markups, and you can quickly edit them with a drag-and-drop interface.
PlaceIt also allows you to link your website's URL to your account, allowing the program to sync your personalized image to your site. It is a solid tool to use whether you want to create images for your website, design email campaigns, or make other types of marketing materials.
Final Thoughts
While numerous photo and video editors, image libraries, and font finders are available for visual marketers, it's essential to pick just the right tool for your brand needs.
All the mentioned tools in our list come with their unique strengths and weaknesses. The visual marketing software you choose will come down to the type of content, the scale of the campaign, type of usage, and pricing, among other things.
But since most of them offer free versions or trials, the best approach is to try out some of these tools and resources before incorporating them into your visual marketing arsenal.