As a SaaS product marketer, you face numerous challenges. After having carefully crafted a product that solves consumers' pain points, you need to get your service in the hands of customers. Easier said than done, right?
When hoping for customers to pick your product out of the many within a certain sector you must incorporate videos into your marketing campaign.  The email marketing world has led the way by leveraging videos into marketing newsletters templates. It's high time SaaS businesses engage themselves in this form of marketing as well as SaaS marketing tips.

Many brands are still reluctant to include videos, as they believe it may be a waste of their time. Though some may think incorporating videos is unnecessary, these  statistics clearly show otherwise:
Still not convinced? Let's move ahead to explore some of the core benefits of implementing a video marketing strategy into your overall marketing roadmap.
How Can Video Marketing Benefit Your Saas Business
Over the last decade, video marketing is gaining popularity. If you're reading this article to clarify whether the hype is justified or not, you will be pleasantly surprised regarding what video marketing brings to the table.
Save Time and Resources
Marketing messages containing text show limitations. On the contrary, videos instantly and effectively attract customers' attention, making them more likely to watch the entire message. Videos are easy to notice and digest; therefore, they perform better at generating leads.
Communicating your content through video saves time for your customer support team. For instance, an analytic demo video shows consumers how your product or service works while saving you resources from call-center costs.
PRO TIP: Video marketing is easier with a good creative brief and video annotations. Use Markup Hero to build comps and graphics for your videos.
From a sales perspective, videos can be used for omnichannel marketing campaigns, providing all the necessary information in less time and with minimum effort. What's more, videos are easier to adjust to your budget without losing points on effectiveness.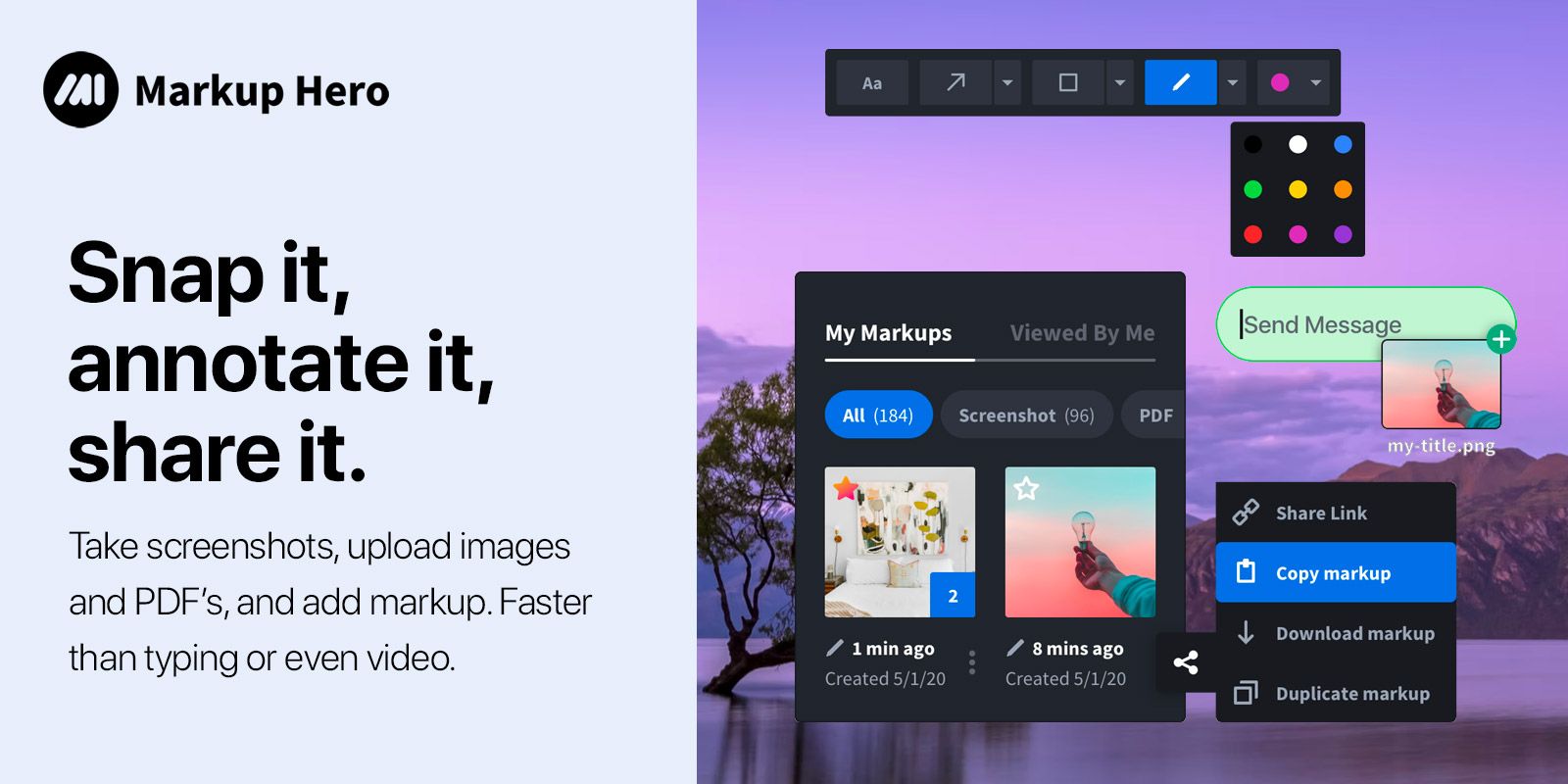 Videos Increase User Engagement and Share-Ability
Short videos that address consumers' problems, within channels they normally visit, show expertise. For SaaS companies, a video can explain a seemingly complicated product in the most engaging way.
Videos hosted on social media platforms are vehicles for increasing customer engagement. Think about it: potential leads visit these channels and check your video content. If they find it to be informative or amusing, they probably will interact with it or, even better, share it with their connections.
Content that can be easily shared stimulates positive discussions around your SaaS. If you are able to inspire your audience, you're headed towards increasing conversions and lowering costs for your lead generation efforts.
Videos Boost your SEO Ranking
YouTube may be the first thing that comes to mind when you think of videos Youtube certainly does the trick, but there are many video platforms that have also proven to work wonders for your SaaS. Videos can be utilized in different stages of the customer journey and for different purposes, from landing page videos to customer testimonials.
Visitors are more willing to take a tour of your website after having watched a video. When they watch a video there, their visit will last longer. Extended website visits mean more website traffic, which, in turn, results in better SEO rankings.
How to Get Started With SaaS Video Marketing
Getting started with video marketing can be daunting. Don't get overwhelmed, start small.
Identify Your Target Audience
When it comes to identifying your target audience, there are some critical questions you and your marketing team need to answer:
Who are you targeting through your customer persona profiles?
In which stage of your sales funnel do they fall in?
What pain points does your product address?
How can video convince your leads that your software solves these pain points?
Needless to say, you must create your buyer personas if you haven't already done so. After answering these questions, you'll know both the target audience for your SaaS video marketing and the type of videos to employ to successfully reach out to them.
Pick Your Video-Sharing Platform
There are many video hosting platforms to utilize for your marketing videos but you must answer another important question first: Where does your target audience hang out and search for useful video content? Is it TikTok, Youtube, Vimeo, or Instagram - to name just a few?

Youtube is ideal for your SaaS business to grow its visibility, whereas social media platforms are cost-effective and create a strong impact. The field of options is vast, but a decision to use one platform specifically does not always need to be made right away. You can use data received from different types of video sharing and use it in order to change your company's marketing strategy.
Set Your Video Marketing Goals
As with everything in marketing, you can't go anywhere without a plan. Discover your SaaS video marketing objectives, be explicit about them, and plan ahead to make them happen.
Is your goal to expand your database, build brand awareness, or drive conversions?
Which team members will handle your video marketing strategy and what is their budget to achieve it?
What type of videos are you planning to employ?
Which are the metrics that will help you determine if you have reached your objectives?
Work closely with your marketing and sales teams to produce a concise video marketing strategy. This way, you can monitor and measure your success without wasting valuable resources and time.
After having sketched out the first steps of your video marketing strategy, let's get to work by reviewing the most efficient video types for your SaaS business to benefit from.
6 Types of Videos Your SaaS Company Should Use
There are nearly unlimited options for types of videos you can use to promote your SaaS product, but here are the best few to start with.
Product Demo Videos
Product demo videos or explainer videos constitute the most direct way to reach your target audience. These videos serve the purpose of showcasing your cutting-edge software and explaining how it works.
In every SaaS product or service, it's vital to help consumers understand your service. People prefer to see products in action and know beforehand how purchasing them will solve a problem. The more your audience relates to your business offer, the more chances of having them convert into customers.
People talking directly into the camera, exciting scenarios, and voiceovers give demo videos a conversational tone. You can also apply an entertaining approach, like in the case of HeadSpace's product demo: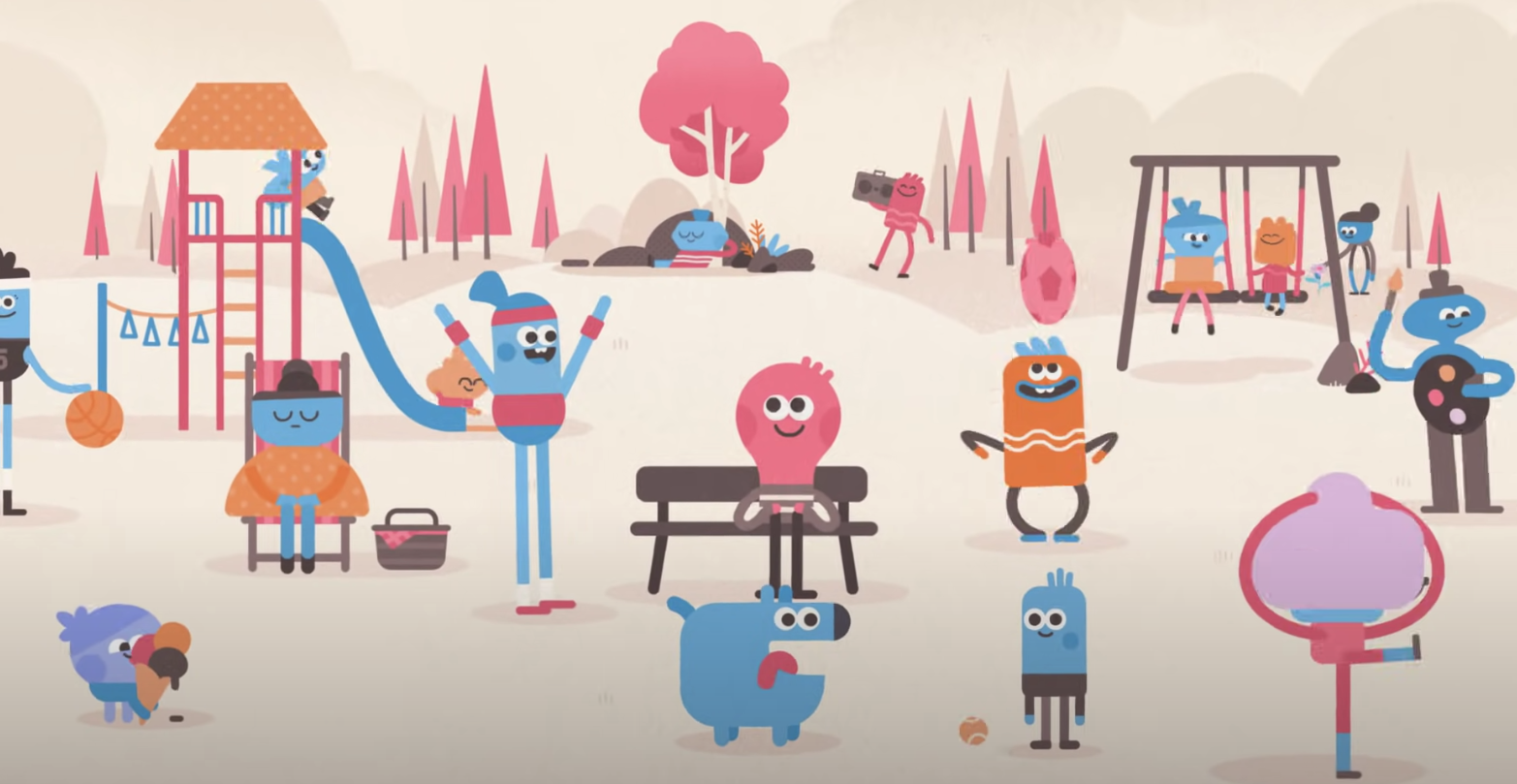 HeadSpace employs creative animation to walk potential leads through the app's functionalities, while also presenting its benefits. It states the "why", it's playful, it's short, and, most importantly, it shows how using HeadSpace improves users' daily lives.
Where to place them: Your homepage or landing page is the perfect place to show such videos due to its proximity to the purchasing platform of your product.
Help Videos
Consumers prefer visuals over text. But let's trust facts once more: help or how-to videos are the most popular query on Youtube and rank high on every video hosting platform.

As a SaaS company, you can tackle the so-called frequently asked questions (FAQs) and offer outstanding customer support through this video format. An easy-to-follow video knowledge database should cover all the FAQs while urging prospects to move along their buyer journey.
Users feel more confident about your SaaS solution when they learn about it through visual guidance. Furthermore, help videos position your brand as an industry leader. Adding a sense of virality can lead to generating leads for your SaaS business.
Online videos informing users on how to operate products or services are extremely popular. Furthermore, a small fraction of these videos are actually posted by the company providing the service/product.
Where to place them: You can post videos right on your website or blog, where your prospects tend to seek useful content that immediately answers their questions.
Customer Testimonial Videos
Word-of-mouth marketing never goes out of fashion. There's no more effective way to convince leads about your SaaS solution than taking advantage of your happy customers' success stories. They are the ultimate weapon to prove that your software meets people's needs and successfully overcomes challenges.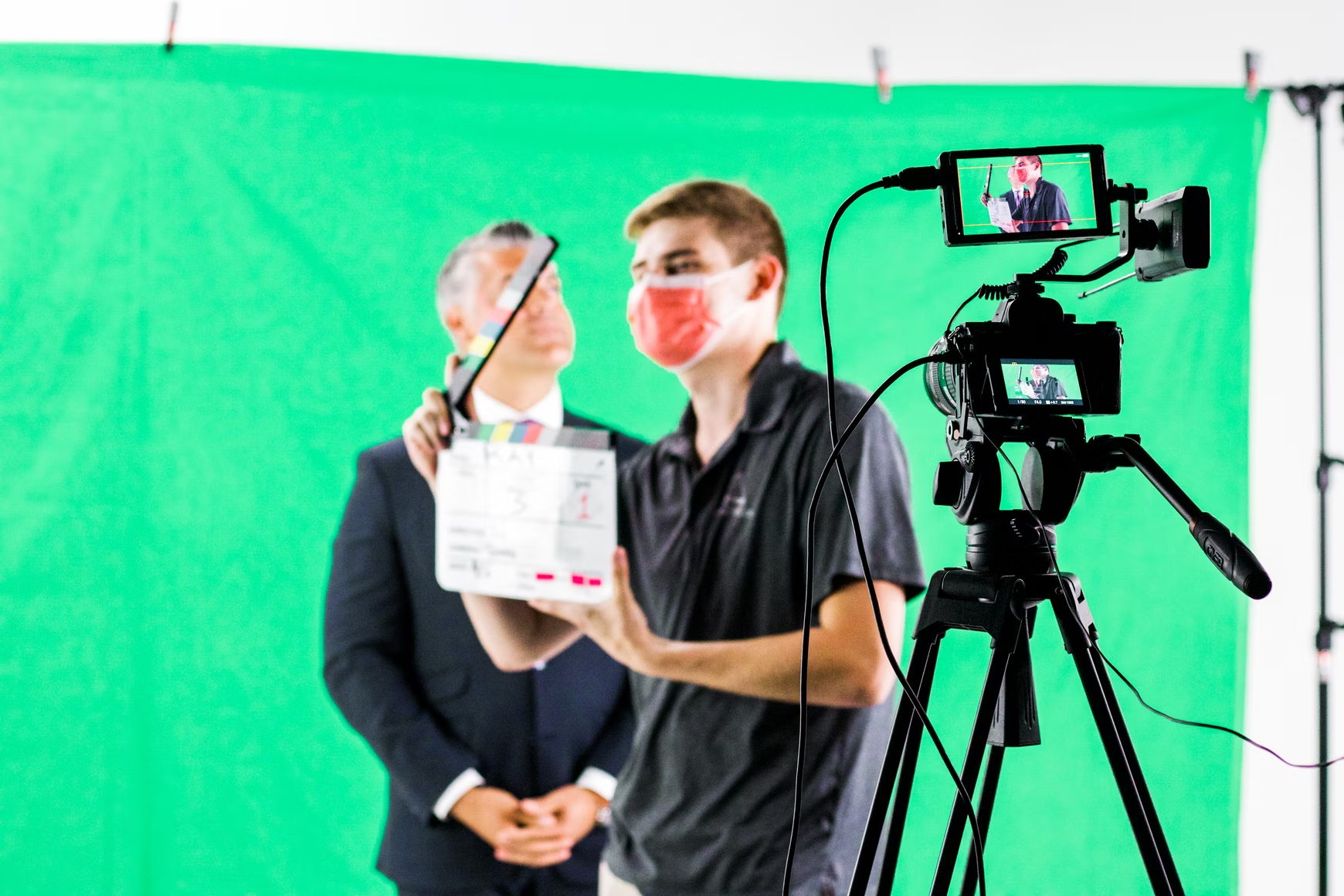 Since consumers are getting suspicious of text reviews, video testimonials offer transparency and authenticity, given that they are difficult to invent or fake. Fellow buyers' opinions encourage reluctant users to follow their lead and purchase your software. This phenomenon is called social proof, and has been deemed extremely effective in building trust between customer and service provider.
First, decide what exactly is needed to be demonstrated through each customer testimonial. Think of the questions that will get you there, and then, just ask your customers. Does it sound like a lot of disturbance for them? It's definitely not, because they can record their testimonial using any device and at their own convenience.
If you doubt the customer testimonial video strategy, this video created by Slack will surely prove you wrong: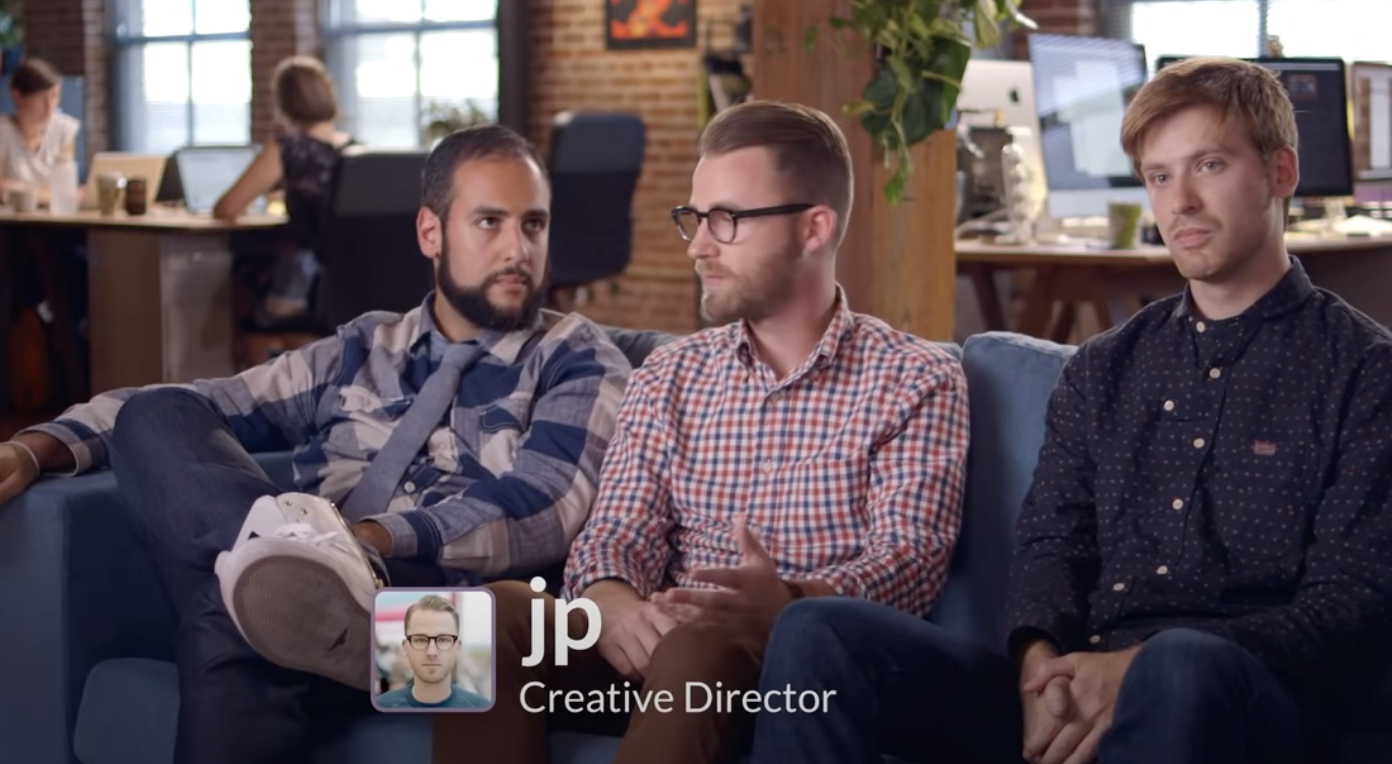 This testimonial shows real customers with real feedback, demonstrating every useful feature offered by Slack, while also employing a sense of humor to empower the message and keep users hanging on.
Where to place them: Incorporate testimonials in your newsletters or social media accounts to catch your audience exactly where they expect to find your brand's social proof.
Webinars
Webinars are gaining popularity as time passes by. They can be live or recorded to be used for on-demand viewing. By leveraging them, you get the opportunity of creating a more interactive SaaS marketing approach and have leads directly engaging with your brand.
A great webinar should discuss your product's key features and how it solves the audience's pain points, and provide actionable insights. You can even use webinars to share a product demo and erase any reservations on your prospects' end.
Moreover, your SaaS webinars could present talking points regarding how your brand relates to the webinar's topic. This tactic attracts more viewers and creates buzz around your software.
Here's how Trello is doing it. Trello hosts webinars on a regular basis, covering topics related to its project management software.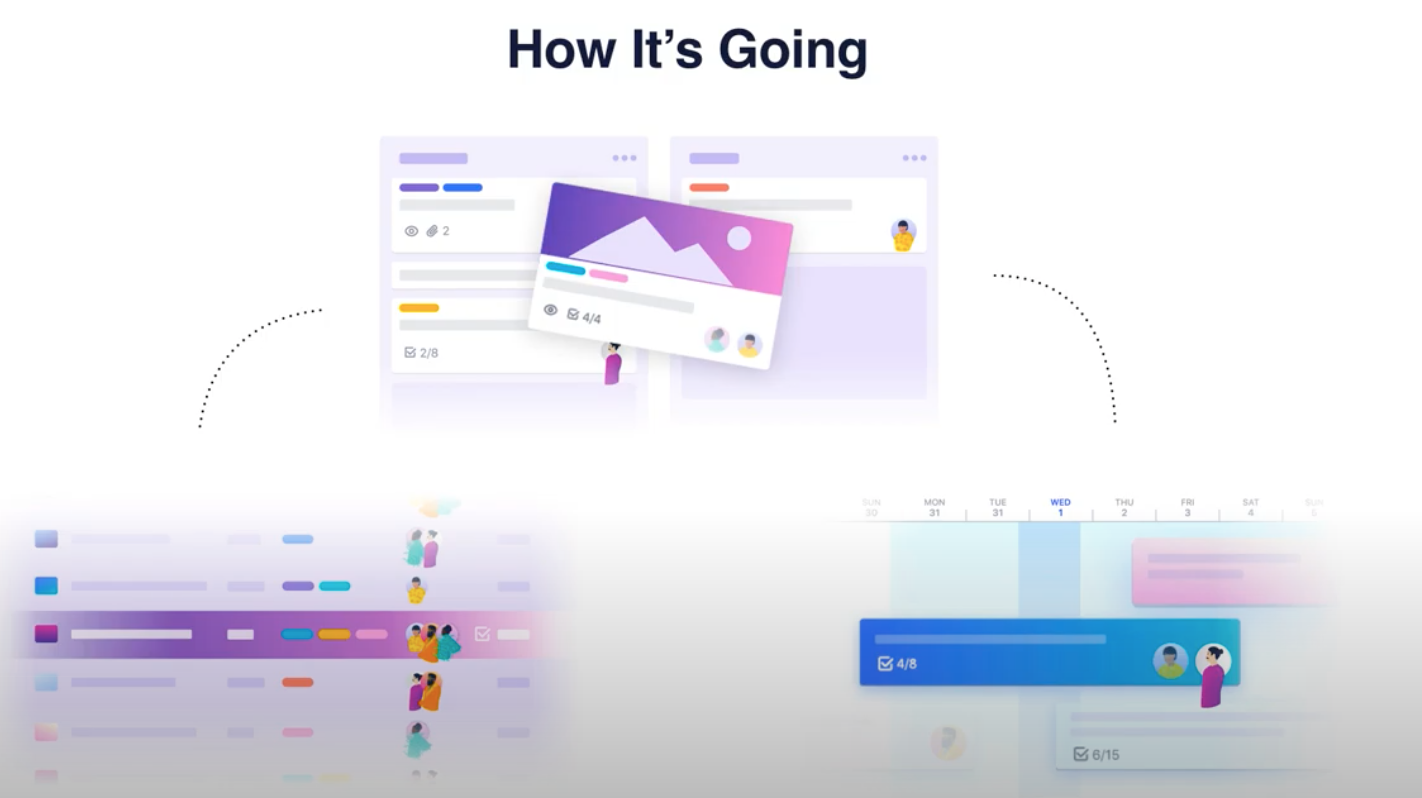 By deciding on your webinar sequence and making them frequent, you keep your brand on your audience's radars, having them waiting for your exciting business news.
Where to place them: Webinars are the perfect fit for your website or social media, attracting more viewers for your brand and giving them valuable intel to implement on the spot.
Social and Storytelling Videos
Social media has risen to prominence greatly over the last few years. The audience's active presence there is massive; so, that is where your SaaS business must have a strong presence. Social videos get people talking about your brand, increasing visibility, and engagement.
Not all social media are built for your business goal, though. Each platform has benefits and drawbacks. Take everything into account before choosing the perfect one for your video marketing, in order to interact with the people most interested in your offer.
Social media goes hand in hand with storytelling videos; their combination is vital for your SaaS video marketing. Storytelling videos humanize your brand and offer your prospects a sneak peek into its culture.
Include videos with inside information and a human touch. For example, showing your team members' personal stories or exclusive clips of a special event you organized can be extremely efficient and helpful. Behind-the-scenes footage informs the audience about your brand at its best. Afterward, they can relate to it, recognize its use, trust it, and purchase it.
Where to place them: Social media videos are destined for your social media accounts, being an integral part of your social media content strategy.
Company Videos
Let's face it: people think of software companies as faceless corporations that try to make more money than their competitors. By bringing the desired human factor to your SaaS brand tone, company videos are must-haves in your video marketing checklist. These videos reveal the company's heart and soul.
Believe it or not, your audience wants to know who you are. Therefore, don't hesitate to include your roots, passion, and goals in your company videos.
Share stories about why you created your brand, how you got where you are, and what your vision for the future is. This specific information will get your customers more excited and help your brand build a strong connection with them.
Where to place them: No better place for a company video than the 'About Us' section of your website - it's the first place visitors check to learn more about the people behind the idea.
Extra Hacks for SaaS Video Marketing
You are probably convinced of the necessity to incorporate videos in your SaaS marketing. Before you go, let us share some extra hacks to help you reach perfection:
Maintain branding consistency in your video content. Your tone should be aligned throughout all platforms; it's how brand awareness is built.
Keep your videos short, comprehensive, and simple. Attention spans keep decreasing over time, and these characteristics captivate users to stay longer on your marketing channels and understand your message.
Consider featuring expert reviews in your videos. By collaborating with authority figures who share educational content, you demonstrate niche expertise, while also enhancing your software's credibility.
Never neglect your CTA. A clear and actionable CTA is the bread and butter of all marketing videos, whether it's to direct users to purchase your software, sign up for your newsletter, or share your content on their social media.
Don't forget to optimize your videos to get the most out of them. You can do so by adding transcripts or descriptions that strengthen your video message or employing hashtags and keywords for increased engagement and shareability.
Conclusion
Video marketing is a trend that is turning timeless. Any SaaS company that is serious about growing its customer base should implement various types of videos so that they do not lag behind their competition.
It feels daunting at first; so, start by employing the most successful SaaS video marketing strategies shared above based on your business needs and budget. You will then l be one step closer to creating high-quality videos that generate conversions, enhance user engagement, and, in the long run, establish your brand awareness through lasting customer relationships.
Guest post by Maria Fintanidou, a Copywriter for email marketing automation software Moosend.