Remember high school? Working in teams often had on person doing all the project work while the rest of the group sat around and looked on. Why?
Collaboration doesn't come naturally to everyone. It takes deliberate work to be an effective collaborator.
Fast forward to the work-life now, and you still face challenges while collaborating with people of different personalities and navigating conflict in the workplace.
Good collaboration is critical when teams are in different locations or work cross-functionally to complete tasks and projects.
PRO TIP: Effective collaboration goes hand-in-hand with productivity - see how Markup Hero can help you be 10x more productive at work.
Today's corporate world is becoming increasingly competitive and reliant on dynamic, high-performing teams. Irrespective of team size, collaboration is now vital in the workplace, especially since the pandemic has pushed people to work together in virtual projects.
Collaboration skills are highly valued interpersonal skills necessary for increased productivity and greater efficiency. It fosters improved employee relations and positive work culture.
Have you Tried Markup Hero in Your Organization?
Communication is an essential element of collaboration. And these days, a lot of communication happens outside the office, with Slack, SMS, email, Google Docs and more. Try using a screenshot and annotation tool to explain ideas and share feedback with colleagues.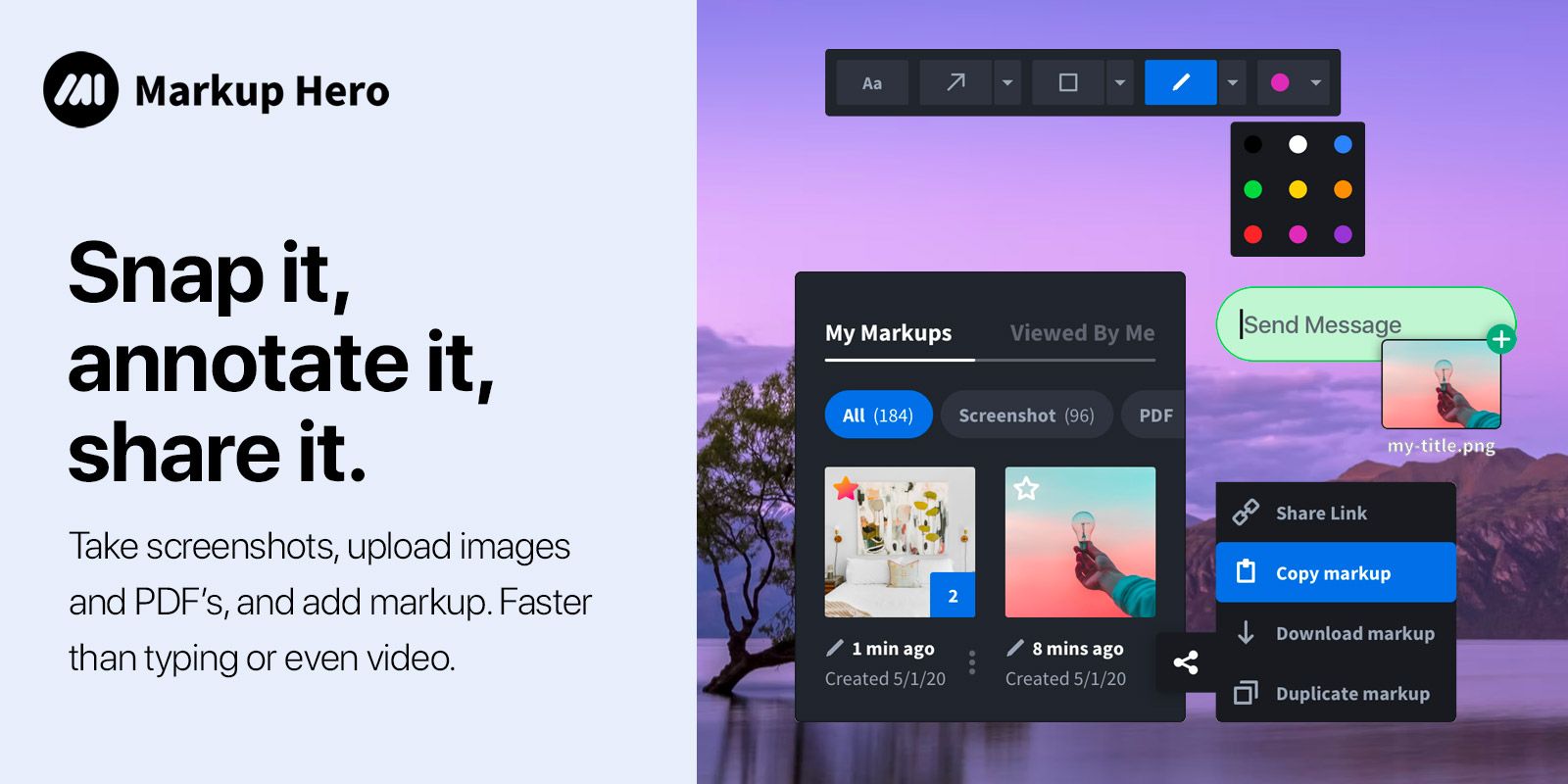 Here are some top benefits of Markup Hero for teams:
Capture Ideas - Instantly capture and share ideas with Markup Hero's screenshot app and image / PDF uploader.
Communicate Clearly - Share your message on any image, PDF or website with easy to use annotation tools.
Save Time - Access all your markups and annotations from any device and make edits on the fly.
Stay Organized - Keep all your markups organized with titles, collections, history and custom privacy settings.
PRO TIP: Try Markup Hero in less than 60 seconds. No account required. No credit card. Just snap or upload and annotate.
Capture ideas, communicate clearly, and save time with . All you need without the bloat. Made for Mac, Windows, Linux, Chrome and Mobile Web.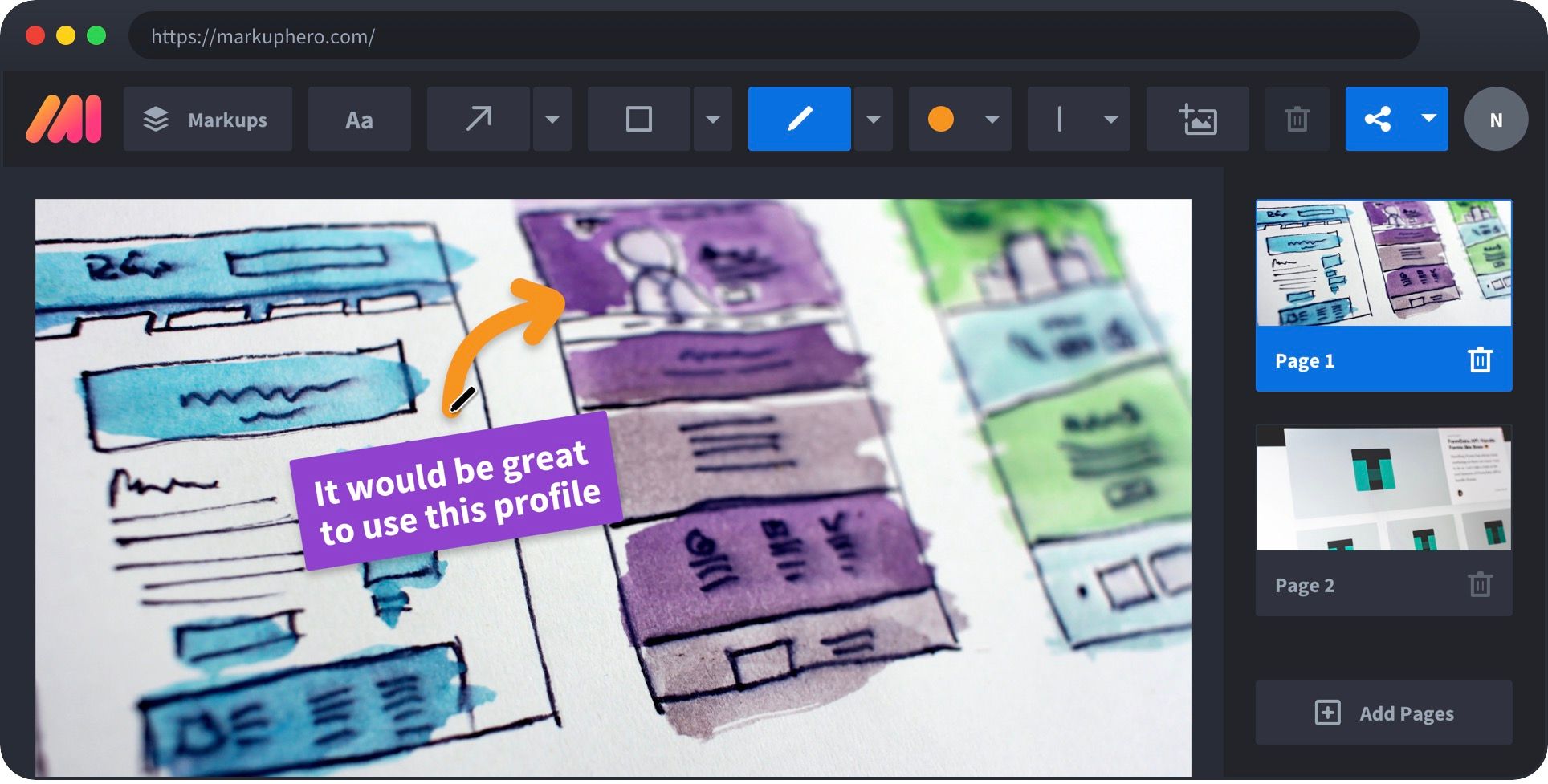 Features include: Screenshot, Upload Images/PDF's/Google Docs/Slides/Sheets, URL Screenshot, Always Editable, Full History, Text Tool, Arrow Tool, Rectangle Tool, Oval Tool, Pen Tool, Colors, Blur Size & Thickness, Sharable Links, Copy & Download, Duplicate, Share in Popular Tools: Slack, Discord, Notion, Evernote, SMS, Email, and 1000's more.
---
Effective collaboration makes the problem-solving process faster. It allows the sharing and developing of ideas that lead to product innovations and other breakthroughs. Employees gain new knowledge and skills each time they collaborate. It's a win-win situation since it increases expertise that facilitates the transfer of knowledge across the organization.
Moreover, collaboration creates a strong positive impact as a leader. A 360-degree assessment by Forbes found a significant match between a leader's collaboration skills and their overall leadership effectiveness scores.

Common challenges and pitfalls
An HBR study revealed an interesting paradox. Even though teams that are large, diverse, and made up of highly educated individuals are getting increasingly essential for challenging tasks, these same four qualities make it difficult for teams to collaborate.
To put it simply, the characteristics needed for success are the very characteristics that impede success.
This is because such teams are less likely (without external influences) to learn from each other, share knowledge, help each other, share resources, and flexibly shift workloads to break up bottlenecks. They are less likely to see their objectives as compatible and want each other to succeed. Other challenges include:
Conflicts in working style
Whether teams are large, diverse, or full of experts, no two people will ever be the same. Some prefer working alone, while others prefer working in teams. Some will often need assistance, while others won't need much external input.
Conflicts are inevitable when people with different personalities, work ethics, and opinions clash. However, effective task delegation and conflict resolution can foster collaboration and improve productivity.
Virtual space
Remote work is here to stay. Several prominent organizations, including Facebook, Microsoft, Twitter, and Shopify, now permanently allow employees to work from home. Initial studies have shown that remote work, in fact, has increased productivity in the past year.
On the contrary, face-to-face communication enables members to listen more, communicate more effectively, and better understand each other.
Thus, businesses need to invest in policies and programs that enhance employee engagement and wellness. This is key to overcoming the challenges of remote work. Teams could also attend periodic physical meetings to improve the working relationships.
Inadequate resources
Collaboration becomes difficult when resources are not adequate. There could be issues with budgeting, personnel number, and the availability of technological tools.
Teams need the right members and the right combination of adequate resources to collaborate effectively.
Let's look at the top 10 collaboration skills needed to complete tasks efficiently.
Recommended collaboration skills
The collaboration skills below are essential to ensure team productivity. Among these, certain collaboration skills are not given much emphasis but are still critical to the success of a team.
Ability to listen actively
We tend to automatically relate collaboration to communication, a skill we need to better express our ideas and ourselves. And that's true. However, we often forget that communication won't be able to resolve conflicts and solve problems unless we listen.
The 2017 Corporate Recruiters Survey found that one of the top 5 skills sought by recruiters includes listening skills, alongside written and oral communication and presentation skills.
When you actively listen, you allow others to voice their opinions and ideas, which you can discuss together. It encourages effective two-way communication and the sharing of knowledge and ideas.
The first step to listening is to focus only on what the other person has to stay and understand. If you're only waiting to respond and formulating arguments inside your head, you'll likely fail to understand them properly.
Ask a follow-up question to better understand the speaker, if needed. Don't stay confused and let misconceptions build up. Questions let you know information that helps you suggest solutions to them.
If there's a conflict, it helps distract you from the anger. You calm down once you realize you both are working towards the same goal, only by taking a different road.
Self-awareness
Emotional intelligence starts with self-awareness - where you know your emotions, blind sports, and motivations and how they will affect your teammates. You can communicate well when you know what you're trying to say.
Actively seek constructive feedback from team members. You can do this via an anonymous survey or in a one-on-one setting.
Furthermore, don't let your grievances and frustrations build up. Talk issues out with your teammates instead of lashing out later on.
Cross-cultural sensitivity
Cross-cultural sensitivity is among the top 10 skills employers seek among new graduate hires. Accept and appreciate the unique values, styles, rules of every person, including your own.
A diverse team is essential for bringing in fresh perspectives and a variety of ideas. So, you need to be tolerant of people of all backgrounds and cultures. Sure, their perspectives, values, and style of communication will differ from yours. You need to be open-minded and appreciate those differences. It might help if you attend diversity and inclusion workshops.
Intolerance will unnecessarily lead to employees imposing their ideas and values on others, disrupting the workflow and preventing them from bonding with each other. You don't have to be best friends with your teammates. You only need to be empathetic, friendly, and understanding.
Empathy
Empathy is one of the most important aspects of emotional intelligence and quality employers look for in leaders. Empathy is where you put yourself in someone else's shoes and try to understand their perspective. It's composed of 2 components: cognitive and emotional.
Empathy helps develop bonding and resolve conflicts. You can't make yourself feel what someone else is going through, but you have the cognitive ability to consider their perspective.
You need to collectively create a safe space for people to express themselves without any fear of judgment. Whether you're in a diverse team or not, you need to respect other people and be appreciative of their ideas. An opposing idea creates tension, but these tense situations are great for generating powerful ideas. Begin by actively listening, asking more cautions, and opening your mind to more ideas.
As a supervisor/team leader, you need to push people out of their comfort zone so that they don't stay floating in a bubble. Design ways to steer them through the creative problem-solving process and support them by asking for their opinions instead of always taking charge.
Transparency
Transparency is about speaking the truth without being asked for it. The purpose is to avoid conflicts down the line by being honest now. It helps to build trust and doesn't give your teammates any reason to question your intentions.
Decision-making making usually helps develop transparency. When you open up about your decision-making process and share the results - good or bad - with your team, you encourage transparency.
Trust
Teamwork depends on work relationships, and the foundation of every relationship is trust. Employees need to trust each other to collaborate in teams. But most of the time, securing trust is easier said than done. Team members sometimes make mistakes that may make it hard for other members to trust them with decisions.
A non-toxic work environment makes room for mistakes and appreciates owning up to those mistakes. No one has to be perfect. If you make a mistake, own up straight away instead of hiding it. If your teammate has made a mistake, learn to forgive them and acknowledge them for owning up.
Mutual respect and interpersonal trust are critical to bonding with teammates. All members need to set clear expectations and boundaries, communicate issues, and be transparent.
There should be communal spaces for teammates to gather so that they bond naturally.
Team building activities are also great for building trust without taking a leap of faith. Even virtual teams can go on virtual field trips or book clubs to know each other more.
Write down goals, track metrics, and send progress reports to your team to help establish accountability. Research by Dr. Matthews showed that people who sent weekly progress reports to an acquaintance achieved more than those who didn't.
Ability to give and take constructive criticism
Be it from your supervisor or a teammate, you need to be receptive to constructive criticism. It's a key collaboration skill that will help you improve your shortcomings and grow as a team player.
You should also help others by pointing out their lackings and praising them for their achievements. This allows smooth collaboration. The corrective feedback helps improve performance as well. To give effective constructive criticism, you need to be specific in your comment, clearly state the impact of the mistake on the team/results, and offer help or suggestions.
Conflict resolution
A large and/or diverse team leads to competing interests. Before getting frustrated, try to find out everyone's needs and their style of communication. Use your self-awareness, empathy, and active listening skills to sideline your escalating emotions and ask questions to understand others' perspectives. Check the facts, and don't take sides when you find your teammates in a conflict.
You'll likely need to reach a compromise that doesn't negatively impact your team and the organization. You should also grab opportunities to attend conflict resolution workshops.

Task delegation
Task delegation is not only for leaders. Task delegation is especially important for teams composed of multiple experts and for cross-functional teams. For instance, Pixar once arranged a training session to help new managers delegate. Why can it be difficult to delegate tasks? What are the reasons we like to micromanage?
This is because it's hard for us to let go of control. Each expert or a more assertive person in a team would like to take charge and believe they know what's best to get things done right. We lose focus on the reasons for delegation and instead focus on short-term results.
Thus, it's necessary to delegate tasks to let others engage and grow. This allows us more time and likely more long-term productivity. Coaches at Pixar emphasized trust as the most important collaboration skill needed to tailor delegation to individuals based on their abilities.
Comfort with silence
Being comfortable with silence doesn't mean only not speaking. Comfort with silence communicates respect and attentiveness while you're not speaking. This is a challenge, particularly for outspoken people who want to control the conversation without allowing others to speak up.
When someone is silent, it means they are less vocal or just need the chance to talk. You need to let them voice their opinions rather than intimidate them.
Webasto once conducted exercises where people joined a conversation just to listen. They were instructed not to engage in negative non-verbal behavior. Similarly, you need to maintain positive body language while communicating with your teammates.
Other collaboration skills include organizational skills, leadership qualities, project management skills, decision-making, and proficiency with productivity systems, and productivity tools.
You need to remember that your teammates, including you, have different mindsets, needs, and even collaboration skills. You'll naturally face imperfect situations along the way. But what's important is that they can add up to something productive and fruitful.