At a time when the whole world is stepping into the threshold of a virtual universe, there is no way you can afford to be left behind. To keep pace with this rapidly changing new reality, you must learn more about how you can integrate your vision and mission into this digital agenda.
A great way to implement your ideas in the current climate is to embark on global virtual projects. But to begin a task like this, you need to be aware of the major challenges you will face, and how you can overcome them.
That's where Markup Hero comes in. They can help you identify all the challenges of organizing global virtual projects and overcome those obstacles step-by-step. As a free screenshot and annotation tool, Markup Hero is prepared to meet all of your visual needs.

What Is A Global Virtual Project?
A global virtual project is essentially a digital project in which a global virtual team, guided by a common purpose and communicating primarily with the support of technology, works together from various locations around the globe to accomplish a particular interdependent task under certain constraints in time and organizational resources.
The Benefits of Global Virtual Projects
You might be wondering why you should choose to arrange global virtual projects with your company instead of sticking to projects depending mostly on physical communication. In truth, there are several key benefits to conducting these projects over digital media with the help of a global virtual team. Some of these key benefits include:
1 – Working With The Best of The Best
When putting together a global virtual team for a large-scale project, you have the advantage of selecting the best talents from around the globe. You do not have to limit yourself to selecting your team members from any specific geographical location and are free to explore talents from all around the world.
2 – Increased Efficiency
Since a global virtual team is made up of members from all around the world, your team is essentially active throughout all hours of the day, by sticking to a "follow the sun" schedule. This process helps to increase productivity throughout each day, thereby reducing the time required to complete each project and boosting efficiency. It has been proven that global virtual teamwork can boost business productivity by up to 43%.
3 – Better Work-Life Balance
Through participating in a global virtual project, team members can have more freedom over their work hours than in projects that require physical communication, and can thus ensure a much better work-life balance for themselves. This ultimately causes them to be happier with their work as a whole.
4 – Clearer Communication
Virtual media makes it much easier to communicate clearly and get comprehensive messages across to your whole team. Not only do you get the chance to craft quick notes to your teammates on the go, but you can also organize your plans in an easily accessible manner. Markup Hero is the perfect tool to help you with all these communication and organizational needs through easy-to-use annotation tools and a thorough filing system.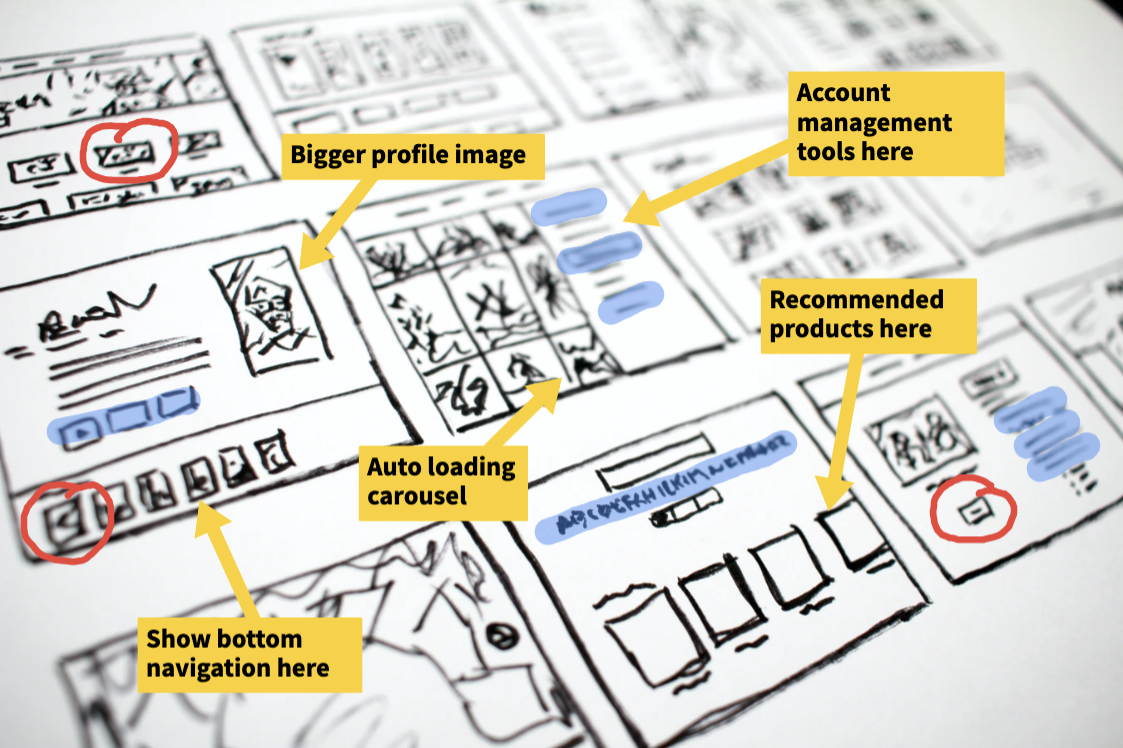 5 – Diverse Input
Since global virtual projects allow the opportunity to gather talent from all corners of the globe, it ensures a diverse range of opinions and inputs that go into each project. Such diverse inputs are particularly useful when coming from team members working close to overseas markets.
15 Challenges of Global Virtual Projects
Like everything else in life, embarking on a global virtual project is a two-sided coin. While it does reap plenty of rewards, there are a significant number of challenges associated with this process. Here are 15 of the biggest challenges you may face while working on a global virtual project and several ways you can overcome them:
1 – Bad Management
Novices to the world of global virtual projects may find it challenging to properly arrange and conduct such large-scale projects. As a result, the entire team suffers from the problem of bad management. Bad management can extend to difficulties in delegating tasks, maintaining regular check-ins, and conducting team meetings. A lack of sufficient personal interaction also contributes to faulty management and reduces employee satisfaction with the company.
To overcome this challenge, there needs to be a comprehensive company guideline with regards to managing a global virtual project, which incorporates all the necessary elements of sound management.
2 – Faulty Communication Techniques
Failure to properly communicate among all the members of a global virtual project team leads to chaos and confusion. If project members and managers cannot regularly and communicate with one another, there leads to misunderstandings about each person's delegated duty, and a lack of follow-ups on each assigned task.
Many managers mistakenly assume that the way to go with conducting these virtual projects is to communicate more, but in truth, the key is to prioritize quality over quantity.
Team members may often feel overwhelmed by a barrage of emails and notifications and may either not notice or forget about some of them. The solution to this problem is to send fewer messages, but include more important messages stated in a clear, succinct way. There should also be a guideline on how soon team members need to respond to a particular task or query, and sufficient follow-ups when they fail to respond within the deadline.
To help with all sorts of visual means to make virtual communication quicker and easier than ever, Markup Hero has designed an easily accessible set of features such as screenshot tools and annotation facilities. With these features, members of a global virtual project team will be able to communicate with one another both clearly and efficiently.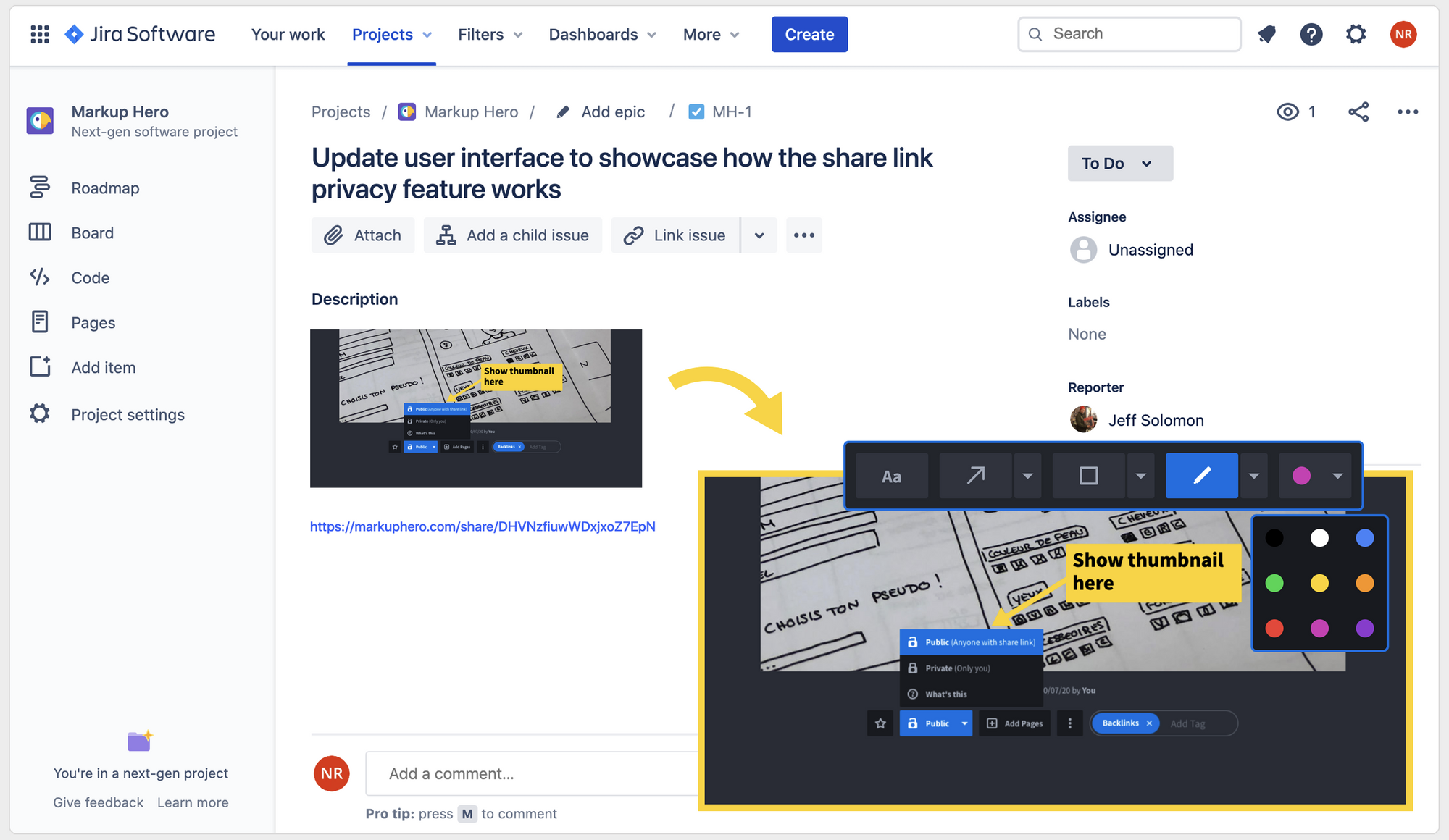 3 – Lack of Interpersonal Connection
Working on a project with people whom you've never met or had the chance to get to know on a personal basis may be very difficult at times. You may not feel entirely comfortable working with them when you know so little about the regular happenings in their lives. Humans are, by nature, social creatures. So it is important to maintain this level of personal and social connection even in our spheres of work.
A potential solution to this problem may be to arrange regular team meetings at fixed intervals during the work-week. These meetings should not only be about addressing issues related to the workplace but should take the time to ask everyone about how they are doing in their personal lives. This will help to facilitate a real bond between the team members and allow them to get to know each other outside of work. It will also help to strengthen the cultural diversity within the project.
4 – Technical Issues
While dealing with technology certainly has its perks, certain downsides to it are outside of our control. There may be network issues, sudden connection problems, or unexpected crashes in the system.
The only way to effectively deal with such problems is to have at least one back-up plan in place for such unforeseen disruptions.
5 – Absence of Tracking
In a physical office, it may be easier for project managers to keep track of what their team is working on at the moment. They can just pop around a corner and do a quick check-in. But in a global virtual project, managers need to be actively aware of the need to keep track of on-going projects and the progress of each team member.
A possible solution to this problem is to use efficient tracking methods and have a routine for check-ins on team members. These check-ins can also be done in scheduled weekly team meetings.
6 – Lack of Proper Organization
Unlike physical offices, there is no single storage facility for important documents in a global virtual project. This causes a big problem in terms of the lack of proper organization of relevant documents. Different team members are seen to use various platforms to share documents, which greatly disrupts any uniformity in the process.
This problem can be solved if all team members in a global virtual project stick to one platform for making, editing, and sharing important documents. Markup Hero is a great avenue to explore all these features.
To help you keep organized, we have several facilities for keeping all your markups sorted with tags, history, and custom privacy settings. Using Markup Hero, you can easily share links to various PDF files, images, and websites. Also, you can download these files and make edits and annotations. With the help of our Superhero plan, which costs $4 a month, you can also export markups as PDF documents.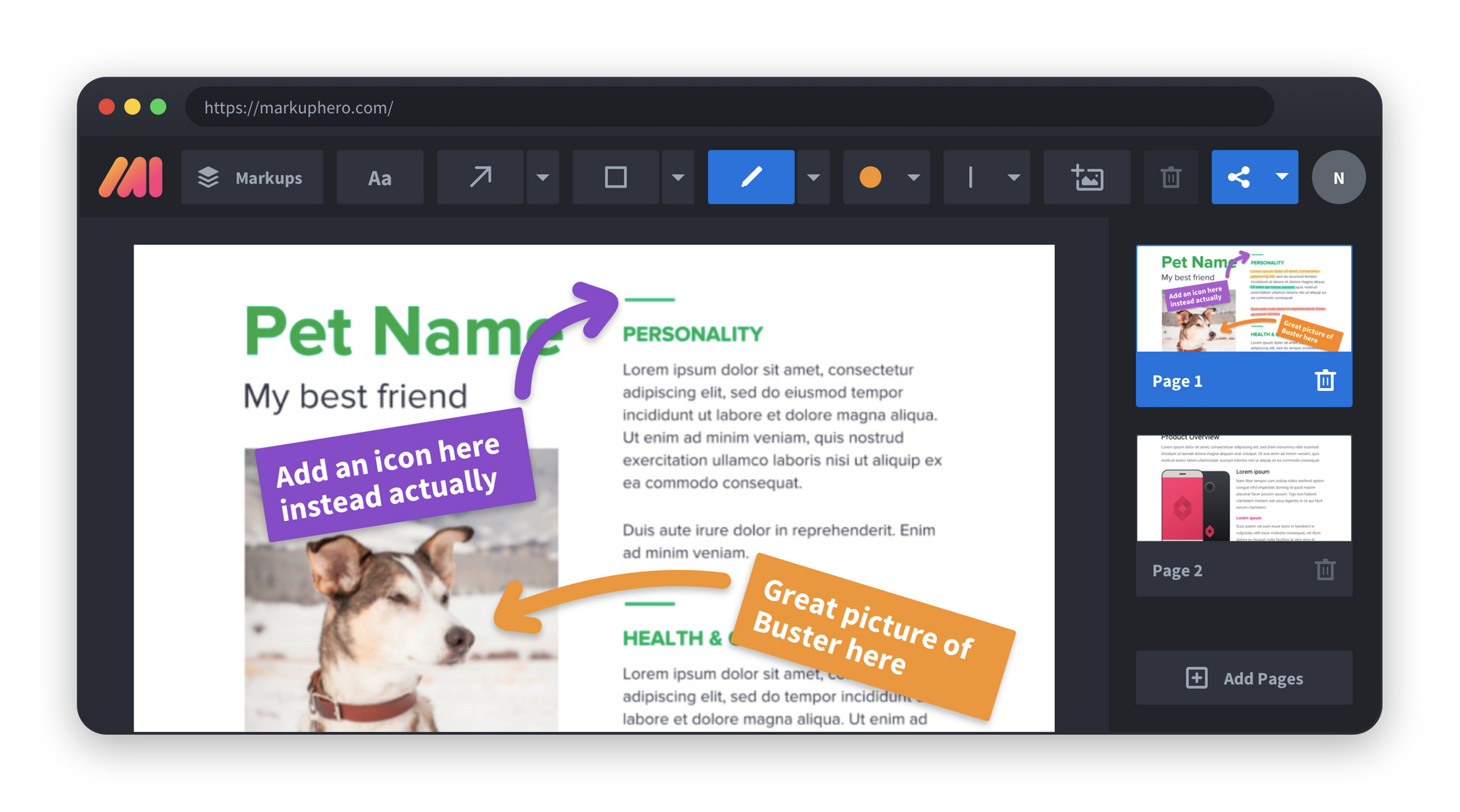 7 – Language Barriers
When working on a global virtual project with team members from all around the world, it is natural that there may be some language barriers. English may not be everyone's first language, and as a result, there may initially be some trouble communicating among the group.
The only solution to this little problem is to handle things with time and patience. Make your team members feel comfortable to voice their ideas and opinions without having to hesitate or second-guess themselves.
8 – Cultural Differences
In addition to language barriers, working in an international environment like this may also bring to light several cultural differences among the members of the virtual project team. The best way to tackle this challenge is to view these differences not as a problem, but as an asset. Instead of thinking of it as something that separates one team member from another, think of it as an element that adds cultural diversity and unique perspectives to every new project.
9 – Different Work Ethics
Working with a team of people with different talents and mindsets may naturally lead to a clash in work ethics. To solve this problem, it is necessary to look past these differences and collaborate using strategies that allow all different kinds of working methods to flourish simultaneously.
10 – Lethargy
Working on your own, without sufficient communication with your other team members, may instill a feeling of boredom and lethargy in you, thereby reducing your productivity. This problem may be remedied by organizing some fun activities for the whole team from time to time, to cut through the monotony and keep the project space interesting and engaging.
12 – Trouble Navigating Time-Zones
Naturally, when working with a global virtual team, navigating through a variety of different time zones becomes an issue. Because it might be tough to arrange a time for all the different team members to be present in meetings at the same time, some people always end up being left out. To prevent this problem, the issue of time zones should be kept in mind when hiring employees, and the most convenient times for regular meetings should be chosen after a discussion with all the team members.
13 – Lack of Proper Conflict-Management
Since these projects are all virtually managed, it becomes difficult to mitigate conflicts when they arise among team members. This problem can be dealt with by taking regular surveys around the team and addressing potential conflict-inducing issues immediately.
How Can Markup Hero Help You Overcome These Challenges?
Markup Hero can provide you with all the assistance you need to overcome many of the aforementioned challenges. They can meet all of your visual needs for conducting a virtual project, such as taking screenshots, giving annotations, keeping files and folders organized, sharing visual media content, and customizing the privacy settings for all important documents.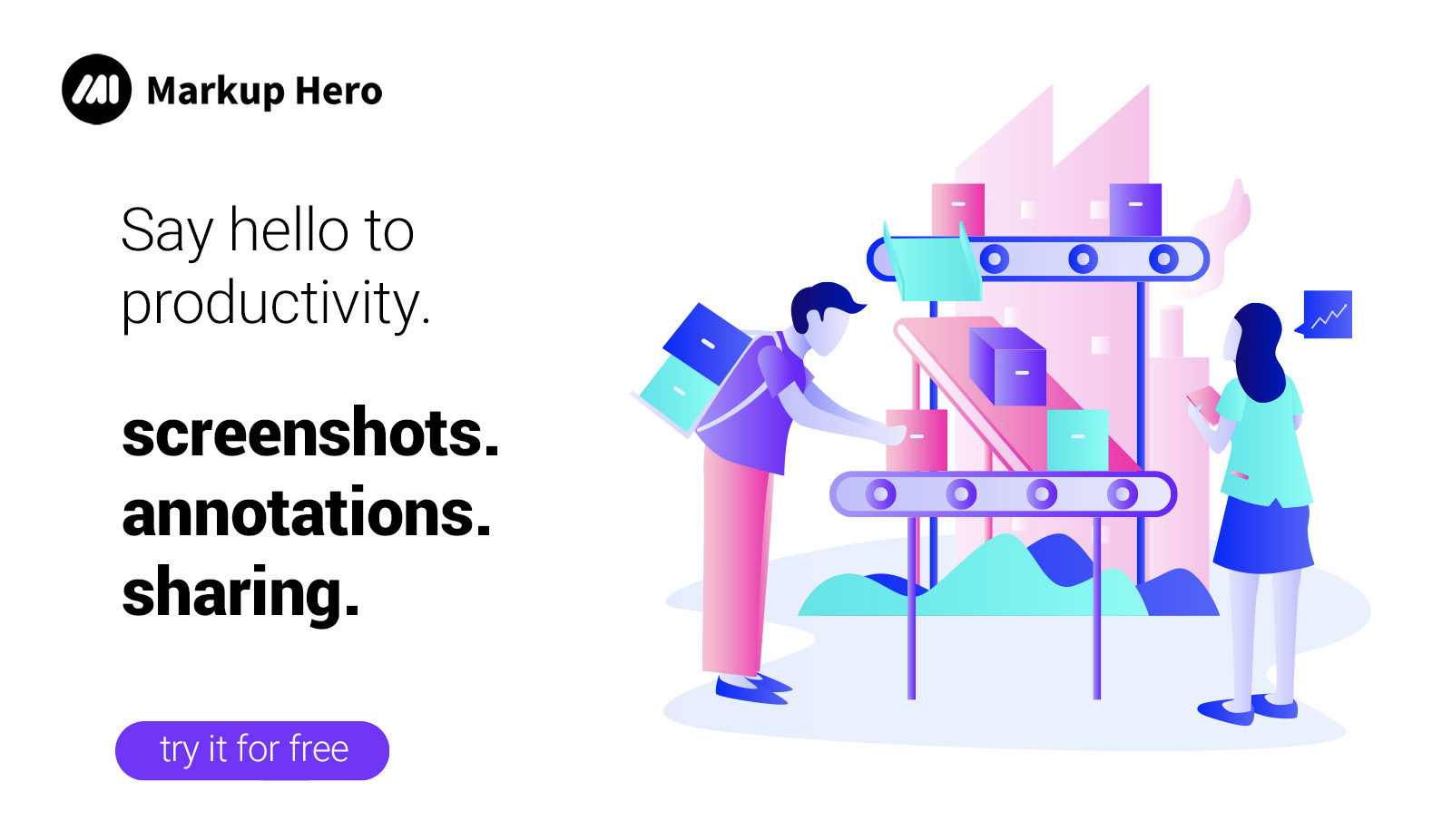 Markup Here can help you to capture ideas, communicate clearly and efficiently, save a significant amount of time, and stay properly organized. These are all remarkable features for a completely free screenshot and annotation tool!

Conclusion
Now that you are aware of all the major challenges of global virtual projects, and have learned how to overcome these issues with the help of Markup Hero, your global virtual project venture is sure to be an absolute success! Make sure to use all of the amazing features provided by Markup Hero to set your project apart from a sea of others. With the whole world of virtual projects at your fingertips, there is no limit to what you can do!