Email marketing is the OG internet advertising format. It's been around since the beginning and it still works. Email is one of the most effective ways to find new clients and engage with your existing customers.
Moreover, a good email campaign can "humanize" a company in the eyes of its customers. But being good at email marketing isn't something every brand can pull off.
BUT WAIT: We're so glad you're here and we hope our Sendinblue review. But before we get into that we'd be grateful if you would try our product Markup Hero. Email marketing masters use Markup Hero daily to create better graphics, callouts and annotations.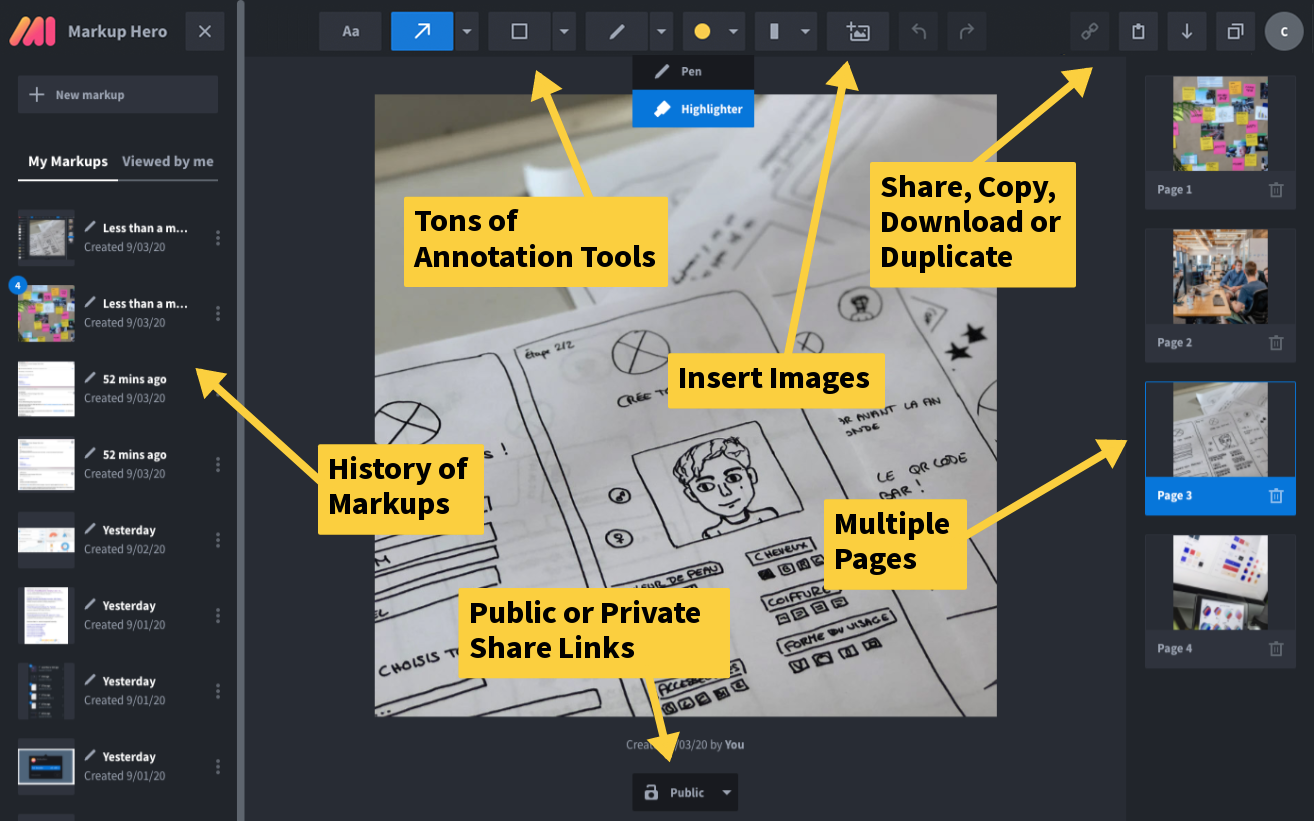 You need to have a good understanding of your target audience and curate each email accordingly. Attempting such a task with manual effort is not only inefficient, but its effectiveness is also questionable.
Luckily, there are many email marketing platforms available that can make this communication medium a breeze. Among the many platforms available, Sendinblue stands out for offering unique features that can help you stay ahead of your competitors in an age of generic email marketing.
BONUS: Sendinblue pricing is the absolute best in the industry If this is the only reason you choose the platform, you're getting significant value. Click here to scroll to that part of the article right now.
Why Use Email Marketing?
Email marketing is one of the most common methods of marketing. It has increased in popularity in recent times. But what makes email marketing so popular? Let's take a look at some of the benefits of email marketing.
Low Cost
Email marketing can be set up at a meager cost. As a result, companies prefer it as a primary method of marketing.
Global Reach
Email marketing has no physical boundaries. As a result, if a person matches your buyer profile, you can reach them no matter where they live.
Quick Impact
The impact of email marketing is very noticeable. It will instantly boost your website traffic by a considerable amount. This instant reaction makes it a popular choice among marketers.
Engage with Customers
Email marketing is one of the best ways to keep your customers engaged with your brand. There is a saying that it is difficult to get customers and even more challenging to retain them. Email marketing gives your brand a persona and helps to keep them in the loop.
Targeted Marketing
You can target specific customers and send personalized messages to each of them. This advantage allows you to gain a higher level of control over how you want them to think about your brand.
What is Sendinblue?
Sendinblue is an all-in-one email marketing solution. Its purpose is to solve all your email marketing needs with a single package.

Sendinblue stands out from the pack of generic email marketing solutions due to its features. It incorporates marketing automation features into email marketing to make it more streamlined and efficient.
But what exactly does Sendinblue do? Let's take a look at some of the best features Sendinblue has to offer.
Features: Sendinblue
Today we are highlighting five critical features of Sendinblue. Let's take a look at those features.
#1 – Email Builder and Campaign Manager
The first step to a successful email is crafting attractive and informative emails. Sendinblue has the right tools necessary to create the perfect emails for your marketing campaign.
Sendinblue allows you to create separate campaigns like profiles. You can work on a project without affecting the others. As a result, you can keep your projects organized and seamless.
Sendinblue also comes with an easy-to-use visual email editor that works using block elements. Using this feature, you can drag-and-drop image and text blocks to craft visually stunning emails.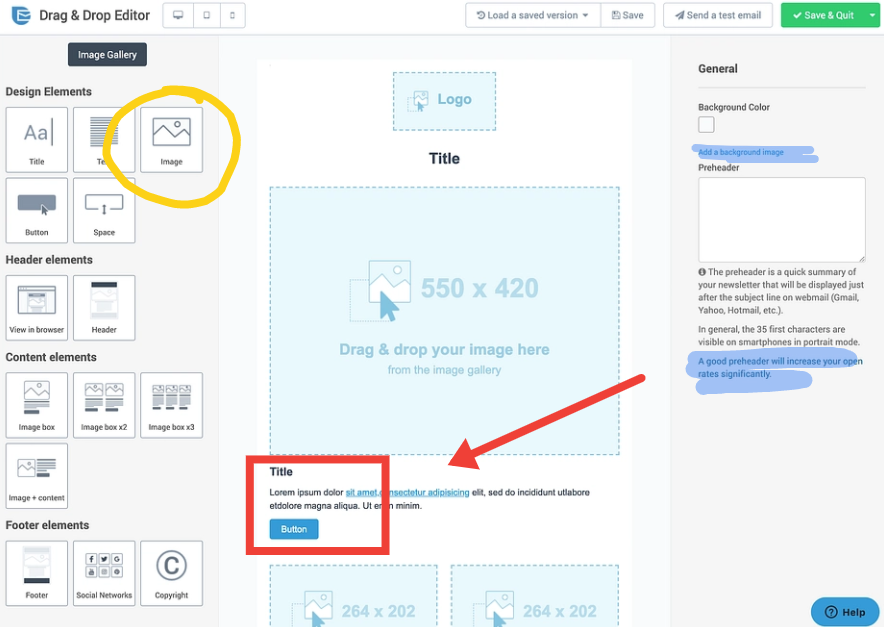 Sendinblue's email editor is optimized for mobile devices. As a result, you can use it on the go. Moreover, you don't need to have any coding knowledge to utilize this feature.
If you aim for a formal email with no image or video, you can use the rich text email editor. This mode of email builder will let you craft traditional and straightforward emails.
If you are someone skilled in HTML, then you can use the HTML email editor. This feature gives you complete control of your email design. You can simply craft your desired email in HTML format and copy-paste it in the editor. This feature allows you to go all-out with your creativity.
But not everyone has the skills needed to use HTML. So, if you are new to crafting emails and struggle to come up with ideas, you can use one of the many templates Sendinblue offers in its library.
#2 – Contact Manager and High-Volume Sending
One of the most troublesome aspects of email marketing is managing large volumes of emails. Sendinblue uses its advanced contact manager to solve this issue.
Sendinblue's contact manager functions in different layers. As a result, you get complete control over each contact as well as various groups.
You can edit each contact and add the necessary information to it. Their analytics feature allows you to track how each individual has interacted with your newsletter and promotions.
You also have the option to segment your audience. You can assign all of your contacts to multiple groups. As a result, your customers become easier to manage. You can prepare different content for each group and interact with them accordingly.
The final piece of the puzzle that completes the experience is the high-volume sending option. You can send the same email to multiple contacts with a single click. There is no need to add each contact individually. You can select a group or segment and then send the mail to all of them simultaneously.
#3 – Email Automation
Sendinblue incorporates marketing automation into email marketing. Marketing automation has become increasingly popular in recent years. You can use it to make marketing quicker and more effective.
So, how does Sendinblue incorporate marketing automation? It allows you to automate your email marketing. We have already talked about the high-volume emailing and contact management features. But email automation takes that feature to the next level.
With Sendinblue, you can send different emails to specific groups and send automated emails that are triggered by specific conditions. When a person makes a certain action (or inaction) you can automatically send a pre-crafted them.
There are various use cases for email automation. Some common examples include:
Send a welcome email to anyone visiting your website
Notify a customer who has abandoned their shopping cart
Send an email to anyone who has subscribed to your newsletter
Send automatic birthday wishes to your customers
Create automatic replies to questions hosted in specific links
And these are just some of the myriad of triggers you can set for your emails. If needed, you can create multi-layered sequences by adding multiple triggers, which are often referred to as an email drip campaign. The possibilities are really endless with email automation.
If you are struggling to come up with triggers for email automation, Sendinblue has got you covered. Sendinblue has a wide range of pre-made sequences for common scenarios. You can select these sequences to get started without wasting any time!
#4 – Transactional Email Management
If you need to send emails in response to transactional emails, Sendinblue has you covered.
Responses to actions like account confirmation and purchases cannot be programmed using pre-crafted emails. For automating emails like this, you need to use Sendinblue's transactional emails.
These emails have a predetermined format. But they also contain dynamic information such as; account numbers, transaction IDs, shopping receipts, etc. You can use the email builder to craft your transactional emails in any way you prefer.
#5 – Send Time Optimization
Sendinblue implements machine learning to make your email marketing more efficient.
Send time optimization uses this technology to send emails at the optimal time.
It is a well-known fact among marketers that timing is crucial to maximizing reach. There are specific periods during which people are more likely to interact with emails and messages. But this timing differs from person to person depending on age, social demography, geography, profession, etc.
Sendinblue uses the data it collects from your customers and uses them to find the optimal send time for each of them. As a result, it ensures that the email you are sending has the desired effect on the customer.
By optimizing your send time, you can ensure engagement with customers. As a result, it will boost your email marketing ROI (Return On Investment).

Sendinblue Pricing - The Best in the Industry
If you've ever researched email marketing platforms you probably saw that almost all of the price by the number of total contacts you have in your database. This is true for Mailchimp, Klaviyo, Campaign Monitor and just about everyone else. This is fine when you're small. At small volumes expect to pay 1 to 2 cents per contact (see below, Mailchimp charges .02/contact at 2500 contacts).

That's pretty affordable. And yes, the price per contact goes down as you add more. But the cost becomes hard to swallow when you get up in the 100K contacts range. And you'll be surprised how quickly you get there. Even our small startup Markup Hero has over 50K subscribers. Now, see Mailchimp is over $500/month when you reach 100K subscribers (see below).

The trap is that you "think" these platforms are affordable because you get unlimited sending and you won't grow for a while. But you do and you end up sending emails a lot less than you think. So you pay a lot and get a little.
But Sendinblue is different. They're the only one that charges based on # of sends not # of contacts so it's just way less money and more aligned with what you're actually going to send (see below).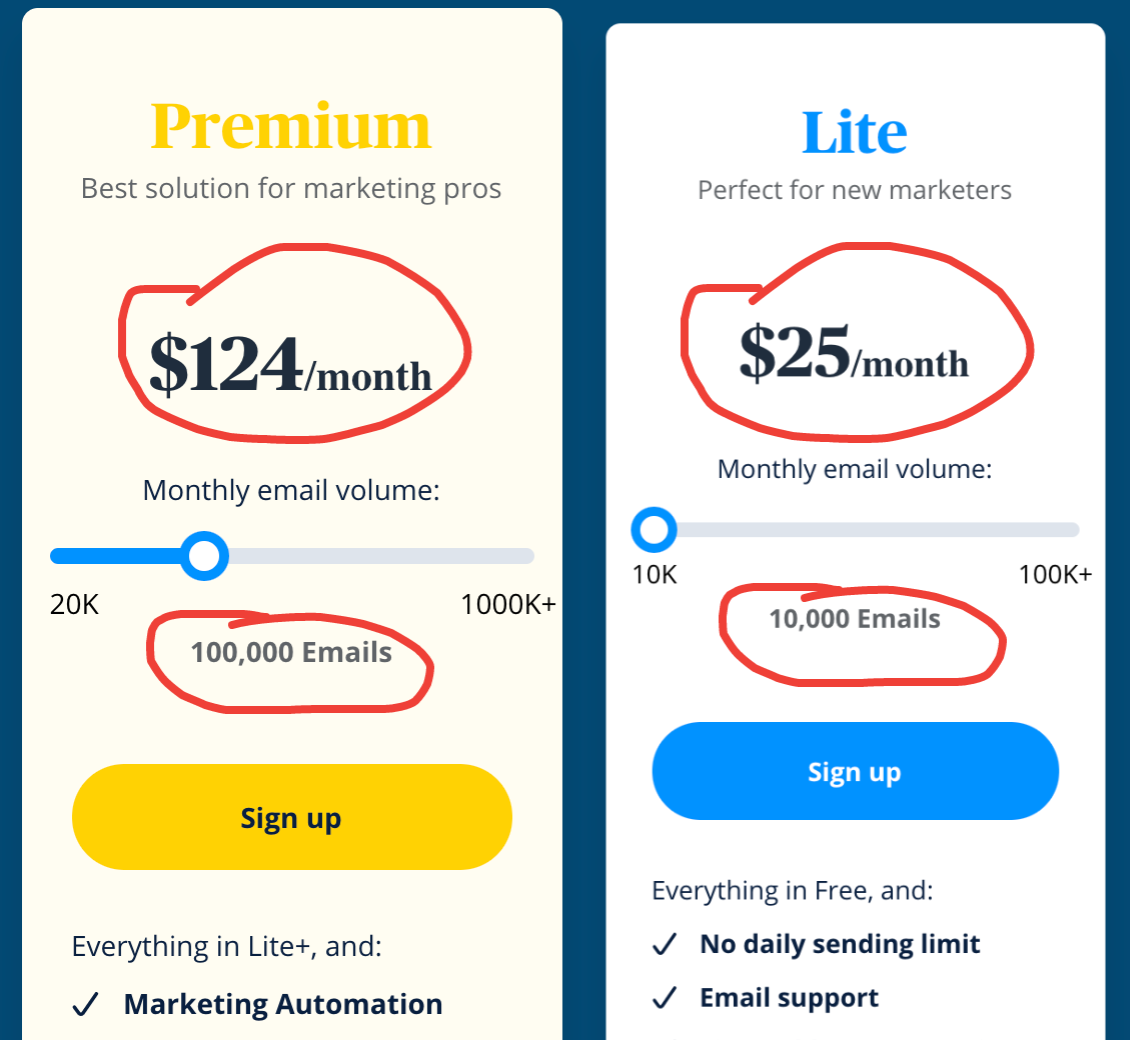 And, when you're paying for "sends" not "contacts" you can segment your email list so you only send to active subscribers or sub-lists. Whereas with contact based pricing, it doesn't matter if you send to someone or not, you still pay for that contact in your database.
This is truly the best aspect of Sendinblue and why they're so popular.
Final Thoughts
Sendinblue is a unique email marketing platform. It understands what makes email marketing such a desirable medium and maximizes these advantages by implementing modern technology.
Sendinblue stands out among the other email marketing solutions by implementing advanced technologies like marketing automation and machine learning. But what makes it better than other options is how it manages to simplify these features so that anyone can easily use them.
If you want to implement the newest technologies and get the most out of your email marketing, Sendinblue receives our seal of approval. Most companies nowadays are implementing marketing automation and machine learning into their campaigns. So, hop on board while you still have time to get a marketing advantage over your competitors!