Any tool that helps remote workers and organizations has probably seen a bump in growth these past few months. Many companies are now seeing the benefits of having a complete or partial distributed remote workforce and plan to keep that in place after things get back to normal. One such category is virtual phone systems and call center software.
This isn't a new category, but in my experience there continues to be innovation from newer solution providers in this space who gnaw at the heels of incumbents. Enter Cloudtalk, a remote ready business phone solution that is simple and easy to use and chock full of enterprise grade features that make it a fit for companies small and large.
At one point in my career I built a SaaS platform for managing sales leads called Velocify. We grew quite well and sold the business for a hearty multiple in 2017. During that time I tested, integrated and recommended dozens of virtual phone systems. Eventually we built our own cloud dialer system and integrated it into our platform.
Now, more than 10 years after starting and building that business, I'm re-introduced to the world of virtual telephony and I'm impressed. Cloudtalk is a solution I recently had the opportunity to try and I'm excited to share my findings with you.
The Website
Cloudtalk has an incredibly informative website. In my experience with SaaS offerings that have tons of functionality, customers are often looking for a specific feature before they even consider the solution to be viable for them. Cloudtalk provides a detailed and exhaustive feature list right on the main navigation which covers: Voice Features, Routing Features, Productivity Features, Integrations, Reporting and Utilities.

Free to Try
When it comes to software that incurs unavoidable telephony costs, it's often I find a solution I can fully test without paying at least for a trial. Cloudtalk is not that solution. Upon signup, I was given a 14 day full-functionality trial with a handful of credits to begin digging in. I wasn't required to enter a credit card or any billing information.
For some SaaS companies, this can lead to a high trial-to-abandonment rate, which I'm sure Cloudtalk deals with. But in the case of call center software, I think it's a necessary cost of doing business. With so much competition to choose from, users need to get in, kick the tires, and see how the tool is going to work for them.
Simple Getting Started Walkthrough
To that end, Cloudtalk didn't just dump me into the software and say have at it. They incorporated a slick walkthrough that got me up and running quickly without annoying and time consuming gates.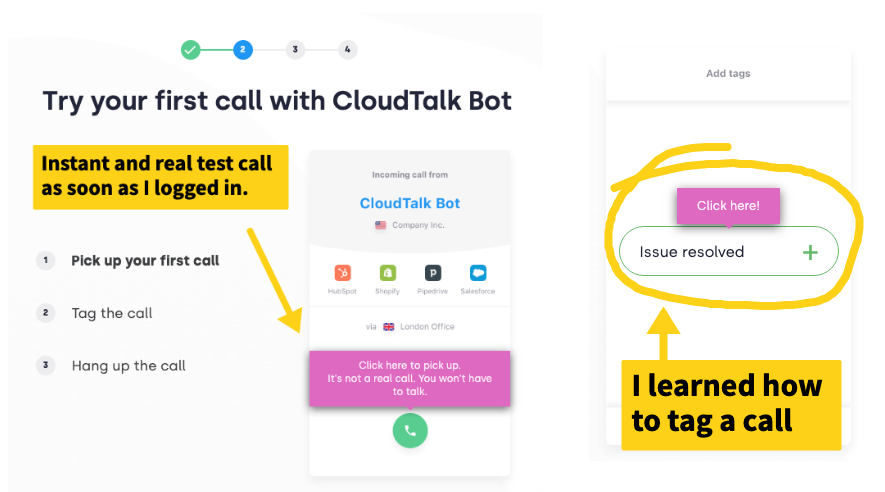 I was able to quickly understand how to make and receive calls as well as tag calls, which is a core philosophy of the platform. Tagging is particularly useful in sales and customer service use cases where I need to quickly log the result of outbound and inbound calls.
The Product
Cloudtalk is a deep SaaS call center platform with tons of functionality so it would take me a month to become proficient enough to write about every feature. So for this review I'm going to focus on some of the aspects of the software that really stood out to me on first use.
First I will say that Cloudtalk is way more than a virtual phone system. There are tons of solutions out there that enable a company to go without a traditional phone system. These are useful and certainly Cloudtalk offers them and more, here is a shortlist of common phone system features:
Phone System Features
Adding users and setting extensions
Conference calling
Transferring calls
Making calls from desktop and mobile
Call queuing and recording
Voicemail
Cloudtalk goes way beyond virtual business phones though. Their call routing system is extremely flexible and chock full of features including:
Call Routing Features
Call distribution (ACD)
Interactive voice response (IVR)
Skills based routing
Preferred agent
Call Queues and ring groups
Outbound caller ID
Automatic call redirection
Caller specific routing
VIP call queues
And then there are the call management tools that enable agents to take actions on customer calls, like one would do in a traditional CRM, except all the activity is integrated and associated with calls and customers with features like:
Call Activity Features
Call tagging and notes
Transfer calls and warm transfers
Contact information and custom fields
Predictive dialing
Speech to text
Smart Dialer
Desktop notifications
Outbound campaigns
Contact tagging
Power dialing
Agent status management
Finally Cloudtalk goes deep with dashboards, reports and monitoring so that managers and executives can keep on top of teams and determine whats working and whats not. Capabilities include:
Call stats
Call monitoring
Agent reporting
Real-time dashboards
Emotion and sentiment analytics
Custom reports
Wallboards
I want to focus on the features I've highlighted in the above lists as they are the more sophisticated and unique capabilities of Cloudtalk.

Skills Based Routing
When I was growing an enterprise SaaS business in the early 2000's we had 40+ customer success managers fielding support and training calls. Getting the right call to the right person was critical. Cloudtalk has a good use case showing how German speaking customers would route to reps who had the German language skill and so on. That's good, but here's another use case. Imagine I have reps that specialize in various marketing skills: Content Management, Email Marketing, Landing Page Optimization and Lead Generation.

When a customer calls in I prompt them with the IVR (built using Cloudtalk) to press 1 for Content Management Experts, press 2 for Email Marketing Experts, etc. That associates the needed skill with the caller and that call gets routed to a rep with that associated skill.
Automatic Call Redirection
This is a critical feature I've needed on multiple occasions with inside sales teams and customer support groups. At some point a customer is in dialog with a specific agent. They call into the support line and enter the extension for the rep they've been working with. That rep is busy or doesn't pickup. I setup a rule in the Call Flow Designer to redirect that call to another group after 30 seconds of no answer from the original agent.

Would Be Nice: With so many features it can be really hard to find the tool I'm looking for inside the Cloudtalk admin. I would love it if there was a search box that let me enter a range of keywords to match up with certain features. As an example, it took me a while to figure out where I setup Automatic Call Redirection.
Call Queues and Ring Groups
Cloudtalk call queues allow me to create groups of agents (sales, support, etc.) Call queues of some sort are fairly common for cloud phone systems, but Cloudtalk covers all bases. In particularly I'm loving the ring groups feature which is really useful for high velocity inside sales organizations. Let's say I have 10 sales reps that cover inbound leads. When a new lead calls in, the last thing I want is for that caller to get a voicemail because the assigned rep is busy or at lunch or whatever. Cloudtalk's ring groups is my solution. Instead of ringing one rep, phones for the entire agent group (10 sales reps) ring at the same time. It's a dash to see who answers first. And if I have any decent "coin operated" sales reps like I should, they're gonna be fighting to answer that call first.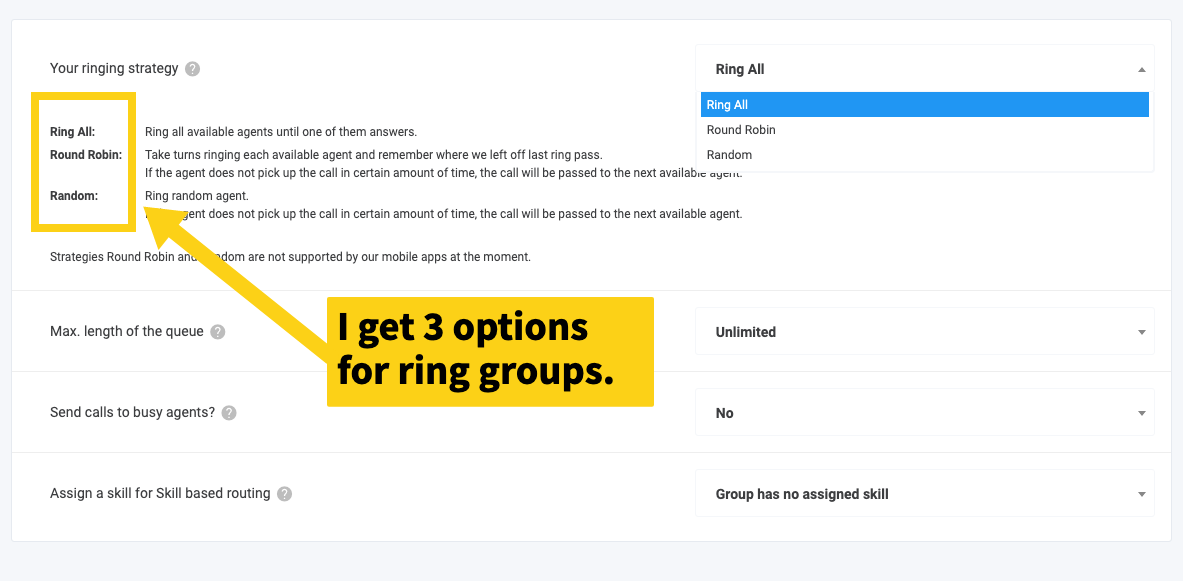 More than that, I can setup ring groups to be either ring all at once like I described above, or I can use round robin style so the phones ring one by one until a sales rep answers. I'm a fan of the boiler room style, it tends to create real competition and a "beehive" mentality as my old VP of Sales used to call it. Of course I can also set ring groups to randomly select an agent, but thats a big nope for me. There are a few other settings worth mentioning here. Setting the max queue length lets me limit the number of people that can go into a ring group before the system does something else with them. Generally I'd prefer not to do this, but if I'm lucky enough to be generating 100's of inbound calls and I only have 10 sales people, they could get overloaded. But certainly if this is the case then my marketing team is kicking ass and I should be hiring more sales people stat.

I can also limit calls to agents who are on the phone, which is probably a good idea, but I have more than a few sales reps manage multiple calls at the exact same time. And finally I can use my skills based routing as described earlier if it's a fit.
Call Tagging & Notes
As one might expect, I can add notes to my contacts when I make calls as well as add tags to each call to help me keep track of what I need to do next. Once tags are added to a call, I can quickly filter those tags on my contacts view. For example, If I tag a call as "Follow Up", then I filter my contact list by "Follow Up", I'll know exactly who to call next.

Very Smart: One of the things I've noticed about sales people over the years is that while they may be great on the phone closing deals, they aren't great at managing their daily activities.  I like how Cloudtalk allows me to force an agent to add a tag to a call which can help create a consistent behavior among my team.
Automated Dialing
Cloudtalk offers a range of outbound calling automation depending on the specific use case I might have.
Smart Dialing
Prospecting new opportunities is an essential part of a my teams daily effort. I used the Cloudtalk Chrome extension to find contacts on any web page, including a CRM. Once numbers were identified, I was able to add them all at once to a Smart Dialer campaign. This enables me to split my time between prospecting and calling by building lists on the fly or lists made by our marketing team in our CRM.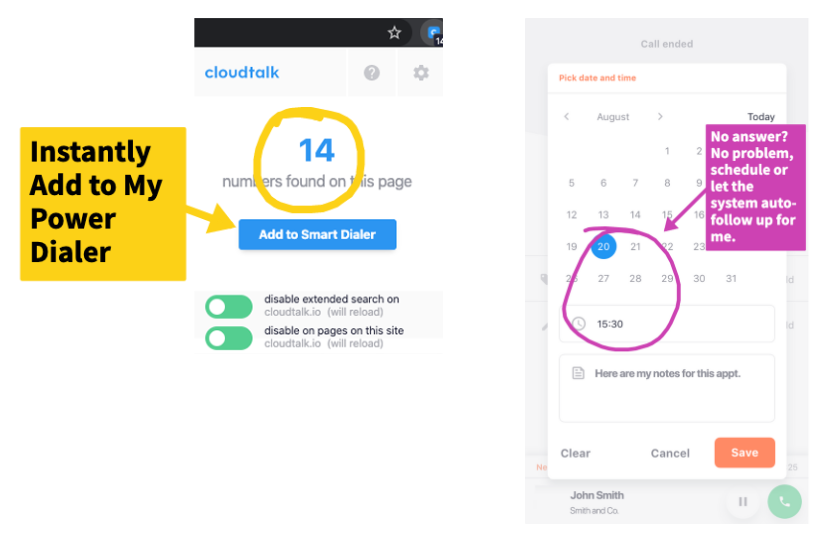 As I begin my outbound campaign using Smart Dialer, I can just sit back and wait for connections. As prospects come online I can instantly tag the calls and add notes and anytime there is no answer the system will automatically reschedule the call or I can manually set the follow up date/time.
Power Dialer
Power Dialer takes things a step further when I want to build an actual campaign from existing opportunities that maybe I haven't been able to reach in a while. I was able to easily find all the contacts in my database by tag and setup various conditions around contact attempts, time between attempts, wait times as well as adding a call script or survey.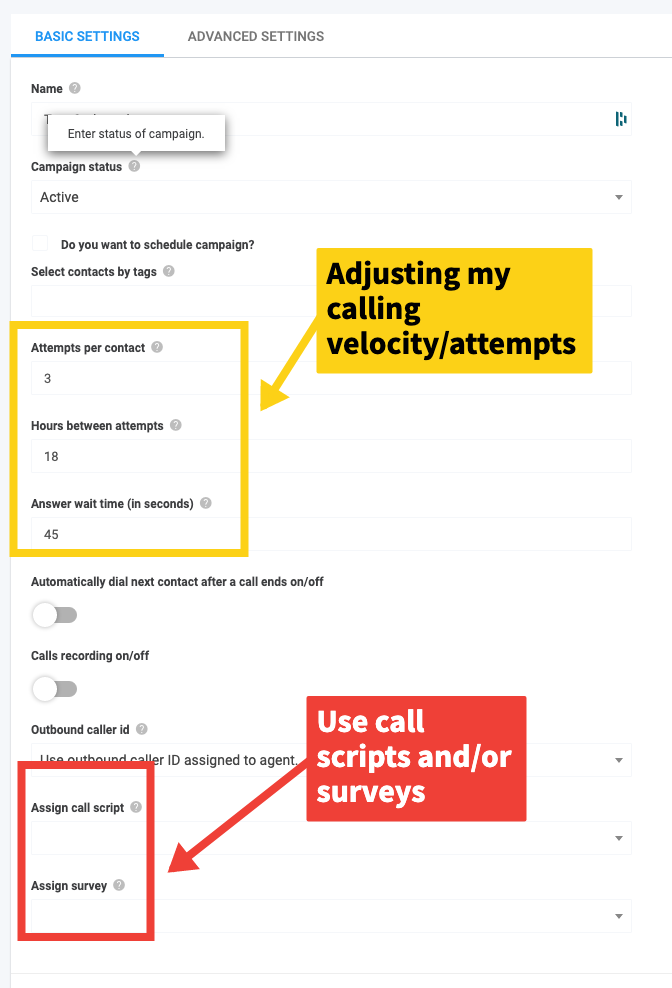 One thing I liked about Power Dialer was that it could be used either by a single sales rep on their own or could be setup as a campaign for a group of sales reps by a manager. In my experience I need both because some reps are very much self starters whereas others need some hand holding to get in the groove. Note that both with Smart Dialer and Power Dialer, the system is calling in sequence (i.e. 1 by 1).
Predictive Dialer
Cloudtalk's Predictive Dialer takes outbound to another level. Instead of calling down a list of contacts sequentially for just one sales rep, I can increase efficiency and velocity by having Cloudtalk dial multiple numbers at the same time with multiple sales people ready to accept the connected calls. Like the name suggests, predictive dialing optimizes the speed and quantity calls should be made based on the availability of agents at any given time. In my past call center experience I didn't actually use a predictive dialer that often because I really focused on quality list building over volume. But for some organization volume and velocity are paramount. So for companies that have lists a little more on the cold side, and quite large, predictive dialing is the way to go.
Impressive: Cloudtalk touts that their system can increase call velocity by over 200% per hour while simultaneously increasing the productivity of my agent pool by 80%.
Emotion & Sentiment Analytics
I was a little skeptical at first but thought this was pretty cool so I wanted to dig in a bit. While Sentiment Analytics is still under development, the Cloudtalk team has released a slick Emotion statistics dashboard. It's actually quite simple but also effective. Using Cloudtalks tagging capability my agents simply set a satisfaction rating for calls and the system does the rest.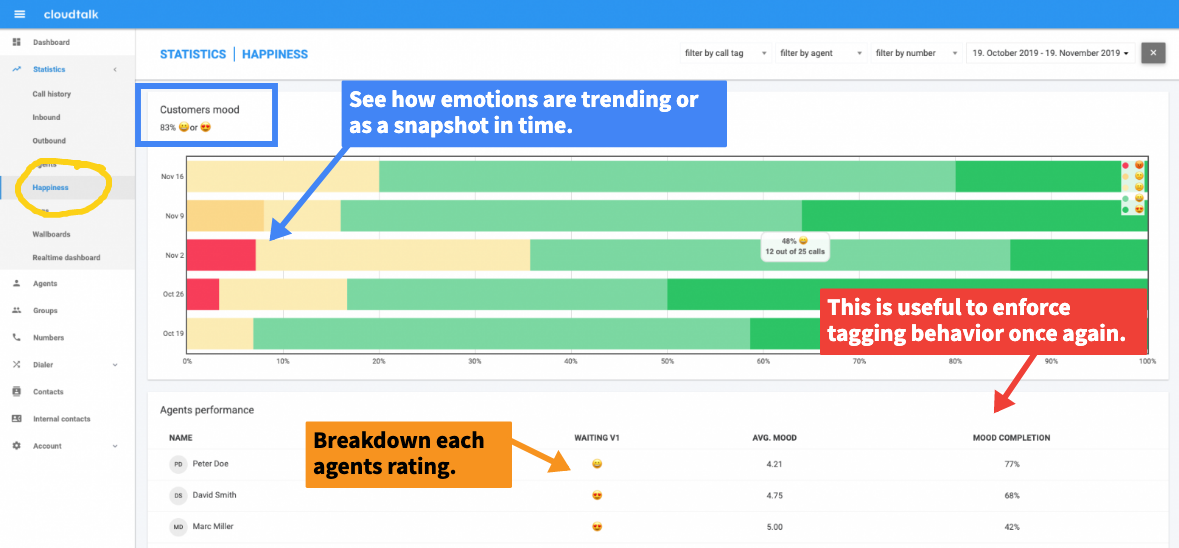 Conclusion
Having spent the better part of a decade in the CRM and call center space, I've used and helped implement dozens of virtual and on-premise phone systems. Some things have become commoditized while others haven't. Cloudtalk covers the bases with everything one would expect from a cloud phone system, but also offers powerful enterprise ready features I would typically have to spend a lot more money on. On top of that, Cloudtalk does a great job breaking down complex functionality into easy to understand bites. I found the software would work well for sophisticated managers trying to get more out of their teams as well as individual contributors trying to step up their game. In particular, the various options for automated dialing really showcase Cloudtalk's power. All in all, I don't think a team could go wrong with the solution, whether just getting started as a business, expanding to a larger remote work staff or even building out an enterprise operation.
I had a lot of fun with this one. I tried to focus on some of the most powerful aspects of the system but truthfully I only covered 40% of the entire software. I try to choose SaaS offerings that I would actually use in my own business and ones that I can personally benefit from. And I always dig in deep to give readers a in-depth overview of the product and showcase the types of things you'd only realize after using a product for a bit. Hopefully this was as useful for my readers as it was interesting of me to write. I used Markup Hero to create the screenshots and product annotations. And like Cloudtalk, we've got tons of competitors and we're working hard to stand out as a tool you can't live with without. Please try Markup Hero for your company or next blog post. Send it our way, we'd love to read it, or even post it on our blog.