When the Covid-19 pandemic took the world by storm, the way we work changed forever. While some lost their jobs and livelihoods, others reevaluated their lives, and the fortunate few who found themselves working from home realized that this, too, would entail its fair share of trials and tribulations. Suddenly deprived the face-to-face interaction and camaraderie that once colored our workplace, many grew frustrated. Luckily, there are many productivity tools that can bolster connection between collaborators when working from home.
Marketing Tools
With the rise of the digital age, marketing no longer requires a large budget. Whether you're looking to set up ads, cross-post on various platforms by taking digital marketing into your own hands, or form your own internal marketing team, here are some apps that can up your marketing game.
SocialPilot
If you were grateful for Facebook's Business Suite, then SocialPilot is a champion app on its own. SocialPilot is a social media automation tool and one of the best Buffer alternatives that helps you manage multiple social media accounts, profiles, pages, and more.
It allows you to schedule social media posts, reply to comments and messages, and do everything that is needed to keep your digital marketing presence fresh.
It also comes with exciting features like suggested post-schedule timing and reposts that can be scheduled between a certain frequency. Their analytics tool also shows you exactly what your online growth is like, helping you plan better content ahead. That's not all: SocialPilot also has multiple integrations with apps such as Canva, Dropbox, and more.
Facebook Manager Business Suite
The Facebook Business Manager or Business Suite is a social automation and insights tool offered natively by Facebook/ Meta itself. It's great when you don't have time to learn new tools, but still want to organize and manage your business pages on social media.
It saves time cross-posting between accounts or even platforms such as Facebook and Instagram. Another advantage of the Business Suite is its ability and resources to create effective ads.
Project Management
Project management tools are perfect for people that like an organized flow of their project at hand. Simple projects usually just need a checklist and timeframe, whereas more complicated projects require elaborate planning, delegating tasks, establishing deadlines, and ensuring that everyone sticks to the process.
Asana
Available on your browser and as Android as well as iOS mobile apps, Asana is a great project management tool. You can use Asana to plan, assign and keep track of your project's process.
Asana also allows you to create cards with details about projects, allowing you to include details such as attachments, labels, to-dos, subtasks, and more. When people on your team are assigned to it, they can also interact by commenting, updating finished projects, and more.
With ProofHub, you can plan and organize all your team's projects under one roof. We've done away with the complicated rate structures of most project management software—our fixed price plan includes everything you need to manage your team - from assigning tasks to viewing data. Our simple interface makes it easy for all employees to contribute, communicate and plan projects – no matter how many tasks or members you have.
nTask
nTask is one of the best productivity tools available today, offering a range of features that can help individuals and teams work more efficiently. With nTask, users can create and manage tasks, set reminders, and track progress, ensuring that they stay on top of their work. It also offers collaboration features like meeting management, making it easy for team members to communicate and work together. Additionally, nTask's time tracking and budget management capabilities enable users to optimize their workflows and stay within their budgets. With its comprehensive suite of productivity features, nTask is an excellent tool for individuals and teams looking to maximize their productivity.
Notion:
Whether you work on your own or as a team, Notion operates perfectly as a functional working space. With room for various project notes, detailed documents, attachments, and collaboration, Notion makes planning and executing seem easier.
Once you've signed into Notion by yourself or as a team, you can create documents effortlessly, prioritize checklists, organize notes and manage tasks through team delegation.
Trello:
A perfect team project management tool, with Trello, you can create a single task or a set of tasks which can then be grouped on a board. As you progress with a task, you can reposition your cards to a different progress point. These actions help keep track of the current progress and the work that is yet to be done.
Collaboration and Feedback
Remember when we all printed out documents and just highlighted the things we needed changed or circled out elements that could be corrected? It even worked with sticky notes on top of prints that couldn't be written on.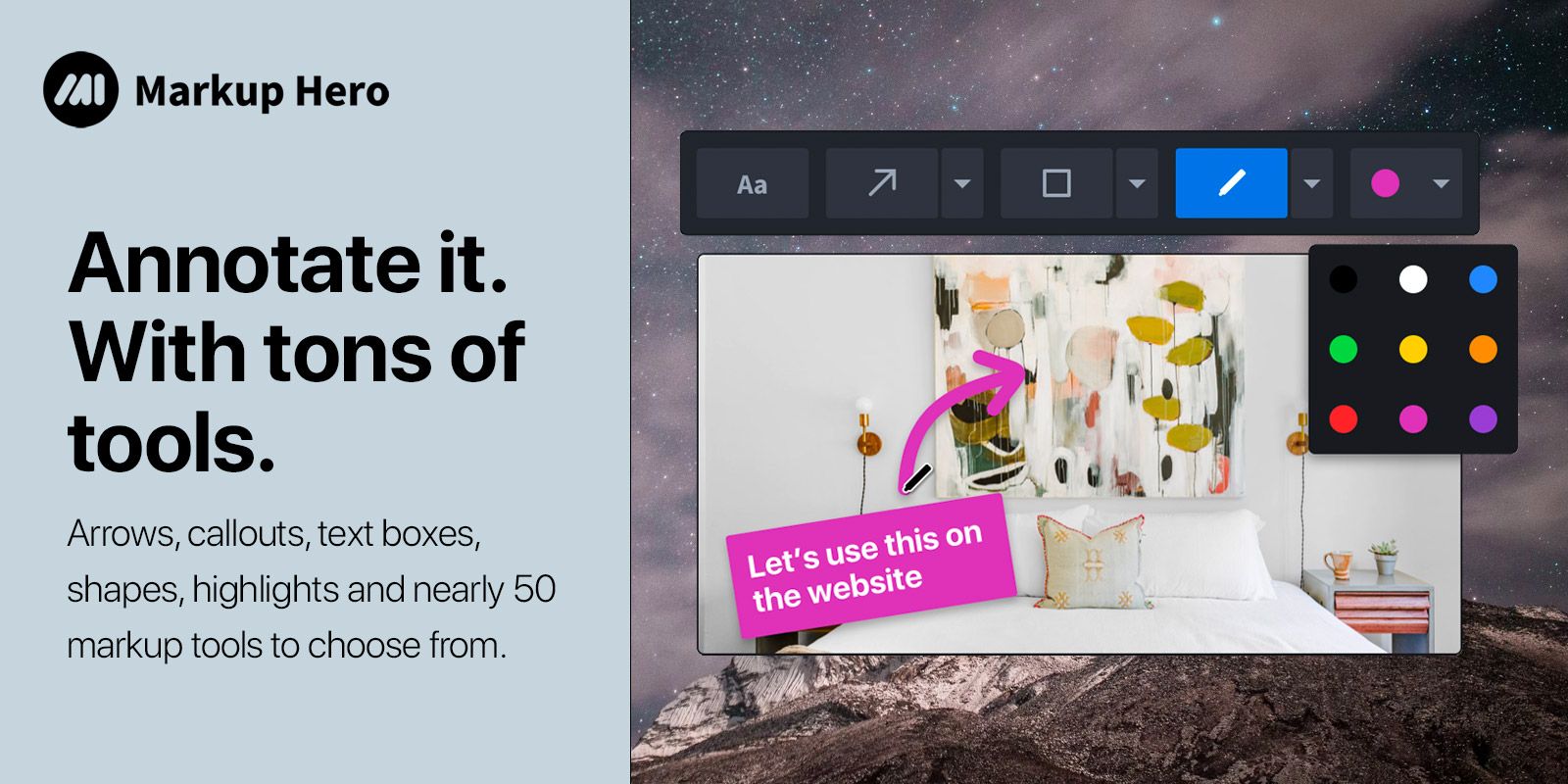 Then we got to thinking, "Wouldn't it be easy if you could just take a screenshot of something visual and provide feedback to your team or client?" Well, luckily for us, there are tools for that too.
Markup Hero
Markup Hero is an online tool that is made for Mac, Windows, Linux, and Chrome. It has an easy sign-up process that leads you to the tool in under 60 seconds to help you screenshot the material you need to work with. Markup Hero is great for when you need to capture material, share ideas, communicate better, and be organized.
Markup Hero is perfect for entrepreneurs, product managers, project managers, designers, customer service agents, executives, sales people and anyone in a collaborative environment. Some of Markup Hero's features include:
Screenshots, Upload Images, PDF's, URL's
Always Editable Markups
Forever History and Tags
Text, Arrow, Rectangle, Oval, Pen, Colors, Line Thickness, Crop, Resize Canvas
Insert Images
Sharable Links
Copy, Download & Duplicate
Unlimited markups, unlimited storage, unlimited bandwidth
PRO TIP: Markup Hero is only $5/month and you can try it out for free.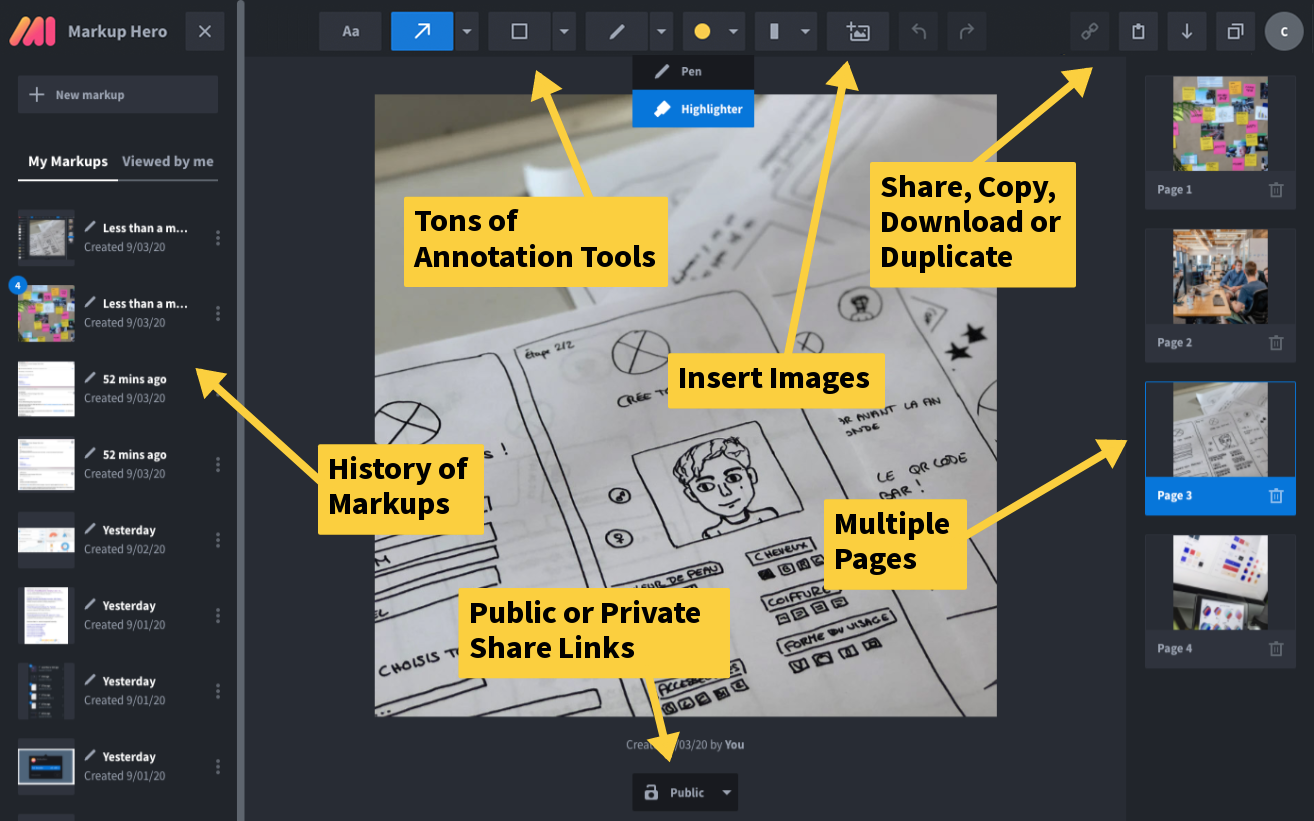 Communication
Numerous things are vital when it comes to getting work done, though effective communication tops the list. The right communication channel supports a smooth performance and the running of a project. The pandemic taught people that communication and collaboration were possible even without face-to-face interaction. But, for it to successfully happen, teams did have to make use of apps such as the following listed below.
Slack:
Probably one of the most effective apps for team communication, Slack is available for desktops and mobiles to manage all communications whether it is just between your team, the company, or even individual team members. You can use it to send direct messages, have either a private locked channel with your confidential information or to public channels to discuss multiple general topics about work culture, etc.
Loom:
Yet another great app for team meetings with screen recording for online & desktop apps, Loom reinvented the way people worked and how they communicated during work. It helped multiple businesses and teams bond over video content, creating effective brainstorming sessions, ideation meetings, client pitches and helped explain pretty much anything. Amongst their users are names such as HubSpot, Uber, LinkedIn, and more. Loom's mission is to empower people at work to communicate effectively and get ahead.
Time Tracker
It's easy to lose track of time when you work from home, even when you're engulfed into a work project. Time tracking apps let you keep track of the time you have spent on an individual task or on a project as a whole. This data helps you to understand the work estimate of a project and the efficiency of your team - but it also could help with other things such as maintaining a work-life balance.
Toggl:
Toggl is one of the foremost online tools used for time tracking. It also acts as a productivity app for anyone from freelancers, consultants, to individual teams or and small companies. The platform permits users to track time that is spent on various projects and analyzes the productivity of the user. Since it is internet-based, it can be up and running in no time. The real-time sync of this tool with a web tracker can be used as a desktop widget or mobile app, making its use flexible.
Harvest:
Harvest is a great online business management tool. From businesses to teams or even individuals, anyone can use Harvest to track time. It also helps develop professional-looking invoices, communicate with customers, and update time on the given weekly timesheet.
Note-Taking
It's clear that everyone has multiple things in their head, which is why note-taking is so important. Note-taking forces your brain to pay attention and helps you focus on what you're writing or typing down. It also keeps you engaged with what you're listening to, which helps you summarize the information and remember it later with or without referring to your notes.
Microsoft OneNote:
Microsoft OneNote is an online note-taking app that works on almost any device or any platform, from desktops to smartphones. The app allows you to do multiple things such as type, draw and write with a free-form feel of pen to paper.
It truly is perfect for people on the go, for people who like accessing files from multiple systems, or even for impromptu notes. All you have to do is pick a notebook, settle on a section, create a new page and jot your notes down. Other great features are also the audio/video recording, optical character recognition from images as well as real-time collaboration.
Google Keep:
With the popularity of Google, it's no surprise that Google Keep is a wholesome note-taking app. It is popularly known for its simplicity to jot down notes, setting reminders, creating checklists or to-dos, and so much more. The app also gives you digital sticky notes and since it is a part of G-suite, you can integrate it with your Google Docs. The tool works great on all phones, various browsers, and even some smartwatches.
Some of the most exciting features loved by users include time and location reminders, audio notes using Google's speech-to-text engine, being able to color-code notes, and its effortless syncing.
Evernote:
Evernote is yet another wonderful note-taking app. They had a great marketing presence and the tool is so fun to use. Taking notes is an underrated concept, but it is apps like this one that help you really get work done and consistently stay organized.
With Evernote, you can collect everything in one app and keep your notes and files accessible. It allows you to scan business cards and even search for information on it. Apart from that, it's also great for attaching files, links, and recordings and basically keeps everything you need in sync.
Creative Tools
Creativity is a crucial part of a marketing scheme. Creative Tools are a Godsend to people trying to work on their own branding, marketing, and more.
Envato Elements is the all-in-one subscription for creative projects. If you have a design team, this service will give them everything they need for graphic design , web design, video editing, and more. Their library includes stock photos, royalty-free music, graphic templates, stock video (some drone videos included), and presentations. These assets are covered by a simple, lifetime commercial license and are customizable to suit your business needs.
Canva:
Canva is an Australian graphic design tool. Not only is it great because it comes with preset templates for social media images and videos, but it also allows you to make presentations, resumes, and draft important documents with a visual guideline.
It's basically everything you need to be a designer without having to learn design or complicated design tools.
Conclusion
All in all, there are a ton of productivity tools, but we've just listed the few best productivity tools of 2022 that we think you'd love to use. Make sure to check out some other tools that can help your business grow.
Plenty of tools give you the freedom to try their app for free for a limited time before moving to a paid or premium version. This could also influence your decision and help you figure out what works the best for you and your business.