You love writing. Maybe you've even written a few Medium articles or contributed to an article online. So now you're thinking about turning your passion for writing into a reliable source of income?
Prolific bloggers can make a great living publishing content around the web. And many others like you have had this idea. But procrastination and a lack of initial results can be significant deterrent.
Growing your blog and earning money from your hard work requires time, and consistency, and some strategy too. In this article we have combined a list best practices for growing your blog and strategies to lead you to a consistent income stream.
Tips to Increase Your Blog Traffic
You need high and relevant traffic before you can make some real income out of blogging. Let's take a look at the tips to considerably grow your blog traffic.
Find Your Audience and Interact
Start by being clear about your target audience and the places where they hang out the most. Here are a few common ones:
Social media
Forums
Other blogs
Comment threads
Reddit
With the increased usage of social media, you can identify the right social channels and start interacting with them. Consistently curate interactive posts for social networks (poll posts, Q/A, etc). Once you develop an engaging audience, keep informing them about the content on your blog and how it could provide value to them.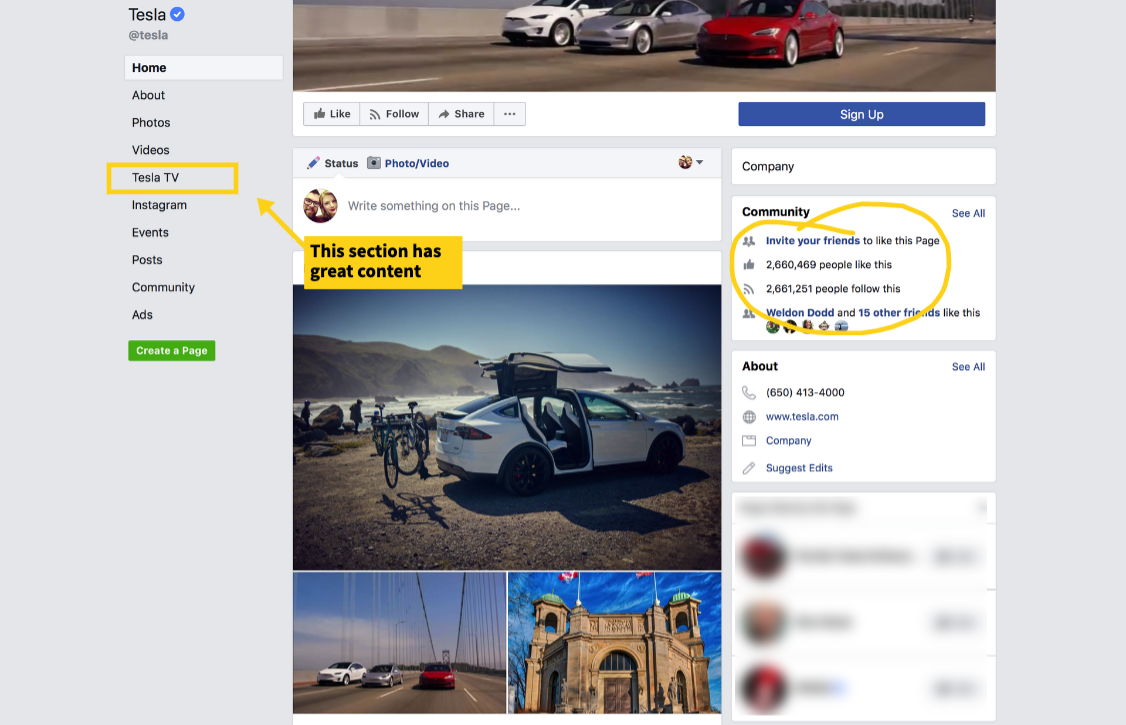 Go through forums where people in your industry frequently interact. Get a hang of the conversations and see how you can offer solutions to their queries. Reliable and informative solutions are key.
Identify the top-performing blogs in your niche and start commenting on them. This acts as the best way of appearing in front of your target audience. Making sure that your comments are relevant and helpful rather than being sales oriented is a great way to drive traffic to your blog.
BONUS TIP: Great bloggers know that imagry is a critical component for any post. One of the most effective graphics to use is annotations. Try Markup Hero to create annotated images that pop. Try it free right now, you won't be sorry. Check out the example below.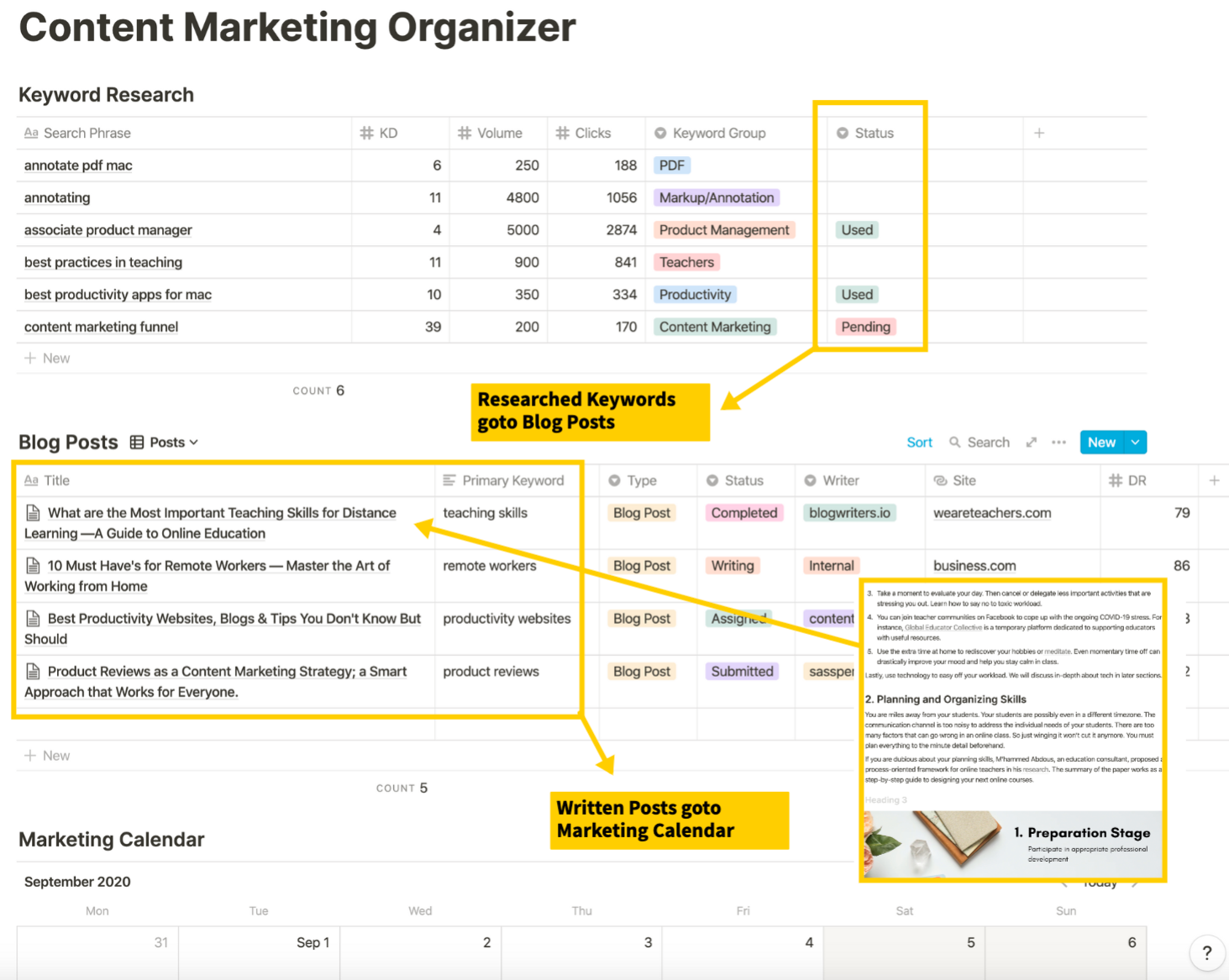 Prioritize the Quality of Your Content
What's the point of posting regularly if your content doesn't offer much value to the readers?
Enhance your content marketing strategy by creating well-researched content and you are likely to see results even when you post once or twice a week. Smaller businesses generally aim at posting one to four times daily. On the flip side, it's recommended for big businesses to post daily for better results.
Another important area of focus is the word count of every blog post. Research has shown that blogs that earn $50,000+ every year contain posts of around 2500 words each. This shows that long-form content still thrives even when people prefer reading articles below 1000 words.
Take a look at the statistics below. It clearly shows that most bloggers prefer posting two to three times every week.
Rather than limiting yourself to one thing, focus on creating various types of content including long-form articles, infographics, case studies, etc.
Work on SEO
It's considerably difficult for new blogs to rank on search engines. In such a scenario, focus on two crucial aspects:
High-quality content
Well-researched keywords (long-tail)
It all starts when a user types a query in search engines. If you ignore this crucial aspect, you are likely to get less traffic. This means you need to do research to find search terms and phrases that are:
Relevant to your blog
Have enough volume to drive traffic
Aren't so competitive that you can't rank on them
Use tools like Ahrefs or Moz to start your keyword research. In the early days when you're just getting started it will be hard to rank on highly competitive words, so choose longer tail keywords.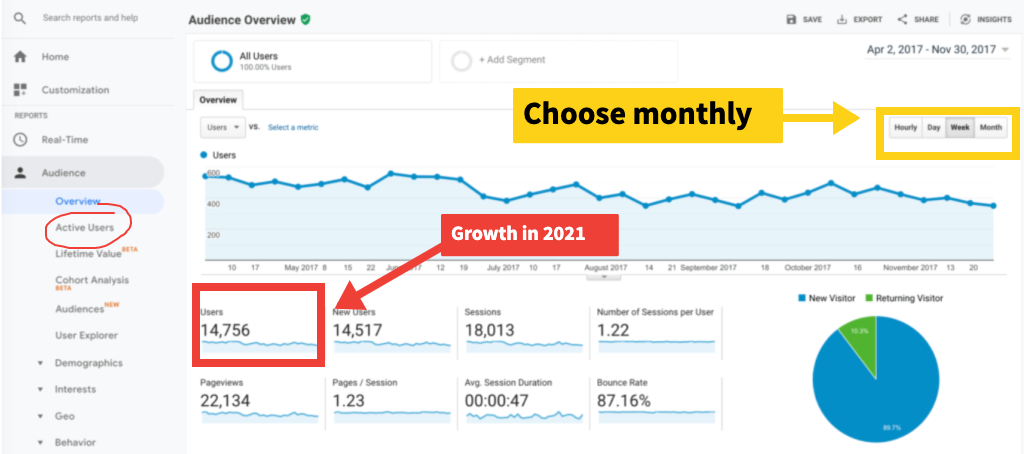 PRO TIP: Shoot for keywords and phrases that have a Keyword Difficulty (KD) of less than 20 and a global Search Volume (VOL) greater than 1,000.
One of the ways to go about finding "hidden gem" keyword phrases is to look at search terms your users might also be looking for. For example, if your blog is about rock climbing, think about what other things people who are into rock climbing might be searching for. This will bring you traffic for the right kind of user and then you can try to get them to read more about what you have to share. Things like:
"REI Return Policy" (KD = 5, VOL = 15000) - Sure, some of the visitors on this keyword will not be interested in rock climbing, but some will. It's a keyword with a lot of search volume and very low difficulty, so you're likely to start seeing traffic quickly. And Google tends to uprank your core keywords when you start ranking well on other keywords.
Guest Posting on Highly Authoritative Websites
As you are starting out, you need exposure in front of a wider audience. You cannot simply rely on creating high-quality content. Guest posting on blogs in your niche is a great way to grow traffic on your blog.
Work on writing engaging articles for other blogs that make people curious enough to go through and explore your blog. Highly authoritative websites are always in search of guest writers. Search out the right websites, make a list, and start pitching them your ideas.

You can also earn money while increasing your audience base as many blogs offer paid blogging opportunities. Some blogs posts are specifically dedicated to blogs that offer paid blogging. Go through these blog posts and find the blogs in your niche that suit you best.
Research the keywords in your industry and type them in the search bar along with "+ write for us."
You will get a list of websites that are interested in receiving guest post contributions. Go through their guidelines to ensure you send a good pitch.
Now let's move further to the tips related to reliable sources of income through blogging.
Common Ways of Earning Through a Blog
(Moderate to advanced level traffic)
Once you have moderate to advanced level traffic on your blog, here are the common ways of earning you can explore.
Collaboration with Brands (advertising)
Once your traffic grows, big and small brands in the industry would love to collaborate with you. All bloggers start with google Adsense. Once your blog grows, your potential to earn through advertising increases. You can further join reputable ad platforms. But earning some real amount through advertising isn't possible till your blog has more than moderate traffic. To expect your earning potential through Adsense, you can use their calculator.

Earning Through Sponsored Posts
It's significant to have high traffic but even with average traffic, a blog with a strong connection to the audience can earn a great amount. This can be seen through the comments people leave on your posts. A small yet engaging audience is way better than an audience that doesn't interact at all.
Engaging the audience opens your door to earning through sponsored posts. They will ask you to talk about a specific product or service on your blog.
There are various types of content you can write to promote them including product reviews or simply mentioning the product (naturally) in one of your articles.
If they see results from sponsored posts, they might even offer you a position of brand ambassador. But make sure you promote the right brands or you will lose the trust of your audience and they will eventually stop visiting your blog.
Undoubtedly, blogging is becoming one of the most popular types of content, thereby drastically increasing your earning potential.
Using Affiliate Marketing
Research has shown that 84% of bloggers use affiliate marketing to make money in 2021. Earning through affiliate marketing is prioritized over display ads. In affiliate marketing, you refer another company's products or services on your blog and earn a commission on every sale. To get started, join any reputable affiliate marketplace. Bloggers generally start off with Amazon Associates.
Take a look at how affiliate marketing is one of the top sources of bloggers for making money.

Sell Physical or Digital Products
Once you develop trust among your audience through your content, you can also start promoting your own products on your blog.
Let's say if you have content specifically written for affiliate marketers (beginner to advanced), you can provide relevant information in a blog post followed by a link to purchase your detailed ebook. If your content solves their problems then they are likely to know more. Once they get wind of your ideas, you can also organize paid webinars. Interested individuals will love to interact with you. It's specifically for businesses as a paid webinar could get you anywhere between 500 to 1000 leads.
Money is never an issue if the resources are worth the value. Another great way of earning is to sell full-fledged courses in different areas of your expertise. Remember that there are many courses available online (free and paid). Adding your personal experiences and opinion while explaining ideas would bring a difference.
You can also sell out physical products but make sure you prioritize providing value to users. For example, if you are selling out power tools, then ensure your content revolves around how the product makes their lives easier. Describe the challenges followed by the solutions your product can offer.
Earning Through Subscription Content
Bloggers can generate a recurring income stream through subscription content on their blogs. Here is how subscription content works:
One-on-one coaching for people who are genuinely interested in your solutions
If your articles get extremely high engagement then you can take a subscription fee to give access to in-depth articles
Offer useful tools to your audience under different packages. Make the offers viable by providing special offers to first-time users.
Remember that if people are paying, the experience should be worth the money they invest.
Works Well in Lead Generation
Let's if you are a freelance content writer then blogs are an excellent way to come across potential clients. When done right, you'll never fall short of clients and might also come across high-paying international clients. Combined efforts in the area of blogging and guest blogging will help you reap results
Summing Up
Focus on posting valuable content consistently along with exploring different areas of making money. Continuous efforts in the right direction will ensure you make a considerable amount of money out of blogging.
Guest post by Porter Gale, Editor-in-Chief at Sleepation. She has 7 years of experience in developing data-driven content for brands, SaaS businesses, and agencies. When not writing you can find her playing her guitar or binge-watching time-travel movies. Read her latest article on best router tables.