Markup Hero is a great tool for organizations and teams to increase productivity and stay organized. For many people, taking screenshots and annotating images is a daily event. We want to make our tool as useful as possible for teams of people to create, collaborate, organize and share content. This article outlines best practices when working in a team environment.
Getting Started
Start by getting a team of people (5 or more) to start using Markup Hero in their daily workflow.
Have several people from a team install our screenshot app (Mac & Win) https://markuphero.com/download
Each person should create a free account at https://markuphero.com/signup
Begin using the tool to take screenshots and annotate images as they would with other tools they're probably familiar with
Using Markup Hero
You'll quickly see the utility of the product, but there are some things that are build specifically for teams. We ask that you try these things when it makes sense:
1.    Share links between team members in Email, Slack, SMS, etc.
2.   See your history of markups that were shared with you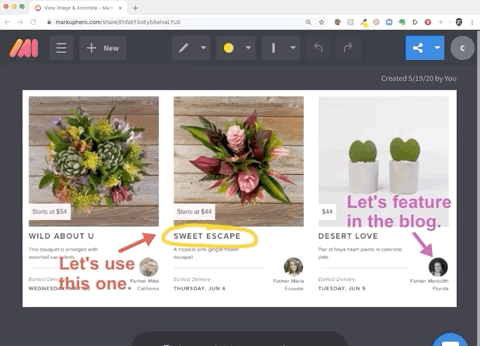 3.   Duplicate shared markups to add your own annotations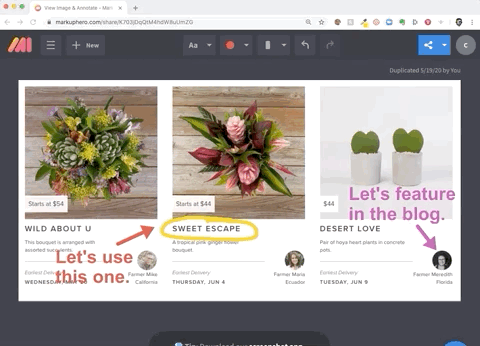 Common Use Cases
Responding to customer support tickets
Sharing ideas with product managers
Enhancing sales pitch emails
Indicating changes or bugs on websites
Providing Feedback
We want to make Markup Hero great for organizations, so we're asking teams to use the product together and give us feedback on how the tool can be improved.

We're Scrappy: We're in heavy iteration mode so that means any feedback your team provides will go directly into the product roadmap. In other words, what you tell us you need, we're probably going to build, and quick.
Here are some of the things we would like to hear:
What works for you and your team?
What could make the experience better, faster, slicker?
What's missing; file types, annotation tools, screenshot methods, etc.?
Where does your workflow breaks down?
Why would you stop using Markup Hero?
What would make you use Markup Hero more often?
And anything else you can tell us, good or bad. You can provide feedback via the chat bubble on the bottom corner of our site, or just by sending us email at feedback@markuphero.com