Nowadays, finding something best suited to you can be a hassle given the variety of options we have at our disposal. Since most of us are now working through electronic devices where we have to create presentations, annotate PDF files, edit documents, and so on almost every day, we must opt for the ideal software.
This article describes 3 applications, namely, Snagit, Camtasia, and Markup Hero, all of which are productivity tools that you can choose from. While Snagit and Camtasia are from the same company, TechSmith, and offer similar services, Markup Hero is slightly different and provides their users with a range of annotation tools to annotate PDF documents, take screenshots, and highlight texts along with a range of other simple yet effective features.
Try Markup Hero
Ready to make amazing annotated images, PDF's and more?
Start using Markup Hero to take screenshots, annotate images and PDF's and become a productivity rockstar.
Signup For Free
The first software we are going to talk about is Snagit. Snagit is an inclusive screen capturing tool. This comprehensive software can not only record your screen, but it also consists of advanced features that offer various tools to allow you to create conspicuous images along with videos which can then be easily shared.
Snagit allows teachers to effortlessly record video lessons and share them with their students. Not only that, anyone using Snagit is provided with the facility to edit using the annotation tools provided, which will surely produce appealing results.
This software also lets the users keep their research in the correct order, hence allowing them to save time and find documents faster. This is done by arranging the documents using specific keywords.
Along with the features mentioned above, here is a list of a few more features you will surely find impressive.
All-In-One Capture
You will be able to capture a portion or even all of the display screen with this feature. Side by side, this feature also lets you capture a scrolling screen.
Panoramic Scrolling Capture
The panoramic scrolling capture is quite similar to the one we previously mentioned because this, too, lets you capture a scrolling screenshot. What's more with this is that you will also be to take both vertical and horizontal screenshots while you scroll.
Create from Templates
This feature allows you to make use of the premade layouts to create tutorials, training materials, etc. easily.
You will be able to find tons of premade layouts in this software, which you can put to your use while making training materials, tutorials, etc. The ready-made templates help to make your otherwise time-consuming task much easier and stress-free.
Create Video from Images
From making simple GIFs to creating videos with voiceovers and hand-drawn illustrations, Snagit lets you do it all. This feature also allows you to edit and attach a clip of your voice or dialogue over a screenshot.
Enterprise Sharing Destinations
Snagit also lets you share directly to messaging apps such as Slack and Box. This will enable you to get instant feedback on your work from close ones and co-workers.
Simplify Tool
Wish to change your normal screenshot into a simplified graphic that you can use for your work? Look no further than Snagit's simplifying tool, which does just that!
Price
Snagit offers four different plans that you can choose from, namely - Individual, Business, Education, and Government & Non-profit. Each plan costs a different price. The Individual plan comes at $49.99 with a 30-day money-back guarantee offer. This plan comes with a single license as well as a one-time fee.
The Business plan offers volume discount Business Pricing along with site licenses. You have to pay for the plan only once. The Business plan offers all this for $49.99 again with 30 days money-back guarantee.
On the other hand, the Education plan consists of volume discount pricing along with site license and tax-exempt order. This plan comes at $29.99 with a one-time fee offer and 30 days money-back guarantee.
Finally, the Government & Non-profit plan is similar to the Education plan. This plan costs $42.99 with a one-time fee and 30 days money-back guarantee. For all the plans available, Snagit is compatible with both Windows and Mac.
Like Snagit, Camtasia is also a product from TechSmith. This inclusive application allows you to create qualified vibrant videos and is ideal for everything related to screen recording and video editing.
Camtasia facilitates its users by giving them access to everything the user needs for making professional-quality content. Camtasia is not only simple to maneuver through, but like Snagit, this program also offers templates for its users to follow.
This software is perfect for anyone who wants to create videos such as those for YouTube, instructional videos, how-to videos, and explainer or training videos. The software is suited for anyone wanting to record anything such as presentation recordings, meetings or webinar recordings, etc.
With Camtasia, you can easily record what you want, such as your video calls, any website, or software. Then if you want, you can add effects to your recording, such as dragging and dropping text, effects, transitions along with many more provided within the software. Upon recording and editing your video, you can share it with others by uploading it on Youtube, Vimeo, an online video course, or even Screencast.
To make your video editing experience easier, Camtasia offers a variety of features that will guide you when you make engaging content. We have put together a list of some of the features that this software provides -
Easier Editing
With the drag-and-drop editor function, you can simply remove, add, cut, or even adjust the placement of certain sections of videos and audios.
Web Camera Capture
You will also be able to add clips of videos or audios directly from your webcam to whatever it is that you are working on with Camtasia.
Themes
Making videos that have your vibe to it is much better than those that do not speak of who you are. Capture your uniqueness in all your videos with the different themes that Camtasia has to offer.
Green Screen
Activate Camtasia's green screen feature to change the background of your video to any other video or footage of your choice.
Audio FX
You will be able to reduce background noise, modify the pitch and gain, and level out the audio frequency of all your videos to give them a more professional-quality sound with this feature.
Device Frames
Another advanced feature that you will find on Camtasia is the device frame. With this, you will be able to add the outline of any device ranging from a mobile phone to a laptop, on your video and/or clip.
Cursor FX
If you wish to add a cursor to your video to prompt its viewers towards a specific link or command, simply activate the Cursor FX on Camtasia which comes in various options such as spotlight, highlight, left-click sound, and so on.
Annotations
From adding lower thirds to including shapes, arrows, and many more to your video, you can do it all with Camtasia's annotation feature which lets you highlight and outline any crucial piece of information in your video and/or screen recording.
As the software was recently updated, new features have been added to the program to make your Camtasia experience much more simple and creative. These features include -
Camtasia Packages
With updated features, Camtasia enables you to group different templates, libraries, themes, etc., in one place from where they will be able to share it with someone else.
Favorites & Presets
Store all the tools you love and use the most in Favorites & Presets so that you can reach them faster while working.
Price
Again, like Snagit, Camtasia offers 4 different plans consisting of Individual, Business, Education, and Government & Non-Profit. But unlike Snagit, Camtasia is more expensive.
The Individual plan consists of a single license at $250. The price of the Business plan is the same as the Individual plan, but the Business plan comes with site licenses and a volume discount business pricing.
The Education plan comes at $169.99 per user with a volume discount pricing, site licenses, and tax-exempt ordering availability. The Government & Non-Profit offers the same facilities as the Education plan but at $223.99.
All the plans mentioned above are compatible with Windows and Mac. Also, you only have to pay the fees for each plan once, thus helping you save some extra money. You can also choose to try out Camtasia by using the free trial facility for 30 days.
With all being said, Camtasia Maintenance comes at $49.75 for a one-year duration. The Maintenance gives you free upgrades along with expert support. You will also have access to more than 15 hours of Camtasia training where you can improve your Screen casting skills.
We saved the best for the last. Markup Hero offers a range of editing tools and functions specializing mainly in annotating PDF files, images, taking screenshots, and more. This application is all set to help its users improve their images and screenshots and annotate PDFs with the various annotation tools provided.
Markup Hero strives to maximize the user's workflow with its innovative and simple-to-use functions and facilities. This tool allows its users to swiftly capture and share ideas using its screenshot app and image/PDF uploader.
Markup Hero also enables you to get your precise message across through the image or PDF with its easy yet creative annotation tools. Side by side, Markup Hero helps you save some extra time by making it easier to access any markup and annotation done previously and create new ones.
Markup Hero also helps the user remain organized by arranging all the markups under different tags, history, and a personalized privacy setting. PDF annotation is also made easier on Markup Hero so that you can make an engaging PDF that others will enjoy reading, in no time. The steps to annotating your PDF file are as follows-
1. Upload PDF, image(s), or paste a link.
2. Once your upload is complete, annotate your PDF by adding texts, illustrations, images, etc.
3. Afterwards, you can choose to share your annotation with others by sharing a link to your entire PDF or to that of a single page.
You can share the link by copying and pasting it in an email, SMS, or any program of your choice.
4. If needed, you can also check out your previous works or documents that were shared with you by clicking the History tab on Markup Hero.
Features
This all-in-one application consists of all the tools that you require in editing and annotating their screenshots, PDFs, and images. Some of the features that Markup Hero offers are listed below -
Blur Tool
If there is any sensitive piece of information in your video or content that you would like to keep hidden from other people, simply blur it out with Markup Hero's blurring tool. This feature enables you to make a masterpiece while also keeping all your private information concealed to protect your privacy.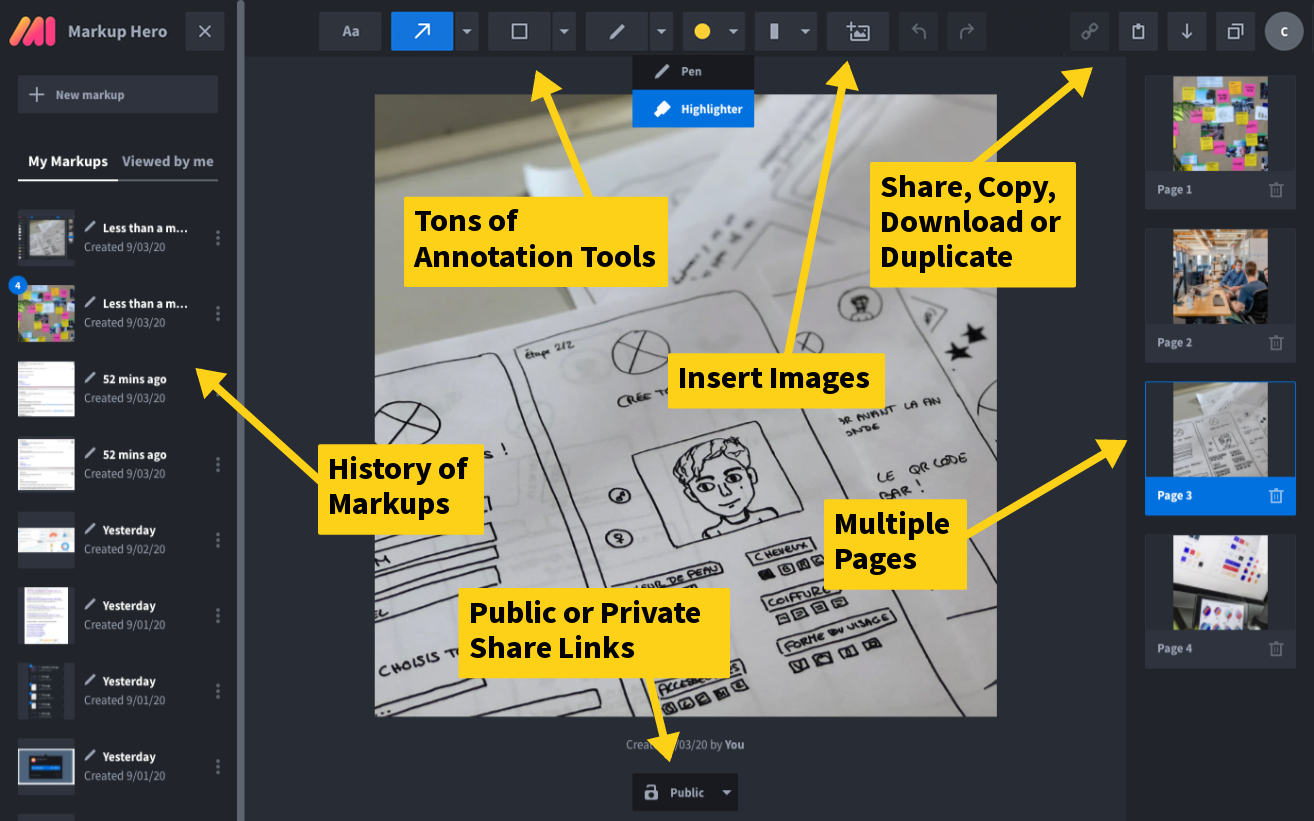 Full History & Editing
Taking inspiration from work that you have previously completed is a fool-proof way of coming up with amazing content every day. By checking out the entire history of your time with Markup Hero and also editing previous markups as you go, you are sure to achieve yet another outstanding result with Markup Hero.
Colors
This feature allows you to be your creative self by adding color to your PDF files and images to make them look more appealing.
Capture Full Website
This feature allows you to take a screenshot of any website that you want to annotate.
Privacy Settings
By changing the privacy settings of your annotations, you can either make them public (by sharing the link to the annotation) or keep them private where only you will be able to see your work.
Download
After you are done annotating a certain PDF file on Markup Hero, you will also be able to download it in case you wish to make a print out.
Highlight Tool
The highlighting tool in Markup Hero lets you differentiate important information from the rest of the content on a specific PDF or image by allowing you to highlight what is important.

Line, Rectangle, Oval Tool
You will also be able to draw shapes such as rectangles, ovals, and many more on the document that needs to be annotated by using the Shapes tool in Markup Hero.
Arrow Tool
The arrow tool can be used to point at something that you think is important. Besides the highlighter, the Arrow tool is another great feature that will further let you point out what matters.
Insert Image
Make your work more informative and eye-catching by incorporating images to it using the Insert Image option that you will see in Markup Hero.
Undo and Redo
Made a mistake that you need to go back on? Simply click on the command that tells the software to undo, and you will go a step back from where you currently are with your work, thus allowing you to perform a certain task with more perfection.
Similarly, you will also be able to redo your work in case you accidentally delete a small portion of what you are working on.
Price
With the wide range of facilities that Markup Hero has to offer, one may think the application is expensive. Well, you are in for a surprise. Markup Hero provides its customers with 3 different plans, namely, Sidekick, Hero, and Superhero.
The Sidekick plan lets you work for free without having to create an account first. The Hero plan comes with basic tools and features and also lets you save up to 30 markups per month. This plan is also free, but to activate it, you will have to sign up to the platform first.
Lastly, the Superhero plan gives you access to all tools and features, that, too, with unlimited usage all but at only $4 per month along with the opportunity to save up 20% annually.
Unlike Snagit and Camtasia, Markup Hero can be used on any latest desktop, mobile, or tablet web browser. Moreover, Markup Hero can also be used on Mac, Windows, and Linux. Hence, Markup Hero really is your best bet as a brilliant productivity tool which comes at an affordable price, should you wish to upgrade.
Final Words
We highly recommend Markup Hero as this application is not only for free, but it also gives you access to all the tools and features that are needed for creating eye-catching and engaging PDFs, images, and/or screenshots. However, choose the tool that is best suited to you and your needs. While the other two software are surely worth the money as well, nothing can compare to the affordability and versatility that Markup Hero provides instead.