Teachers Pay Teachers is a hugely popular website where teachers share resources with other teachers. Although there are many free resources on the site, it was originally created to help teachers make extra money on the hard work they do every day. You are probably already familiar with teacherspayteachers.com or maybe you bought or even sold some worksheets there. With over 3 million resources and 5 million teachers, Teachers Pay Teachers (TPT) is the largest network of collective wisdom for educators. Here's how it works:
Teachers create worksheets, activities, lesson plans and projects just like they do every day
Those resources are uploaded to TPT and the teacher sets the price (most items are under ten dollars
Other teachers come to TPT and search for the resources they need, then they purchase and download
The educator that created the original documents gets paid for their effort, the teacher downloading the files gets an inexpensive and super valuable teacher created resource and TPT makes enough money to keep the website running.
That's the model. And it works great for all parties — win-win-win.
Markup Hero is the best way to send your TPT worksheet assignments to student, get them to complete the homework, and give feedback and comments to students.
Finding Teacher Pay Teacher Worksheets
The large majority of resources on TPT are PDF worksheets. They offer worksheets for every grade K-12 and just about every subject. A quick search on TPT shows how deep the resource library goes. Everything from reading comprehension to geometry games and history activity sheets. The site literally has everything any teacher at any school could need to build a year long curriculum. Frankly, it's an amazing resource.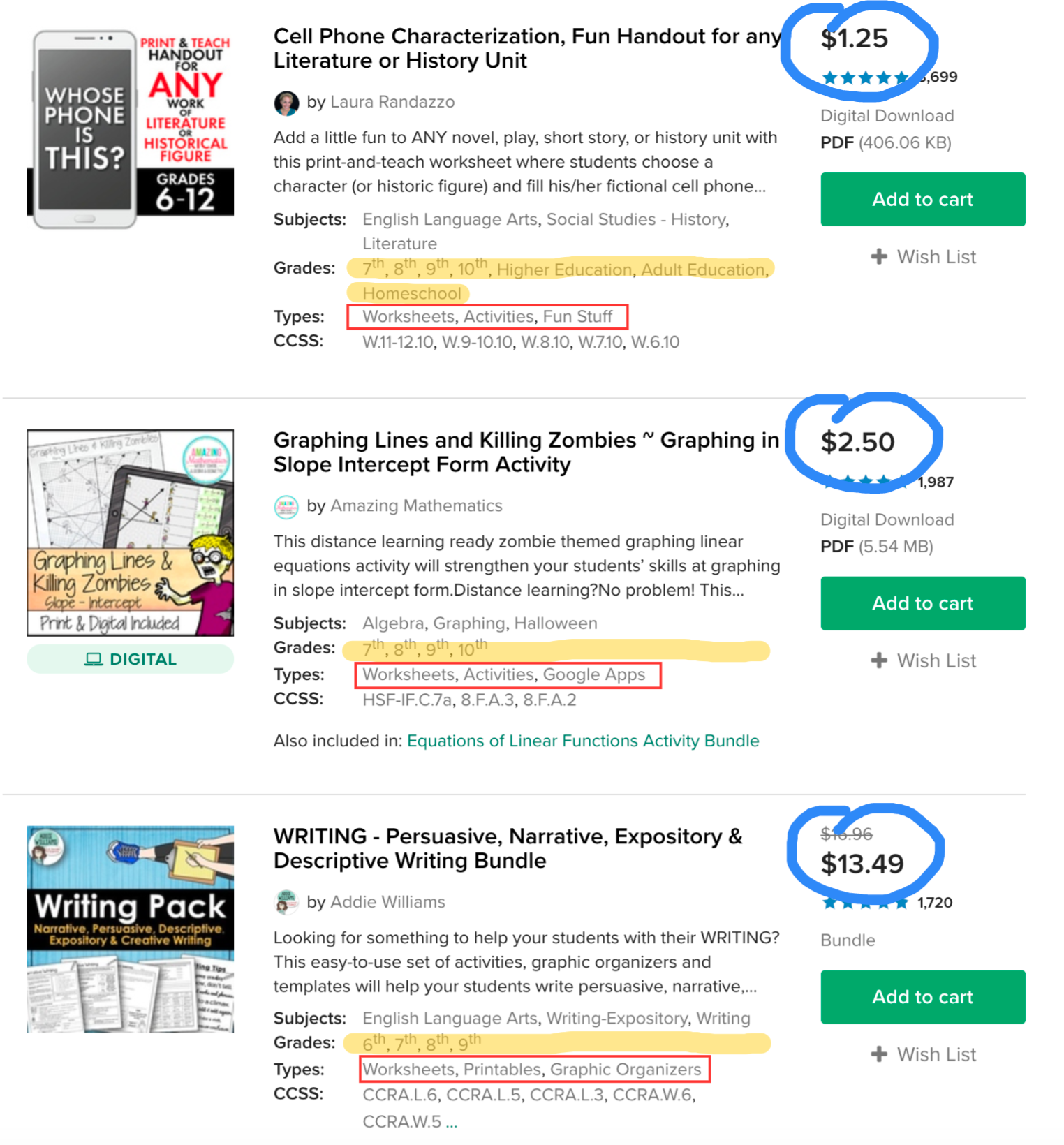 So yeh, it's pretty easy to find a worksheet for just about anything you might need in your classroom. But here are the questions that teachers often have after they discover a great resource on TPT.
What do I do with it? How do I get my students to complete this worksheet? And how do I grade them, or provide feedback?
As we shared, most of the resources on TPT are in PDF format. That's great because PDF is a universally known and widely used file format. But the downside is that they're mostly flat files. By flat, we mean that they can't be edited. This is by design because most teachers don't want you to modify their work and then re-sell it. In fast, the TPT website makes it very clear that you cannot use these materials for any commercial purpose other than with your classes and students.

That said, you're still going to need your students to fill in a worksheet. And you most likely will want to want add comments and feedback after they turn it in. Before COVID, and before so many schools were doing remote learning, it was easier to just print a worksheet. Students could complete their assignments the old fashion way — using a pen or pencil. And teachers could use the good ol' red marker for feedback and grading.
Certainly if you're teaching remotely, that's a no go. If your school is back in session, maybe that works. Although it's still not optimal. It's a waste of paper for one. And you cant easily organize your students assignments and feedback, unless you take pictures of the work before giving it back to students. Going all digital in either a remote teaching environment or an in-person one is still the better approach.
Creating the teacherspayteachers Worksheet Assignment
Whether you use Google Classroom, another Learning Management System or just plain old email to create and distribute assignments, you can use Markup Hero to enable students to annotate the worksheet and you can add your feedback. Here's how you will want to setup your TPT worksheets with Markup Hero.
1 – Download your new worksheet from the TPT website

2 – Create a folder on your computer to organize the original PDF worksheets for future use

3 – Open Markup Hero and upload your PDF worksheet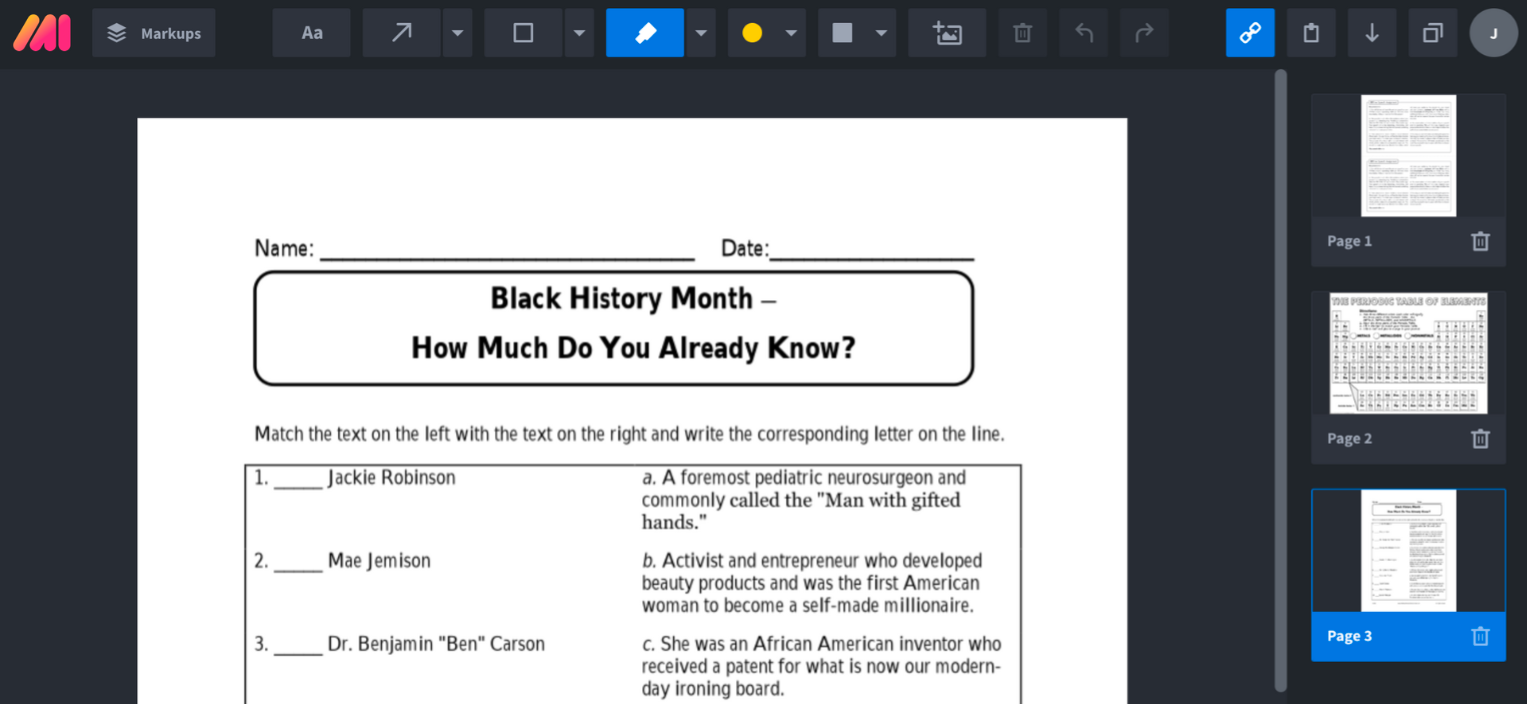 4 – Copy the share link and paste it into a new assignment in Google Classroom, your LMS or email or any other way you send assignments

5 – Instruct students to click the link and then click Duplicate from within Markup Hero's website

6 – Students can complete the worksheet by adding text, comments and annotations like arrows, boxes, highlights, image inserts and more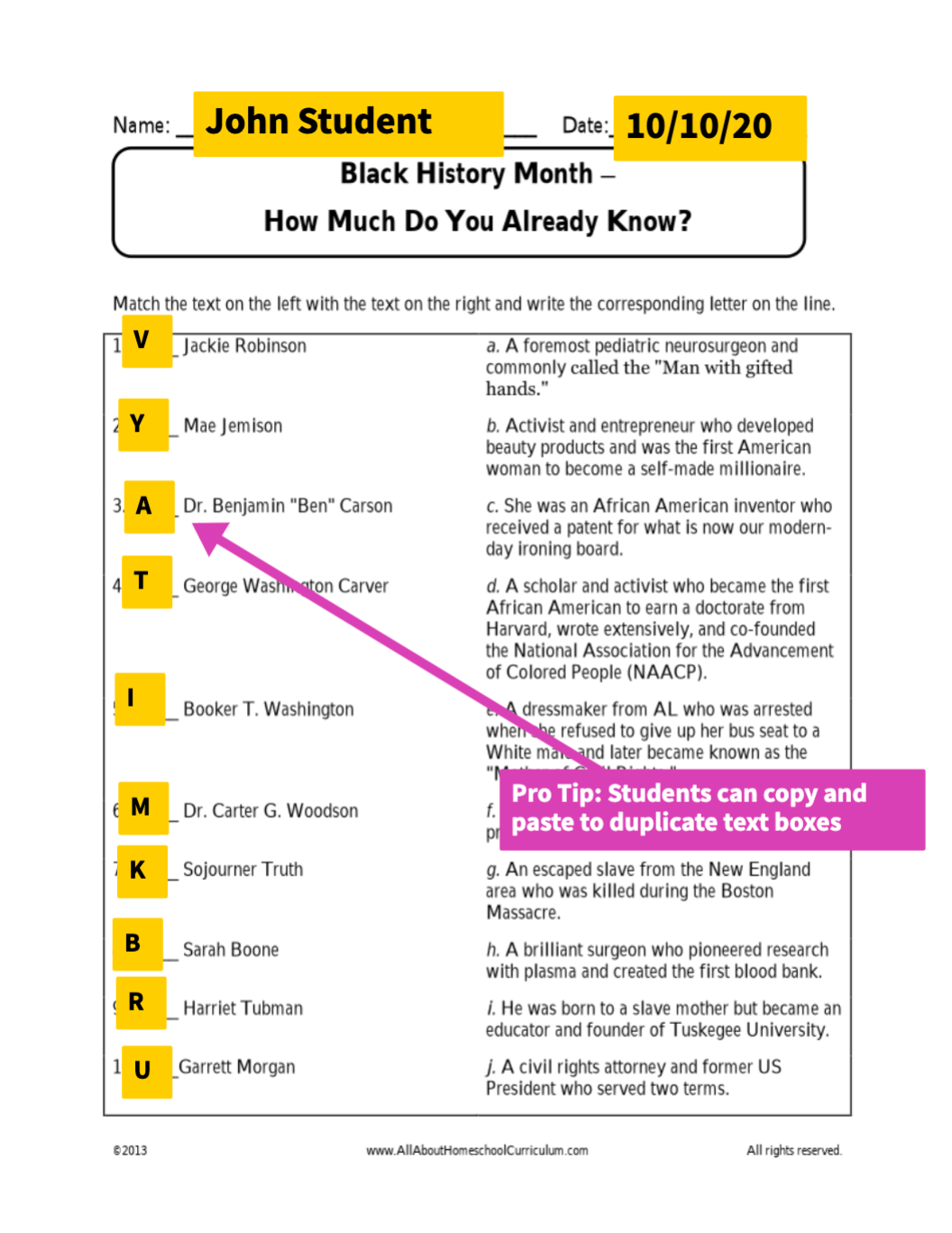 7 – Once complete, students should click Copy Share Link at the top of the Markup Hero website

8 – Then students simply paste that link into the assignment in LMS or email to you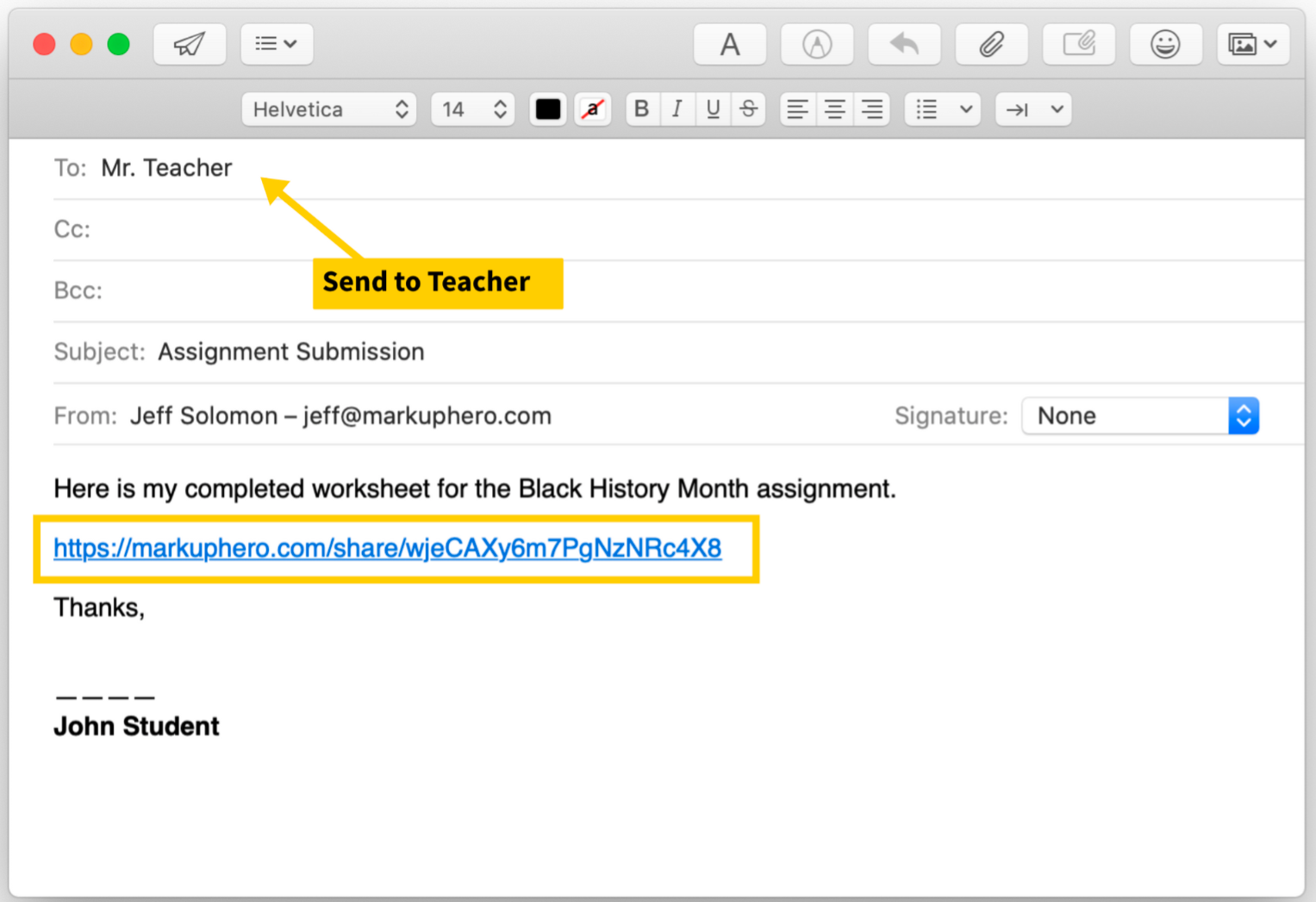 9 – You can click the shared link to see student submissions. Then organize submissions by tag. If you want to add additional comments or annotations, just click the Duplicate button again and add your own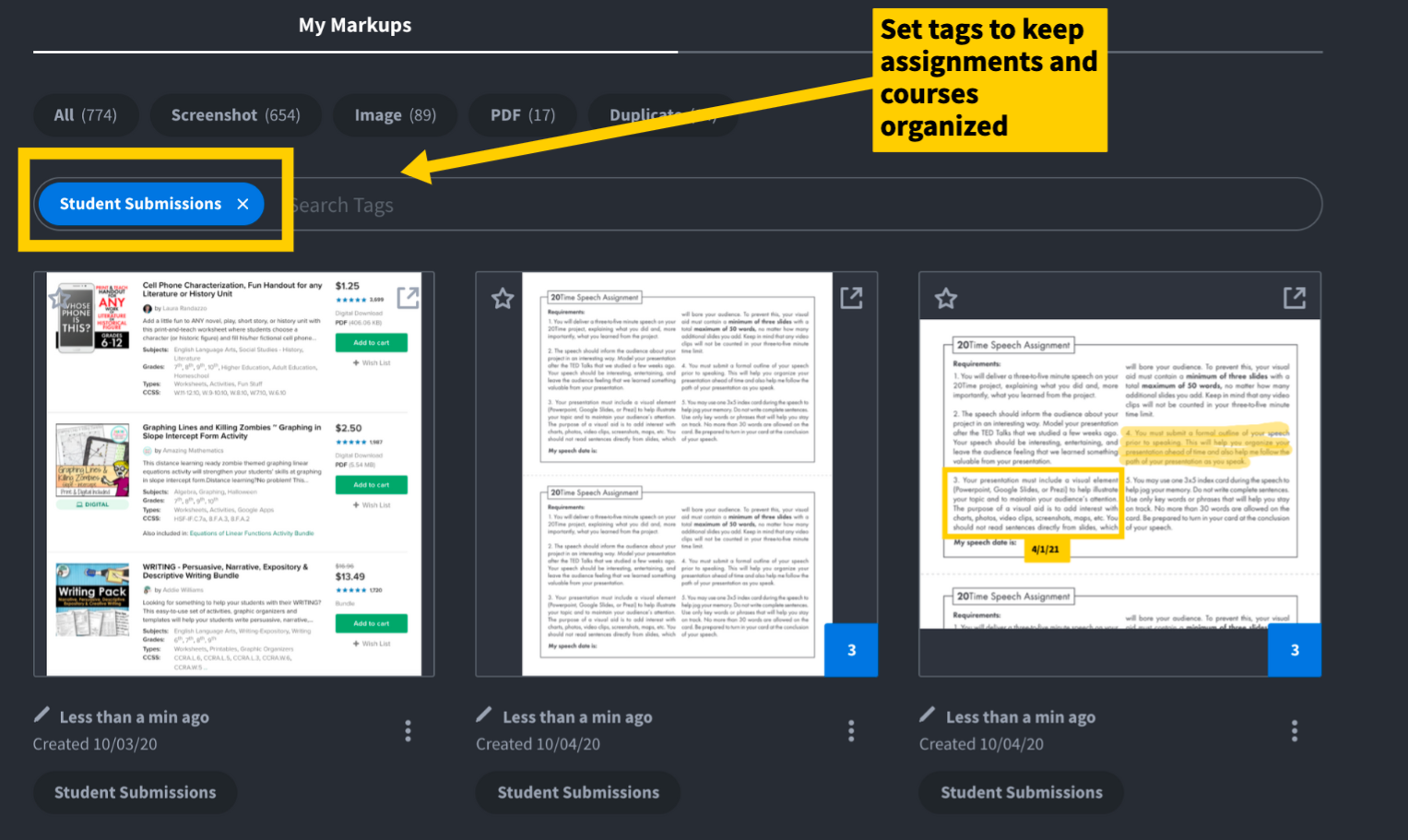 10 – Finally, share back the link with students so they can see your feedback
All of this is fast, simple and can be done from any computer with a browser, or on your mobile or tablet device.
Try Markup Hero
Ready to start using Teachers Pay Teachers worksheets in your class?
Start using Markup Hero to upload worksheets and have your students complete them, and grade them with feedback.
Signup For Free
Summary and Highlights
Teachers Pay Teachers is an amazing resource for any educator. Whether you create worksheets and upload them for sale on teacherspayteachers.com or you download them and use in your class, TPT is like no other educator website. Now you know where to find great teaching worksheets. You learned how to assign and distribute them to your students. And you can see how easy it is for students to complete homework and for you to give feedback on assignments using Markup Hero.
Keep up the great work!