It goes without saying that the most successful businesses know how to market their products and services. And you'd probably agree that great marketing includes great materials. And because marketing collateral includes just about everything a business puts in front of customers, making these materials compelling is an essential practice.
From flyers to websites, one-sheets to case studies, presentations to help documents and everything in-between, great marketing collateral enables brands to showcase and explain the business in a way that is informative but not too pushy.
What is Marketing Collateral?
Marketing collateral is essentially any marketing material or media that provides information about a product or service but isn't directly an advertisement. Marketing collateral is a medium specifically designed to show brand authority, establish legitimacy and foster trust between a business and a prospective client. Good marketing collateral acts as a supplement to advertising and sales without the presumptuous.
Businesses should appreciate the distinction "Marketing Collateral" vs. "Advertising Materials". Marketing collateral is how a brand shows prospective clients that they know what they are about. The purpose of marketing collateral is to retain and enhance attention. Whereas advertising is about grabbing a customer's initial attention. You can see how they work hand-in-hand.
Anyone taking the time to engage with your marketing collateral is interested in learning more about your company. Some of them may not be familiar with your product. Your marketing collateral should be able to answer their questions about who you are and what you care about. With effective marketing collateral, you can build the trust needed to begin a sustainable customer-business relationship.

Effective Marketing Collateral Examples
Let's look at some examples of great marketing collateral across a range of mediums.
Blog Posts
Some might say blogging is dead. It's not. In fact, content is still one of the leading ways of ensuring your brand reaches a broader audience through SEO. Blogging content is an effective way of creating brand trust by offering them valuable content.
Your content strategy should include the use of long-tail keywords for brand visibility and awareness. The best benefit of using blogging as a form of marketing collateral is the ability to reach your target audience while creating a community around your business.
Downloadable Guides and eBooks
E-books and downloadable guides are some of the hottest marketing collateral options right now. People love free things, especially if they are entertaining and educational, and free eBooks and guides are some of the best ways to keep your audience coming back.
Ensure you share your free guides and eBooks in PDF format and searchable. The content should be supportive, actionable, and useful. This is also a great way to grow your emailing list while generating leads. People are more likely to buy from a brand that comes off as a leader in their niche. You can use eBooks and guides to give off this impression about your brand.
Use your eBooks and guides to help your target audience in tackling issues. By making it your job to offer a solution, visitors will be more willing to subscribe to your helpful emailing list where you can subtly advertise your products as part of a solution.
Biographies of Founders and Executives
Including a page on your website dedicated to Founders and Executives bios is a form of marketing collateral that acts as social proof to inform potential clients of the achievements of executives and founders. This is the best way to associate the success of a brand with the accomplishments of its leaders.
In the biographies, ensure you include the achievements of the founders and executives in their previous roles in other companies. Let people know why they are considered leaders in their industry, as this works as a warranty for your success.
Case Studies
Including a case study as marketing collateral is an effective way of showing your brand off without sounding like you're bragging. Case studies can be used to teach your audience the steps you took to reach your success. Moreover, they are frequently more effective than blog posts and should target an audience interested in learning from your way of doing business.
Case studies are often a step in a sales funnel that informs a potential client's decision to interact with a salesperson from your brand. Any user who takes the time to read a case study is ready and willing to sign up if your case study is compelling enough. You can use case studies to know which visitors are more likely to make a purchase.
Company Awards
Presenting your company awards as marketing collateral are excellent ways of demonstrating the quality of work your prospects should expect. Ensure you place your awards and achievements on your website as a way of convincing your prospects about your brand.
If you are yet to win an award, you can increase your chances by applying for niche-related awards without a nomination. For instance, a content marketing award is an excellent option for a content marketing agency.
The Company Background
People prefer doing business with people they are familiar with. The best way to create rapport with your potential clients is by giving them a company background page on your website. This should tell the story of how the company was formed and its growth process. Be sure to include company achievements, milestones, and your company values.
When telling your company's history, ensure you use compelling text and images to make the experience as personal to the company as possible.
Emailing Signature
While most people use email signatures, they do not understand how powerful it is as marketing collateral. When you have a long emailing list, having a noticeable email signature is ideal for promoting your services and products.
Use email signatures when you want to leave a good impression on your recipients, especially when following up with leads. There are numerous email signature generator you can use to create a brand signature.
Landing Pages
A landing page is simply a page on your website where external links redirect. The best landing page should be focused on delivering your brand's marketing message. It should not contain any unnecessary links or distractions.
The landing page is a single page on your website with a call-to-action for anyone who lands on it. It should show the reader the important aspects of your product and the benefits it offers.
For Markup Hero, we went with a dark theme to appeal to a more "tech-savvy" customer. Although we've found that even unsophisticated customers aspire to be technically savvy, so the dark mode plays into that desire.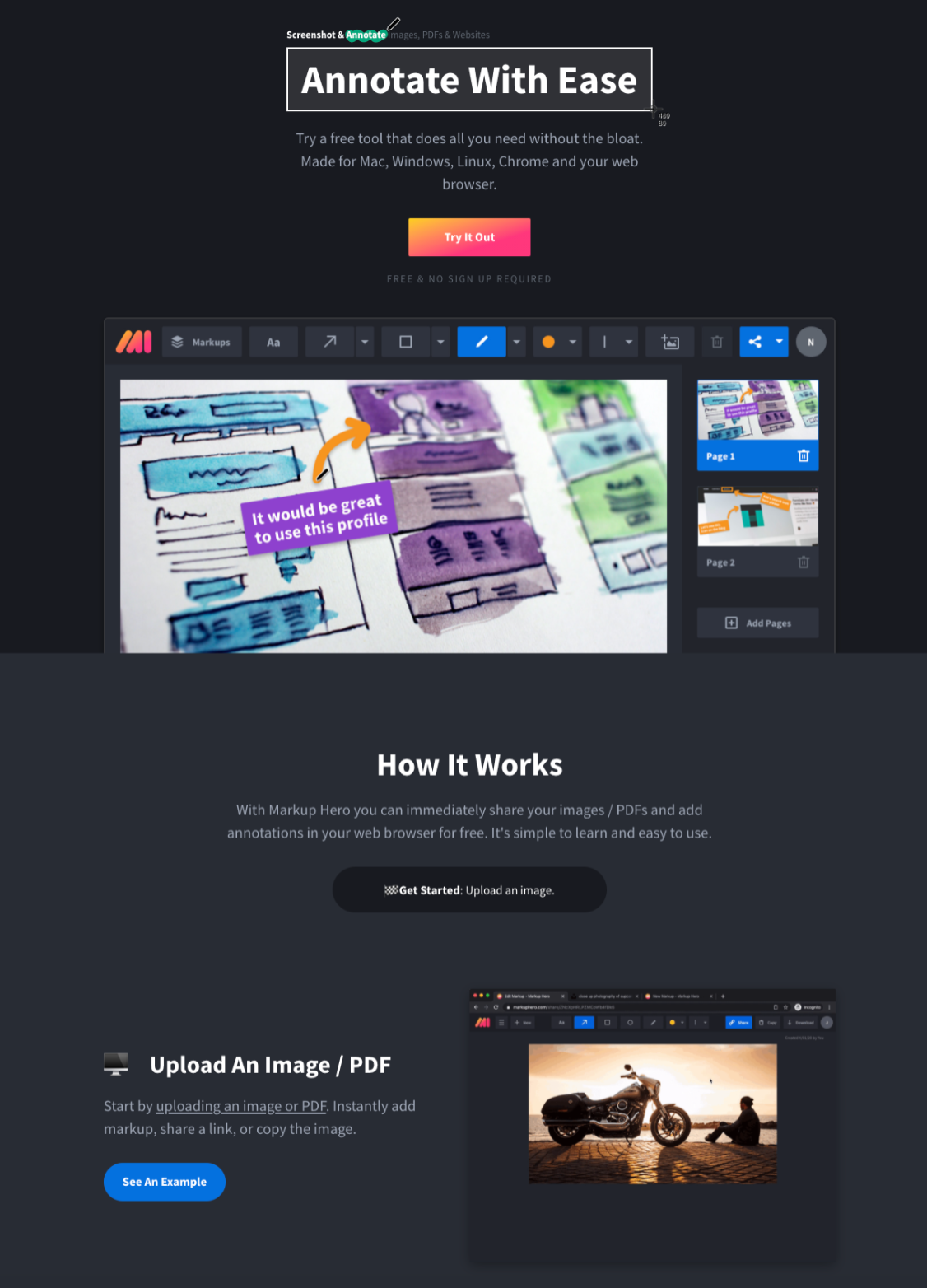 Every marketing campaign you use should have a landing page. The good thing is that it is easy to adjust or rebuild an existing landing page to suit the needs of different campaigns. This is far better and more campaign-oriented compared to using the same home page as a landing page.
If you are not good at coding pages, tools such as Instapage, Unbounce, and Leadpages are great for creating landing pages.
Marketing Collateral Creation Process
Now that you have an idea of what marketing collateral to use, knowing how to manage the creating process of your marketing collateral is an important part of your success. Here are the steps to take to follow when creating marketing collateral.
Create a Concept
You need to work on an exceptional concept for marketing collateral. This is simply the ideal behind each collateral you use. An ideal concept should answer the following questions:
Why do you need to use the marketing collateral?
What message do you want the marketing collateral to send to your potential clients?
What goals do you want the marketing collateral to achieve?
How should you structure the marketing collateral to meet your goals?
The Briefing
With a concept in mind, it is time to turn the idea into a creating brief that is actionable. The brief should give stakeholders an idea of what the project is about. Ensure it includes all the important information to make it easier for involved parties to use when on the project.
Ensure you share the brief with your team members working on the marketing collateral.
Reviewing and Approval
With a detailed marketing collateral brief, the project is much more simplified. Once the first draft is ready, it needs to be shared with the stakeholders for approval and feedback. The project can go through several review stages before the final copy is ready.
If you work with high-level stakeholders, it may be necessary to have them approve the final copy before it is used for your marketing strategy.
Conclusion
In 2021, marketing collateral should encompass online and offline options including the use of brochures, flyers and the above-mentioned digital methods. With the many options available, you only need to find the most suitable options for your business. Take time to develop the best marketing collateral you can -- it will pay dividends.
Guest post by Lianna Arakelyan, a content writer and digital marketing expert in MuchNeeded.com, extreme with a knack for social media marketing strategy and implementation. She is extreme in her work with a deep goal of always being updated on online and offline marketing and technology news of the world.